What do egg yolks, passionfruit, lemons and oranges have in common?
Trust me this isn't an IQ test, more of an EQ test if anything...
They can uplift the mood just from the mere sight of them. That's why I'm convinced that I love having sunny yolked eggs for breakfast. They instantly put me in a good mood. I'm terribly swayed by the seasons and come Winter I just don't want to leave the house for anything. I think that if I lived in a Nordic country I'd be susceptible to Seasonal Affective Disorder and would have to spend hours at a time in front of a faux sun just to lift my mood again.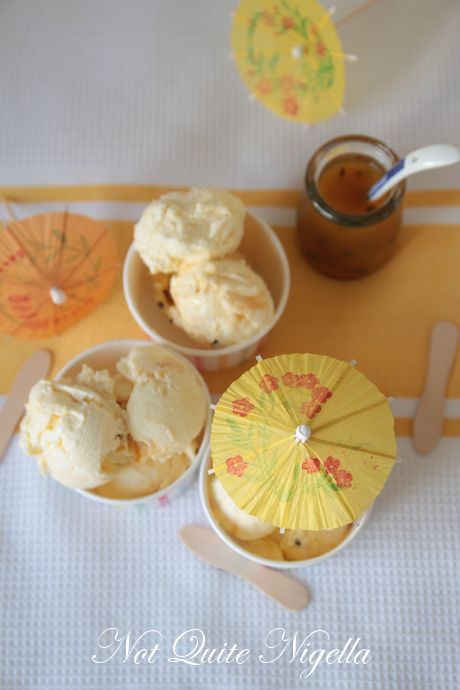 This ice cream actually was borne from too much travel. I had made some passionfruit curd to fill some cupcakes and since it was made fresh it didn't have any preservatives. I had also bought some cream a couple of weeks ago intending to make a cake.
I returned from being away and saw the cream about to expire and because I loathe things going to waste, I decided to make an ice cream using both the cream and the passionfruit curd. And because I don't mind adding a bit of alcohol every now and then to dishes I finally got to use the Cece Limoncello that I got last year in a recipe instead of drinking it straight.
The ice cream is so easy and is based on Nigella's margarita ice cream recipe. It's a no churn ice cream so you don't need an ice cream churner and you basically whip the cream, limoncello and sugar together and fold it with the passionfruit curd and freeze. That's it! The ice cream is a wonderful mixture of  tangy, sweet and creamy. You could of course make this with lemon juice if you want the kids to enjoy it. It also imbues the eater with a feel good sunniness and helped us move into a late coming spring in the absence of an omnipresent sun.
So tell me Dear Reader, do you hate throwing things out or wasting things? And are you very strict with best before dates or used by dates?
Easy No Churn Passionfruit & Limoncello Ice Cream
An original recipe by Not Quite Nigella
Passionfruit pulp to serve (optional)
*you can buy passionfruit curd or you can make it using the recipe below
Step 1 - In the bowl of an electric mixer fitted with a whisk attachment add the icing sugar and the limoncello and stir to dissolve the sugar. Add the cream and whip it all until soft peaks form.
Step 2 - Place 1/3 of this whipped cream mixture into a freezer proof container and then dollop over 1/3 of the passionfruit curd. Alternate the cream and the curd spreading it so (you want a ribbon effect).  You can spoon some passionfruit pulp on top just so anyone curiously sniffing around the freezer will know what flavour you've made. Freeze overnight or until frozen-it is very light so it won't take that long to freeze.
Home-made passionfruit curd
1/2 cup passionfruit pulp
Step 1 - Over a double boiler, place the eggs, sugar, passionfruit and butter  and stir over a pan of simmering water and whisk until light. Keep stirring for about 10 minutes until thickened. It will thicken even further on standing once chilled. the curd can also be done in the microwave on a 50% power setting for 6-8 minutes. Stop the microwave every minute to stir the mixture. Cool completely and chill in the refrigerator before using in the ice cream.
Striped paper cups and wooden spoons are from Lovely Little Parties