Looking for a healthy snack for adults or kids during the holidays? This all fruit low sugar banana ice cream transforms bananas to a creamy textured soft serve ice cream in a matter of minutes! With no added sugar at all!
I never quite knew how hippy Mr NQN's childhood was until one night while we were away he looked up at the curiously pointy topped building we were in and said, "Oh this reminds me of the yurt we used to live in."
"You lived in a yurt?" I said, getting up on one elbow and cocking my head towards him. I've seen yurts...like in movies about Mongolia!
"Yep that's after we lived in Rosebank, then Federal, Mullumbimby, then Mullumbimby Creek, Bellingen...the yurt was in Upper Thora," he explained. And if anyone knows anything about hippy life on the East Coast of Australia, they will know that all of these locations are prime hippy territory. I pictured a roving family of hippies that moved from place to place by school bus, holding hands and bonded together by daisy chains.
His father Roger used to be an organic, biodynamic banana farmer and Mr NQN is one of those people who will look at a tree and just know what it grows. City kids like me can only tell when we get up close and can see the fruit. He knows immediately and has come home with tomatoes and lemons from the roadside and apparently there is an avocado tree on our road as well as a blackberry bush!
We always tend to have bananas in our place for fruit salad and also because he cycles and they are good for muscle cramps. But sometimes I go overboard and buy too many so I end up skinning and freezing some. And I've been making something really delicious with them lately. Do you know once you blend up a frozen banana it goes from the fruit to a pale, smooth, creamy confection just like ice cream and you can serve it just like a soft serve?
I decided to top these with fruit purees but by all means feel free to go the rich, creamy and sticky route if you want to considering you're saving calories on the soft serve itself (it's that logic that means that I will always be just a little bit chubby). It's always such a treat to receive a package from Dougal Munro, a farmer from Orange that we met a few months ago. When we visited him at the farm he sent us off with boxes of multi hued potatoes, tiny and enormous apples, giant bulbs of elephant garlic and some very mysterious medlar fruit. This week he sent us some kiwi fruit which was deliciously sweet and less acidic than the commercial variety.
The great thing about this ice cream is that it is just pure banana that doesn't need sweetening. It is so easy to make and if you have a large star tip, you'll be making soft serve in no time just like bought soft serve. The only drawback is that like soft serve, it needs to be eaten straight away and loses that creamy soft serve texture if frozen. But if you're looking for a healthy snack that is low in sugar then this fresh fruit ice cream is the perfect solution!
So tell me Dear Reader, are you good at spotting fruit trees? DO you ever forage foods? And would you top this with fruit puree or would you for the rich, creamy and sticky route?
DID YOU MAKE THIS RECIPE? Share your creations by tagging @notquitenigella on Instagram with the hashtag #notquitenigella
All Fruit Ice Cream
Makes 4 cups of real fruit ice cream
Preparation time: 5 minutes (plus some thawing time)
Cooking time: 0 minutes
4 large frozen bananas (I peel them and put them in a zip lock and freeze them whenever I have an excess)
1 teaspoon vanilla bean extract (optional)
3 kiwi fruit plus 1 extra sliced for decoration
1/4 cup raspberries
Bananas in the freezer. To the left are peas which Mr NQN uses to regularly ice his knee. We bought new peas.
Step 1 - Fit a piping bag with a large star nozzle (the largest one you can get, not the small metal ones for making flowers). Take out the bananas from the freezer. You don't want them rock hard but you still want them frozen. I leave them on the counter for about 10-15 minutes in the bag. Once you can pry them apart they are ready.
Have you seen this method to skin a kiwi using a spoon?
Step 2 - While they are thawing, blend up the kiwifruit in a processor. Then use a fork to mash the raspberries. Set aside.
Step 3 - Place the bananas in your blender - I break them up into 3-4 pieces. Using a tamp tool to press down but keep the speed relatively low. In the Oster, the higher the speed, the more heat is applied and we still want to keep the banana frozen. Just move and mash around the banana and in about a minute it will be smooth and pale in colour, like vanilla ice cream!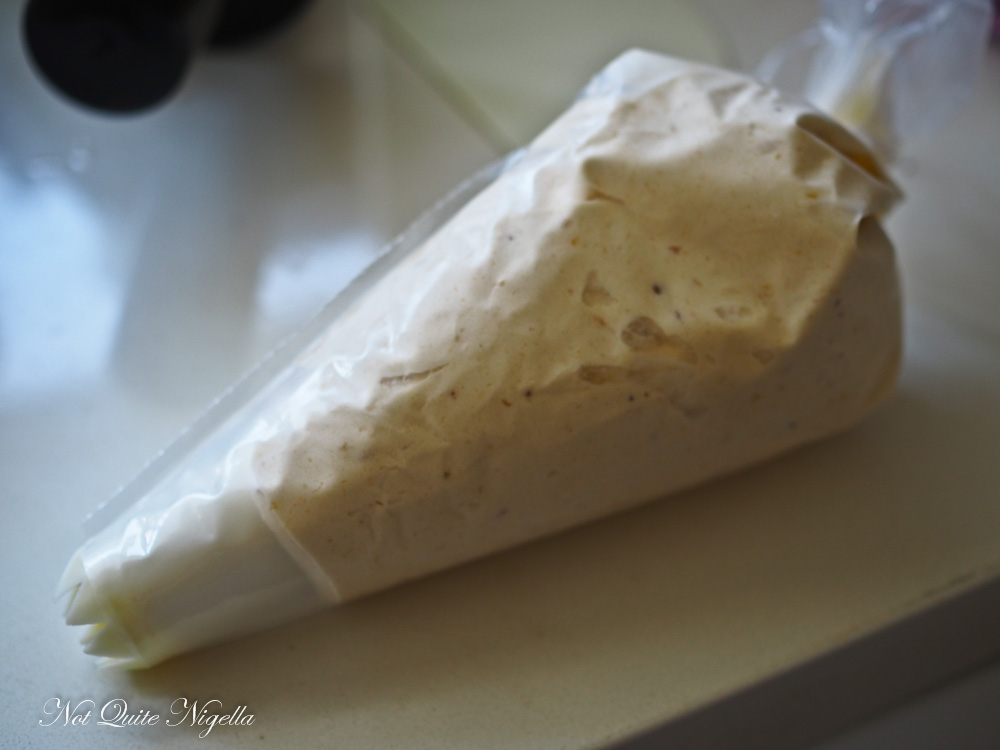 Step 4 - Scoop into the piping bag and pipe into the cups. Serve with two sauces on the side and a slice of kiwifruit.