Last year towards the end of Winter I rang Corner 75 to make a booking. Being that it was on a Saturday night, they were fully booked and it was with a sense of sadness that I realised that it would be another year until I could make another booking. You see I love the idea of eating these hearty Eastern European cuisines in Winter but come Summer, I'm all about salad.
I'm with my usual partners in crime, Miss America, Queen Viv and Mr NQN.  We arrive on this chilly Winter's evening and find a brightly lit and full restaurant. The clientele mostly appears to be Hungarian and it is decorated with lots of pretty Hungarian touches from embroidered aprons to whips. A candle holder that also holds salt, white pepper and paprika sits on the table. Pictures of the Hungarian Presidents line the walls to the bathrooms upstairs. Service from our waitress is sweet, friendly and knowledgeable.
The entrees come out very quickly. I know Miss America will love this as he adores pastry. I recall having this at Manly markets a year or so ago and this deep fried dough is frightfully addictive. You know it's deep fried dough after all and not exactly going to get you ready for swimsuit season but you just cannot help eating more. We dip it in the strong raw garlic sauce and then spread sour cream over it for a crunchy, oily, garlicky and creamy sensation. Bliss.
Queen Viv tries the cold cherry soup. "Oh it's wonderful" she says "Just the right balance of flavours". I try some and she's right. It's a sweet, milky soup  made creamy with sour cream and given aromatics with cinnamon. There are also whole sour cherries at the bottom and it's delightfully good.
The Hortobágyi crepe aka the bite sized goulash is filled with soft and tender veal goulash and smothered in a paprika sauce. It's delicious with the soft meat and we adore the sauce which we take to dipping the Langos in.
Just as our entrees are cleared, our mains arrive-food is fast to come out here! This was a dish that the waitress recommended and looks to be the same sauce as with the Hortobágyi crepe. The chicken is very soft and delicious and falls off the bone. Sod etiquette, I pick up the pieces and suck them clean pleasurably. It's served with some plain pasta noodles.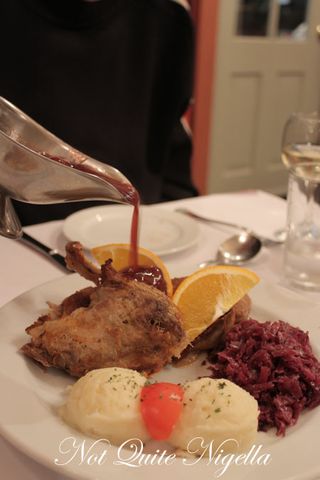 B.B. (Before blog) we had dined at a restaurant where we had ordered a half duckling and ours eyes widened at the sight of this huge half duckling but the meat was impossible to get off so it was a frustrating experience. Not here though as the meat is easily removed, almost like a confit of duck with a slightly crispy outer. The red cabbage is sweet and fantastic and we have this with the thick sour cherry sauce which complements it perfectly.
The gipsy roast is gorgeous. Like a schnitzel they are breaded pieces of roast pork served with divine garlic potatoes, that red cabbage that we can't get enough of and smothered in a rich sauce.  It comes with a piece of crunchy, slightly tough crackling.
The fresh cucumber salad is lovely and reminds me of the one that my mother makes although this is spiced with paprika.
We are fascinated by the glossy pickles that look like pale yellow wax pumpkins and Mr NQN is the first to spear one. It's a Hungarian sweet pepper stuffed with sauerkraut. It's spicy, slightly sweet and quite addictive.
We look around and most of the other diners have disappeared at this early hour so we get on with ordering dessert. We start with the lightly rum flavoured chestnut puree which comes out in squiggly ribbons of goodness with a generous amount of whipped cream. It's rich and it's decadent and it doesn't stop us from finishing it all quickly.
The pastry on his strudel is fabulous-nutty and buttery I could just have a big plate of the pastry thankyouverymuch. The sour cherry filling is plentiful and generously portioned and we order it with a scoop of ice cream.
I had been wanting to try the Gundel pancake ever since I heard about the walnut cream paste stuffed pancake with chocolate sauce "Beautiful" Mr NQN says nodding. What the? He's not in the habit of using such effusive adjectives and "It's not bad" is his highest praise. I'm intrigued, there is a soft walnut filling, very finely blitzed we'd imagine with sultanas and a light splash of alcohol. And a rich chocolate sauce ladled on top. Oh yes it is beautiful.
So tell me Dear Reader, do you like to eat warming food in Winter and cooling food in Summer or is that not an issue for you?
Corner 75
75 Frenchmans Road, Randwick, NSW
Tel: +61 (02) 9399 5712
Open Tuesday-Sunday from 5:30pm
Parking at rear