It was Mr NQN's weekend. It was something that I thought we ought to do as every other weekend seems to revolve around my activities. Being Mr NQN's weekend we went shopping for pants for him-he's a fusspot with those and as he is rather disorganised, the dinner plans never did eventuate. When he expressed a preference to eating near home, we called Lebanon and Beyond in nearby Randwick only to find that it was of course fully booked this Saturday evening. Not a huge shock so it was Spanish Omelette at home in front of the tv on a Saturday night. A nice change but a touch dull. Although we got to watch lots of episodes of Modern Family and The InBetweeners which we both love.
Like all good spouses, I think he sensed my boredom so we decided to try for Lebanon and Beyond the next evening. I booked earlier that day and lucky we did for as we turn up, a woman with a party of friends is eager for a table but as it's fully booked she is politely let down. Undeterred she promises to be back in an hour for a table (and she is).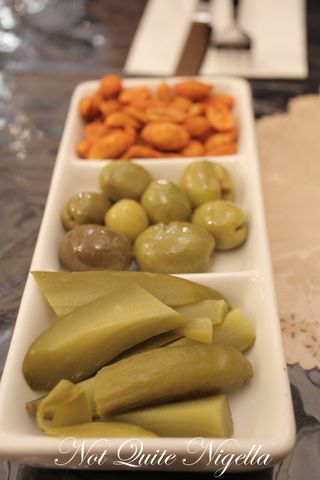 Housed in an art deco building it has a certain retro feel to it. Service is friendly and we are allowed to have one vegetarian banquet and one regular chef's banquet, each with four courses including dessert. Most banquets these days are over $30 so we're pleasantly surprised to see a banquet for $28 and a vegetarian one for $25. They give us a plate with spiced peanuts, salty green olives and pickles and I particularly like the peanuts and the pickles together. Mr NQN gets his homemade lemonade which is a flat lemonade with the distinct flavour of fragrant orange blossom-it's a bit more orange blossom than lemon though.
Orange blossom lemonade
Peeking through we see that the kitchen is small and I pass through to use the ladies room where it seems I've entered a different world. The bathroom is seems is shared with a private hotel and inside the bathroom looks to be like a hospital bathroom with a shower. One wonders whether there is any overlap with the hotel residents and restaurant patrons.
Hommous
Baba Gannoush
Lebanese Bread
I return to the table and see that our dips have arrived. There's hommous and babaganoush presented very prettily with tomato, pickled turnips and parsley and a swig of oil and a smattering of paprika. It comes accompanied by soft Lebanese bread. The hommous is gorgeously creamy and the baba ganoush is lightly smokey.
Tabouli
A generous serve of tabouli arrives next and it's lovely and fresh. I split a Lebanese bread quarter in half and fill it with the dip and tabouli and we munch away happily on this.
Vegetarian second course with fried cauliflower, felafel and spinach pie
_Chef's Banquet Second Course with fried cauliflower, felafel and Lady's finger
_
Our second course arrives and both the vegetarian and non vegetarian dishes have most things in common except for the Lady's Fingers and Spinach Pie. There is fried cauliflower and a crunchy on the outside but soft on the inside felafel. The lady's fingers are filled with a sauteed lamb mince, onion, cheese and pinenuts and it's wrapped in filo pastry and then sliced in half. I prefer the vegetarian version with spinach, onion and feta as it's a touch more moist (and divine dipped in the hommous and eaten with the tabouli).
Chef's Banquet Third Course with Lamb Shish Kebab on left and Garlic Chicken on right
Clutching at our stomachs by this stage, even my famished sportsman is signalling fullness. Perhaps I'd fed him too much hommous and taboulli stuffed bread. When the garlic chicken and shish kebab arrives I'm clapping in delight. Oooh toum! That delicious garlic fluff that I love so much (and when both of you love it and you both reek of garlic, it doesn't really matter does it?). I take a bite of the garlic chicken and it's flavoursome and tender. The lamb shish kebab is also packed with flavour although compared to the chicken it's less tender. And we get two sticks of each which is more than we'd thought one person would get.
Vegetarian Banquet Third Course: Cabbage Rolls
_Vegetarian Banquet Third Course: Stuffed Eggplant
_
The vegetarian serving sizes are generous too with two vegetarian cabbage rolls which are stuffed with rice, onion and herbs and a lemon sauce and are vaguely dolmade like. The vegetarian zucchini is a hollowed out zucchini with rice, onion, herbs and a tomato sauce. They're both a bit bland though and a bit too similar to each other.
Baklava and Orange Blossom Tea
Cinnamon Tea
We ask if we can change the coffee to a tea owing to the late hour which is no problem and instead we try the orange blossom tea and cinnamon tea with our baklava. The orange blossom tea looks like hot water but is lightly fragranced with orange blossom water and is a nice, semi sweet refresher and the cinnamon tea is rich and strong in cinnamon.
The baklava isn't quite as sticky as other baklavas which may appeal to those less sweet toothed and the fine, crunchy nuts are delicious. We look at our bill and are again pleasantly surprised and we waddle out of there happily.
So tell me Dear Reader, how often do you have a Saturday night at home?
Lebanon and Beyond
187 Alison Road, Randwick, NSW
Tel: +61 (02) 9326 5347
Open 7 days 5pm-10pm