I'm terrible at remembering dates.  In fact I need a website to remind me when people's birthdays are so that I don't seem like a terrible friend. Stores remind me, sometimes months in advance that Valentines Day and Easter are coming up . Then there are my parents who remind me every year when Chinese New Year is going to be. In my weak defence the date does change every year (I know, not a great excuse there). And since tomorrow is Chinese New Year and it seemed appropriate to celebrate with a Chinese restaurant post.
We're at Chef's Gallery, where dumplings and noodles feature on the menu alongside other slightly different offerings than your usual Chinese restaurant. Mr NQN and I are dining with with Queen Viv and Miss America, both complete dumpling addicts (and survivors of our dumpling race around Sydney). You've got to love friends that can face dumplings after a repetitive onslaught of the little buggers. This post is made up of a few visits there.
There's a single voice that yells out "Welcome!" when we walk in and then the rest of the staff join in with a collective "Ni Hao" in the Chinese version of the Japanese "Irasshaimase!" welcome greeting. This repeats itself every time someone enters. We sit down at the banquette which is very low and I feel as though I need a cushion-in fact the woman next to us asks to move because she feels too low compared to her dining companion sitting opposite her! We order based on dumpling lust and the little chef's hat which designates an item as the specialty. The people cooking the food wear what appear to be upside down plastic sun visors over their mouths. "It's all very Darth Vader" Queen Viv says and we nod in agreement.
Pork belly Roll $8.90
BYO is $10 per bottle here (wine only) and Queen Viv and Miss America start pouring. The food comes out furiously fast and we start with the pork belly roll which is a cold dish. There are thin, tender slices of roasted pork belly wrapped around batons of cucumber and carrot and topped with a finely diced garlic Asian vinaigrette (like one of those oil free Japanese dressings). We all enjoy this dish as it's refreshing and crunchy.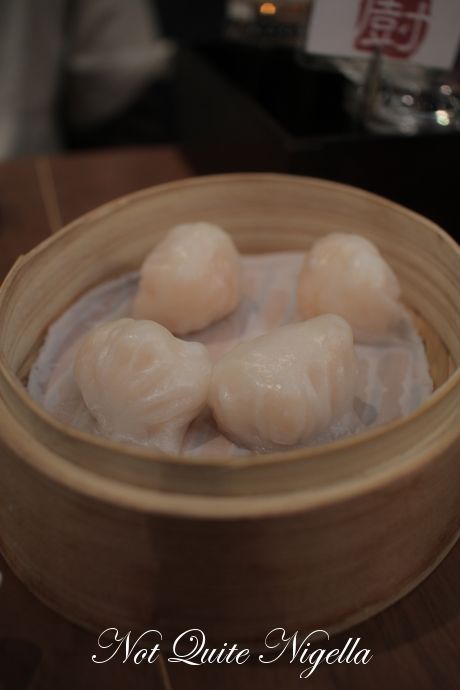 Steamed prawn Dumplings $7.90
We happily devour the steamed prawn dumplings which are filled with fresh prawns and bursting with flavour. In fact I make motions to order another few lots of these but digress as I realise that with all of the changes as some items are unavailable, we have unwittingly ordered a mountain of food.
Cabbage and pork pan fried dumplings $9.90
These came out looking just like the spring rolls my late grandma used to make me so I get all happy inside. They're crispy on the outside being pan fried mainly on one side and filled with a flavoursome and slightly crunchy cabbage and pork filling.
Chicken pan fried bun $9.90
I had expected these to be more...well pan fried but they appear as entirely steamed buns filled with chicken mince, much like steamed bao buns.
Chef's Own Golden Snowflake chicken noodle $14.90
Now a name always suckers me in (call me a marketer's dream) and the idea of a golden snowflake chicken excites me. It comes out on a separate plate and it is a very thin fillet made up mostly of panko breadcrumbs. The taste is oily and we remain nonplussed. The soup is like a very watery light pumpkin soup and we remain nonplussed by this too. It's hungry Mr NQN that finishes it but Queen Viv, Miss America and I leave our share in our bowls uneaten.
Chilli chicken noodle $13.90
The noodles are all handmade and they are springy and very good indeed although they are also very slippery and transporting these from the bowl to our individual bowls proves a task. The chilli chicken isn't too bad but it's a little bit one note. I prefer dipping the noodles in the sauce from the sweet dark pork ribs below.
Chef's own handmade egg tofu , lightly pan fried topped with preserved vegetables $16.90
I'm in love with this tofu dish. Queen Viv wasn't too impressed by the idea at first when I ordered it but changed her mind. I figured that Mr NQN with his hippie childhood would finish it even if the rest of us didn't. No chance, the egg tofu is like a delicious egg custard, like Japanese chawanmushi but firmer and in a rectangular form.
Ham Roti $8.90
The roti with ham wasn't particularly inspiring. I had a piece with a lot of raw dough inside and the waiter's recommendation of the ham flavour didn't add a lot of flavour with most of the thin deli ham squares falling off.
Three Egg Fried Rice $14.90
This was another favourite dish. This fried rice has three kinds of egg in it: chicken's egg, salted duck egg and century egg (which are the dark brown and green jellied cubes). I particularly like what the salted duck egg flavour does to the flavour adding saltiness but also richness with the yolk. And I'm the one eating the last grains off the plate.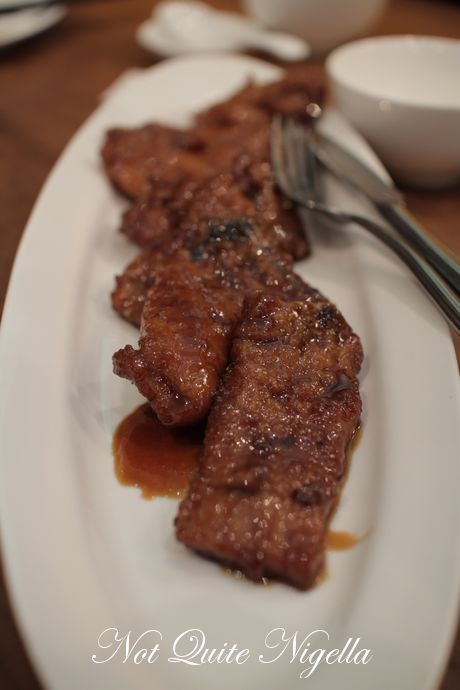 Sweet dark pork ribs $19.90
The sweet dark pork ribs are a good sized serve of deep fried pork ribs coated with a sweet, soy based sauce with a vinegar flavour to it. We enjoy nibbling on these huge pieces on the bone.
Eggplant served in tangy minced pork chilli sauce $15.90
We were looking forward to the lobster tacos but alas that was taken off the menu. So this was a dish that was ordered as a replacement and it turns out to be one of the favourites. There are four cubes of eggplant, crispy edged on the outside and soft and melting inside, sitting atop a bed of spicy tangy minced pork sauce redolent in bean paste and chilli.
Chef's own mini pork burger $13.90
Described as "very cute and tasty" on the menu these were five golden deep fried sweet buns, similar to those steamed baos but deep fried until crisp on the outside but soft, sweet and white on the inside. There's a little sliver of pork inside each one and whilst it is good, it needs more pork and a sauce on it as it ends up being a bit dry especially if you eat more than one. So we dip the buns into the sauce for the eggplant above and it does quite nicely.
Mixed seafood and tako with creamy wasabi sauce $12.90
The mixed seafood rolls were made up of that seafood mince that they use a lot in Asian cuisine and I'm guessing the tako was octopus as there was some in there. It is encased in a thin layer and deep fried and a squirt of a creamy wasabi sauce like a mayonnaise finishes it off on top. Mr NQN likes this as he is a wasabi fan but I am less so.
Pumpkin Bun $7.90
"Are you ready for dessert?" our waitress asks. "Could we wait about 10 minutes?" we ask her as we are stuffed from the savouries. She explains that it will take about 10 minutes for the dessert to come. The pumpkin buns rate very high on the cuteness factor and people walking past us coo in delight and make plans to order them. It is filled with sweet lotus paste. The dumpling taste itself was quite waxy but if you are after cute, this will do (and I want to order some for my Halloween party!).
Piggy buns $7.90
However the cutest items are the piggy buns that come as a boy and girl pair, filled with sweet black sesame paste. The buns are adorable and it's hard to bite into the piggy face (I mean where do you bite?) but curiosity gets the better of us and we sink our teeth into the buns and are rewarded with a soft, doughy outer encasing a sweet, slightly smokey black sesame inner.
Osmanthus Sweet cake $5.90
When we were waiting outside I'd see plates of these jelly cubes being brought out and I would wonder what they were. Little did I know that these little cubes were based on the fragrant osmanthus flower (similar to a very light apricot or peach), goji berries and Queen Viv says "Very refreshing" which is coincidentally what the menu says!
So tell me Dear Reader, are you really good at remembering dates and times of events and birthdays?
Chef's Gallery
Regent Place, Shop 12, 501 George St, Sydney, NSW
Tel: +61 (02) 9267 8877
Open 7 days from 11am-10pm