"Where are we?" I ask Mr NQN breathless, holding an umbrella and standing in front of a fuzzy grey rain soaked day.
"Don't worry, follow me" he says taking my hand and guiding me through throngs of bushes and greenery. The greenery is of course because we are in the Royal Botanic Gardens in the middle of the city and the lost is because...well I am me and I could get lost in a square room if I were distracted enough by interesting things. And here there are cockatoos, ibises and a plover bird that is staring me down like I were in a boxing ring with him. Better keep walking!
We arrive at the Botanic Gardens restaurant somewhere (and I suspect the breadcrumbs that I've left have been eaten by the pesky birdies) in the parklands (tip for the directionless like me: look for the Palm Grove Centre and Visitor Info sign). I recall coming here for a friend's pre wedding lunch and it was a lovely setting. Today however things are all set up for Winter and there's a fire roaring, blankets on the back of our chairs and for the months of June to August there's a Sunday roast on the menu. The balcony area is covered off with the plastic sails occasionally billowing when the huge gusts of wind take hold.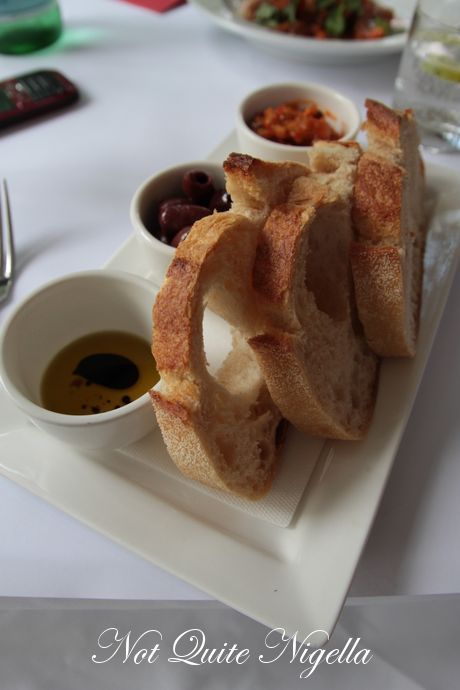 Bread olives, house made dip $7.50
We're waiting for a while for the bread which we asked to come first. Even though I am a reasonably patient person, the 25 minutes was a little too long and I was about to ask where the bread was when our entrees arrived. We had to ask where our bread was and this was brought within a few minutes but we couldn't help thinking that the bread should have come earlier as requested to help fill up that yawning 25 minute gap. The house made dip is a caponata dip which is always a favourite of mine made with tomato, eggplant, onion and capers. It's very moreish and goes quickly with the three large soft, warmed pieces of bread. There are also some lovely black olives and a bitterish olive oil and balsamic vinegar.
Fish soup rouille, croutons $14
The first entree was a take on a bouillabaise instead blended together to become thick and creamy. It came with some fabulously crunchy, garlic buttery toasts, some cheese and some rouille, a lightly spicy mayonnaise. I really liked it with the toast pieces and could have happily eaten more of these with the soup.
Braised Moroccan octopus with quinoa and preserved lemon
The octopus with quinoa had tender pieces of grilled octopus in a soupy stew of tomato, carrots and celery with a distinct smokey flavour that inexplicably reminds me of being on holiday although the preserved lemon flavour was quite light. Since we had the olives, I popped a few of them into this dish to give it a salty buzz.
Pork loin roast, apple sauce, crackling, apricot and rosemary stuffing, roast potatoes, silverbeet and gravy
Now my family has never had a tradition of a Sunday roast. For us Sundays were about yum cha. But it doesn't mean I can't appreciate a good roast (in fact I remember yowling to my mother as a child, "Why can't we have a Sunday roast like everyone else?"). This one's a beauty. Each week it changes and this week it's a pork roast which gives me a bit of an internal high five when I see that it also comes with crackling. The was a choice at many of the tables around us including the table right next to us where I heard our table neighbour crunching on his crackling. And when it's brought to the table my eyes widen. It has two thick, tender pieces of pork, some fabulous apricot and rosemary stuffing, roast chat potatoes, silverbeet, a side bowl of apple, gravy and a delicious Yorkshire Pudding. The pork is moist and with a tempting ring of fat around it and the potatoes roasted until crunchy edged. The stuffing is my downfall and I ponder asking for the recipe-it's hands down one of the best stuffings I've had and the sweetness of the apricots goes so well with the pork and apple sauce. The silverbeet... well to be honest I ran out of stomach room for this.
Free range chicken two ways $29
The free range chicken was done two ways: one part was a crispy skinned roast breast and the other a confit leg. It also came with a lovely creamy polenta, soft and sweet garlic cloves and a basil jus. I liked both cuts although of course the confit leg was more moist whilst the breast had a lovely crispy skin on it and didn't become dry. Mr NQN preferred this dish whereas I loved the roast.
Cauliflower cheese $9
I have to admit hat it was a little ambitious ordering sides but Mr NQN does well polishing off the soft cauliflower cheese which is ideal comfort food for Winter.
Green beans, bacon, sour cream $9
If you ever have trouble getting people to eat their greens, then adding bacon and sour cream is just about the cleverest way to get them to eat them. In fact adding bacon and sour cream to anything is genius! The green beans are cooked well and get a saltiness and creaminess from the toppings.
Apple, maple & sultana steamed pudding, vanilla bean ice cream $15
We look around to order the dessert as we have to leave soon as our parking is up. The dessert were a hit, even though we were worried as we had to go but they were worth waiting for. The apple topped steamed pudding is moist and light and comes filled with juicy sultanas and a vanilla bean cream and scoop of vanilla bean ice cream. And this is where my dessert stomach kicked in as the winds whipped outside and I found solace and comfort in a spoonful of pudding.
Custard & quince tart, anise syrup $15
The custard tart is housed in a buttery, crispy pastry with a sweet eggy custard that reminds me a little of the Portuguese tart custard. In the centre there is a slice of sweet quince with a bruleed top and on the side are little jelly squares with an anise syrup that goes straight to the heart it's so aniseedy.
I shall name you the cockatoo tree next time I get lost
Mr NQN runs off to attend to the car (we saw plenty of brown bombers issuing tickets!) and leaves me some instructions on how to get back to the car. I wander off slowly taking photos of the cockatoos which sound a deafening cacophony of screeches as they dive bomb over people's heads and find their homes on the branches of the trees. Of course I get lost on the way to the car as I turn right when I am meant to turn left. But the rain has subsided and my belly is happily full so I'm not complaining.
So tell me Dear Reader, are you easily distracted and lost like me?
NQN and Mr NQN dined as guests of the Trippas White Group
Botanic Gardens Restaurant
Royal Botanic Gardens, Mrs Macquaries Rd, Sydney, NSW
Tel: +61 (02) 9241 2419
The Sunday Roast lunch features every Sunday for June-August 2011