"Dear Lorraine,
Im sorry for the late notice on this but wondering if you'd like to come as my guest to a new food safari we are running this Sunday – its a Japanese lunch with Mr Azuma in the city. They have a mission to bring Japanese food to people and will be doing some interesting things.
Hope you can make it.
All the best from Maeve"
"Oooh!" I squeal happily before realising that I have a huge eating event scheduled for that very day. After a bit of juggling and some understanding dining companions, Teena and I are headed towards Azuma Kushiyaki in Regent Place for our very first Gourmet Safari with Maeve with Mr Azuma Kimitaka!
Bonito Shaving Box
There's a crowd of people outside milling around drinking champagne and I quickly spot Minh and Teresa too. Maeve is warm and enthusiastic and when they bring out Mr Azuma's bonito shaving box she becomes excited and even though she has been doing this for years, she hasn't lost her enthusiasm for sharing exciting things. She and Mika Nishimura (who often features in her book the SBS Eating Guide to Sydney) get up on chairs to introduce themselves and give us an overview on how things will proceed.
Roe, chives and raw okra for garnishing the sushi
They tell us about Azuma's first premises in Crows Nest which catered to a Japanese speaking crowd as the menu was only in Japanese. after that, he transitioned to having a restaurant in Chifley Tower, then Kushiyaki Azuma where we're currently standing, the patisserie next door and the noodle shop across from it. He also has a rather famous fan in Tetsuya Wakuda who lunches here every day (and indeed on my visit there a few months previously, he was there and looked right at home).
We watch the sushi chefs with their long silver chopsticks with the wooden handles painstakingly placing ingredients just so from the tiniest disc of raw okra to delicate bubbles of roe. We try little morsels of sushi including a beef mince one with tomato which is a combination I don't often choose as I usually go for seafood but it's delicious and I make a mental note to order it again. On top is a slice of raw okra which has that sticky quality reminiscent of natto (the polarising fermented soy bean dish loved by the Japanese but not so loved by the non Japanese - I consider it Japan's Vegemite). There is also a salmon and avocado sushi which is my favourite as well as a raw scallop sushi.
Mr Azuma
We move into the restaurant and past Mr Azuma who gives us a broad smile and welcome. At our table is Marianne who tells us that she has been on 99% of all of Maeve's Gourmet Safari tours and that this is her first experience with Japanese food. Maeve points out regulars that met on a Greek Island Gourmet Safari last year and got on so well they now travel together, as well as other devoted regulars. Marianne tells us that this group of 80-100 is one of the larger ones with some groups as small as 20.
Beef sushi with tomato and okra
We start off with a simple lesson on soy sauce and sushi. The key is not to to put too much soy sauce on your sushi and the side in which you add soy sauce is the fish side. You need only tilt your piece of sushi to the side a little and give it a whisper of soy and this way your sushi doesn't fall apart as you aren't putting too much soy. The slight tilt means that it's easy to manoeuvre and the fish side doesn't absorb the soy as much as the rice side thus avoiding a soy sauce soaked piece of nigiri.
Mika shows us the knives
Azuma-San puts away his precious knives
Mika then explains to us the importance of Japanese knives. Mr Azuma brought these over from Japan when he arrived and they are still wrapped in their original newspaper from years ago. Each knife serves a different purpose: a cleaver type knife is for vegetables, there is another knife for fish and what looks to be a large pin shaped object is for eel. Japanese knives are sharpened on one side only and knives for fish in particular need to be super sharp as a blunt knife leaves tiny waves in the flesh giving it greater surface area and exposing it to the air more which increases the rate of deterioration. Seasoned sushi chefs can tell when you've cut them fish with skill or not. You use different cutting styles for sashimi and sushi cutting against the grain for sashimi and across the grain for sushi.
Mr Azuma shows us how to use the bonito shaving box
On our tables there are placemats with little tasting portions of sauce as well as a tasting portion of a dish using the sauce. "Don't dip!" Mika says as everyone dips the Teriyaki chicken ball into the Terikai sauce and we go through all if the flavours ranging from Tosazu, a bonito flavoured sauce with a cucumber and wakame salad to a sesame paste sauce called Gomadare which they pair with Seared Wagyu beef a la Shabu Shabu. The favourite for the crowd is the Kimizu sauce which is a bonito flavoured mayonnaise which is paired with a paradise prawn and avocado. We're convinced he should start selling it.
Tempura Prawn Roll
Our food then comes out and we start with an inside out tempura prawn roll which comes pre sauced and is deliciously good with a nice crunchy tempura prawn inside.
Agedashi Tofu
The agedashi tofu is next with its slippery, thin coating of batter and sumptuously soft wobbly interior. We notice that there's a range of stunning Japanese bowls and plates that they use. In fact one of the plates that he used in the episode of Food Safari was worth $10,000!
Seared tuna Salad
Next comes the dish that Mr Azuma made in the Japan episode of Food Safari which is a seared tuna salad. It's perfect for summer dining and Maeve sits down to join us at our tables and she tells us how easy it is and how she has made is a few times.
Tempura prawn, pumpkin and okra
Our tempura assortment comes out next and I squeeze some lemon and dip the pieces into the salt provided. Although all are crunchy and moreish, the pumpkin is my favourite as it's sweet which provides a nice contrast to the salt and it is perfectly cooked.
Terikayi Chicken
A petite but perfectly sized portion of Terikayi Chicken arrives next and it's rich with that lovely balance of sweet and savoury. Despite the fact that I know that I'm scheduled for a meal of epic proportions this evening, I eat it all.
Silver Cod
The silver cod is accompanied with some pickled daikon and is satisfying moist and oily in texture.
Pickles
Because no Japanese meal is complete without pickles, we're served a delicious pickle selection. Maeve explains that pickles are meant to be a palate cleanser and are eaten with rice rather than with the main meal.
Wagyu
The Wagyu is divine. It comes pre-sliced and is served with a garlic soy sauce and slender asparagus and simply melts in the mouth. Heaven is Wagyu.
Miso Soup
I know when I'm deafeted when the Miso soup arrives I know that is my limit if I am to try the dessert. I take a sip and it's rich and deeply flavoured but I know soup will just fill me up so I reluctantly leave this behind although I do eat the round potato ball inside.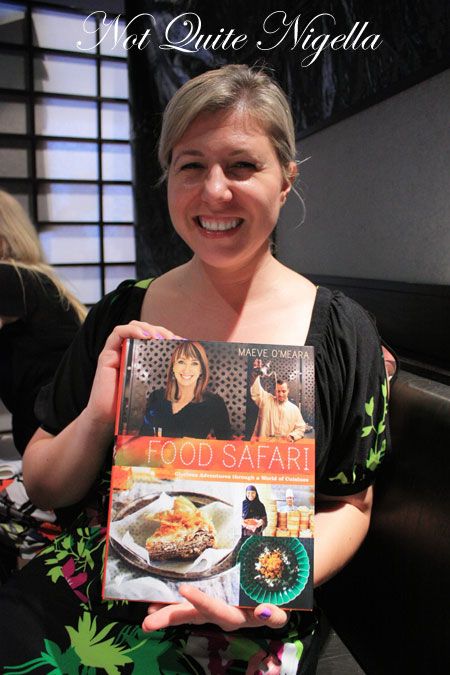 Teena wins the Food Safari cookbook!
Before the dessert comes out there is a door prize and ta-da Teena wins a copy of the lush looking Food Safari cookbook!  There are also four other packs available which include gift certificates for meals at Azuma.
Mochi with fruit, home made Ice cream and Japanese Sugar Syrup
Japanese Red Bean Cake
Our desert comes out and it's a two-parter. A delectable homemade ice cream is paired with fruit, small chewy white mochi and we're given a Japanese sugar syrup to pour over it. The ice cream is rich and creamy and the sugar syrup gives it a caramelly accent. I regret the lack of stomach space. The red bean cake is thinly covered with sponge and is beautifully made.
There's a final bow for Mr Azuma and his staff and Maeva asks me "Would you like to talk about your blog or are you shy?". I have a momentary attack of shyness and she tells everyone about NQN which is very generous of her. Teena and I leave happy, more educated and full but not before peeking into the nearby patisserie where on my suggestion and drooling she purchases two of the chestnut cakes.
NQN and Teena dined as guests of Maeve O'Meara and Gourmet Safaris.
](http://smh.drive.com.au/motor-news/age-of-reason-20100211-nubj.html)
And in some exciting news, I appeared in the SMH Drive section on Friday! So tell me Dear Readers, how old were you when you got your driver's license?_
_
Gourmet Safaris
Tel: +61 (02) 9960-5675
Kushiyaki Azuma
Ground Floor, Regent Place
501 George Street, Sydney, NSW
Tel: +61 (02) 9267 7775
Open: Monday to Friday Noon-2:30pm
Dinner: Monday to Sunday 6pm-10pm