The problem
Orange dust sweeps up into the air as the truck settles to a halt.  "Oh no those shoes won't do" Lou Revelant says looking down at my ballet flats. "I'll be fine" I say, after all I've visited countless farms wearing similar footwear.
"Ouch! ouch ouch!" I say as I take two steps and enormous bindies spike my feet. "Ok maybe I will invest in a pair of farm shoes" I concede.
Where am I? I'm six hours out of Sydney at Griffith in the Riverina region exploring a story that I've wanted to do for a long time now. The seed for this idea first came to me when I was visiting Tasmania last year and I saw a beautifully formed head of broccoli make its way into a bin. I asked what was wrong with it, to me it was a picture perfect specimen and I would have certainly picked it up if I had seen it at the store. It was too big, I was told. I kept thinking about that head of broccoli - I choose broccoli that has a large head because I like the florets and yet supermarkets were stocking smaller headed broccoli with long stems.
The head of broccoli that was deemed "too large" and off spec
Food Bank
Minimising the amount of food waste has been the primary objective of a charity organisation called Food Bank. Each state in Australia has a branch of Food Bank and they collect tonnes of food produced by farmers and production companies that doesn't even make it to supermarket shelves. And why doesn't it make it to the supermarket? Because it is "off specification."
I was curious to explore it more and find out what "off specification" really meant. Is it the idea that supermarkets think they know what we want? Or is it that they don't really care what we want and make a decision for what we will buy based on other factors (more heads of broccoli sold as we want more florets?). Or do we really know what we want?
Then a call came from Todd Connolly, national manager of market planning, from Komatsu who I had known at his previous job. He had a proposition for me. Komatsu had just donated a two tonne Toyota ute to be used in the Riverina area that made it possible for Food Bank to do their job. Would I be interested in going to see what Food Bank do? The Riverina region is crucial for Food Bank as it produces so much of the fruit and vegetable for the NSW region and around Australia.
Food Bank state offices run the day to day business which collects the food and they truck this into a central point in the state (in Sydney's case, in Wetherill Park) and any registered charity can come along and "shop" either for free or at a nominal rate (non essentials like coffee are charged at $1 a kilo handling fee, all of the fruit, vegetables, bread  and staples are free). On Fridays, Food Bank uploads a list of produce available and charities can take a look at the list and shop there from Monday to Wednesday.
Food Bank's head office in Sydney lobbies the government for monetary and facility support like coolrooms and freight concessions. Each government helps to differing degrees and Lou mentions that the Victorian government is particularly helpful whilst the NSW government provides little to no assistance. At a grass roots level, there is another group of concerned citizens who head up the Waste Not Want Not volunteer group which supports Food Bank and helps to retrieve this excess food. This group, founded in the Riverina's Hillston area is integral in getting a lot of the food to Sydney and uses old fashioned people power with volunteers picking and gathering produce.
Food Bank is slightly different to OzHarvest as they store food whereas OzHarvest do not store food and move it from the donor to the charity on the same day. Food Bank also deal in much larger quantities like tonnes-  an example is corporate donor Goodman Fielder who bake 1,500 loaves of bread for Food Bank each day as well as donating surplus loaves. In NSW alone they distribute 3,000 tonnes of food and 40,000 meals a year with 670 companies donating 19,000 tonnes of food. According to Food Bank, 2 million Australians a year rely on food relief and half of those are children.
Supermarkets such as Coles, Woolworths and Aldi also donate - there was a recent oversupply of baked beans as a line was pulled from shelves. "Best Before" dates must be observed (although anything past its use by date can't be given out) and any food donated must have a list of ingredients on it. The Good Samaritan Act protects them to a degree although all measures of care must be taken with the food. Transport is the number one problem for Food Bank - getting the food to a central point incurs the most cost given how large Australia is and Food Bank's staff is made up of a mix of twelve paid workers with the rest as volunteers.
The Riverina Food Bowl 
Oversupply is a serious problem for the Riverina region at the moment. When there is oversupply, the big supermarkets get choosier in their specifications and conversely when there is little supply, they interpret their specifications more loosely. The Riverina is going through a period of oversupply and that means that for some farmers, it isn't viable for them to pick crop as it costs more to do that. One farmer that I met had to plough in 3,000 tonnes of pumpkins.
There are about 100-150 semi-trailers that leave the Riverina area each day, five days a week with produce. Previously the fruit and vegetable available to Food Bank was the leftover from Flemington markets which was variable in quantity and didn't allow them to keep a steady supply. The people from the Waste Not Want Not group saw the level of waste from talking to the farmers in the area and sought to help redistribute this valuable produce to the needy.
What is in it for the farmers? Well Food Bank issues them with a tax receipt and since farmers work on a five year rolling cycle, this can help them with tax within that period. They supply the farmers with collapsible bins (supplied to them for free by CHEP) which Lou uses the two tonne ute to deliver. Some farmers such as Lachlan Produce harvest about 30,000 tonnes of potatoes a year and donate about 120 tonne a year to Food Bank. Sometimes a rice farmer will donate a paddy to Food Bank and they will then sell the rice onto Sunrice who will harvest it for them.
I arrive in Griffith, just over an hour's flight from Sydney or six hours by car and it is straight to work. Food Bank hates to see anything go to waste and as long as there is about a bin's worth (about 400kgs) they will pick it up. We're headed to Yanco in Leeton to the Yanco Agricultural Institute where they are trialling more pest resistant onions so that they don't have to use insecticides which can be costly.
The Riverina grows about 95% of NSW's onion crop so these trials are important in this area. Today there are about 40 or so volunteers on hand today to help pick the onions. They are from the local Waste Not Want Not Group and have volunteered their time to help harvest these onions which would have otherwise gone to waste. At the end of the morning, there were about 10,000 onions picked.
After the picking, the Waste Not Want Not people adjourn to the Murrumbidgee rural studies centre where the Country Womens Association have put on an impressive spread of sandwiches, cakes, pies, scones and lamingtons. The CWA enjoy legendary status as holders of the secrets of the scone and sponge cake and I'm delighted to meet them and taste some of the tasty sweet and savoury scones, sandwiches and slices as well as a cup of tea.
I get a lovely box full of goodies that are produced in the area including some rice products from Sunrice and a fantastic organic rice from Randall organic rice (95% of Australian rice is grown in Griffith).
I'm also given some wines from Toorak Wines under the name Willandra Estate and Lillpilly wines in an interesting tramillon variety as wines as a lot of NSW wine grapes are grown here. In my basket is fresh lavender and pecans from the garden of the CWA secretary Doreen Riley. The variety and amount of produce means that the recent talks to change the water system at the Murray Darling River impacts the farmers and community directly.
I'd love to stay longer and talk but Lou hurries me along. After all I have lots of produce to see and I want to check out what exactly makes up an off spec product! Jeanine thoughtfully puts together some plates of goodies so that I don't miss out and we are on our way.
What does "off spec" mean?
Our next stop is Punterieros who supply onions to Food Bank. The staff are busy sorting out the saleable onions from the unsaleable and the thing that makes the crucial difference is the outer layer of brown. The inside is still fine and the onions are firm, heavy and not soft. However supermarkets will not accept onions unless they have the outer layer of skin on (which we usually remove when we cook with them).
A ripe Valencia orange
Our next stop is Aussie Gold Citrus which is a family run business. Mum Kath is a fantastic cook and host and her sons Frank and Michael take care of the citrus business. Currently they are processing Valencia oranges. They use a machine that takes ten photographs of each orange and sorts them according to size, blemish and colour.
However Valencia oranges are not always orange all the way around as they develop a green colour as a sunscreen. We look for the greenest one we can find and cut it open and it is sweet and full of juice inside and most definitely ripe. However since Valencia oranges are the only ones that turn green as sunscreen many people assume that Valencies aren't ripe unless they are orange. Valencias are one of the best oranges to juice with as the juice doesn't turn sour in time as other juices will. They donate 1-2 bins a week during the season which equates to 400-800 kilo a week.
I wasn't quite prepared for the amount of fruit that was discarded at the next stop, at Amaland Agco where melons of all varieties are harvested. There's a semi truck full of rockmelons outside and inside, dozens of workers are sorting out honeydew melons. They arrive by the binful and they process 200-250 tonne a day. We watch as one worker sorts out the melons which are washed and then come down a conveyor belt that spins them around so that the workers can spot any blemishes.
Honeydew discarded because of this one spot on the skin
We retrieved the above honeydews which were dumped and ask the worker what the issue was. He points to the single spot above, that tiny spot on the skin which you don't even eat. Other things like these blemishes also rule them out as well as odd shape.
Also discarded because of the odd shape
Discarded melons
Then Lou gets up on the semi trailer to take a photo of the fruit that hasn't made the grade and there is an astounding amount-almost as far as the eye can see. This will all be dumped on a farm even though some might have as minimal a damage as the photos above which doesn't affect the inside at all.
Another shame is that Food Bank simply cannot take it all and can only take a maximum of three bin's  worth or a tonne a day. So as a result, two semi trailer's worth or 40 tonnes of melons are discarded a day - and this is just from one producer in one region!
The Waste Not Want Not group
The next day we take the drive out to Hillston where the Waste Not Want Not Group idea started and I am chatting to some of the local committee members over a lovely breakfast spread at the local chaplain Julie Greig's house. Waste Not Want Not started in April 2011 they delivered 250 tonne of produce within the first five months. The local community is eager to take action and help gather items. People can "jump in when they want," Julie says. "I have little old ladies that stop me in the street saying that they want to help."
Suppliers also donate non waste or non off spec produce and they've also received donations of sheep and grain from farmers. And I'm given a lovely little jar of quandong jam from a 80 year old local man John Rose who has his own secret location for quandongs!
Our next stop is at Watson Partners where Tim Watson grows watermelon, pumpkin and beetroot among others. At the moment the shed is full of watermelons. And have you noticed that in the last few years, those long watermelons with the black pips from our childhood have disappeared and there are now only those round, seedless watermelons? That's because the stores say that consumers don't want watermelons with seeds anymore and the same goes for grapes. The long seeded watermelons still have to be grown because these are the male watermelons while the rounded ones are females. "A crying shame" Lou says "I like the taste of the long ones better" and everyone nods in agreement. They can't sell them and they are ready at an earlier time than the round seedless watermelons so they just stay in the field unpicked.
Hail damage on the watermelon
Tim tells us that they are allowed a certain amount of out of spec produce and this depends on where the bins are going-the buyers at one supermarket in Victoria are said to be stricter because they're less experienced and will reject watermelons based on the smallest flaws. Their specs don't change but their interpretation of the specs does depending on supply. "The thing that gives me the s*&ts is that I've never seen anyone eat a watermelon skin," Tim says. He also points out that when they are sliced up for sale, cling wrap usually obscures any marks on the skin so the consumer doesn't realise that there is a perceived flaw.
Marks from the "thrip" which is a small insect which appears only on the skin will mean that this watermelon will not be considered suitable. However to get rid of thrip they need to spray more chemicals so that their produce is saleable. "Consumers need to understand that to get rid of things like this, we have to spray more," Tim says, which they don't want to do as pesticides cost money and consumers generally don't want them used.
Julie, John and Lou talk to Tim about coming out and picking the surplus male watermelons and they discuss the logistics of doing this. The WNWN group come with their own insurance but they need to make sure that whatever they do with their suppliers doesn't cause them any inconvenience because this could mean that the supplies dry up.
The long watermelon
When we're out in the field I ask to try one of the long watermelons and some of the round one. I'm curious to know, are they very different? Tim slices open a long watermelon and I realise that it has been a long time since I've seen one of these classic melons from childhood where you made a competition out of spitting the pips. He then slices open a seedless one.
The long seeded melon is bursting with flavour - you know how when you revisit an ice cream or a lolly that you used to like from childhood but it's never as good? Well, this is exactly as good as what you ate as a child. The long melons have a softer texture but a divine sweetness and are just dripping with juice. The seedless watermelon isn't quite as sweet or juicy and has a firmer texture - it's still good but for flavour, nothing beats a long seeded watermelon. And I know this sounds really strange but a few nights after visiting Griffith I dreamt about finding a place that sells long watermelons and I woke up very excited!
The white dots in the field are all the watermelons which will get ploughed as they won't make the grade or they are long watermelons
Our next stop is Lachlan produce where they grow potatoes-and a very large amount of them go to waste. The manager Nathan Plant is originally from the U.K. and he says that the specs are extreme and unrealistic. The issue is that in a country as wide as Australia where there is a wide variety of climates, we can get supply so we can demand more of the produce and farmers. He would like to see the specs go lower and he demonstrates this when we have a look at the myriad ways in which the potatoes are sorted.
The lacy pattern on some of the potato skins means that these are not suitable for sale
We walk past a line of similarly sized and uniform potatoes - these will go to the supermarket. These need to be between 120-350grams per potato. Nathan points to a conveyor belt full of cocktail potatoes. "I can't get rid of them" he says, "nobody wants them." He washes off some of the cocktail potatoes and points to the lacy pattern on the skin which apparently nobody wants so these are discarded with a small amount sold off to make "Skinns" brand potato chips. These are skinny chips which are actually made up of potatoes that have been mashed and then recooked to produce a 75% lower fat potato chip.
He used to sell them to manufacturers that would tin them but the cheaper overseas imports have meant a decrease in volume. I'm surprised as I love cooking with smaller potatoes as they're very quick to cook with. Conversely the extremely large ones used to go to manufacturers to make potato scallops but overseas imports are less expensive. They throw out 1,500 tonnes of potatoes a year and Nathan tells Lou "You could have 1,000 tonnes of potatoes a year if you wanted." Again, transporting them is the issue and Food Bank can't afford to take them all. We have a look out in the field where the WNWN group look at collecting some of the new potato line that is being tested.
They're also growing Australian garlic which is a good example of a crop that was virtually wiped out of Australia due to cheaper overseas imports. Now, several years later, people realise that the imported quality is poor and want Australian garlic but many of the garlic farmers were taken out of business by the imports and their lower prices. And in the box I was given from Leeton, I was given a bag of Robertson garlic which was wonderful - full of flavour with a real aroma to it.
Other donations
Our second last stop in the Riverina is at Riverina Grove where Lou discusses the delivery of some jams. These jams developed a foam at the top so that they aren't saleable but they're still good to eat. The owner of Riverina Grove, also called Lou, is also going to donate a fig conserve that didn't set and will be relabelled as fig sauce.
The unsaleable jam
So now that I've gotten an idea of how much food goes to waste I decide to take a look and see where it goes after it leaves the Riverina.
Food Bank's Warehouse
Shortly after, I visit Food Bank's Wetherill Park office which is attached to their 2,000m² warehouse space. Registered charities can come along to warehouse shop during the week from 8am-2pm. The range is varied and we see some of the produce hot off the trucks from Riverina as well as other corporate donations.
The onions collected in Leeton
We watch as milk is unloaded from a truck using forklifts and 4,000 litres of milk is donated a week from National Foods. In a corner, a team of volunteer workers from the community help to sort 10,000 pairs of donated socks  into 1 kilo bags of socks so each charity receives a mix of sock sizes. Food Bank also carries non food items like nappies, toilet paper, tissues and face cream although this accounts for 10% of their total stock.  60% of their total stock is delivered to charity agencies in regional areas.
Out of spec pumpkins
Out of spec rockmelons
Gerry Anderson shows the relabelled smoked salmon
We see the boxes of onions that were picked in the Riverina the morning that I arrived. There are watermelons, rockmelons and pumpkins from the area. There are also donated products that are either end of line or discontinued items or items that are best before. There are "collaborative" items like pasta which are made with the help of several companies with each donating components towards the final product.
A large delivery from a supermarket with non food items. The box packaging has been broken so they are no longer salable
For collaborative and regularly donated items, they are aware of when these are coming but often they will get a call from a donor letting them know that there is something for them. For storage, there are two large refrigerated rooms as well as one large freezer room. In the refrigerated room are creme caramels, yogurts, other dairy products and watermelons and in the freezer room there are items like smoked salmon. They received these before they reached their best before date so they have frozen it and relabelled it to let people know how long they have.
All fruit, vegetables and bread are free while milk is 25c a litre, tinned items 50c a kilo and items such as coffee (instant or coffee beans) are $1 a kilo. All money earned is put back into transport costs and wages. In NSW the transport subsidy has almost halved from this year as compared to 2009-2010.
The Beneficiaries
I decide to pay a visit to one of the beneficiaries of Food Bank. The Salvation Army's Street Level program uses much of the food that Food Bank supplies them with in both the store and the cafe. They feed up to 5,500 people a week either breakfast or lunch five days a week. I arrive as the kitchen staff are preparing the food. Today's meal is a mixture of food from Food Bank as well as fish from the local TAFE. Cafeteria style lunches are $2 per person and breakfasts range from $3 to $5 and these are cooked to order. Coffee, tea and water are available during the day.
Kristy (sitting down) talking to corporate volunteers
I talk to Kristy who is the kitchen manager and has a team of volunteer staff to assist her. Today they also have some additional help from a 47 person corporate team from KPMG who will divide their time between the centre's four floors. Some will come down here and help in the kitchen while others will tend to the store.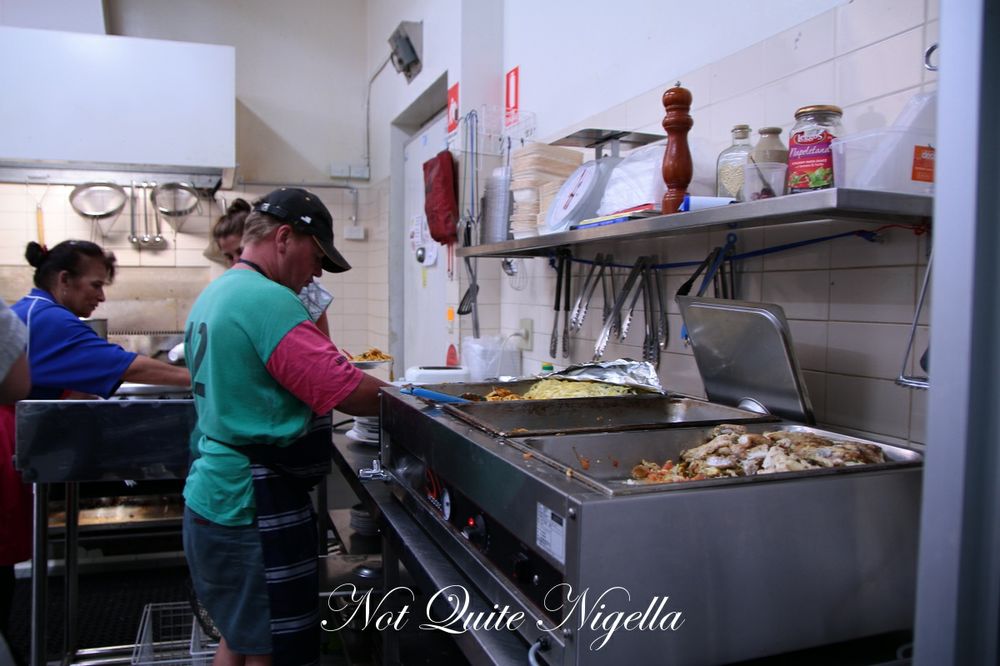 Kitchen volunteers
Open since October 2005, the store which is adjacent to the cafe, is stocked with a mixture of Food Bank's food which they order online and have sent to them as well as "Black and Gold" generic items which need to be purchased elsewhere as they are staples. A delivery from Food Bank has just arrived and Robert the store manager shows me the most popular items. Because much of the customer base don't have housing and some may lack cooking skills, the most popular products are the ready made items like Chicken Tonight or microwavable meals.
People are given a voucher from welfare assistance and can shop there to buy groceries. What would cost $60 at a supermarket would cost $20 here and 20-30 people a day visit the store, take a trolley and buy goods from basics like milk to frozen meat to nappies.
It is 12 o'clock and lunch is served and there is a steady stream of people lining up. Today there is a choice of two soups, a main course with fish, tomato pasta and vegetables and a banana pudding with caramel sauce. The simpler meals tend to be the most popular like sausages, gravy and mash although Kristy tries to keep it balanced and introduces fresh food as much as possible. Much of the fruit from Food Bank is enjoyed as a snack during the day where it is cut up for people to eat. They trialled the fruit and vegetables in the store but found that it wasn't as popular.
Each person lines up for their meal and one man hands over a card where he is $5 in debit. "That's ok, you can pay tomorrow" Kristy says.
The Solution?
The issue is a complex one - consumers are used to seeing perfect uniformly shaped produce for years displayed prettily on supermarket shelves so anything beyond the norm or perceived norm isn't wanted. Add to this the notion that consumers are also being given standards by supermarkets based on what supermarkets think that the consumer wants.
Supermarkets however are ultimately businesses with shareholders to answer to and they don't want to buy stock that they think will stay on the shelves so they create rigid and hard to achieve standards because if they don't, the stock won't sell. The farmers are forced by the monopoly that the supermarkets hold to adhere to these, destroying tonnes of valuable and good crops each day. Food Bank can only do so much to help alleviate the wastage problem as transportation costs prove insurmountable.
So tell me Dear Reader, what do you think of the standards of fruit and vegetables in the supermarket? Too tight, too loose or just right? And would you have rejected the melon with the spot above if you had seen it at the store? And do you think that we waste too much food?
And if you were as disturbed as much as I was by the amount of waste, please share this article with friends x
Food Bank
http://foodbank.com.au/