Although I consider myself a complete cake enthusiast, what I know about cake decorating is vast. Scratch that, what I don't know could probably fit into or be found at Glasshouse Cakes and Supplies in Revesby. For the seriously cake obsessed as well as the mum or dad that wants to make and decorate cakes for their kids, the store is a treasure trove of goodies. One sunny Saturday afternoon Mr NQN and I took the drive out to Revesby. You see I had a big list of must purchases as my supplies were running low and every few months I restock.
Glasshouse Cakes and Supplies is the baby of Betty Lakkis and her husband Michael. I first met Betty when she was the facilitator at a Planet Cake  decorating class and she has since branched out on her own to supply the avid cake decorating world with an enormous range of items, some of which I've never seen or heard of before. The aim is to appeal to the hardcore cake decorators who want the tools to make world class cakes but they also wanted to stock items that a harried mum might want to pick up to help decorate cupcakes or cakes herself.
The staff are all cake decorators and even Michael can make valued recommendations (I dare say he has probably watched Betty make more cakes than Mr NQN has mine).
There are amazing food extract oils from U.S. brand LorAnn which comes from Michigan. The flavours range from a delicious cheesecake, peanut butter, red licorice, marshmallow, champagne, cotton candy and more. The fact that they are oils means that they can be used to flavour chocolates without causing the chocolate to seize.
Holly the sales assistant shows us the latest trend - cake pop molds. You fill the mold with cake or cookie dough as per the recipe and then close it up tightly so that any surplus extrudes (you want it to be packed tightly) and you have your cake pop top. It comes in various shapes including an already made cupcake one.
She also shows us the cake pushers which you fill with cake layer and then push the bottom lever up to eat.
Another recent trend? The Martha Stewart paper flowers.
A kaleidoscope of colours
Candy writers-although we're all waiting for someone to invent a royal icing pen...
There are also designer logo stencils-the Louis Vuitton sold out the quickest but there is also Gucci, Fendi and Coach available. You apply these to the fondant and apply the royal icing on top with an angled spatula and then peel them off.
Red Velvet emulsion-apparently all you need is a tablespoon of this for a whole cake!
The biggest sellers are the cake boards and fondant (they sell a hundred buckets of this a fortnight) . Aisles are deliberately made wide so that strollers and prams can fit through with ease. And for their frequent buyer program,  you get a calico Glasshouse bag and every time you bring that in and purchase you get a 5% discount.
Icing flowers
Icing decorations
Cookie cutter heaven!
Betty's obsession is apparently cookie cutters and it is her dream to fill the wall with them. There are hundreds of cutters here and the most unusual ones we saw was the castle cutter, a cheerleader jumping with pom poms and sweet little ballet slippers.
Ever wanted to know how to make your buttercream white? Well apparently there is a product that can turn your light yellow or off white buttercream a pristine white. Other interesting items stocked are the unfinished cakes from Mondo which most cake decorating places use to scuplt and decorate. They come in various flavours although non chocolate mud flavours need to be ordered a week in advance.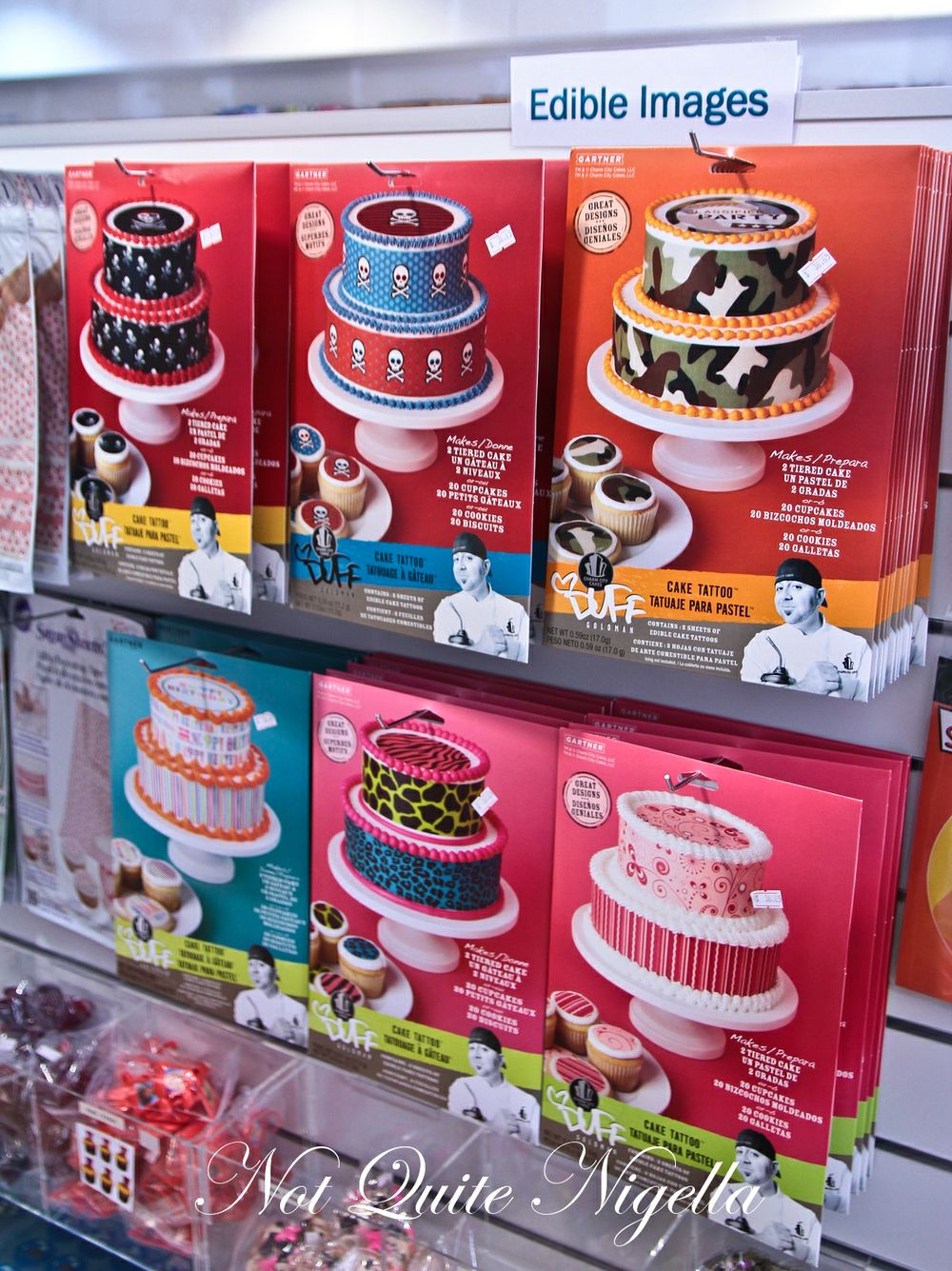 There are edible diamonds and like actual diamonds these don't come cheap but the smaller ones are spectacular and even have facets to them. They offer great advice with purchases as everyone that works there is a cake decorator. Apparently with these "diamonds", they can dull around 24 hours after being exposed to air so stick these on as late as possible.
Another interesting item is the Whip N Ice which is like a buttercream for those that want an easy to whip product. It is sold in the freezer section so bring a freezer bag and ice pack if you have a drive home. As for the taste? They kindly gave me some to test out at home. It's not bad, a bit artificial, and the flavour is a light vanilla and texture is fluffy and super smooth like a cross between whipped cream and buttercream but doesn't set hard like other buttercreams. It is a lactose free product but it does contain hydrogenated vegetable oils so you'll have to weigh up whether you want this.
Other services include the cake stand hire which requires a $300 refundable deposit and a $45 three day hire rate.
So tell me Dear Reader, do you enjoy decorating cakes and sweets? Or are you more a savoury cook?
Glasshouse Cakes and Supplies
13B Selems Parade Revesby NSW 2212
Tel: +61 (02) 9773 5513