Oooh waterfall!
It's never a great idea to go dessert shopping when you're full...well scratch that, it's actually a great idea if you want to resist temptation. One sunny afternoon, M and her boys and Mr NQN and I walk through Five Star chocolates and sweets doors in Greenacre with stomachs full to bulging. There's nothing quite like looking at an array of Lebanese sweets though, some familiar like the baklava and some unfamiliar where a waterfall of white cascades from top tier to bottom tier. M has been here before and she knows what she wants, the nutty biscuitty cake with the whipped cream topping.
There are all sorts of goodies in this shop. A fridge of marizpan shaped fruits also has M interested as she loves good quality Marzipan. Me, I just love the details to the fruit.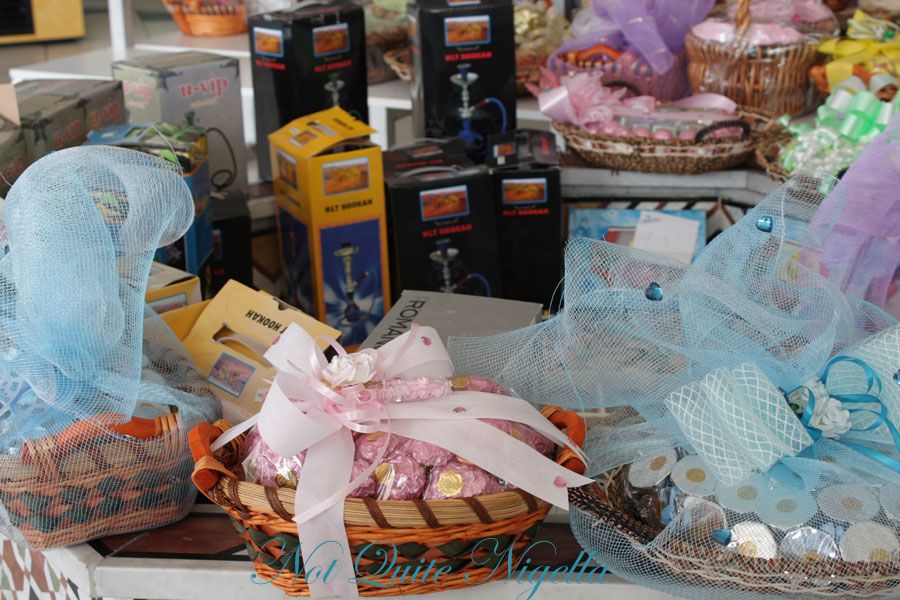 There is a display in the centre of the room with Hookah pipes and various sweets, chocolate and toys. in the glass cabinets are displays of chocolates in pink and blue for baby gifts.
Chocolates in pink
Chocolates in blue and other colours for babies with some very cute booties on the bottom row!
I have become fascinated by this waterfall dessert, said to be made from rice and cheese. Sold by the weight, we ask for some small slices to be cut off so that we can try them and sit down to partake.
Pistachio honey slice $3 (sold by weight)
The nutty slice has a honeyed sweetness, the nuts, cake and fluffy unusual topping which resembles a whipped cream but tastes like an less sweet unbaked meringue is an interesting combination. This is M's favourite.
Sweet cheese $4 (sold by weight)
The semolina and cheese dessert is similar to a stretchy Kazandibi in texture although in taste it is quite different. It has that semolina taste to it mixed with sugar. We can't taste much of the Lebanese cheese in it so it must be quite mild or not in very large quantities.
While we are eating, families come in and pick up items for weddings, baby showers and other family events. Special orders are shown to pleased customers and wrapped up for them.
Hookah pipes
Had we been hungry I'm sure we would have cleared the store out of goodies, but luckily or unluckily our sweet toothed assault will have to wait for another visit.
So tell me Dear Reader, do you always have dessert when you go out?
And Happy Mother's Day to all of the great mums out there! :) xxx
Five Star Chocolates and Sweets
168 Waterloo Road Greenacre Sydney
Tel: +61 (02) 9740 7440