"I think it's time for another adventure" I said to Miss America and Queen Viv. It was only a couple of weeks ago that the lovely Maeve O'Meara suggested that we visit Misky Cravings in Sydney's Fairfield. So in Queen Viv's little car we battle seemingly torrential rain (which has actually kept most people indoors) and take the drive out to Fairfield.
First things first, what is Misky Cravings? Well Misky is the word for delicious so the name means delicious cravings. Set as the first shop to the right inside a shopping mall. Fortuitously we get a park outside and jump from the car to the kerb while dodging fat droplets. We learn that Carmita runs the restaurant with Julio her husband who is the chef. They opened it in 2011 and they serve authentic Peruvian food. And to prove the latter point the restaurant starts to fill up with Peruvians who sit down to a glass of Pisco Sour and plates of food.
The menu is not for the undecided and by the undecided we mean us. I don't know if ordering things based on novelty value of the name is necessarily a good strategy so apart from requesting "Leche de Tigre" in a Zoolander voice, we ask for Carmita's help in choosing. She chooses two entrees and three mains for the three of us which we learn is just the right amount of food as portions are very generous here. And with Peruvian cuisine, three things stand out: the variety of corn, the aji yellow chilli and ceviche.
Jug Chica morada $8
Chicha morada is an interesting drink made up of purple corn and fruit with cinnamon, cloves and lemon to produce a sweet, delicious drink whose cousin would perhaps be a spiced grape juice.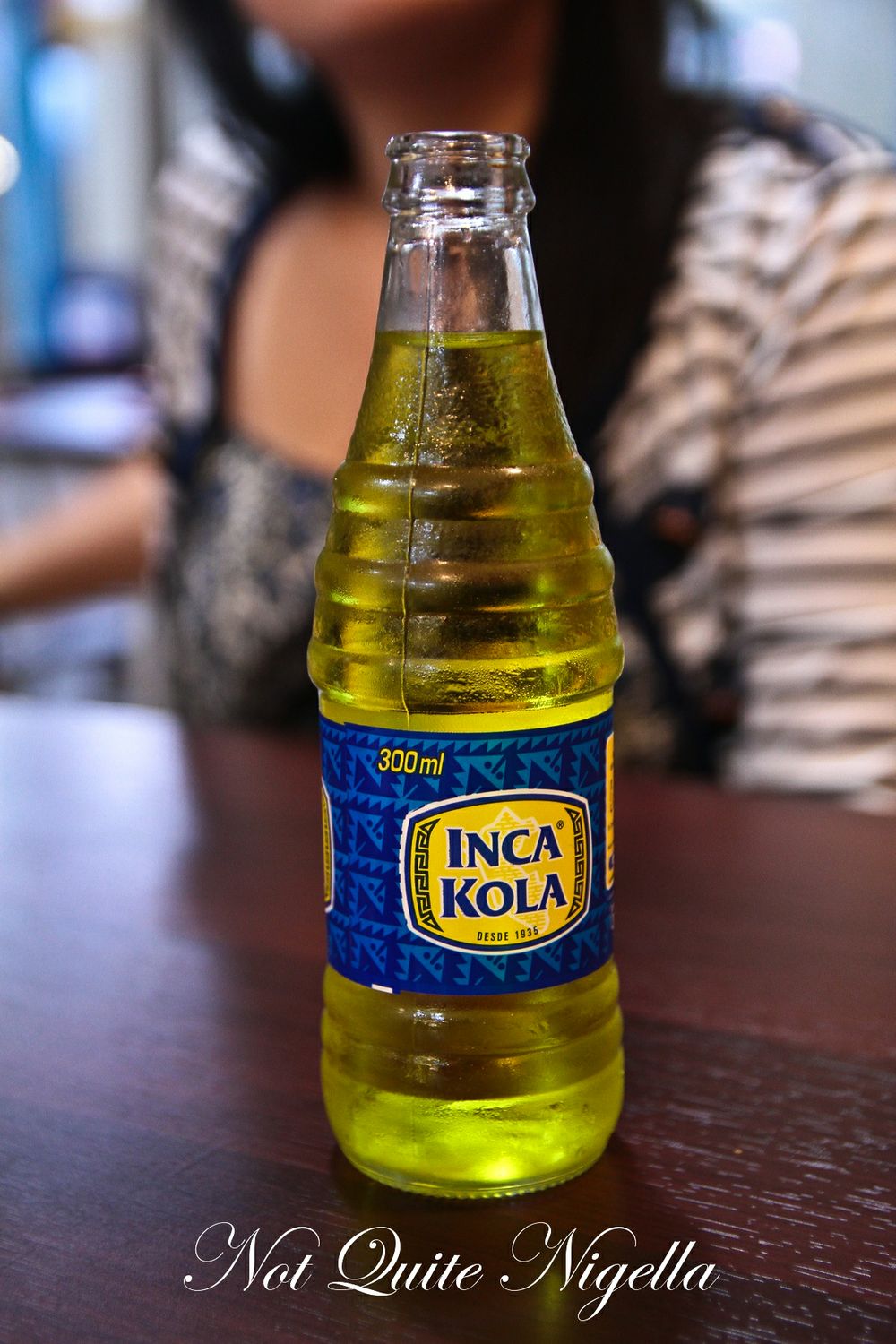 Incakola $4
Tasting and looking nothing like Coke, but nevertheless made by the Coca Cola company, the Inca kola is a bubblegum flavoured soft drink. The first thing that flashes into my mind is the flavour of the blue slushee at the 7/11.
Vuelve a la Vida (back to life) A very spicy ceviche cocktail with calamaris, octopus, prawns and mussels marinated in lemon, coriander, garlic and lots of chilli $12
We're all fans of this ceviche served in a tall balloon glass with pieces of octopus, prawn and mussels with lashings of lemon, coriander, garlic and chilli and two fried rings of calamari on top. It's fresh and tangy and the seafood has an excellent, tender texture to it.
Leche de tigre An aphrodisiac hang over cure; spiced up blended ceviche $ 10.00
OK I admit I was curious about this because not only was it called leche de tigre (tiger milk) but also it was said to be an aphrodisiac and hang over cure! It's a blended up ceviche ("fish milkshake" as Queen Viv calls it) and sure enough it was a cold, tangy soup with chunky pieces of ceviche fish and seafood and large yellow toasted corn on top to give it crunch. It's probably more at home in a really hot environment rather than a cold, rainy Autumn evening.
Causita frita de atún Fried mash potato seasoned with peruvian spices and filled with tuna topped with a tangy seafood and mayonnaise $10
Chef Alejandro Saravia of Morena explained causa to me a couple of years back and it's an important dish for the Peruvian people. When Peru was fighting for independence, the troops subsisted on potatoes for food and mixed them with whatever they could find like tuna and other items. It was then called causa or causita which meant "cause" as they were fighting for the cause. This one comes as three balls of Peruvian seasoned fried mash potatoes with the centre filled with cooked tuna. This is finished off with a creamy seafood, mayonnaise and black olive sauce and green onions. It has a nice soft texture and a good balance of flavours.
Lomo saltado:"Our signature dish" strips of beef with onions, tomatoes and traditional spices ?ambé  on high ?ames and served with fry chips and rice $15
The mains come out quickly before we have finished our entrees and the first to arrive is the  lomo saltado which is made up of strips of seasoned beef flavoured with onions, long tomato segments and Peruvian spices on top of a bed of home made potato fries and white rice. There is a good balance of flavours and the beef is tender and the soft, squishy potato fries underneath are good too.
Seco con frijole Classic stew from the north of Peru, chunks tender beef prepared in a full flavoured of coriander sauce. Served with rice, beans and cassava $15
If we liked the main above, we liked this even better. There are large chunks of superbly tender beef topped with a verdant coriander sauce. Around this is a stew with beans, ham and cassava and a bed of rice and thinly sliced lightly pickled red onions. The flavour was bold and salty and and perfect for a cold night in (or a cold night in the Andes, Mr NQN supposes).
Saltado de Mariscos Sudado de Pescado con Mariscos (Filete de Pescado) Fresh, sauteed shell?sh, onions parsley, tomatoes and fries prepared in the traditional Peruvian style ?ambé (high ?ames). Served with white rice $22
There was a range of seafood including prawns, white fish, baby octopus and squid rings, were all tender and perfectly cooked with not a chewy mouthful. It was cooked in a onion, parsley and tomato sauce but this was perhaps best eaten before the seco con frijole above which was so strong that it made the taste pale in comparison.
Pisco Sour $8
Pisco Sours are one of my favourite drinks-they're refreshingly tart without being bitter like a lot of spirits.  And when Queen Viv spots another table having one she is intrigued and we order one. Pisco is a brandy distilled from grapes and the Pisco Sour cocktail is a simple but delicious mix of Pisco, lemon or lime juice, sugar and foamy egg whites on top. This one has a shake of cinnamon on top which gives this another dimension of aroma and another one is quickly ordered. Alas they have run out as their local Pisco supplier is closed but I make a mental note to buy some pisco to mix some up at home.
Picarones light and crispy doughnuts $ 6.00
There were two desserts that evening and they were both ones that we liked the sound of so we ended up ordering both of them despite the fact that we were quite pleasantly full at this stage. But when picarones are offered then you end up making room because they're donuts made with sweet potato and pumpkin and drizzled over with a fig leaf syrup. The fig leaf syrup is very interesting and has a distinctly fruity flavour to it which is more interesting than a straight syrup. We would have liked this more if the syrup was reduced further and sweeter.
Crema Volteada Crème Caramel $6.00
The creme caramel was quite firm but had the flavour of evaporated milk through it which gave it a comforting aspect to it. Hearing that the rain has stopped, we pay the bill, less than $30 a person and make a break for it while the rain abates!
So tell me Dear Reader, do you abandon dining out plans when the weather is bad?