Do you know how you can lure certain creatures with food? Well I can easily be lured in a similar fashion by a crayfish roll. We had just left Coonawarra and Penola on our South Australian road trip and by way of a quick mention, Philip had suggested that we stop at Robe for a crayfish roll on our drive from Penola to Goolwa. Well, it didn't take much convincing to stop at Robe and I can almost taste the crayfish roll and imagine the mayonnaise. We make it to the wharf and alas, the shop is closed! So we call the information centre who suggests that we try the fish and chips store in the town centre.
There's a sign outside saying that crayfish are $81 a kilo and they're selling halves for $32 and $42 and we also buy a roll and some added tartare sauce and for old times' sake, a potato scallop as it's been about 20 years since my last. We take this and the pie from Vintage Cafe to the picnic tables on the beach where we unwrap our goodies and make a crayfish sandwich. I should have chosen bread slices as the rolls are a bit too thick for the crayfish so we make this a more open faced sandwich. It's satisfying and hits the spot although some of our travelling partners didn't really rate the fish and chips there. And the chicken, mushroom and champagne pie from Vintage Cafe in Penola? Superb! Generous chunks of meat, perfectly balanced with mushrooms and champagne cream sauce.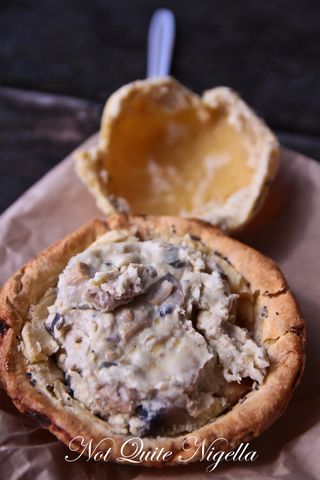 _Chicken, mushroom and champagne pie from Vintage Cafe _
It's a hot day so we wander around in Robe which is a lovely seaside town. We stop at the ice cream shop on the main road where they make all of their ice creams on site (except for two flavours). There are flavours like Mars Bar and Cherry Ripe (the latter one of their bestsellers) but I home in on a jam donut one.
How brilliant an ice cream flavour is this? With strawberry jam streaked through and cinnamon sugar crunchy throughout, there is the occasional piece of donut interspersed through the creamy ice cream.
The mango tastes more of unripe mangoes than ripe ones. We do a bit of shopping, the Robe Town store holds an excellent range of goodies including an ornate glass cake stand which I can't resist but buy as it is the bargain price of $10!
OK tell me the truth Dear Reader, if you had just eaten a crayfish sandwich and then you came across another town that sold crayfish sandwiches, wouldn't you be a tiny bit curious to try one of their sandwiches just for comparison or research sake? No? OK perhaps it's just me ;)
Mr NQN refuses to stop at Kingston when I see the crayfish sandwich signs telling me very sternly "You've already had one crayfish sandwich, you can't have another!" even though I doth protest about research purposes so I'm sorry Dear Reader, but I can't give you any impressions or comparisons about crayfish sandwiches between the two towns. But I can give you an enormous picture of a giant lobster instead, will that do perhaps?
The Australasian circa 1858
The next drive to Goolwa involves driving down a very long, straight and not particularly smooth road and then getting onto a ferry which is more like a barge that takes us across the Murray River. Mr NQN recalls the book and movie Storm Boy. We pass several signs advertising Coorong mullet but alas we don't have time to stop and I don't think I should
have another meal because we're on our way to somewhere very special that evening...
We pass through the town area of Goolwa, a town at the mouth of The Murray River and we spot a striking looking building. "Ooh that's where we're staying!" I say prodding Mr NQN excitedly. The Australasian circa 1858 on the Fleurieu Peninsula sits there commanding attention. Overlooking Goolwa Wharf opened in 1858 as a public hotel and it changes hands a few times.
In 2003 it was sold to one of its present owners Juliet Mitchell and renovations commenced in 2006 with architects in conjunction with interior designs by Juliet who also sourced the furnishings and fittings. There is glass and wood and views and the space has an abundance of natural light and a luxurious feel. Beautiful kimonos hang on walls and there's plenty of areas all with different outlooks and ambiances to suit every mood.
Juliet, who is also the chef here, used to do Japanese dance and as well as kimonos, there are all sorts of lovely Asian artifacts and pieces. Each of the five suites is individually decorated, all with an Asian theme but they're all quite individual.
_Bath by the bed _
They've given us the Parlour Suite because they know how much I like a bath (and it's true and after a drive like today's, I was eyeing it like a crocodile eyes a lame chicken). There is a table with a glass top and two lacquered Chinese tables underneath it. There's an electric fireplace, a large bed with Japanese fabrics on the end, the television is hidden in a Chinese armoire.
There are also modern touches like mirrored doors concealing the mini bar and closet and a the bath sits on top of a floating wooden level and placed next to it is a Japanese bath sachet. Two yutakas hang on a stand ready for bathers and there is also a large shower with shampoo and conditioner and a bar of the Chinese Bee & Flower soap.
With about an hour to do some work and take a bath (do put aside some time as the bath takes about 20 minutes to fill) we relax and soak away any travelling aches and pains. We dress for dinner and go downstairs to the restaurant where we are to have a three course meal cooked by Juliet with matching wines from Bremerton in Langhorne Creek, South Australia.
The canape is a squid rolled in Indian spices with watermelon and mint which is an interesting mix of refreshing watermelon and mint and headiness from the spices. I have to stop at one though as I know the meal will be a good one.
The entree is an agedashi tofu and this one is served with a divine, deeply flavoured shiitake mushroom broth - pure umami and we are to pour this over the agedashi tofu. The deep fried tofu has a translucent thin skin and is soft and flavoursome underneath it. And it seems to have converted the non tofu lovers at the table too.
A neat melon ball size sorbet it is refreshing with a good balance of all three flavours with the coriander lending a green element to it in both flavour and colour.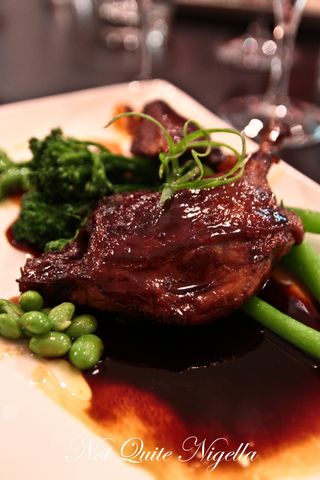 Slow cooked duck in Asian masterstock with pickled cumquats, Aaian greens and fragrant rice served with Bremerton 2007 Reserve Cabernet
The masterstock is 8 months old and even though relatively young, it is aromatic and gives the silky soft duck such depth of flavour. The pickled cumquats give it a sticky, sweet contrast and tartness and the broccolini and soy beans are well matched accompaniments. It is served with some sesame seed rice which we need to mop up all of those
delicious juices. I finished every bite.
We weren't quite sure what to expect and when a gleaming gold plate arrived, we saw that it was a multi parter. There was a sago and fruit salad pudding, all soft, easy textures; a salted caramel macaron which had a great balance of salt although it needed a tad more resting time, a tangy balsamic mousse in a folded over dark chocolate shell and my favourite, a nutty florentine that was so crispy and buttery it reminded me of a nutty brandy snap and I immediately ask Juliet for the recipe.
A fantastic night's sleep later and we wake up earlier than our alarm which is a bonus (this daylight saving thing has some benefits). I do some work to a cup of Madame Flavour tea and at 9am on the dot there is a chime of the doorbell. Straightening myself up, I open the door only to be greeted with a trolley of our breakfast provisions left for us! Now I'm a very social person but at the risk of sounding hermit-like, I love this as this means that whoever the poor person is at the other end doesn't have to be greeted with the sight of me first thing.
The orange fruit juice has a touch of ginger to it and is refreshing and freshly squeezed. I'm not necessarily a fruit person in the morning, I'm much more about eggs but this stunning lacquered bento box with four compartments would quickly change my mind. There is fresh strawberries and orange segments in a fragrant orange zest compote. There is also a silky smooth yogurt topped with fruit and muesli.
My omelette is no slouch either and it is baked free range egg omelette with dots of bocconcini, slices of tomato and basil. There is also three multigrain slices of toast with two interesting spreads, a spicy Asian plum jam and vegemite-and I'm telling you specifically that it's Vegemite because I thought it was Nutella and put a spoonful of it in my mouth! :P
We check out and I can't help but ask Juliet if I could possibly have her florentine recipe. To my surprise not only does she give me the recipe (and has let me pass it onto you!) but she also gives Mr NQN and I delicious roadies for the trip home!  I had a feeling that this would be a very special stop ;)
So tell me Dear Reader, would you have stopped and tried that second sandwich in Robe? And do you find yourself eating something just to try it even if you aren't hungry?
NQN and Mr NQN travelled to and explored South Australia as a guest of the South Australian Tourism Commission and Audi
The Australasian 1858
1 Porter Street Goolwa SA 5214
(08) 8555 1088