I've often wondered what would happen if you closed your eyes and pointed your finger on a map. Would your finger land on a depressing city, reasons quite known why it hasn't appeared on a tourist's trail or would it reveal a treasure, one that you can't wait to share with people?
That is along the lines of the trip I was about to take through regional France with Rail Europe, uncovering little treasures hidden slightly from view, some more well known than others. To do this, we would fly into France and then take the train journey with Rail Europe across the country making use of the excellent train system. And to make the trip even sweeter, I would be on this trail on my birthday!
Landing in Nice is like landing in a place that is unlike your typical vision of France, i.e. Paris. It's expansively gorgeous, lushly blue skyed (at least it is today) with a throw your arms wide coast (yep, that French Riviera) that sparkles for what seems like forever, more than the eye can see. It's warm and the sun bathes shoulders while tourists carrying cameras amble down the street. Dogs on leashes enjoy the sun as much as anyone and outdoor terraced restaurants catch every corner of your eye.
We arrive at Hôtel La Pérouse where we will stay the night. It has a fantastic location right next to the most loved area of town, the old town. Set on the foothills of the Colline du Chateau (Castle Hill) overlooking the Baie Des Anges (Bay of Angels), Hôtel La Pérouse is the only Small Luxury Hotel in Nice.
The lobby is a little underwhelming owing to the construction work. The hotel itself isn't part of the lobby building and if you go further into the actual hotel itself, the hotel is the golden yellow building. There is an outdoor restaurant called "The Patio" as well as a pool and sauna. Bags were whisked away as soon as our taxi pulled up in front of the hotel (which, slightly confusingly, is located right next to another hotel).
We are shown to our rooms after a cup of tea. We're staying at one of the patio rooms which has a small, sun drenched patio and table outside. Each room has a sea or a garden view - ours has a bit of a sea as it sits on the lowest level of the patios and I'd imagine higher up rooms would have more views). The room has a king sized bed and is on the compact side. With only two bedside lights, the bedroom is very, very dark but the colour scheme is welcoming and cheery (it is said to be representative of the colours of the South of France).
There is a work desk but without a light and a welcome bottle of Evian and mendiants (small sweets). There is also a mini bar but no tea or coffee making facilities which I learn is more of an Anglo or English custom as most hotels in France don't provide this. A pot of tea is E5 from room service and arrives quickly with sweets and sugars. There is also complimentary wifi throughout the building.
The bathroom is a good size and comes with a bath and shower combo. Amenities include shampoo, conditioner, body wash, body lotion, manicure kit and cotton tips. Some touches like hangers that you cannot remove and the hairdryer you cannot remove and one single bath towel remind us of lesser establishments but we learn that this is par for the course in many French hotels and the service is top notch and very deferential. Doors are tricky on these rooms, just be sure to listen to the person that checks you in who tells you that you must pull the handle upwards to lock the door while you are in the room.
After a quick, much desired shower Judith and I are off to have a look and explore Nice while we get news that our travelling companions have been delayed by several hours at Abu Dhabi airport while flying another airline. Poor things won't get in until very late this evening and I'm glad we flew Swiss International so we had the whole day in Nice.
It's lunchtime when we get started and we begin with a stroll through the old markets. On the way there are all sorts of cute boutiques on the street parallel to the main drag and there is a great Agnes B. store with a good range of clothes and shoes. Every day but Monday features the famous food and flower markets, otherwise, there is an antiques market.
To go through all of the stalls carefully you would need several hours and there is much treasure to be had. For those that collect flatware, large sets are common. There are plenty of framed paintings, dining table accessories, linens and a large stand selling lithographs.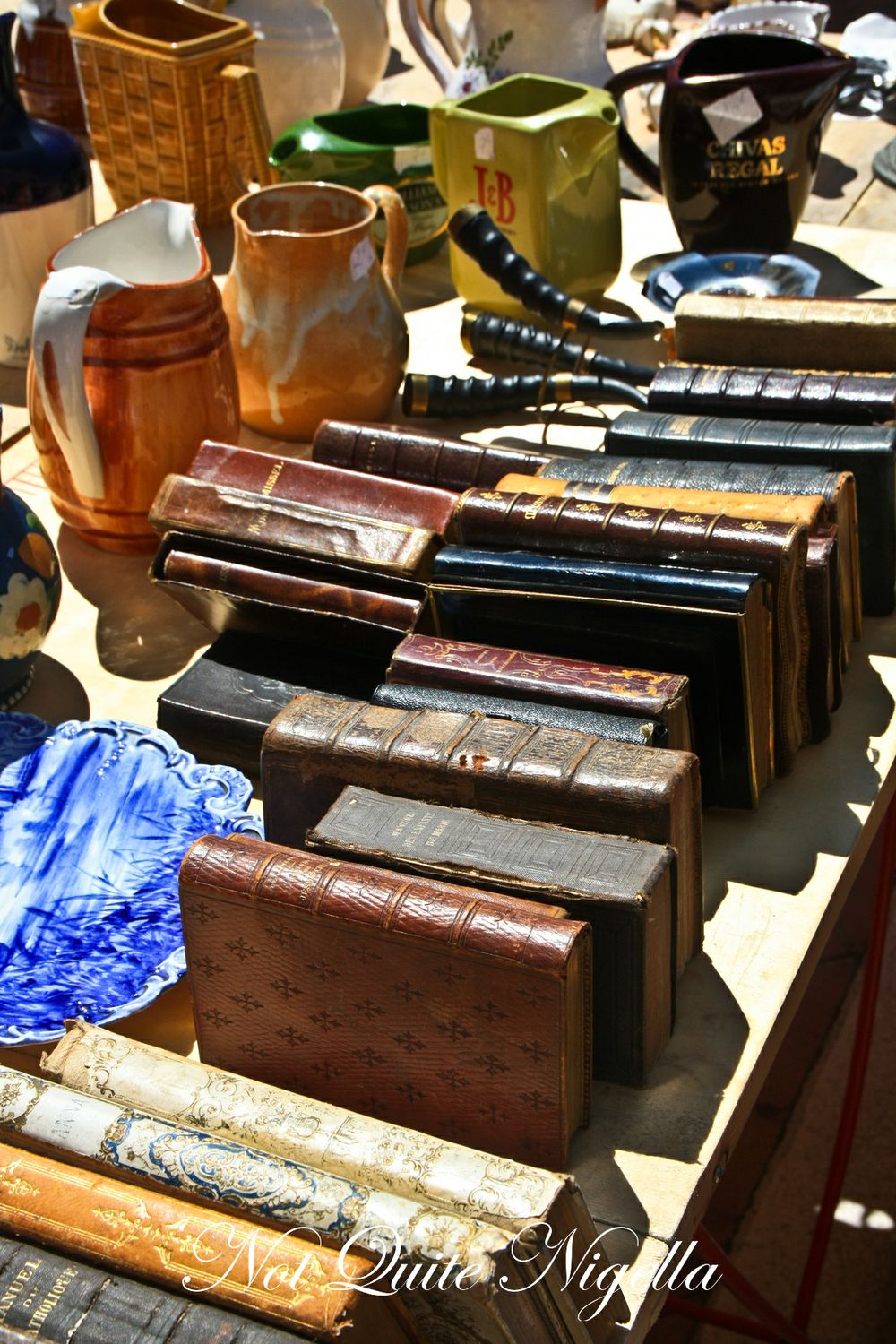 Many things are immensely covetable and these are genuine antiques so the prices reflect this so really cheap bargains are few and far between. Expect to pay real antique prices for the items and antique collectors, be prepared to spend a lot of time going through everything. Stallholders are very friendly though and don't pressure sell and you can stop and gaze at all of the stalls without getting a hard sell.
Knife rests
"French cops on segways"-I sense a new tv show! ;)
We also walk across to the main shopping area in the newer area which has the more mainstream shops and chain stores. I stop at Galeries Lafayette and buy a Longchamp bag at a very good price (E130 for the largest, convertible Le Pliage). I pop into Zara and Sephora but it's lunch that is calling!
Judith and I agreed that if we were to have lunch, it had to count. We didn't want a tourist trap and Nice has plenty of those. Earlier that morning, we did a bit of research and went to look for a bistro so we were headed that way. However, we were both tired, hungry and just wanted to sit down. A peal of laughter behind a sliver of an opened door made us stop and pause. We peered through the crack and several eyes looked up at us.
It was a tiny bistro that was full except for one table. A bistro that seats nothing more than your closest group of friends and for some reason we both looked at each other, then looked at it and said "This looks special." It was packed full of French people for starters and that perhaps meant that it wasn't a tourist trap. It was called La Merenda.
It was 2 o'clock so Judith asked what time they were serving lunch and the waiter said, not unkindly but matter of fact, "we finish at 1.30 but if you want to eat, you can sit down now." Tired legs and hunger made the decision for both of us and we took a place at a table that was so tiny that it required deft manoeuvring of legs to fit them under the table.
My back was flat against the electricity or broom cupboard and the 25x25cms stools required many "pardon mois" with us inevitably backing into other customers. There looks to be a waiter, chef, kitchen-hand and a waitress running the restaurant and above us is a tented ceiling made of calico.
On one wall are framed menus and a picture of chef Alain Chapel and a handwritten menu. He was a 3 Michelin starred chef and was said to be one of the originators of Nouvelle Cuisine. La Merenda's Chef Dominique le Stanc trained under him. A long share table sits to the right and smaller tables for two are on the left. Large sheets of quilted paper line each table and underneath these are red tablecloths.
They bring us the chalkboard menu and it looks very good. The items we can't work out are explained to us and we decide to have an entree each and share a main and dessert as dinner is coming up soon. I watch as a woman in a cap and sunglasses sits, sipping a cup of coffee whilst a couple talk animatedly - he looks like Einstein. I count the number of seats in the restaurant - 26. Before we know it, our food arrives along with a basket of bread.
Tarte de Menton E10
The tarte de menton is an onion tart. The onions are sweet and caramelised and sit on top of a thick, almost pizza like base although the base doesn't feel like a yeasted bread dough, more like a cake dough but not sweet. It is crunchy and delicious with the sweet onions.
Polenta au Gorgonzola E12
The polenta au gorgonzola is a large serve of polenta which comes as a chunkier grained polenta with texture. It is topped with gorgonzola and an oxtail jus which has hints of orange zest in it. It's very rich and best shared or had on a cold evening.
Tête de veau Sauce Gribiche E13
Our waiter was worried when we ordered this and checked several times that we knew what it was. It was a Tête de veau which is a calves head (which we've both had before). Even when he brings he double checks and adds "It is a calves head so you eat everything." That directive is perhaps to people that leave behind the jellied ring on fat on the outside which is soft and melting. Here, it is served hot, the calves head meat is boiled so that it tastes quite mild. The topping, a sauce gribiche made up of chopped boiled eggs, herbs and mustard is delicious and there is a halved, large golden potato to go with it. "We shared it for you already" our waiter said (so the actual serving size is double each plate).
Lemon tart E6
We couldn't resist dessert as we had enjoyed all of the dishes and one bite into the home made tarte au citron makes me glad that we did. The lemon custard has the perfect balance of sweetness and tartness and the pastry is buttery and crumbly.
The stunning Henri Auer store
Weaving our way through the vintage vendors we make our way back to the hotel past Henri Auer where a range of delectable confections are sold. There candied marron glaces, those wonderful whole, plump candied chestnuts and even entire pineapples in syrup. The chocolates too are divine and they offer us some chocolate almonds to try.
And the display of chocolates
More chocolates and cakes at the LAC store where I resist buying "one of everything please!"
We return to the hotel and I do some work. The bright sun is deceptively lulling me into a sense of forever day. Soon, a knock at my door announces housekeeping who offers me the turndown service which is an Auer chocolate left on the pillow. I look at the time and it is 6:30pm and dinner is very soon although it looks as if it is still mid afternoon. I get ready for dinner with Judith and we go back down to The Patio. The restaurant chefs, in somewhat of a reversal, cook in an area facing the outside while diners, given that the weather has cooled, are inside.
The food on the menu is said to be typical of this area. Because Nice sits on the Mediterranean Sea, a lot of dishes are very similar to Italian dishes. Indeed, there is no butter served with the bread but instead olive oil and balsamic vinegar. Dishes such as aioli, stuffed zucchini flowers (fleurs de courgettes), pan-bagnat, pisaladiere, salad nicoise, porquetta, gnocchi, ratatouille, soupe au pisto and stockfish are said to be typical dishes. The website www. cotedacur-en-fetes.com shows restaurants that make special efforts in making Nice's traditional dishes respecting traditional methods (although it is mostly in French with English only for events).
Salad of sauteed scampi in Provencale dressing with diced black olives, tomatoes and pesto E18
I adored the flavours of this salad, so perfectly balanced with sweet and salty. The butterflied scampi were tender and well matched with the dressed salad leaves and sliced sun dried tomatoes and black olives.
Terrine of duck foie gras, fresh mango and mixed salad leaves in raspberry vinaigrette E19
Fillet of Mediterranean Sea Bass Roasted in its skin with chive and tomato sauce served with crushed potatoes with olive oil E25
The provenance of the meats are listed in the menu and all of the veal, duck breast, and liver come from France. However, we wanted to try the regional specialty which was fish. The waiter told us that the fish was fresh so I opted for the sea bass which came as two generous fillets with a crispy skin, still moist underneath. It was served with a shallot and tomato sauce which had a nice sweetness to it and some crushed potatoes which were made rich with olive oil.
Pan fried scallops with a creamy coconut sauce served with fresh pasta E25
Lemon pie made with the garden lemons, raspberry coulis and mandarin sorbet E9
The lemons for the lemon pie come from the garden right in front of the chefs which some of the trees being over 100 years old. They make a lovely lemon curd and the pastry is lovely and crisp although perhaps a bit thick as Judith needed a knife to eat it. It was topped not with a soft meringue but a firm baked one so that also required a bit of knife action. The mandarin sorbet was very good indeed with both of us really liking this element.
Chocolate sponge with melted Nutella, served with vanilla reme and hazelnut ice cream E9
The chocolate fondant was very moreish with the Nutella centre which never quite gets melted but still has a nice consistency to it on the tongue. It is served with some creme anglaise and a scoop of hazelnut ice cream.
The next day we meet the rest of the travel writers and head out again to look at the now food and flower markets. The markets transform into a dazzling array of fruit and vegetables and there are the freshest, largest zucchini flowers, the flowers still burst open like the sun's rays.
Breads, enormous beefsteak tomatoes, salad ingredients, cheeses ripen and sweet strawberries sit at each stand. White asparagus is in season and the fat spears sit alongside the green. The displays are outrageously colourful and vivid and everything has a delicious aroma. The only thing missing is butcher's shops or fish shops (butchers sell meat in shops and there is also a separate fish market).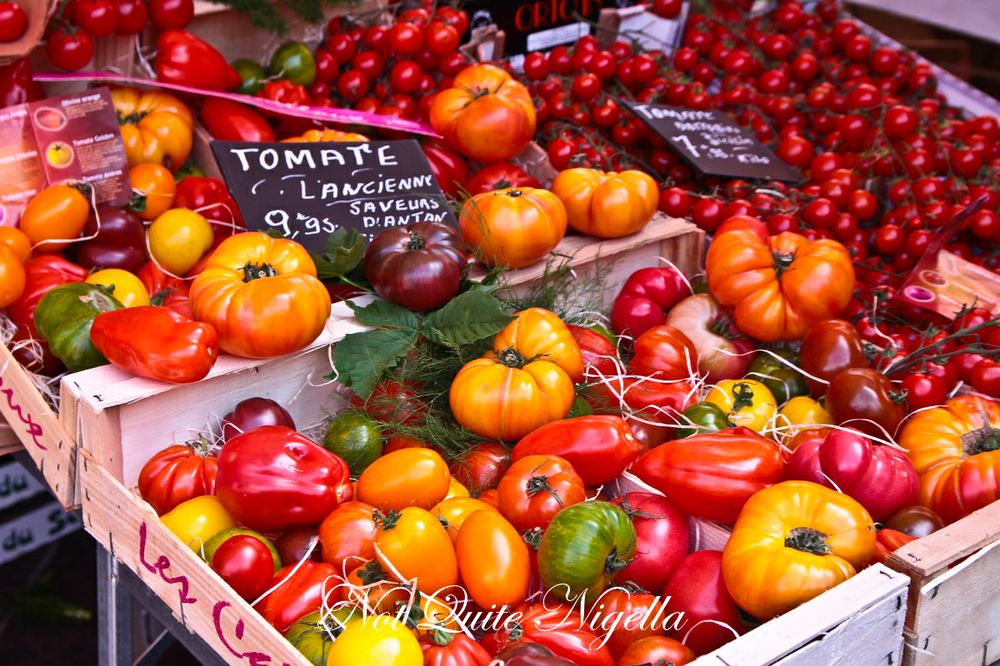 Afterwards, seeking lunch, we find on our way to L'Escalinda which is a fascinating walk in itself. Starting at Rue Droite, the streets are narrow, full of people darting in and out of shops and there are numerous ethnic restaurants. We walk past enormous seagulls who are picking off the remnants of today's fish markets and there are numerous butcher shops, some so narrow at 2.5 metres wide.
L'escalinda is at the junction of two streets and does a fast trade. A quick look at the blackboards shows regional specialities where items such as testicles de mouton (sheep's testicles) and lasagne sit next to each other. The daube, stockfish, farces and gnocchi are local specialties and we share tables with tourists lured there as well as many locals.
Tables are covered in red and white checked tablecloths and flirtatious waiters serve customers. Upstairs, up the very curved vertiginous staircase are the facilities. Some caramelised onion tarts squares are offered as a delicious start to the meal while we ponder the menu.
Chickpea salad
The chickpea salad is dressed simply and served with white onion slices. The bowl is set down and you help yourself to however much you want and then they take the bowl away. It is an example of when simple is great because it is moreish and the onion never acrid. It comes with pieces of fresh baguette bread.
La Rimbambelle de l'Escalinda E17
The first plate is the La Rimbambelle de l'Escalinda for two which is a sampling of goodies from the starters. There are two deep fried zucchini flowers, some deep fried zucchini and eggplant slices, some deep fried squid, a tender calamari salad that resembles square pieces of cheese at first and roasted capsicum.
Stockfish E25
"It smells like garbage" or "It's an acquired taste"are two of the common reactions to stockfish, which is salted, dried fish, usually cod, that has been cured using fermentation. This dish has been cooked in a stew with potatoes, olives, capsicum and onions until the stockfish is soft and has a soft, lovely texture. The smell? Well it is strong and yes it is a dish that would be an acquired taste although I liked it more when my nose had gotten used to the smell as the texture and spice is good.
Farcies
I try some of Judith's farcies which is a range of seven small vegetable halves stuffed with a soft pork and veal mince served with a tomato based sauce.
Chocolate mousse E7
An enormous serving, the chocolate mousse is served in a large glass footed glass and it is chocolatey, rich and creamy.
Strawberry pie E7
The waiter brings the enormous tart to each table with a flourish. The crust is thick and crunchy, the custard a little powdery in flavour and the strawberries sweet and glistening. Our final meal in Nice has given us a sweet taste of things to come and shown us that in regions of France, the food is so very different to our perceptions of French food!
So tell me Dear Reader, do you ever take a chance on a place that you happen upon? And where was your most memorable birthday?
NQN travelled as a guest of Rail Europe.
Rail Europe
Rail Europe is the exclusive distributor of the France Rail Pass in the world. www.raileurope.com.au
Hotel La Perouse
11 Quai Rauba Capeu, 06300 Nice, France
Tel: + 33 4 93 62 34 63
La Merenda
4 rue Raoul-Bosio, Vieux Nice
Cash Only
Mon.-Fri. noon-2 p.m., 7 p.m.-10 p.m
L'escalinda
22 Rue Pairolière 06300 Nice, France
04 93 62 11 71