I would hazard a guess that even the least interested in fashion knows who Coco Chanel is. But did you know that before she was a designer, she sold baby clothes and wanted to be a singer? In the town of Moulins in Central France about 2 hours drive from Auvergne, traces of Gabrielle "Coco" Chanel are everywhere if you know where to look! ;)
The top floor, where Coco Chanel used to sit
"We are sitting where Coco Chanel used to it" Laurent the tourism director says to us. Le Grand Cafe is the location where Gabrielle Chanel became Coco Chanel. It was here that an 18 year old Gabrielle wanted to be an artist and singer so she sang for the crowds as a warm up singer between acts.
I'd swear that that was Truman Capote ;)
Her signature song was "Qui qu'a vu Coco dans le Trocadero?" or "who saw Coco in the trocadero?" She was so known for this song so whenever she would come on stage, people would call out "Coco!" and that is how she became known as Coco Chanel. Coco stayed in Moulins for 4-5 years before leaving for Vichy.
It is very busy this Saturday afternoon at Le Grand Cafe. When there, those in the know stand just in the right spot to get a photo of yourself at just the right place in front of the infinity mirrors. A look at the menus show prices are reasonable with a three course including an aperitif and coffee at €29.90.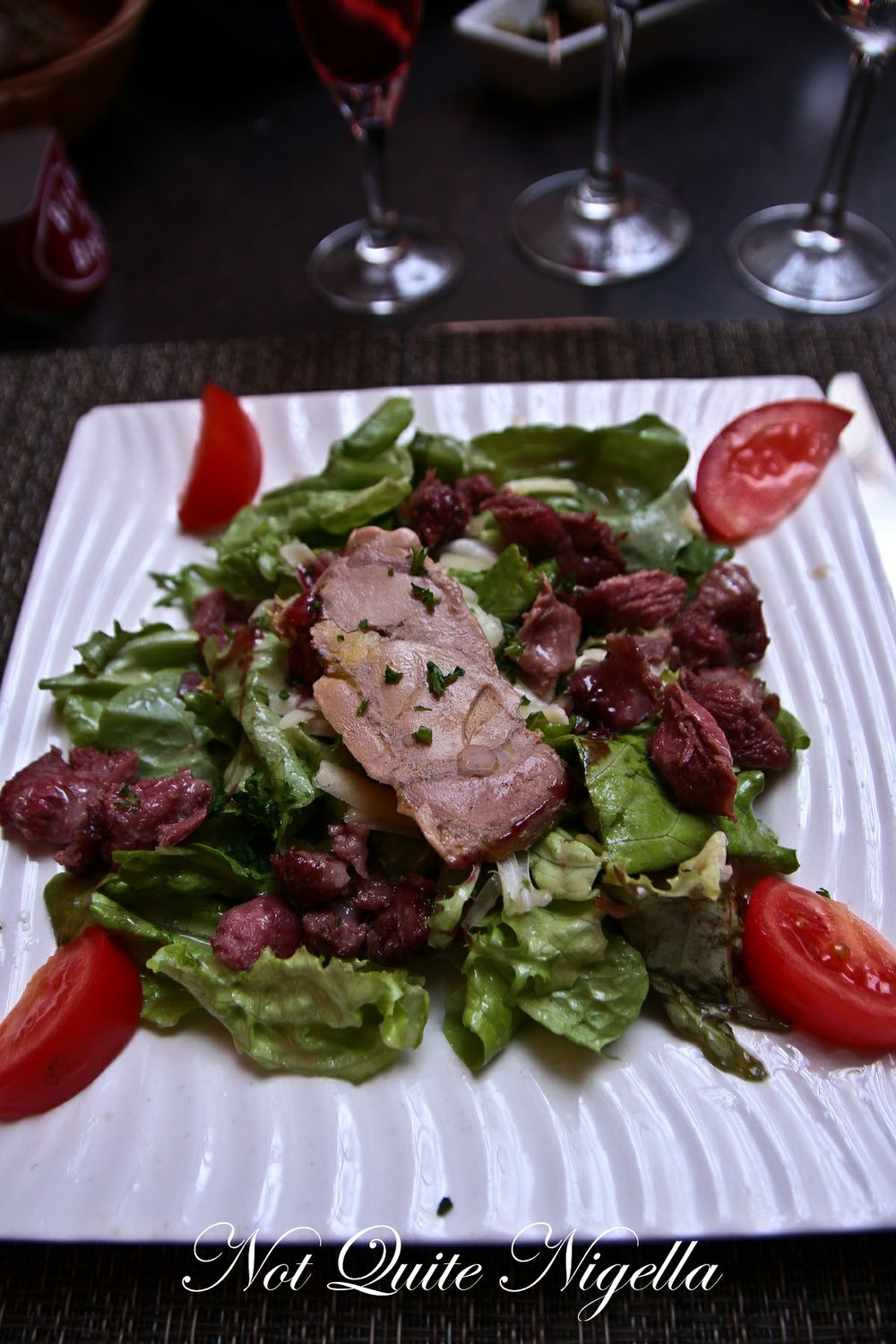 Salade a la mode au bistrot
The food comes out quickly. The salad is a mix of soft salad leaves, confit of gizzards, shavings of cantal cheese and a slice of foie gras. Even though my experiences with gizzards have been mixed, the confit of gizzard is delicious combined with the cheese and a little sliver of the rich foie gras.
Le Classique tartare
I love a good beef tartare and this comes in a very generous serve of 200grams (seven ounces) pre mixed, served with fat fries and a dressed salad. The tartare is well balanced with mustard being the predominant flavour. That along with the liver with the calves liver with raspberries are the pick of the meals as the steaks that others ordered were on the dry side.
La Puits d'amour du bistrot
The dessert was delicious and even though I had no room to fit it in after the rich steak tartare, I still had to stop myself from eating this. I loved the cubes of crunchy, buttery biscuit, the raspberry sorbet and the mascarpone. The almond tuile at the top finishes the dessert off and I find myself chasing crunchy bits of biscuit and the creamy tangyness of the sorbet and cream to the bottom of the glass.
Crème brûlée
Not my order, but I tried a little, the thin toffee crust cracked easily to reveal a bed of silky vanilla cream underneath.
The top of this building is where Joan of Arc stayed in November, 1429
Next, we are off to take a walk around Moulins which holds some unexpected treasures. A word of warning though, time your visit so that you don't land here (or other places in regional France) on a Sunday because it is a ghost town on Sundays with everyone inside or at their country houses.
The building where Coco Chanel worked selling baby clothes (the top floor, not the mobile phone store ;) ).
An interesting house in the Moulins area is the Maison Mantin. Abandoned and left to the rigours of time and infestation, the 19th century mansion was paintstakingly restored at a cost of over €3 million to restore it to its sumptuous former glory. Opened like a time capsule of treasures, it is a delight to walk through and thoroughly worth a visit.
Owned by Louis Mantin who died in 1905, he lived there with his secret lover whose photo was never revealed and was a keen collector of all sorts of antiquities, artwork and furniture. Before he died, he specified that his house would be kept intact for one hundred years and then reopened to show people one century later an example of bourgeois life in the 19th century.
Gilt leather wallpaper
The details in some of the pieces are incredible including the leather wallpaper that covered his bedroom walls among other fascinating details. The bad news is that to visit Maison Mantin, you will need a guide or lecturer.
His secret lover's bedroom
Another interesting address is the CNCS or the Centre National du Costume de Scene which is the national costume museum that is the first in the world to show only costumes. At the CNCS, 10,000 costumes from the Opera national de Paris and the Comedia Francaise are painstakingly preserved and archived. Because of the delicate nature of costumes, they can only be exhibited for a period of 6 months before they are packed away in archives and catalogued thus putting these magnificent pieces to bed.
Each mannequin must be tailored to the costume exactly and since they are made for real life people who have different shapes, it makes the task even more difficult (rather than using standard mannequins). Once a costume has joined the CNCS collection, it is considered a work of art and is never to be worn again and afforded all the care and reverence of a museum piece.
The upcoming exhibition is from Christian Lacroix who designed the costumes for the Ballet Russes. There are some truly exquisite pieces to be seen with much detail including this dress with a layer of crystal studded fabric from Japan so light that it weighs 15 grams or half an ounce!
The ground floor store is also worth a visit and holds endless possibilities for gifts with unique items like these face masks. I couldn't resist and bought these postcards and a set of these cards that show how to make shadow puppets for Miss America and Queen Viv.
What's the best way to undo several day's worth of indulging in delicious French cheeses and regional French specialties? Why a visit to the town of Vichy of course! About an hour away from Moulins along the banks of the River Allier and known for their Vichy water, Coco Chanel also worked here as a spa attendant handing people towels. It was here that she met the man that would finance her clothing and hat venture and thus began the enduring fashion house of Chanel.
We check into our hotel,the Vichy-Les Celestins, a four star hotel with an attached spa. The rooms are large with a light jade aquamarine and pastel accents and they, along with a spa, they give an 80's cruise ship vibe to them which may or may not be to your taste. The bed is large and comfortable and the bathroom has a separate spa bath and shower.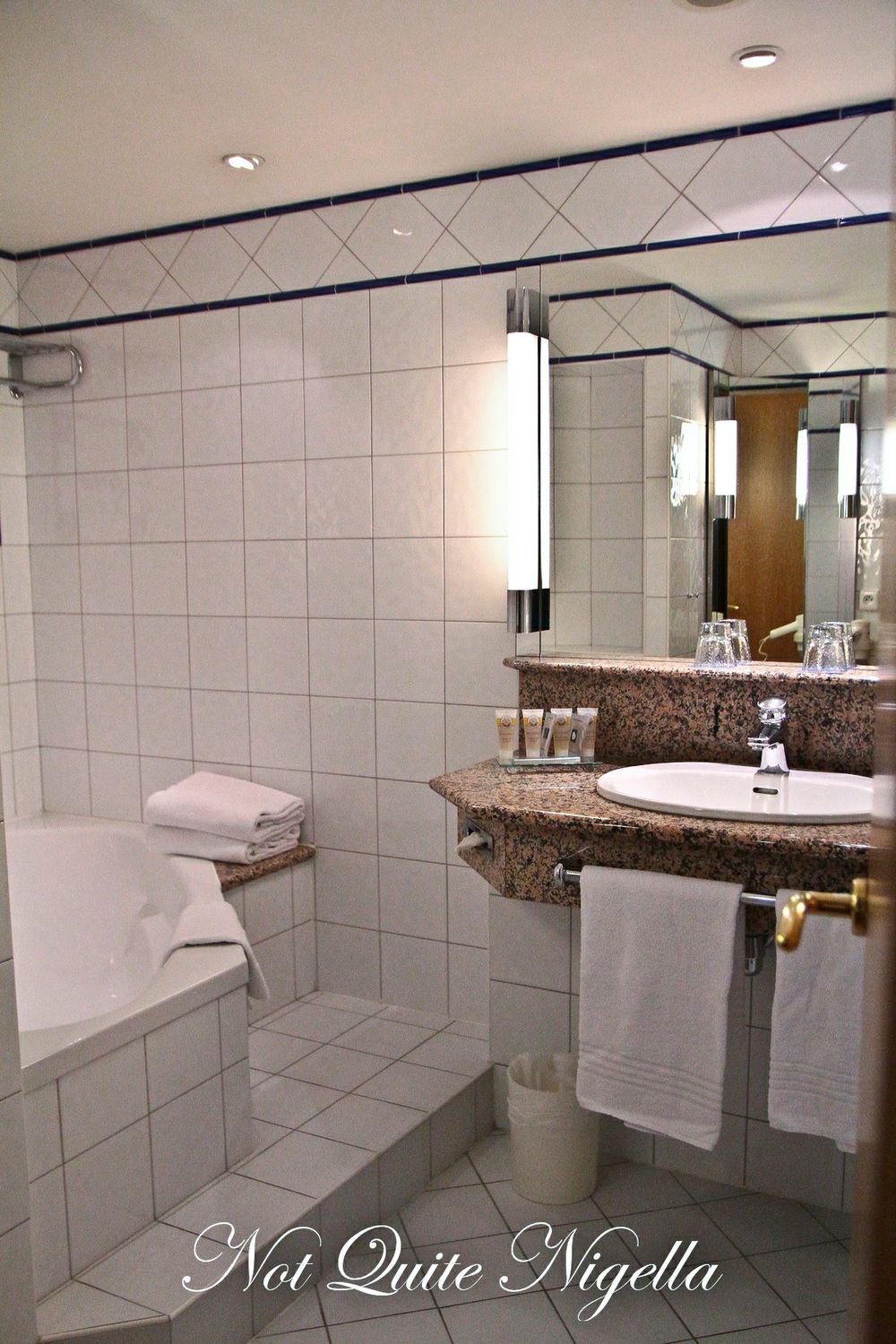 The bathroom is large, has a spa bath and Roger & Gallett toiletries.
Alas, there is just time for a quick shower before I head downstairs to the restaurant N3 where we have two options: of trying the dietetique menu which is designed to help diners lose weight without sacrificing taste along with a calorie count of each item or the gastronomique menu which of course sounds tempting with lobster, langoustine and foie gras.
Both menus are the same price which is interesting given that the ingredients for the gastronomique menu would be more costly. The restaurant colour themes are a damson plum purple and there is an interesting mix of people dining this evening.
Amuse bouche
The amuse bouche was a lovely, clean tasting shot glass of crab, vegetables and quinoa which was filled with fresh flavours. Buoyed by this, I lean towards trying the dietetique menu (although the lobster was really calling me ;) ).
Sifflets de poireau vinaigrette a la truffe (62 calories) 
The first course is leek slices with a truffle vinaigrette. It wasn't bad but I prefer my leeks more cooked. This was still quite raw in flavour although the truffles did help a little. I studiously try to ignore everyone moaning over their delicacies telling myself "Mmm leek-yummy!"
Fillet de turbott grillee bayeldi du sud et concasse de tomates (179 calories)
I do however adore the turbot fillet, grilled and served skinless but still moist and delicious. There are two quenelles of rich tomato concasse and fanned layers of grilled eggplant and zucchini. Petals of sweet tomato and a generous sprinkling of chives finish off the dish. In fact this dish dish looks not too dissimilar to the John Dory dish that others have ordered and is only 179 calories yet is full of flavour and texture.
Flan de pomme a la Chinoise (80 calories)
The flan, in the custard sense rather than the pastry tart, is richly flavoured with vanilla and has balls of apple with the skin on. It's sweet enough to satisfy a dessert craving sort of like an apple clafoutis.
Celest Vitalite E7
And even a drink at the bar alongside the restaurant can be good for you! There is a range of wellness cocktails and I try the Celest Vitalite with freshly pressed orange, apple, carrot and lemon juice (and this too has a calorie count!).
After a good sleep, I go downstairs for breakfast in the Le Slim restaurant. It is a Continental affair with a few hot offerings like stuffed tomatoes, sausages and bacon. There is a good selection of cheese including a wheel of Saint Nectaire, as well smoked salmon and some lovely ham and cured, dry sausage. I get a pot of apricot yogurt, a custard and raisin scroll and a slice of the Saint Nectaire cheese, ham and smoked salmon.
I also get some stewed sugar plums which are excellent as well some dried figs, pineapple and Turkish apricots. Breakfast finishes on a Sunday at 10:30am but they start packing it up at 10:15am so don't wait until the last minute (like I do sometimes!).
After breakfast is some work and then a visit to the spa to try one of their signature treatments, a Vichy shower. There are two specials on at the moment for 30 minute treatments, a massage for €6 less at €29 and a Vichy shower for €35 usually €57. With booked treatments, you can make use of the hamman (steam room), sauna or jacuzzi and you can simply go from your room in your robe and slippers to the spa across the walkway.
There are over 50 rooms in the spa and the complex is enormous with a large range of rooms some luxurious and soothing looking to more serious looking rooms where treatments look more to be administered with thick hoses and serious expressions. They estimate that over half of the guests that stay at the hotel book a treatment and it looks very busy when I arrive with people in various states of fugue and bliss.
Depending on the treatment, you will go to a different floor  where your therapist will find you holding your booking form (don't forget this) and lead you to your room. Vichy water treatments are on the second floor while massages are on the third floor. I arrive in my bathrobe and slippers and wait for my therapists to arrive.
I am booked in for a most intriguing massage. One of their signature treatments, it is a Vichy water shower with four hands (€102) which means that two massage therapists work on you at the same time. I step inside the brightly lit room and I am asked to undress and put on disposable knickers in front of them. Oh that European attitude to nudity! ;)
I lie face down on the plastic covered bed with the warm water already running from the multiple jets. A word of warning, don't wear makeup or bother doing your hair because your face and hair will get very wet. The waters are said to be good as they are rich in minerals like bicarbonate of soda and lithium. When drunk, the water has antacid properties and when used externally, the water has anti inflammatory properties.
They use an oil and start on my back which is good but the real relief comes when they massage my legs which are sore from walking and the light pummelling of the water combined with one therapist on each leg is absolutely heavenly. One therapist does have a slightly stronger pressure than the other which I prefer but I wasn't quite sure if I could communicate that and they didn't check about the pressure. I turn over and they continue the massage and work in tandem. Before I know it, the 25 minutes are up and they are helping me off the bed where I towel dry and float back to my room, not a sore muscle in sight!
So tell me Dear Reader, is your attitude towards nudity European or elsewhere? Would it bother you getting undressed in front of two therapists? And would you have chosen the gastronomique menu or the dietetique one? And did you know about Coco Chanel's life as a singer?
NQN travelled as a guest of Rail Europe.
Rail Europe
Rail Europe is the exclusive distributor of the France Rail Pass in the world. www.raileurope.com.au
Le Grand Cafe
49 Place Allier 03000 Moulins, France
04 70 44 00 05
Maison Mantin
Place de Colonel Laussedat
03000 MOULINS
Tél : 04 70 20 48 47
Centre National du Costume de Scene
Quartier Villars, Route de Montilly  03000 Moulins, France
04 70 20 76 20
Vichy Spa Hôtel Les Célestins
111 Boulevard des Etats-Unis Vichy, France
04 70 30 82 00