What is the saying? There's no rest for the wicked? A rolling stone gathers no moss? Both seem apt for our travelling group as we make our way through regional France on our whirlwind tour. Leaving Lyon, we travel to Clermont-Ferrand by Rail Europe TER regional train. It's an eventful ride with large unscheduled stop and a touch of claustrophobia when the air conditioning cuts off. We are just glad when the doors open to Clement Ferrand. From there, we drive to Auvergne, a region known for its cheese and food. As we now learn, food in regional France varies greatly between regions from the sunny Mediterranean food of Nice to the rich bouchon fare of Lyon and in Auvergne, cheese is the order of the da.
The lovely thing about Europe, and of course I love Australia but we are a relatively young country, is that European buildings have such a history to them. I have admittedly stayed at some truly fantastic places but never a château until now.
Château la Canière in Thuret sits at the end of a trail of trees flanking a long driveway, past a field of glorious yellow linden flowers. Mid 2011, the château became the first 5 star hotel in Auvergne and is owned by industrialist family the Moniers who are from the area.
Set on a park of 8 hectares, Château la Canière was built in 1889 by the architect Emile Camus for the family Bérard de Chazelles to store the works of French chemist Antoine Lavoisier. The château has an interesting history and the Bérard de Chazelles owned the property for two centuries. In 1944, Magdelaine Bérard de Chazelles belonged to a resistance camp and nursed and protected English soldiers in the castle. She was arrested by the Gestapo in 1943 and deported to Ravensbruk camp and the château fell into disrepair and was abandoned.
It was then used by the French Navy as a holiday camp and then sold and resold and transformed into a hotel by a Dutch group. In 2010 the Monier family purchased it and this year, it features in the Michelin guide and there are now 20 rooms and 6 suites. There is also an option to be "King for a day" and have the run of the whole château where you can "receive" up to 170 guests.
I have a look at my room, number 417 which is a "modern" style (there are three styles including a traditional and one with stone walls) and it's lovely indeed. I do love claw foot bath tubs especially when it is right next to the bed and the furniture is full of lovely antique pieces. There are drawers with the keys still in them to lock them, toile covered bedside lamps and there are modern touches like a skylight and pretty much all you could wish for including an absolutely gigantic television.
The king sized bed is comfortable and on it sits two lollies, fruity hard candy with chewy centres from Auvergne. But if you'll excuse me, the bath is calling me most strongly.... ;)
La Ferme Bellonte
What is the first food that you think of when you think of France? Fromage or cheese perhaps? Here in the village of Farges, Auvergne, the Bellonte family cheese factory is one place where the much lauded Saint Nectaire cheese is produced.
An eight generation cheese family that originated in Italy they started making cheese in 1663 and have continued the proud tradition of making this lovely grey molded cheese made from cow's milk. The brown and white Montbéliarde cows are used because they produce good quality milk with a high amount of protein so they need less milk from the Montbéliarde than other cow breeds.
Given AOC (Appellation d'Origine Contrôlée) status, the cheese must be made from cows that are born on the premises so each year, 20 female calves are kept while the others are sold. Each of the 100 cows has a name and twice a day they line up to get milked. The process of naming a cow is interesting too-each year all cheesemakers in France are designated one letter for the cow's names. However, there are some names that they want to give to cows such as Madeleine and Hermoine as Madeleine was the name of a cow made famous in the film "La Vache et le prisonnier" (the cow and the prisoner).
Each cow knows which milking pen is theirs and during winter, when it is very cold they feed them on a mixture of hay, cereal and alfalfa biscuits. The cows are inactive during the months of November to December and this period of rest allows them to keep them until they are 14 years old.
There are two types of cheese that they make here: a farm cheese and an industrial cheese. The farm cheese has the distinctive grey mold on the outside and this is created by using raw milk while it is still hot from the cow. The industrial cheese can be coloured to tint it. They make 45 tonnes a year and 40 tonnes of that is sold here on location.
There is a free tour which explains the interesting history of cheese making (allow just over one hour) and you can visit the troglodyte caves from the middle ages where the cheese is now aged. There are several videos shown during it and the last one before the 3d photos is fascinating and explains the history of the Bellonte family during times past and the two brothers (the storyline is riveting and could easily be the plot of a movie!).
To start the cheese making process, they curdle the milk with a rennet. 15 litres of milk is needed to make one wheel of cheese. They then cut the cheese in tiny pieces and this is called the tomme. These curds are then placed into a mold and then press on it for 10 minutes (5 minutes on each side).
The whey is removed and then a coat of sea salt is applied to dry it out. It dries for 10 hours and then is dried for one week and is then kept in the maturing cellar at 10-12C and 90% humidity where it will develop that distinctive grey mold that they nickname "cat fur". After 1 week, they brush the mold or cat fur and then turn over the cheese and age it for another week and then brush it. It can spend 5 weeks to 3 months in the maturing cellar and the cheese is best eaten at 5-8 weeks. Hand cut straw was traditionally used to rest the cheeses on but that is hard to come by so they use wood chips.
Wild rose aperitif Les gratte cul
All of that is making us hungry so we make our way to the restaurant attached to the cheese factory and take advantage of the sunny weather. The aperitif, a wild rose liqueur is mixed with a low calorie wine to create a sweet drink that is perfect for this lovely afternoon in the sun.
Salade de Bernadette
Isn't it funny what dishes everyone remembers as their favourite out of an entire trip? At the end of the trip, pretty much every one of my fellow travel writers and journalists named this salad as their favourite food memory. The salad, made up simply of soft lettuce, pot roasted lardons (bacon), Bleu d'Auvergene cheese and walnuts and dressed with a walnut oil dressing was divine. I could have eaten the whole bowl by myself. The blue cheese contrasts beautifully with the crunchy walnuts, croutons and salty bacon.
Assiette de charcuterie d'emilie
The assiette plate has a range of charcuterie bought from local suppliers. It features Auvergne cured ham in enormous, curled over slices, salami and a country style pate. They're all delicious but the country style pâté is the perfect balance of flavours and comes as a more coarsely textured pâté ideal for those that don't like strong or gamey flavours.
Phousonette
The main is phousonette which is slightly different from tartuffe. There is an excellent pork and herb sausage  - so good I finish every bite and an enormous serve of layered potatoes, cabbage and melted farmer's St Nectaire cheese. It's comforting and I can easily imagine this would be very popular come winter time and you want to snuggle indoors in the rustic restaurant.
Saint Nectaire cheese
Only two farms make this raw milk cheese in the Auvergne area and Bellonte is one of them. Served at room temperature, it is still a firm cheese with a deceptively firm rind to it which can make cutting a unwieldy task. The grey rind is relatively mild tasting an the cheese is dense but with a mild, silky creaminess to it.
Pompe aux pommes
Said to be a very traditional Auvergne dessert the apple tart has thin layers of top and bottom pastry, almost like a fruit slice but much thinner and a filling of thinly sliced apples. It is served with a squirt of whipped cream.
Oh and you know how much I like a bit of shopping don't you? Well the shop here at Bellonte is fantastic with a fascinating range of items including lentil marmalade, an array of fascinating beers and liqueurs, puy lentils and of course their own cheese.
We bid adieu to Berni the cute French bulldog!
Views along the wine trail
If anyone knows me, they know that hiking is not my thing. I mean I don't think ballet flats or thongs were meant for hiking and yet I still can't seem to find a pair of shoes that is suitable that I like. But a little hike in the vineyard regions of the Madargue Hills won't hurt anyone surely? Visitors can collect a map from the tourist office and take any one of the various paths that line the vineyards of the pretty Madargue Hills.
Benoit Montel
Benoit Montel, wine maker at Saint Bonnet drives up in his van and greets us and starts setting up a table for us to taste some wine with the rows of vines as his scenic backdrop. We sample a pinot noir, a gamay, and a shiraz and although I'm not much of a red wine drinker the pinot noir and gamay are excellent.
An old structure among the vineyards for the winemaker
Cellar doors in France are different from those in Australia and it isn't a matter of dropping in and tasting wine. You need to book a time to come in and you may need to pay a tariff. And because Benoit runs the vineyard by himself with the assistance of his parents having a cellar door open all times isn't really an option!
Back at Château la Canière, pre dinner drinks are in the library and dinner is served at Restaurant Le Lavoisier which dates back to the 15th century. The restaurant is is across the driveway in a separate building and is named after the chemist Antoine Lavoisier who met his eventual fate with a guillotine during the French revolution. The room is welcoming and bathed in soft light with white walls, gilt edged framed sketches and lithographs.
Cream of shellfish soup
The menu tonight is a degustation including a course of cheese and we start with the amuse bouche, a cream of shellfish soup topped with a little foam. It's a nice starter for the rest of the meal.
L'ouef mollet moelleux
The soft poached egg is oh so tenderly poached so that the white is still in various stages of liquid. It sits in a smoked fish soup perfumed with thyme and there are three fat spears of tender steamed green asparagus from the village of Moissat.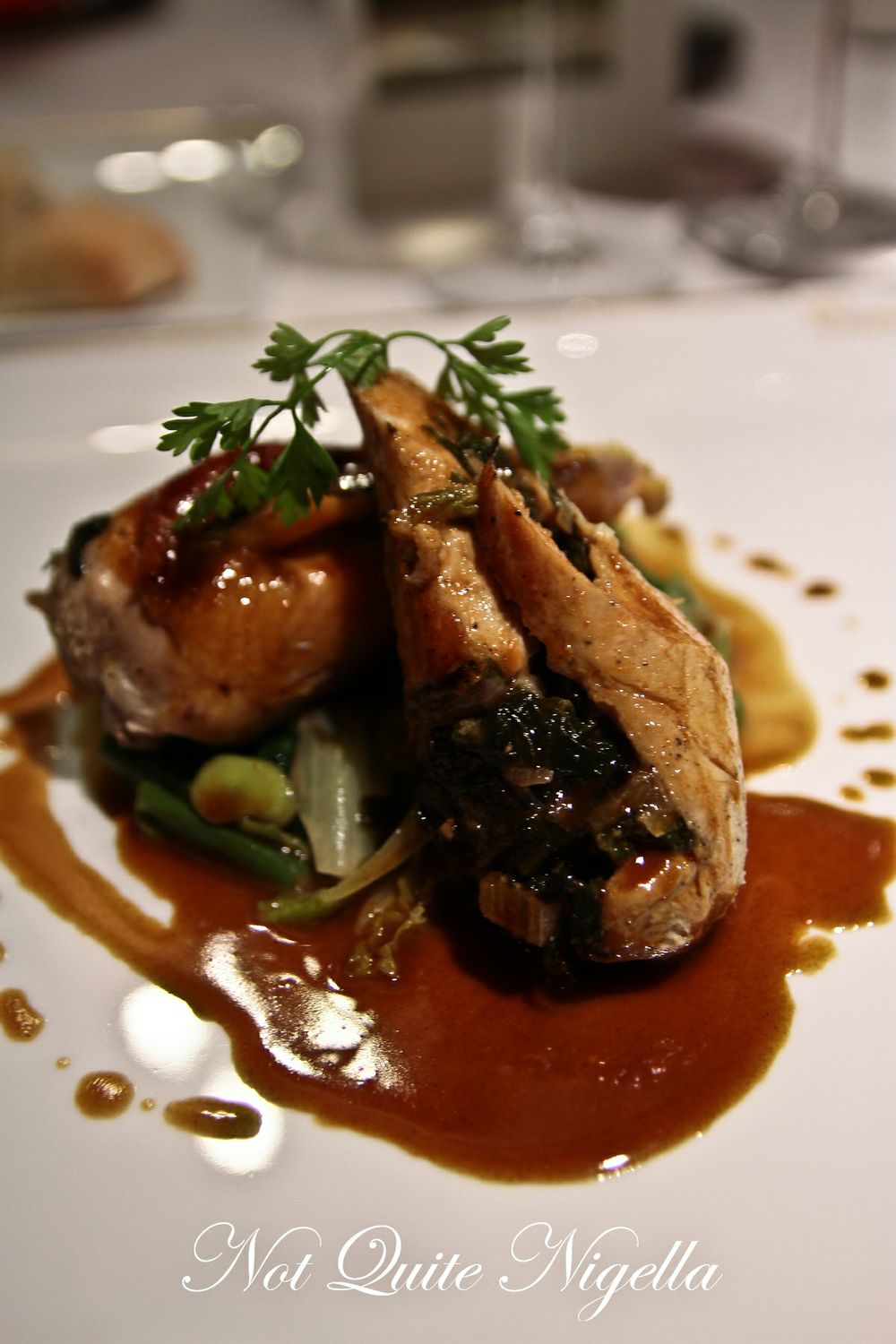 Supreme de pintade farci au vert
The guinea fowl is stuffed with seasoned, wilted greens and served with an array of greenery including broad beans, baby gem lettuce and green beans. There is also a thyme jus that brings the whole dish together nicely and the guinea fowl is tender and juicy.
Le Plateau de fromages
What a cheese trolley! All of the cheeses are from the Auvergne area. I want to try some slightly different cheeses so I go for a creamy Camembert which is so creamy that it coats the tongue much like a slow cooked egg yolk would. The blue cheeses are excellent, even the strongest blue cheese is tempered in its ferocity by its creamy texture and the smoked cheese is an interesting adjunct.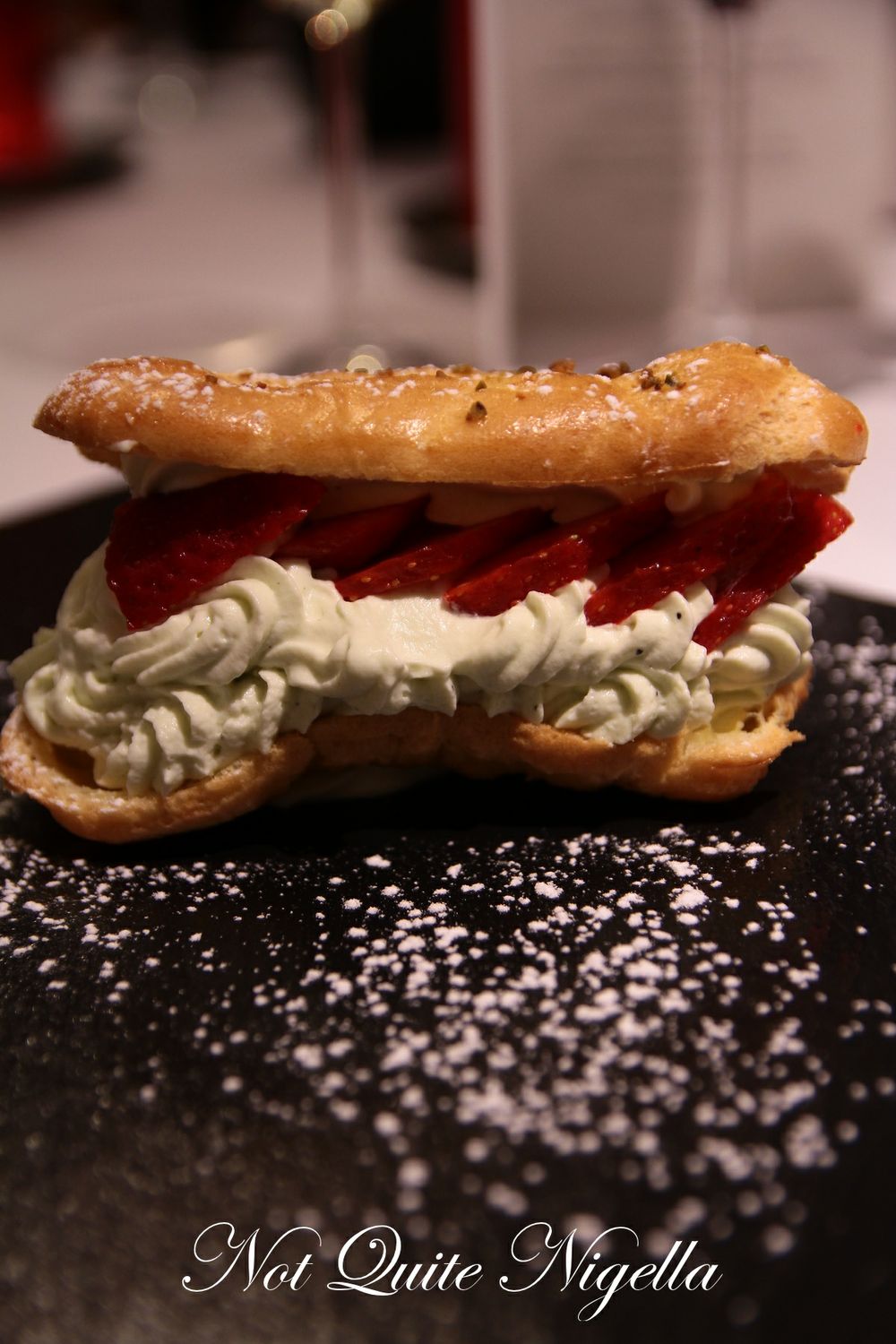 L'eclair aux fraises gariguettes
The choux was very crunchy, perhaps too crunchy and didn't really need the topping which gave it a savoury quality. The pistachios from Sicily were quite mild in flavour and the pistachio mousseline was topped with strawberries.
With everyone feeling the effects of travel, it's straight to bed!
The next morning, the alarm awakens after a light sleep. I'm not much for breakfast but I was so curious to explore the château a bit more and see what a castle serves for breakfast! Set in a beautiful salon (there are three in total), with a picture of Lavoisier and his wife Marie-Anne Paulze looking down upon us, the spread features a la carte items as well as a comprehensive Continental breakfast selection.
I'm usually a hot breakfast person but it seems not in France because I actually wanted continental breakfast as the breads looked wonderful and they had an intriguing Earl Grey jam. There was also a lovely range of sausages including a wild boar sausage that was fantastic.
We go for a wander around and come across this little chapel on one of the floors. It's a reluctant goodbye as we quickly move onto our next leg of the trip and the new day brings a new region of France. Stay tuned for that! ;)
So tell me Dear Reader, have you ever tried raw milk cheese? And when travelling, do you like visiting as many towns and cities as possible on a trip or do you prefer to take them in at leisure and really get to know them?
NQN travelled as a guest of Rail Europe.
Rail Europe
Rail Europe is the exclusive distributor of the France Rail Pass in the world. www.raileurope.com.au
Hotel Chateau La Canière Puy de Dome
www.chateau-la-caniere.com
La Ferme Bellonte
www.st-nectaire.com/