Our small group of travel writers is on the final leg of our Hidden France trip with Rail Europe and our penultimate destination is at Nantes, the lovely town by the Loire River just a couple of hours away from Paris by train in Western France. We make our way to the train station at Tours and catch the TER train, a regional train which affords us comfortable views of the Loire River.
Snacks are bought before the ride and before we know it, the train pulls into Nantes and our taxi takes us to the Hotel Pommeraye right in the centre of Nantes the town. The hotel is in various stages of construction. I'm lucky enough to get a room where there isn't much construction activity and the room is simple in features. The location however, is the key here and you walk right out into the thick of things. Service is also excellent.
A quick change act is needed and then we are dining at one of the most well known restaurants in Nantes called La Cigalle, named after the cicada that adorns the logo. Walking into the quintessentially Nantes brasserie is a visual experience. It was opened on the 1st of April in 1895 and was designed by ceramacist Emile Libaudière. The elaborate walls are covered with an aquatic and floral theme with a multitude of patterns and colours.
Interwoven with the oceanic theme is the cigale or cicada in the traditional Breton dress. On this Monday evening, the atmosphere is buzzing and it is full of patrons enjoying towers of seafood. Nantes is close to the Atlantic Ocean and it is one of France's main ports.
La degustation de Cruses €34.80
The menu has an emphasis on seafood and outside is an iced display of sea treasures including a fantastic range of oysters. We are ordering from the three course set menu at a very reasonable €26.50 but just for research purposes, a few of us try the oyster degustation. There are five different types of oysters from the surrounding region including Quiberon Bretange, Vendee Bouin, Cancale (channel oysters), Prat ar Coum Madec and Gillardeau. The favourites are the Quiberon and Cancale which were full of flavour.
The oysters are served with a round rye bread and a shallot vinaigrette. The butter, a Brittany hand pressed butter is wonderfully creamy and salty (butter and salt being particularly good in the region of Brittany).
Escargot of Vendeee stuffed in shell 6 for _€9.50_
The escargot are garlicky and tender inside. Sometimes I find they can be tough and chewy like squid but these are not at all.
Longe de thon rouge albacore mi-cuite, marinade noisette
Dos de lieu jaune a a plancha, beurre blanc nantais
For the main we ordered what was considered to be their specialty. The lieu is a white fish with large panels of flesh and is pan fried and served with a beurre blanc and a ratatouille. The fish itself needed a lot more seasoning and the beurre blanc sauce was really needed to give the fish flavour. The ratatouille was very strong in comparison and dominated the dish. Perhaps we should have taken the cue from fellow diners and ordered a fresh seafood platter as many other tables around us had.
Creme brulee a la vanilla bourbon
The creme brulee was divine with an appealingly thin crackly crust and a rich, smooth texture.
Strawberry cake
The strawberry cake was a slender slice of cream filled joconde sponge with fresh strawberries, a thin layer of strawberry gelee on top and a scoop of divine strawberry sorbet.
After a short sleep, the next morning we are back into the swing of things and out exploring Nantes. Coffee is found at a charming place called Le Select, a gay bar just a short stroll away from the hotel where a wall of deer heads wearing pearls and sunglasses greets you along with a wall of clocks.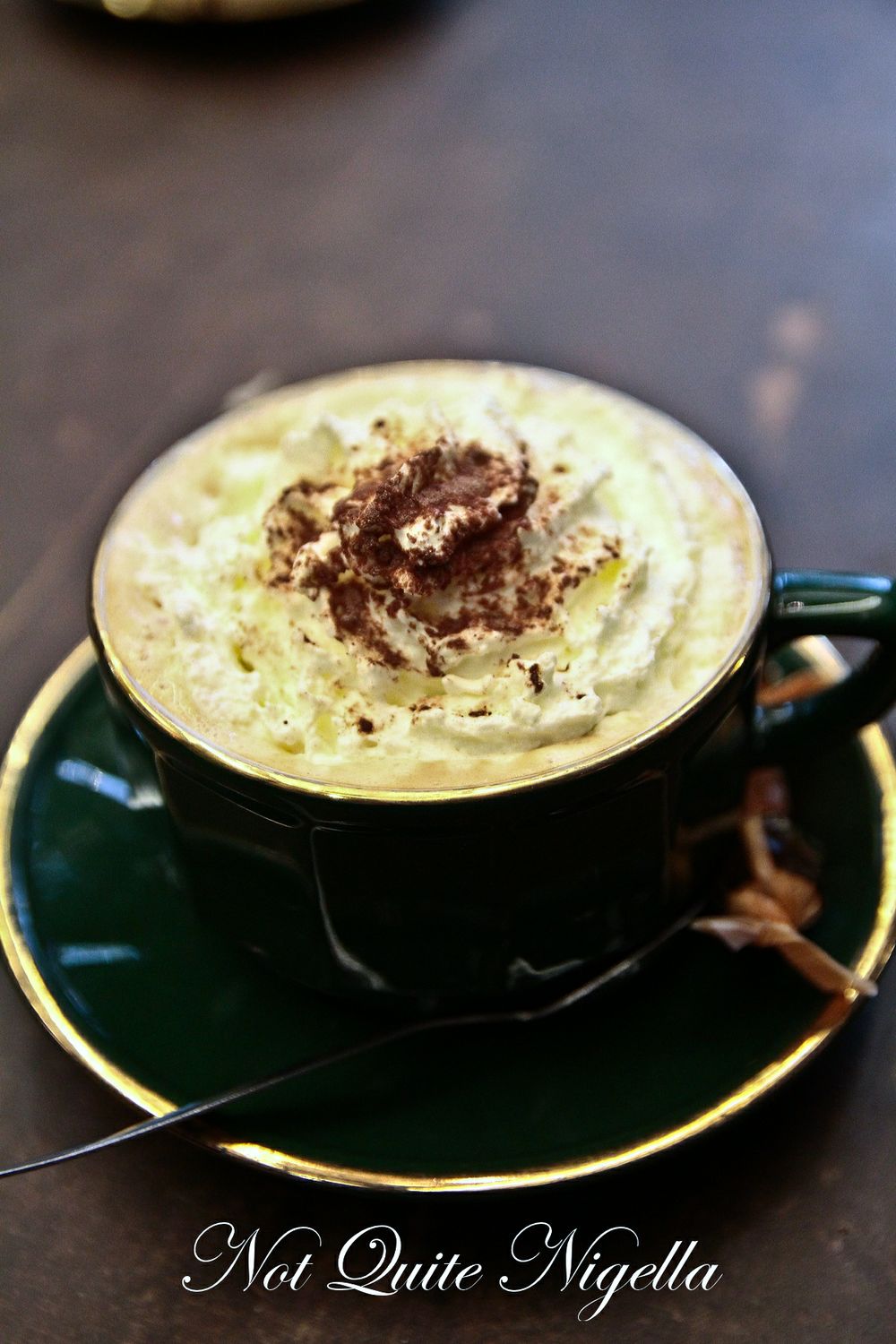 Coffee with chantilly cream _€2.90_
A cup of coffee with chantilly cream on top can be had for €2.90 or a cup of hot chocolate (lovely and rich) for €3.70 and you can sit in this cosy, welcoming place which really feels like a cafe during the day rather than a bar.
Nearby is a vintage bookstore as well as places like Brison Traiteur who make a delicious range of ready to made food to take home. How divine does this savoury cake look?
All images taken on a Sigma 17-50mm F2.8 EX DC OS lens
There is also no shortage of chocolatiers it seems in Nantes. Vincent Guerlais makes a gorgeous range of cakes, macarons and chocolates. He is also known for his petit beurre biscuits. His version, in chocolate and filled with hazelnut cream encased in shortbread has a grainy cocoa like quality. My favourites were the chocolate fingers dipped in caramel (but more on those later! ;) ).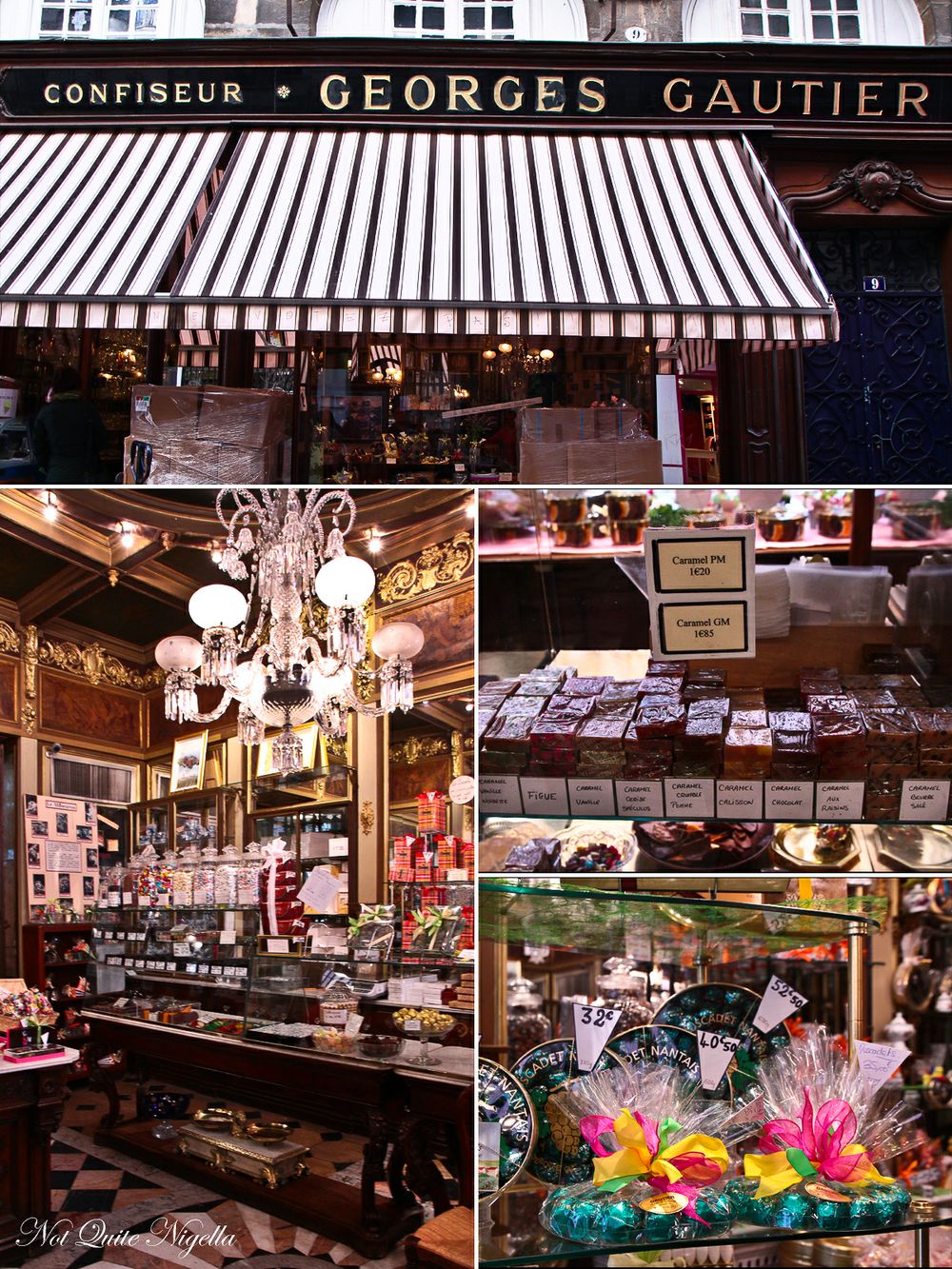 My delightful friend Jamie from Lifesafeast, a Nantes local for eight years takes me to her favourite chocolatier George Gautier where she often picks up gifts for friends. I try one of the mascaron Nantais (yes not a macaron) chocolates which is absolutely divine, a thin layer of chocolate surrounds a wonderfully crispy feuilletine and chocolate praline centre that shatters in every bite.
At the Castle of Anne of Bretagne
We walk around Nantes to see some of the sights in between bites of chocolate. Anne of Bretagne was fortunate (well relatively speaking) to have married two kings in her lifetime. The first time, her father changed the laws so that she could inherit his estate (previously, only males could) and she was sought after as France wanted to gain Brittany. Even today, some consider Brittany its own separate entity as far as identity goes.
Seafood so fresh that some of it still moves on Rue Copernic
The first shopping mall in France
The food heaven Les Caves de Beffroi has pretty much anything that you could ever want in terms of food. There are obscure items like violet mustard as well as divine cheeses like Beaufort d'alpage lait cru de vache from Savoie at €34.50 a kilo and Nantes own cheese Le Curé Nantais. There is also a large range of fleur de sel which is from the region.
For those after some liquid purchases, wine tastings that cover the Loire Valley's length and breadth of different wine types can be had a Carte des Vins de Loire. Each region of the Loire grows different grapes and specialises in different wines.
The most well known grape in the area is the muscadet. Tasting of up to three glasses are free and you can also book in for wine and cheese tasting classes here.
Ice cream lovers buy cones at Glacier La Fraiserie which sells gelato and ice cream. Strawberry is not just strawberry and here it is mixed with vanilla or as a fruity sorbet by itself. But the killer ice cream to me was the caramel et sel (salted caramel) ice cream which was perfectly balanced and oh-so-smooth in texture.
Before we know it, it is lunchtime and we make our way across on the navibus which is a short trip to La Civelle, a restaurant with local specialties like eel and seafood. La Civelle is only open for lunch and the atmosphere is warm and inviting with warm woods and leather chairs setting the tone. With South African head chef Warren Speirs, the menu is focused on local specialties.
Chef Warren Speirs
L'assiette Degustation (3 Gillardeau, 3 Plate de Bretagne, 3 Bretonnes) €19.50
The oyster degustation had three different types of oysters: a Plate de Bretagne-flat like a plate, said to be the best available oysters of the day as well as Gillardeau the fattest oysters and Bretonnes. The oysters are well worth trying and a real highlight, with each oyster tasting quite different to each other.
Tatin de tomatoes confit et Queues de Gambas Roties _€10_
The tarte tatin with tomatoes is a savoury version of the tarte tatin using tomatoes instead of apples on puff pastry. It is served with a side salad of dressed leaves and juicy prawns on top. The prawns were particularly good with a fresh texture to them.
Le Poelee Royal _€29.50_
The most popular main at Le Civelle is the Le Poelee Royal which is served in a large copper pan and has a mix of fresh, seasonal seafood including half a lobster, four prawns, scallops and seasonal vegetables like potatoes, mushrooms and broccoli with a browned butter sauce. The seafood is cooked beautifully and it is a very generous serve and almost impossible to finish no matter how much you want to.
Polee d'anguilles de Loire a la Persillade _€23.50_
The baby eel, a specialty of the area, is dusted in flour and then pan fried with the bones still inside. It is served with green beans, potatoes and mushrooms. The bones are still quite crunchy and there is an almost grainy texture to the eel. You can of course cut out the backbone of the eel or some pieces have smaller pieces of bones that you can crunch on although this is a fiddly dish that didn't win some over.
The last evening in Nantes is at La Comedie de Vins, a little wine bar which has a cozy atmosphere on the Rue Suffren. The owners are Cecile and Emeric Chambon and he worked at a three Michelin starred restaurant L'esperance under chef Mark Meneau. We're having drinks tonight with three wine makers Roman Petitau from Vallet, Frederic Lailler from Domaine Michel Bregoen in the Loire Valley and Jerome Bretaudeau and we will be trying some of their and the region's wines.
The three winemakers
Sardines
In between wines we try some of the food. The sardines, and I'm not even much of a sardine person, are absolutely superb. They're fantastic served with some salted butter, crusty bread slices and the marinated sardines are full of flavour and yet less strong in the fishy taste than sardines that I've had elsewhere. Jamie tells me that they are probably fresh sardines as they are in season.
Charcuterie plate
The charcuterie plate has a range of hams and sausages that they slice to order and they range from jamon, cured sausages, wonderful rilletes and terrine. The rillettes were divine and soft and the thinly sliced sausages and hams were excellent (just perhaps the terrine wasn't to my taste).
Cheeses
There were three types of cheeses on the cheese plate, a comté, an 18 month aged cow's milk cheese cut into thin batons which was wonderful which is one of my favourite cheeses; a crottin de chavignol which is wonderfully strong goat's cheese (crottin meaning cow pat!) and a St Marcellin cow's cheese from Lyon.
Vin de Pêche tart
The peach vin tart is a puff pastry tart with a thick amount of pastry and a layer of glistening peach slices coloured a dark maroon with the red wine.
The next day Jamie picks me up for a visit to Talensac Market where we have a quick walk around and she shows me some of her favourite stalls. The markets are located about twenty minutes walk from the city centre and are open every day but Mondays (where they are just open briefly for an hour).
I end off buying two cakes, both specialties of Nantes. One is a cake called Le Fondant Baulois which is a rich, flourless chocolate cake that is made using their fleur de sel salted butter. Salted butter is very common here as fleur de sel is harvested nearby in Guerande.
The cake is beautifully fudgey, rich and moreish and is topped with a white chocolate seal. The fleur de sel de guerande salt is a naturally occuring salt. Over time, the best of the salt, the white "flowers" float to the top while the second grade salt is also used. The white flower salt that is harvested by paludiers (which are traditionally all female as they are said to be gentler at harvesting the salt) is said to be among the best salts in the world second only to Hawaiian salt.
Gateau Nantais
The Gateau Nantais "La Monargue" is an almond cake generously drenched with a big hit of Antilles rum, cinnamon, almond and vanilla. Nantes as a region has connections to the West Indies as it was a slave trading port and it owes its wealth to slave trading expeditions (there is also an Abolition of Slavery Memorial Museum). Jamie has a recipe for it here as well as a wonderful article about the food of Nantes.
The cake itself is served in thin slices and has a dense layer of sweet, moist cake, a layer of white rum and powdered icing sugar icing on top. It is a sweet and giddily rummy end to our trip to Nantes.
So tell me Dear Reader, do you like oysters and if so, what are you favourite kind? And when you travel, do you buy snacks for the train or car ride or do you wing it and buy food on the way?
NQN travelled as a guest of Rail Europe.
Rail Europe
Rail Europe is the exclusive distributor of the France Rail Pass in the world. www.raileurope.com.au
Hotel Pommeraye
2 Rue Boileau 44000 Nantes, France
Tel: +33 02 40 48 78 79
www.hotel-pommeraye.com/
La Cigale
4 Place Graslin 44000 Nantes, France
Tel: +33 02 51 84 94 94
www.lacigale.com
Le Select
14 Rue du Château 44000 Nantes, France
Tel: +33 02 40 89 04 49
www.leselect.fr
Brison Traiteur
7 rue Franklin 44000 Nantes
Tel: +33 02 40 48 51 39
Vincent Guerlais
11 Rue Franklin 44000 Nantes, France
Tel: +33 02 40 08 08 79
www.vincentguerlais.com
Georges Gautier
3 Place Graslin 44000 Nantes, France
Tel: +33 02 28 09 09 19
Les Caves du Beffroi
12 Rue de la Paix 44000 Nantes, France
Tel: +33 02 40 47 04 12
Glacier La Fraiserie
1 Place De La Bourse 44000 Nantes
www.lafraiseraie.com
La Civelle
21 Quai Marcel Boissard 44400 Rezé, France
Tel: +33 02 40 75 46 60
www.la-civelle.com
La Comedie de Vins
4 Rue Suffren 44000 Nantes, France
Tel: +33 02 40 73 11 68
www.lacomediedesvins-nantes.com/
Talensac Markets
Rue Talensac 44000 Nantes, France
www.marche-talensac.fr