Dear Reader, what is your idea of an adventure? For my food loving friends and I, an adventure was one in which we would arrive at a very special street in which bright lights twinkle like Christmas and restaurants in heritage listed houses serve us authentic Indian cuisine and we would eat our way up, down and across that street. Wigram Street in Harris Park is not your ordinary street. In fact when you drive down it at night, you might think that it were awaiting Saint Nick all year round with the sparkling fairy lights and lit up houses.
These Harris Park Indian restaurants are mainly concentrated in a one block radius of Wigram Street although Harris Park itself is replete with Indian restaurants with about 14 or 15 in the suburb due to the resident Indian population. Each restaurant has a distinctly different atmosphere and as we find, even while the menus may initially look the same, the execution is often quite different. Some focus on North Indian cuisine while others Southern Indian cuisine. And some...well they focus on a fusion of Indian and Chinese cuisine but you'll have to stay tuned for that one! ;)
According to Saurav Gupta whose family owns Ginger, only five to seven years ago, there were only two or so Indian restaurants in Wigram Street. However, in the last three to four years, there has been an explosion of Indian restaurants with Wigram Road having ten restaurants in the short space of a small block. Wigram Road is said to mirror the famous Pandara Road in New Delhi India which has about numerous restaurants on the one road. Like Leichhardt's Norton street for Italian food, this is a mini Pandara Road. Most of the restaurants in the area have a website with menu so you can check out prices and what they offer beforehand.
My partners in crime for this Indian feast were David (owner and chef at Xanthi), his wife Belinda as well as friends Louise and Viggo. They all love food just as much as Mr NQN and I do although I did discover that we might be pushing our love of a single cuisine by sampling six restaurants in the space of an afternoon and evening!
David suggested that we interject a cricket theme into the event to tie in with the Indian theme. After explaining the rules of cricket to me, David suggested that we order three main dishes at each restaurant that we visit along the street. Along with that, scores for naans and rice would count as one score and scores for atmosphere and service would count as one. Lastly, to make up the sixth score, we would combine the scores for the desserts of gulab jamun and kulfi. We would rate each dish according to a score out of six. Zero would be an "out" and six would be the highest and commensurate with cricket we wouldn't include 5 as it happens so rarely in cricket. I must admit that they tried to explain why there was no 5 in cricket but I drifted off...it's no wonder I was never picked for school cricket. The final score would be a "batting average".
We arrived at Harris Park at 12 noon with empty tummies and took a quick look around. Indian families walked up and down the street and this part of Wigram Road plays host to Indian accountants, doctors, lawyers as well as shops selling clothing, motorcycle parts and grocery items. Clustered amongst these businesses and homes are about 10 or so restaurants. Some are in converted heritage houses, some in restaurant fitouts. Some have displays of colourful Indian sweets that greet you once you open the door and each has just what you want to see at an Indian restaurant, Indian patronage. One restaurant even hosts a cricket team out the front!
Ginger
Ginger is the fanciest Indian restaurant on the street with an all blue interior which is disconcerting at first when you first walk in from the daylight. Indeed when you sit down in the front dining room, it feels almost like dining underwater such is the effect of the blue walls. Service is very friendly and we are dining at noon so we are the only diners there. I was recommended Ginger by friendly NQN reader Brett who also sent me photos of the brightly lit up street. Here, they serve North Indian or Mughlai cuisine which is influenced by Persia and Iran and uses whole and ground spices. Interestingly, this is the only restaurant that doesn't have a sweets display. At each restaurant, our plan was to order butter chicken as a constant as well as naan. We'd also order a vegetarian dish and try the house specialty. Dessert would be gulab jamun and kulfi ice cream.
Murgh Makhni Butter chicken $16.90
The food comes out in a timely manner. The butter chicken thigh pieces are soft and cooked in the tandoor oven and finished with a sauce of ground cashew, tomato, cream and fenugreek. Whilst the balance of flavours were great, some of us wanted the sauce a bit creamier.
Shahai Baingen $14.90
The eggplant with the lovely caramelised edges and soft voluptuous texture was a favourite here along with the lamb rezzala below.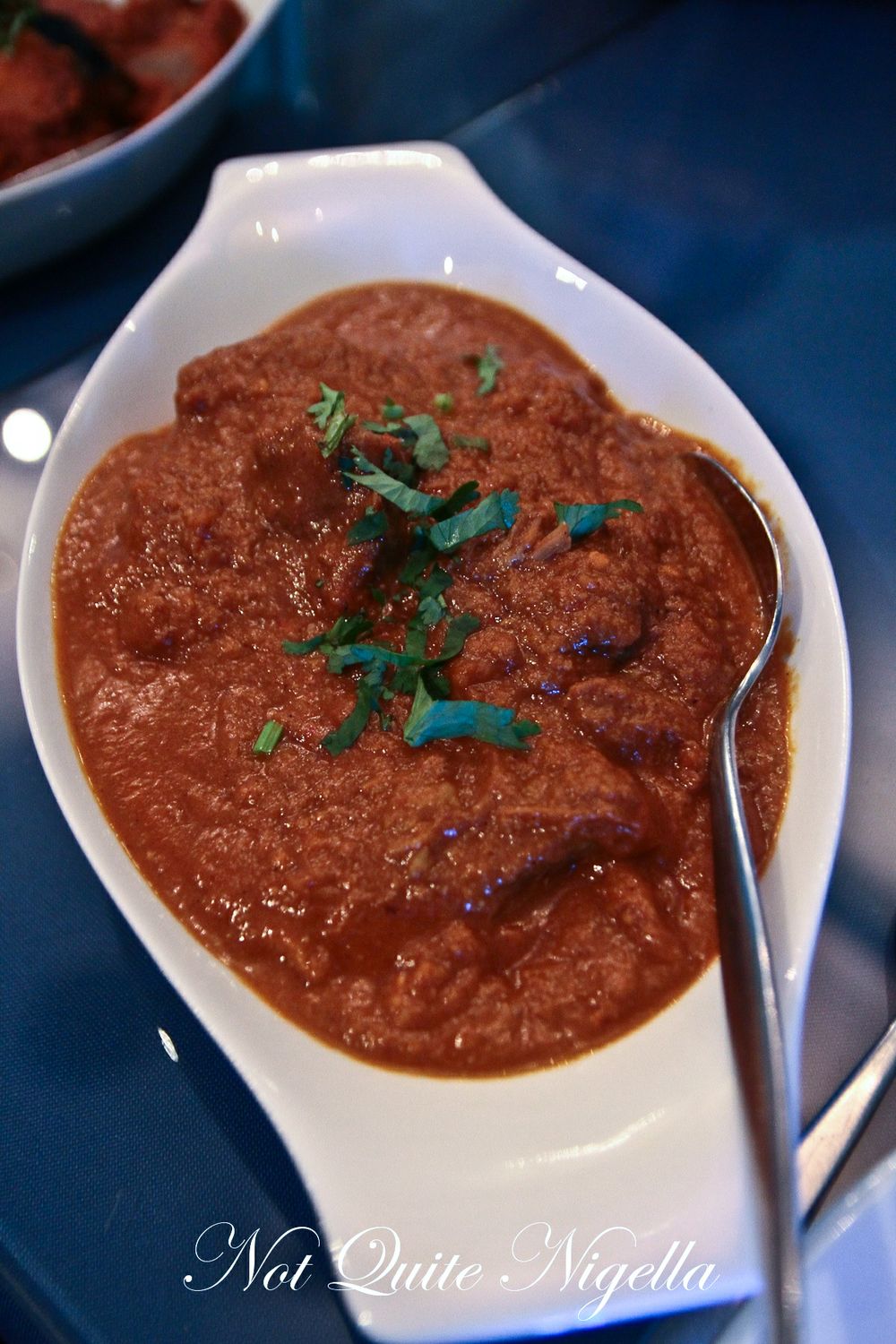 Lamb Rezzala $17.90
The lamb rezzala was soft with a rich sauce had a tomato and cream based sauce which was mostly tomato based with a little cream at the end to finish it. It was said to be very hot but they toned it down for us although all of us can handle spicy food. And we note that throughout the day, all of the Indian restaurants are traditional ones that don't serve beef because of course the Hindu religion considers eating the cow as taboo.
Garlic naan $3.50
Peshwari naan $4.50
We order a garlic and peshwari naan and the peshwari naan is redolent in whole spices and is strong in fennel seed (perhaps this is where the north Indian influence comes in). The naan itself is quite flat and the strong flavour of anise gives it a strong taste.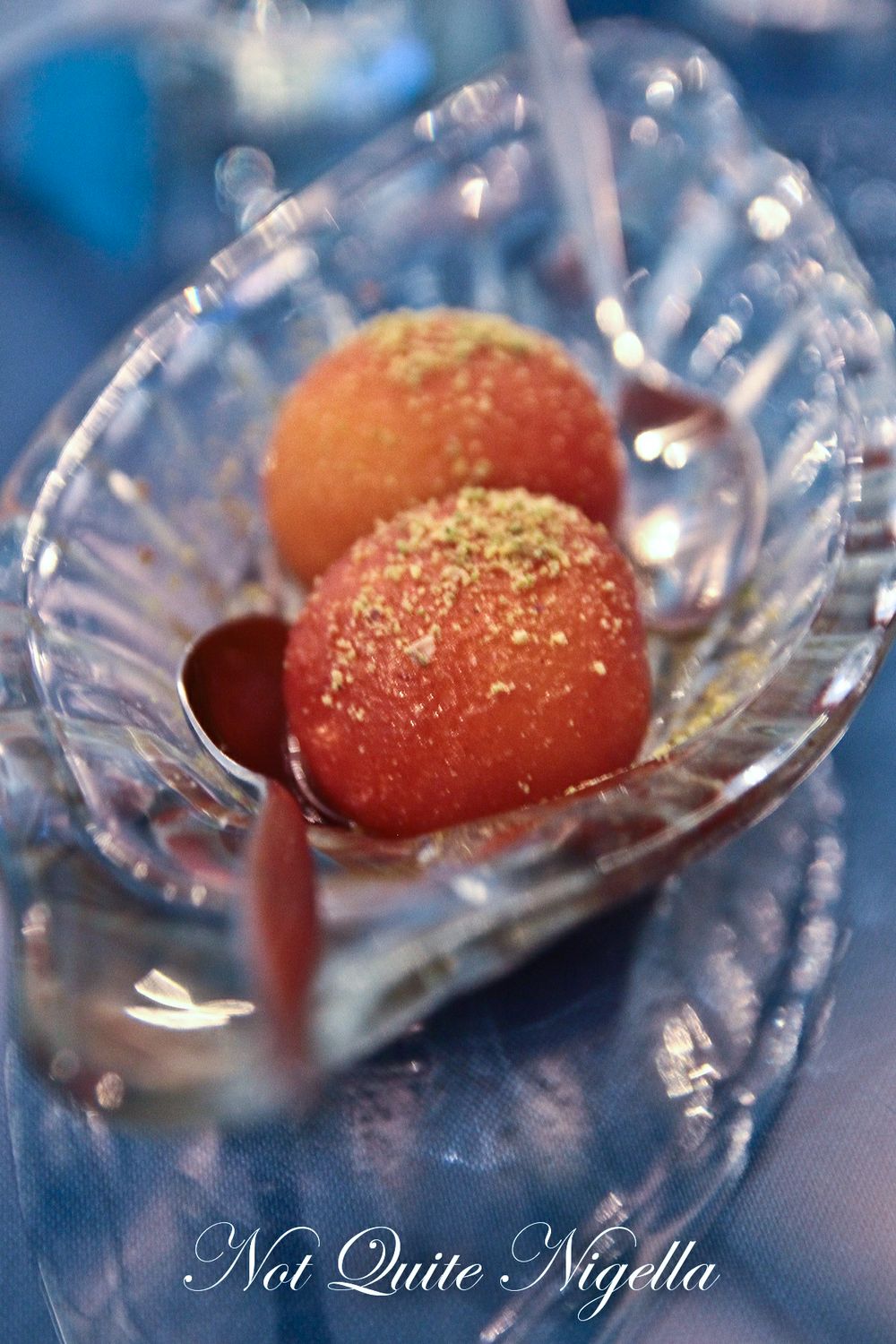 Gulab jamun $7
Pistachio Kulfi $6
The dessert choices arrive and they are the gulab jamun and the pistachio kulfi ice cream. The latter is cut into quarters for easy eating. The pistachio kulfi is icy and quite light in flavour with some pistachios sprinkled on top. The gulab jamun, two to a serve are soft and syrupy.
Score notes: Top marks for atmosphere and service. Awarded one "out" from David for the peshwari naan.
Spice of Life
Our next stop is just a very short walk away at Spice of Life. Here, the atmosphere is quite different, more like a cafeteria and it looks to be more family style rather than the polished surrounds of Ginger. The menu is a double sided laminated tri fold one. There are families with small children and couples eating together here. "Are you ready for round two?" I ask my friends and at this point there is no tummy clutching.
Mango and salty lassi $4 and $3.50 respectively
Thirsty for lassi we ordered some mango and salty lassi. The mango has an unusual taste and tastes of tinned mangoes. The salty lassi jars for David and Mr NQN although I had the same reaction the first time I tried Ayran (Turkish yogurt drink) but now I love it.
Butter chicken $17
Here they use almonds for their butter chicken and whatever hiccups that were had with the service and the lassis are quickly made up for the butter chicken which has a lovely aroma with a touch of cinnamon. It was one of those dishes where I could help but take to it with a spoon and scoop up every last drop. I would have licked the bowl clean if I were at home or just used naan bread which would have been the better solution.
Baigan Achari $15
The roasted eggplant dish here was soft with good flavours. This was less rich and was tangy from the achaari masala.
Nihari goat meat curry$25.90
The goat meat was soft and was said to be on the bone although I got just the meat. It was highlighted with thin matchsticks of ginger and a thick, spicy sauce.
Cheese and garlic naan $4.50 and $3 respectively
The naans were quite soft and the cheese naan was particularly popular out of the two.
Mango kulfi $7
Rasgulla gulab jamun $2 each
Alas they were out of pistachio kulfi so we couldn't compare like for like so we went for the mango kulfi which was lovely and smooth and creamy with almost a mastic texture to it giving it a stretchy property unlike the icey milk texture that you can get with kulfis. The gulab was firm and sweet and served in a scallop shell.
*Score notes: *I awarded a six for the butter chicken which I adored although service was quite slow as they only had two people working the floor.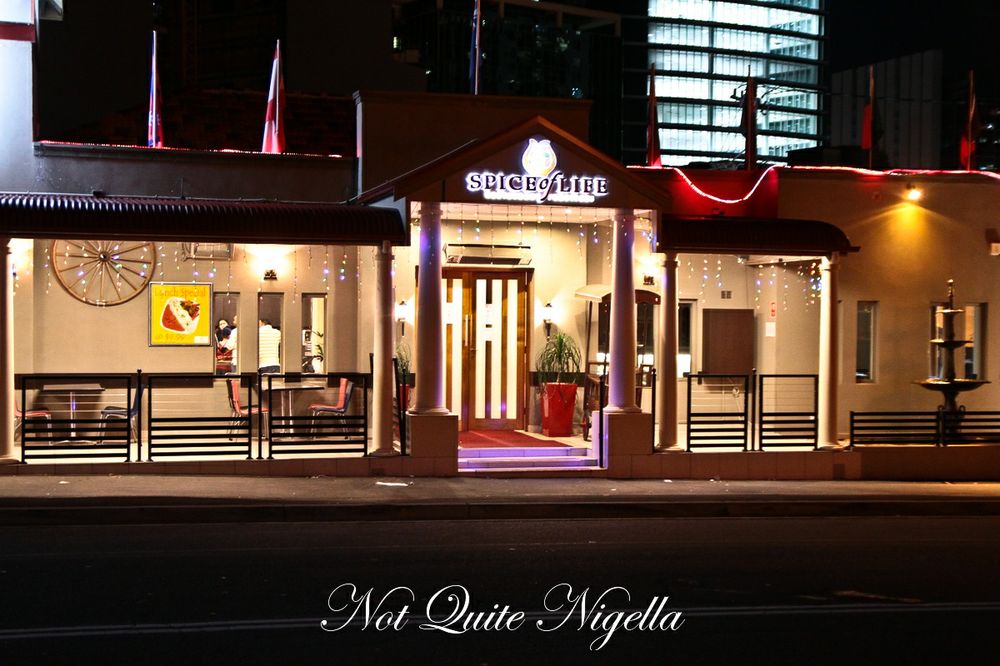 Billu's
The flashing lights lure us to the cluster of Indian restaurants right next to and across the road from one another. There's even a Lebanese store nearby among the Indian offerings.  Billu's is one of a few restaurants that offer al fresco dining and we take advantage of the late day winter sun and take a seat outside. And wait. And wait and wait. A waistcoat outfitted waiter comes out to clear a table and we ask him if we can see some menus. Belinda politely asks if he can wipe down the table. He gives us a look of abject fear and disappears inside never to be seen again.
After another wait, I make my way inside to order and they tell us that it is table service and that someone will be with me shortly. A waitress arrives and shyly and sweetly takes our order. Our drinks arrive shortly after.
From back to front: mango, rose and sweet lassi $3.50, $3.50 and $3 respectively
The mango lassi isn't bad but it's the sweet lassi that tastes like a thicker version of Yakult that we gravitate towards. The rose lassi actually doesn't have much rose flavour and mostly tastes of cardamom.
Dahi Bhalla $6.50
Inside the restaurant it was busy with many Indian groups and families dining in. As I walked past the display on the way back from the restroom, I spotted them dishing up plates of the dahi bhalla which is a weekend special so I asked for a serve of this. It was a curious dish made with donut shaped fritters and then coated in yogurt sauce. Said to be a North Indian street food, it was surprisingly watery tasting with a generous coating of yogurt and tamarind sauce. I don't think any of us finished more than a mouthful.
Garlic and cheese naan $3 and $3.50
The naans were fresh and there was a lot of garlic on the garlic naan which was a nice injection of aroma.
Butter chicken $14.90
The butter chicken was strong in tomato and slightly tangy, again we love the creaminess of butter chicken which was really not very apparent here although the meat had a nice flavour from the tandoor oven. And we had to make a mention of the rice here which was quite lumpy with one very large lump at the bottom of our serve.
Punjabi Baigan $12.90
The eggplant dish was actually very good although there were no potatoes in it as the menu mentioned.
Lamb rogan josh $15.90
We took the waitress's suggestion of the lamb rogan josh but alas the lamb itself was very dry and tough although the sauce good.
Gulab jamun $2 and pistachio kulfi $3
The items that are plated up from behind the counter are served in plastic plates and that includes the dessert (it's interesting what you notice when you dine out with a restaurateur and chef). The desserts are very reasonably priced with the kulfi ice cream at $3 whereas it has been more expensive at other restaurants. The gulab is similar to the other ones, sweet and syrupy. The kulfi although presented in a footed glass isn't necessarily practical but has a lovely flavour of saffron and is quite good indeed with a creamy texture to it.
*Score notes: The initial waiter bowled "outs" all round but the second waitress was lovely. Unfortunately, the lamb rogan josh, rice and the dahi bhalli (which wasn't counted as that was an additional dish that we tried out of curiosity) all earned "outs." Despite a low batting average and many outs, the restaurant was quite full.*
Haveli

"How are you guys feeling?" I ask and everyone still looks good although we were a bit chilled by the al fresco dining. By now we need a bit of a change of scenery. And by change of scenery I mean simply crossing the road to the other side to go to Haveli! I'm sure there is a 'why did the chicken cross the road' joke in there somewhere... Looking more like a house than a restaurant we open the doors and inside it is very nicely decorated with some rather elaborate chairs.  "You should have used these for your True Blood dinner party" Dave quips. Mannequins sit against the back walls playing instruments and it is warm and dark inside which is just what we need. The cuisine here is South Indian cuisine.
Service is very friendly here and helpful. The menus at these places are starting to look quite similar, particularly as we are looking at the same dishes but words such as "butter chicken: the pride of the kitchen" start popping up on several menus. Each place has a slightly different price and as we're tasting them, there are definite differences in cooking style and flavour. Despite the elaborate decor here, the prices are lower than the other restaurants.
Cheese and kashmiri naan $3.50 & $4
Our food came out straight away. The cheese and kashmiri naan are close to what we are after as they are soft and pillowy with a good amount of tasty filling. The kashmiri naan has shredded coconut, sugar and nuts throughout it.
Butter chicken $13.90
The butter chicken is cooked in an almond cream sauce and it is a good version of this with a nice balance of flavours and a good level of creaminess although South Indian cuisine tends to be less creamy than North Indian.
Goan fish curry $15.90
For a change, we went with a recommendation for Goan fish curry as we had our fill of lamb . The ling fish was soft and tender with a generous amount of fish in it and a tomato and coriander based sauce.
Palak Paneer $11.90
It was also at this point that we wanted to steer away from the eggplant dish and go for something a bit different. The palak paneer, always a favourite has blended spinach and soft chunks of paneer cheese throughout it.
Pista kulfi $3.90
"It looks like a murdered frog" Belinda says although we had just been discussing that hideous case of the man high on drugs that had bitten a man's face off. So when this was set down we all looked at each other. Thankfully it was good and the pistachio kulfi was sliced thinly so that it was easy to eat.
Gulab jamun $2
The gulab jamun here were fantastic. So soft and melting in our mouth, it prompted Louise to buy a box of five of them to take home with her. If I had any inclination to buy more food I would have done the same. Even though the others had all tasted quite alike, these were the most different and it has to be said, the best of what we tried.
*Score notes: This  was one of my favourite for a few reasons, the service was lovely, I really liked the decor and I thought that their gulab jamun was fantastic and beautifully fresh and soft and quite different from others which were quite similar.*
Chutney
We're coming into the home stretch. From the blue tones of Ginger, we walk into Chutney with its red lights. By now Mr NQN isn't feeling too crash hot. It may be the lassis at every place that he has giddily consumed (it's the Elliott/hippy version of a milkshake) but the rest of us are still going and I haven't undone my tight belt (yet!). The red lights cast a glow over everyone and the red lights are starting to freak me out. There are many young families dining here tonight as well as groups. In the centre is a buffet which is being set up for the evening. We check our watches...we've been dining for almost seven hours!
Goat masala $16
The goat masala was made with pieces of soft goat, onions and spices finished with coriander. And with goat, it's best when the meat is soft as this was.
Mixed vegetables $11
The mixed vegetables were ordered for something different and they were a mix of peas, beans , potato, carrot and corn. These were cooked with north Indian style spices and they had a thick, spicy sauce.
Butter chicken $15
The butter chicken, and we haven't gotten sick of this very favourite dish, is made with a cashew nut sauce and is quite a crowd pleaser, one of the favourites that we've tried today (pipped only by my score for Spice of Life's fragrant version). And showing no signs of food fatigue, many say that they are really enjoying the food here and there's hardly anything going back to the kitchen at any place.
Cheese, garlic and coriander naan $4 and Kashmiri naan $4
Ahhh the naan bread of our dreams! The cheese, garlic and coriander naan just sings to us as does the kashmiri naan with dried fruit and desiccated coconut filling. They're both served hot, soft and puffy and are just made for soaking up delicious curry sauces with. David and I loved them both and we gave these a 6 out of 6 which from copious amounts of explaining by Mr NQN means that it has scored a "six." Oh cricket, you crazy game ;)
Gulab jamun ice cream $6
Although there was supposed to be two pieces of gulab jamun we got two scoops of vanilla ice cream and one gulab jamun. I prefer the balls in the syrup rather than in the ice cream and it was this personal preference that meant that I didn't enjoy this as much although it seems like other didn't really either, particularly after we had just had the fabulous ones at Haveli. The gulab jamun here was also slightly firmer than others and when I press down with the spoon, syrup oozes out and then retracts back in.
Pista kulfi $5
The pistachio kulfi is that creamy, mastic-y ice cream rather than the icey ice cream blocks and is flavoured lightly with pistachio. We leave behind the red lights and venture out to our last stop, one that we had saved for last...Indian Chinese cuisine!!
*Score notes: The lights might freak you out at first, but the naan here were superb and the curries a solid bet. David and I awarded both naans a six although Mr NQN, who is contrary to me in so many ways, awarded them a one (everyone else awarded them a 4). *
Indian Chopsticks
Now I swear we weren't high although there is such a thing as "food drunk" and that's when you start to feel a bit woozy from eating so much food. It's the disease of gluttons although I didn't feel too bad at all as I stuck to one mouthful of each but poor Mr NQN was busy making sure that no food went back to the kitchen and felt a bit food drunk. And on approach to our very last place David does a Rocky style victory dance to my off key version of the Rocky theme.
Now Indian Chopsticks you might have gathered from the name is Indian and Chinese food together, apparently a fusion cuisine that you can find in India. It also gets less than stellar ratings on review sites but if tradition says anything, leave the most controversial for last!
At around 7pm we walk in and almost every table is taken. And as befits the name, there is an Indian waitress and a Chinese one. We take a look at the menu and see a mix of Indian and Chinese dishes. Completely unfamiliar with this cuisine, we ask the waitress for help and she suggests a few items. Prices are very cheap and dishes are made for sharing - a pot of jasmine tea is priced per pot at $2 and they bring enough cups for everyone.
Szechuan Paneer $11.90
This was one that I'm afraid that nobody liked and several times it bowled an "out" on the scores. Said to be fresh paneer cheese cooked with  hot and spicy chillies it was a clash of two cultures that had a very spicy almost sweet and sour flavour to the paneer. And there is a lot of sauce for this dish!
Sizzling Rainbow Chicken $13.90
Better was the sizzling rainbow chicken-it's been quite a while since I had a dish brought to the table on a sizzling hot plate and this is made up of pieces of lightly battered chicken in "chefs special tangy sauce" which tasted like it was based on a hoi sin sauce which also packed some bite to it.
Chicken Chow Mein $10.90
The chicken chow mein which Mr NQN notes is on pretty much every table around us, is the pick of the dishes with a lovely breath from the wok, pieces of chicken breast meat, egg and vegetables. My mother makes a very similar dish and it's a good home style noodle dish although it is different from Chinese restaurant chow meins with thick, braised sauces.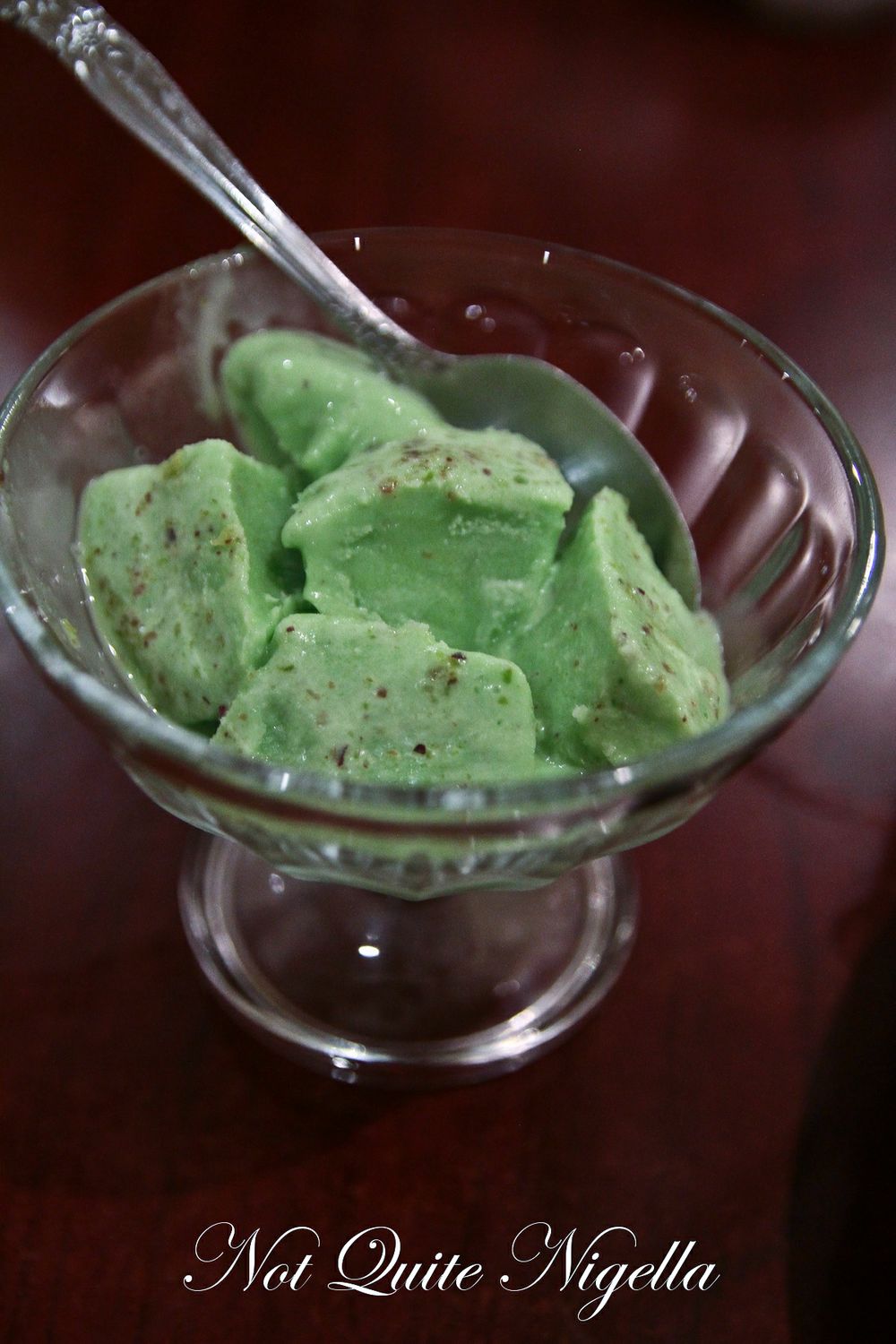 Pista Kulfi $3.50
Gulab Jamun with ice cream $3.50
Both desserts were very reasonably priced and are as good as the others (and quite similar to others) but at a cheaper price. We quickly eat our desserts as two large groups of people hover around us wanting our table. We might not have quite gotten a handle on this curious fusion of cuisines but that doesn't seem to matter as it seems that there is an eager fan base of it already.
*Score notes: Perhaps it was the confusion and newness to the cuisine that confused us in turn. The numbers speak for themselves and the two restaurants with the lowest batting averages were the most full with Indian patronage. Perhaps they are more familiar with this type of cuisine but the paneer Szechuan was awarded a few outs by everyone except for Viggo and Mr NQN (do Scandinavian men like this sort of thing? ;) ). The prices here and at Billu were very reasonable and that may account for the patronage. The scores didn't include naan or rice as Indian Chopsticks didn't have either.*
So we came, we eat, we had lots of fun. It ended with a Rocky lap and being introduced to a cuisine we hadn't ever tried before. I will caution that if you are thinking of doing something similar, downing lassis at every turn will fill you up as Mr NQN felt a bit unwell or food drunk whereas I felt totally fine by the end. And the funniest thing? I craved lassi and curry the next day!
So tell me Dear Reader, would you enjoy food adventures like this along with progressive dinners? Or do you prefer to eat at the one place at a time? Do you have a favourite fusion cuisine? And have you ever come across a fusion cuisine that you haven't quite understood?
Ginger
94 Wigram Street Harris Park NSW 2150
Tel: +61 (02)8061 7245
www.gingerindian.com.au/
Spice of Life
116 Wigram Street Harris Park NSW 2150
Tel: +61 (02)9762 1033
www.spiceoflife.net.au/
Billu's
62-64 Wigram Street Harris Park NSW 2150
Tel: +61 (02) 9687 7785
www.billu.com.au/
Haveli
67 Wigram Street, Harris Park NSW
Tel: +61 (02) 9635 0110
Chutney
66 Wigram Street Harris Park NSW 2150
Tel: +61 (02) 9893 8202
www.chutneys.com.au/
Indian Chopsticks
77 Wigram Street Harris Park NSW 2150
Tel: +61 (02) 9891 4177
www.indianchopsticks.com.au/