Travelling is a funny beast and jetlag is that cruel mistress that can turn up at any time of the day and put the best laid plans in disarray. At 3am in Hong Kong I woke up, convinced that I had had my full night's sleep. I was not at home as I had initially thought but in an enormous suite at the Novotel Citigate. Fuelled by the false sense of energy of a speed addicted workaholic, I power through work and catch up on several weeks worth of emails only to realise that the clock reads 8am and I've missed the train that I wanted to catch to Guangzhou, China with the premier class seats.
I pack up my luggage and take a taxi to Hong Ham station where it's me and my enormous bags soon to meet up in China with the rest of the travel journo group this afternoon who are flying in from Sydney to go an around the world adventure. We would start in Guangzhou and then travel to Amsterdam, Paris, Rome and Buenos Aires. I know, madness because we were doing it in 10 days testing out the new Skyteam alliance.
Tickets to Guangzhou can be purchased at the China ticket counter and are very cheap at $190HKD ($25AUD) although three services a day have a premium class for $230HKD ($27AUD). All bags are screened and then you pass through the immigration process where they check your visa and you make your way to the boarding area.
Taken on a Sigma 17-50mm F2.8 EX DC OS lens, focal length 50mm, ISO 200, 1/25s.
The problem with travelling by yourself with luggage that has been dubbed"the mothership" is that you can't easily move it. Especially when you smell the whiff of dumplings and pass a train dumpling car where a man wearing a cook's hat and a white shirt stands barely hidden by vapours of steam. Laid down by bags, made heavy by camera equipment, laptops, iPads, vanity, clothes for a month away and the inability to pack well I merely sniff the air for a whiff of a dumpling.
Conductors inspect tickets and you take a seat on the train. Bottles of filtered water are distributed to all passengers and a smiling girl comes through and takes orders for tea. The trip is two hours long and there is also internet available on the train for $28HKD although I wasn't able to connect. Two sets of four sets in each carriage have tables on which to work. About 40 minutes into the trip, a smiling man in a blue uniform walks past carrying a bowl of something on a tray covered in a plastic layer. I'm too late to stop him by the time the delicious smell of pork cooked in soy sauce wafts past me.
I nod off with my earphones in and while drifting off, I notice the colours going past me. There are faded turquoises, browns and faded yellows. The river is a murky brown and what I notice more than anything is that there doesn't seem to be anyone in the streets of the train line. We slowly glide through a train station like a snake in the water and I spot just four people, the only people I will see that aren't on the train.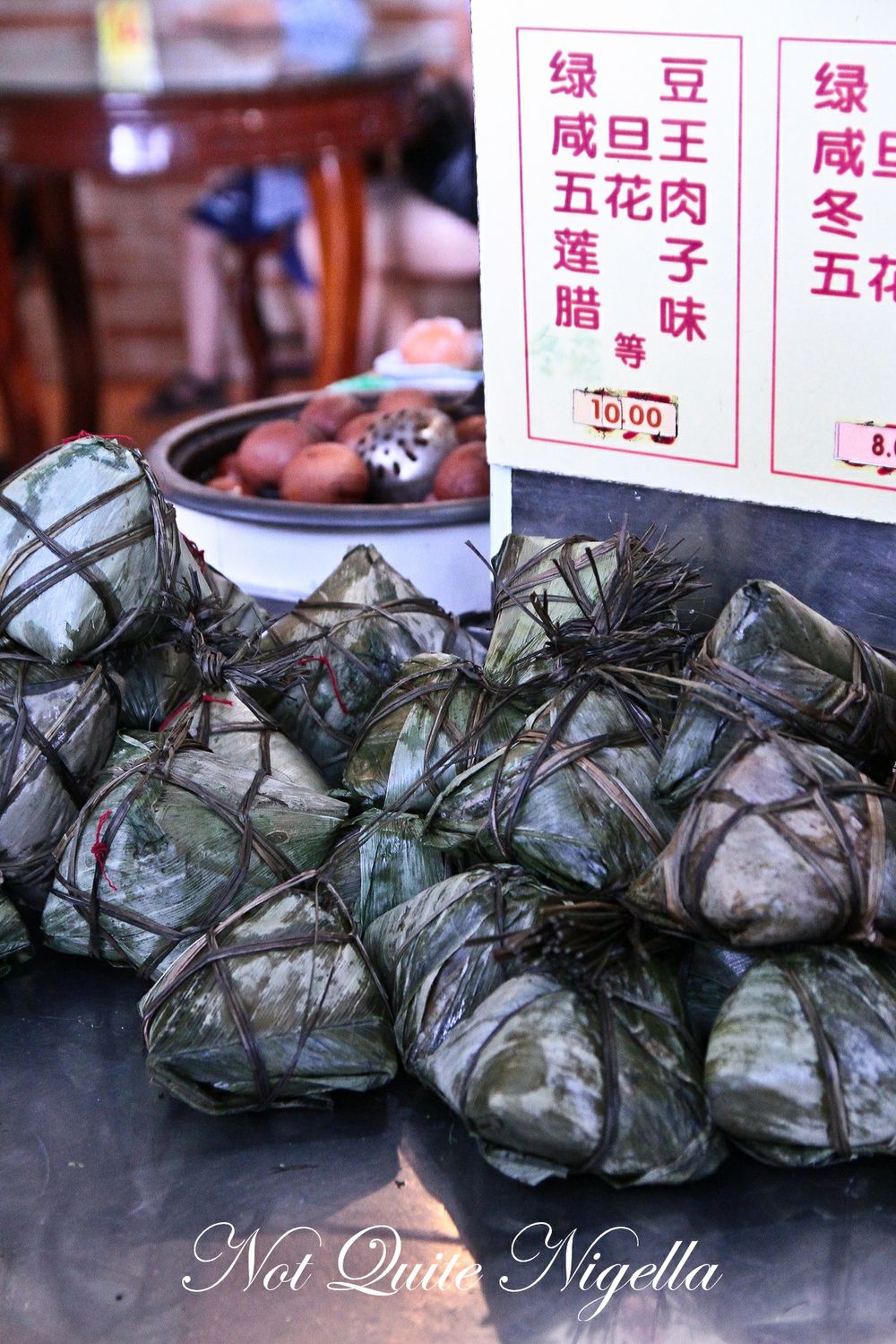 We reach Guangzhou East station and there's a clamour for the exits. The escalator leads to immigration where every foreigner lines up only to be sternly told by way of pointed finger that they need to fill in a form. The baggage is scanned and I am quizzed about what I am doing and then I go through. I need to find an ATM to get some cash out and I spotted a money changing place which I should have heeded but once I am out into the swarm of people, all looking for taxis, I realise that there is no ATM. I walk around the station twice and almost 45 minutes later I am sweating and weary.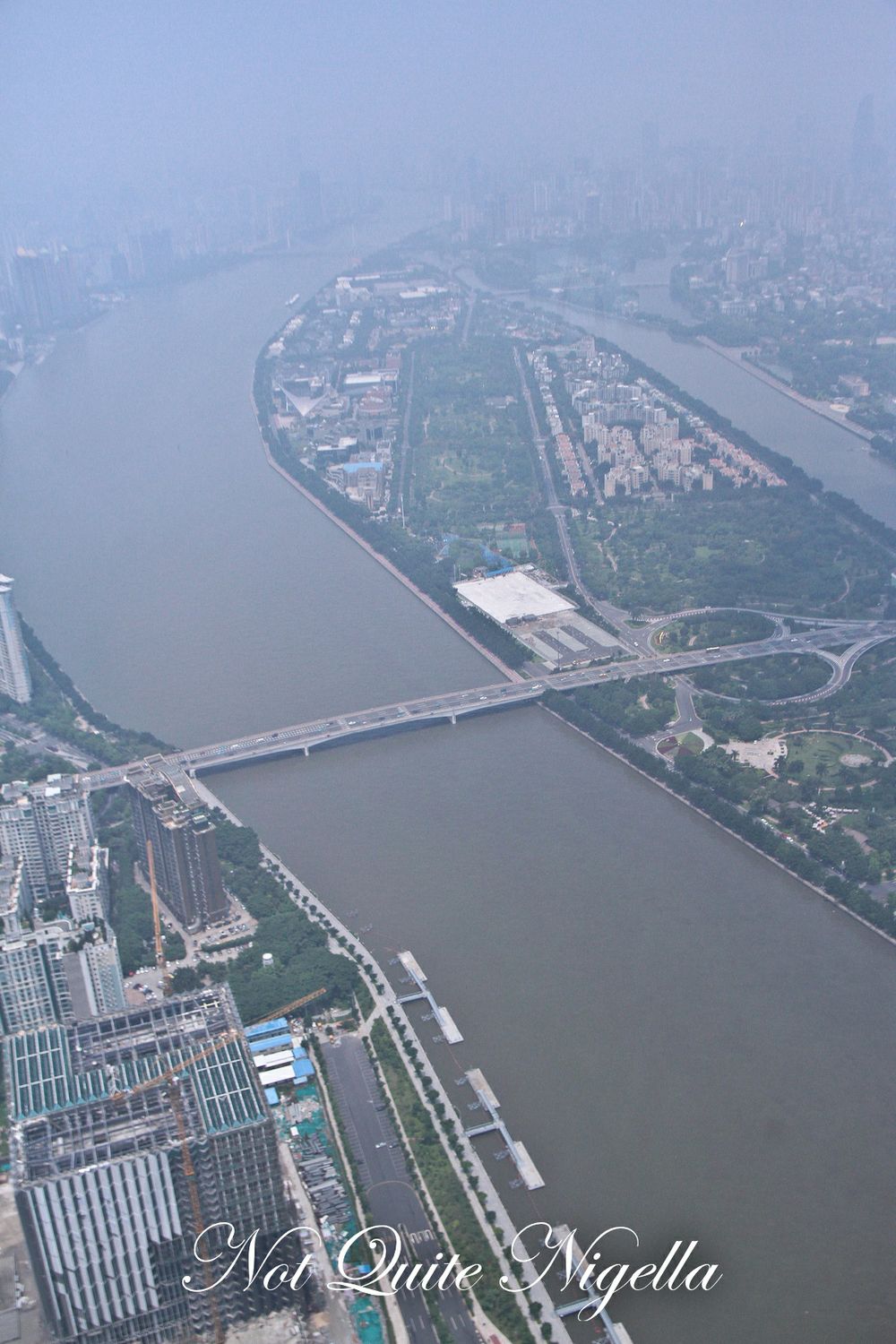 The only consolation, and you realise how desperate I was, was that there was KFC because at least I could read what it was and I recognised it. A mirage, a sign for 24 hour  non stop cash teller was just that. What stood in its place were five empty booths where ATM machines had been ripped out. I ring the Sofitel and ask if they have a cash machine. They do and I go to the taxi queue where beggars missing limbs and with legs that have atrophied put first class problems into perspective. A man pushes through the queue and then grabs the first taxi not caring about queue etiquette.
I observe that taxi drivers don't help customers with the baggage but fortunately I seem to have one that seems to be willing to take on the mothership. He grunts when he lifts the unexpectedly heavy bag and it doesn't fit in the boot but we drive off anyway with the boot cover flapping up and down over speed bumps. With some miming (and wishing I'd asked for the address for the Sofitel in Chinese) he takes me to the Sofitel Sunrich.
The familiar brown and white sign signalling that I am "home" suddenly appears but I still have the matter of the payment for the driver to attend to. You'd really think that this was the first time I had travelled and I get a little bit cross at myself for not changing money beforehand. The payment taken care of, I relax and take in my surroundings. I'm actually in China.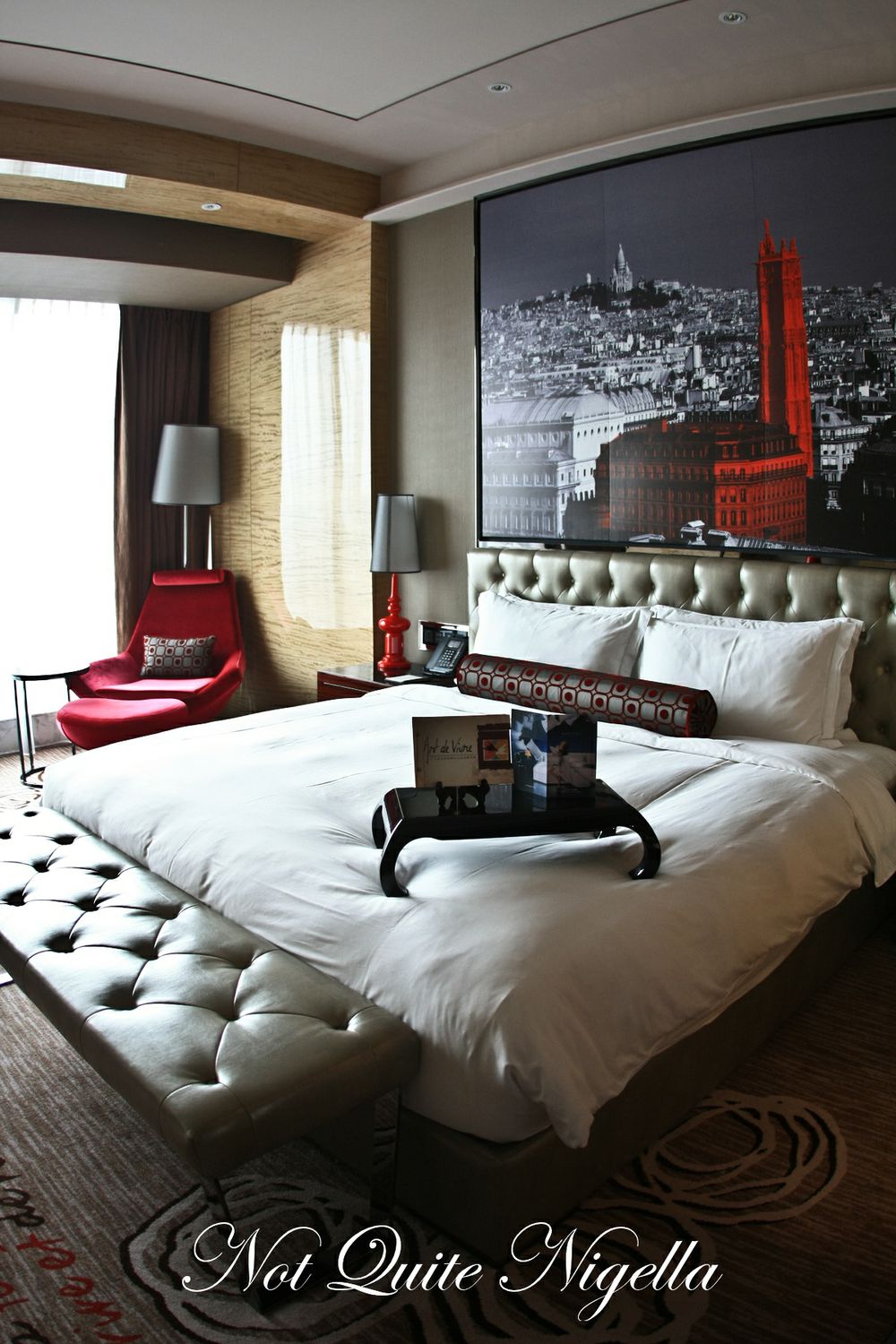 At the Sofitel, I have an executive floor room so I make my way up to the 29th floor for the executive floor check in. They take my details and credit card and I'm offered a drink before I make my way down to the 28th floor for my room (#2823).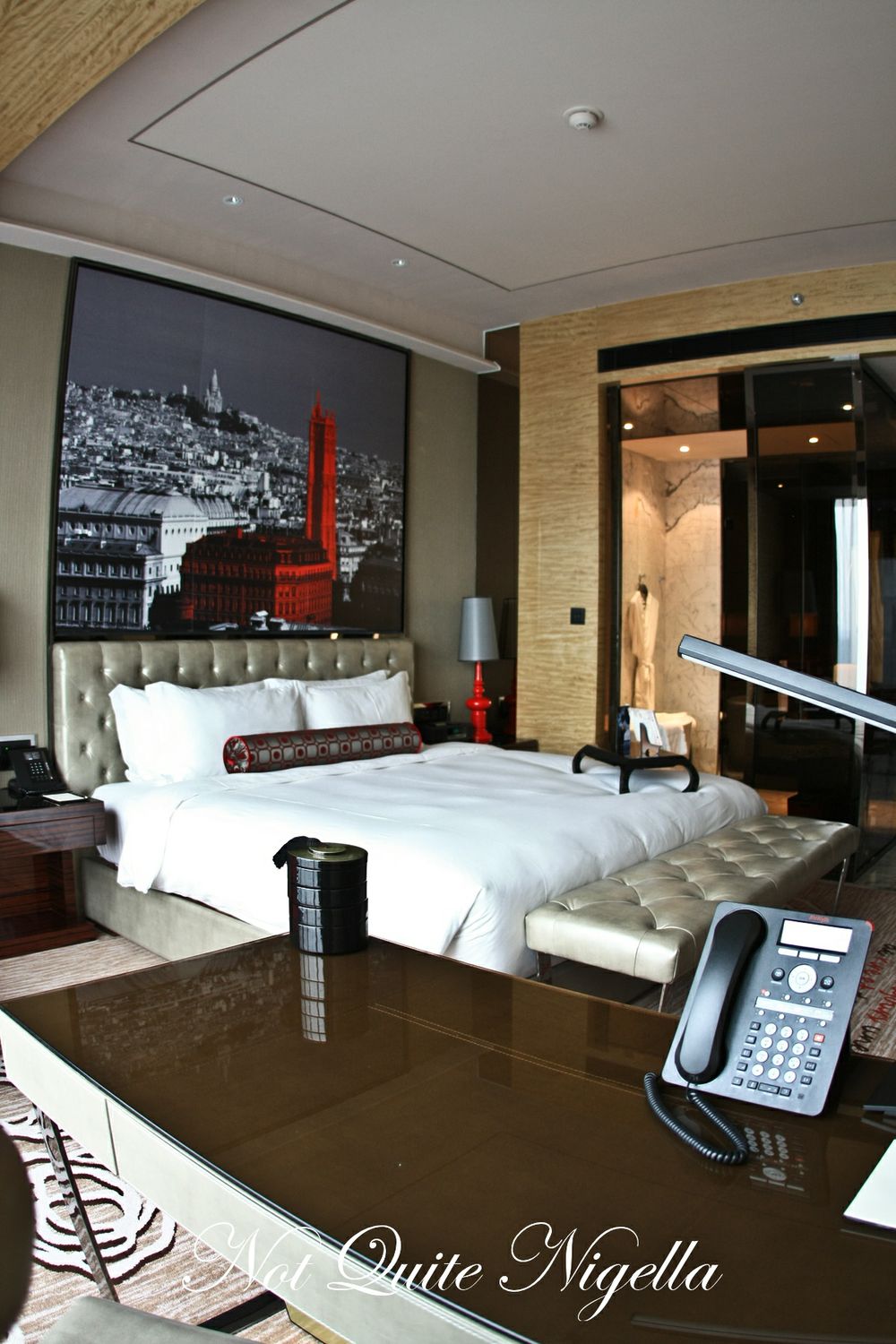 The room is stunning and decorated in hues of black, red and grey. A black and white picture of Paris frames the bed. There is a king sized bed with leather bed head and foot bed and a red velvet chair and footstool sits near the window. There are sculptures and a decent sized work desk.
A free standing bath with bath pillow and two types of bath salts and L'occitane products feature in the open plan bathroom along with a television embedded in the mirror so that you can watch either  television from the comfort of the bath.
The amenities kit is good with L'occitane tooth brush and toothpaste, wooden comb, shower cap, razor, cotton buds, shampoo, conditioner and body lotion. The marble floors are heated underfoot and there is an interesting touch, a 'please wait' button in the toilet, I guess for those times when someone rings your doorbell and you can't answer!
On the bed sits a pillow menu with eight different types of pillows to choose from including ones for kids, neck support, ergonomic contact or a wheat cereal pillow. There is also a catalogue of items that you can borrow including music and modern and classic French literature. The mini bar has two bottles of complimentary water and loose leaf tea although all are Chinese and Japanese varities with no English types. I have some time before the rest of the journalist group arrives so I take a bath and watch the rain fall from my position peering over the tub.
Doing work while the rain is falling outside (yay four international adaptors in the room!), I get dressed to meet everyone else that has arrived. Tonight we are dining at one of Guangzhou's most renowned Cantonese restaurants Bing Sheng Restaurant in Zhu Jiang New Town. Food in Guangzhou is very much about Cantonese cuisine being so close to Hong Kong and Guangzhou being the birthplace of Cantonese cuisine (the original name being Canton) and this restaurant, like everything we learn in China, is all about size and restaurants here given the population is designed to feed hundreds or thousands. And we are told that this is where chefs eat during their time off!
We pass enormous rooms holding people pushing around lazy susans or leaning over sharing babies kisses. Rooms are like hotel rooms here with numbers such as 461 where a brass lion's head sits squarely in the centre of the heavy wooden door.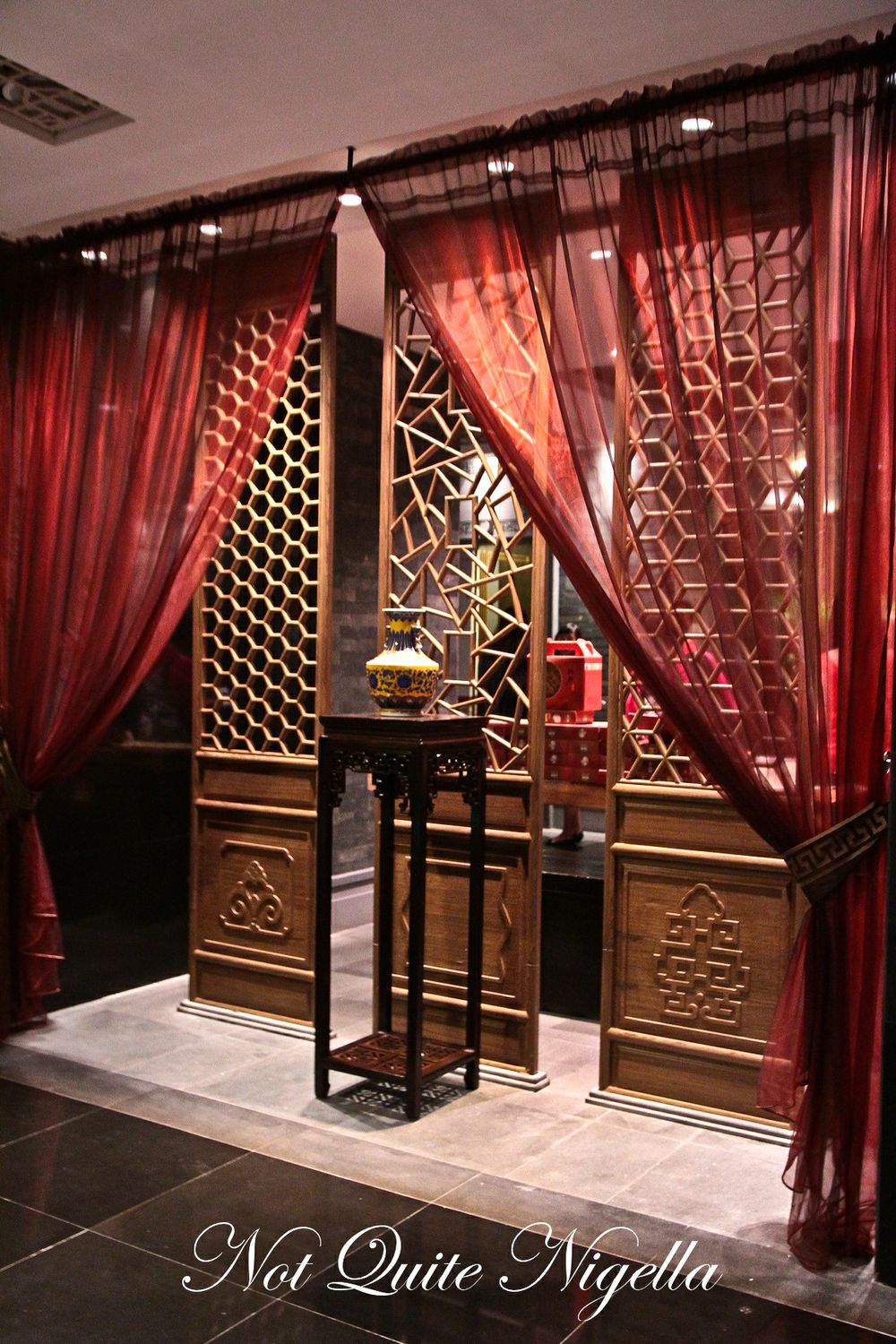 Waiting for us are representatives of China Southern which are China's largest airlines. They're already ordered for us and we sit down to eat. Red wine is poured from small glass decanters and tea is topped up.
Soup
We help ourselves to the food. The soup is warm and slightly sweet flavoured with pork meat and a type of starchy potato not unlike cassava.
White cut chicken
The white cut chicken is served with the head still on the plate. They tell us that the meat of the chicken is slightly sweet because this breed of chicken is allowed to feed on the branches and fruit of the lychee tree. The succulent meat is served cold alongside a ginger and shallot sauce.
Tofu with pork mince and baby bok choy
The tofu is a light grey purple shade and this is because it is made from black soy beans rather than white. The texture of the tofu is slippery and silky, similar to a chawanmushi steamed custard and dissolves on the tongue under the slightly firmer pork mince.
Stuffed green chillies
A favourite at the table, these green chillies are partway filled with a pork and mushroom mince and cooked so that the chilli is soft and spicy. They are finished in a semi sweet glaze.
Eel with garlic
The tiny river eels are sliced into bite sized pieces. I like eel but perhaps not when it is this bony as they make it quite difficult to eat.
Kang kong with yellow bean sauce
Another favourite was the kang kong water spinach served with a yellow bean sauce which had a great balance of flavours paired with crunch.
Sweet Pork
With a sweet sauce much like a char siu, the pork was fatty and juicy with a delectable sauce. And I might have even quite a few pieces of this, I'm not telling! ;)
Pork face
It was around now that we were starting to get surprised that there was more food coming out. I must admit that I wasn't a huge fan of this as it had a layer of chewy fat on the outside and a lot of bone on the inside. The vinegary sauce however was pretty in its thick, glistening glory. I'm not sure what part of the pork face it actually was as there weren't any telltale pieces like snout.
Roast goose
Served with a light plum sauce, the roast goose was delicious, like a roast duck only darker and stronger meat with a firmer texture.
Apple buns
These coated buns with the crunchy, sweet coating were light as air-indeed cutting into one revealed a bun with a large pocket of air in it and a filling of sweet apple which was really delicious and unexpected (I had thought that it would be yellow bean or lotus).
Sticky rice dumplings
Coated in a fine oatmeal, these sticky rice dumplings were served fresh and hot with a filling of sweet, salted egg yolk,
much like what you might find in a moon cake but softer and smoother.
Pork buns
Light as air and fluffy inside the buns are filled with a scant amount of pork and shallot filling which is moreish and has
us declaring "just one more bite and can we go for a walk tomorrow to work it off?"
The next morning, after a very sound night's sleep I go downstairs for breakfast. We have the option of going to the executive floor but the more extensive selection is downstairs in the 2 on 998 restaurant. I'm not a buffet or a breakfast person usually but if I am running late and I can get what my heart desires quickly, then they are a welcome sight. The breakfast buffet is enormous and almost stretches around the whole floor.
There are Western items like pastries, yogurt, cheeses, hams and even panna cotta as well as an extensive Chinese selection. Many items that are newish to us all including three hot drinks that are made up of beans, sesame and mixed grains that are slightly sweet. I sit down to a bowl of congee (although nothing beats the congee I had in Hong Kong) and some pork dim sum. I also try some fruit and some pastry which is freshly baked.
Breakfast sorted, we head out. The sky in Guangzhou is shrouded in white and lends a faded postcard quality to everything. We go for a tour around Guangzhou taking in the major sights. Everything around Guangzhou is at a distance and you really need to travel by taxi or car to get most places. Guangzhou is called the Flower City and they are abundant in all sorts of beautiful creations. Canton Tower is China's tallest tower with the highest post office in China.
Canton Tower
Panorama photos are difficult as beams are in the way and entry free is about $20AUD a person. Expect a crush getting in and out of the lift as well as inevitable queue jumpers.
A Sunday at the outdoor food street on Yide or Yi De Road has locals dining out on the pavement while they fan themselves in the heat. The food is fascinating, street stalls dispense water chestnut cakes looking like glossy brown jelly rectangles. People slurp on fat rice noodles out of bowls that are full to the brim with soup and a tangle of noodles.
Custard egg tarts are an absolute steal at six small ones for Y10 ($1.50AUD) or three for Y5 ($0.80AUD) and they are sold hot from the oven the flakey pastry shattering everywhere with every bite and the soft eggy custard clinging to the pastry. A strong soul is needed to resist more than one bite.
Our destination for lunch is the Panxi restaurant, one that has a deep history. Political figure Henry Kissinger who visited the restaurant in the 1970s, adored the food so much that he brought some of Panxi's chefs to the United States. Apparently every time he visited he wanted to dine there and when offered a different restaurant, he insisted on going to Panxi. Named after one of the streams that surrounds it, it is busy with patrons.
Restaurants really are mammoth affairs and this one is no exception. It seats 3,000 people and has 40 private rooms as well as a large restaurant. The hard cover menu has all of your typical Cantonese specialties as well as some more interesting items. There is also a section of dim sum at the back of the menu. A friendly waitress comes over and warns us to watch our bags in case of theft!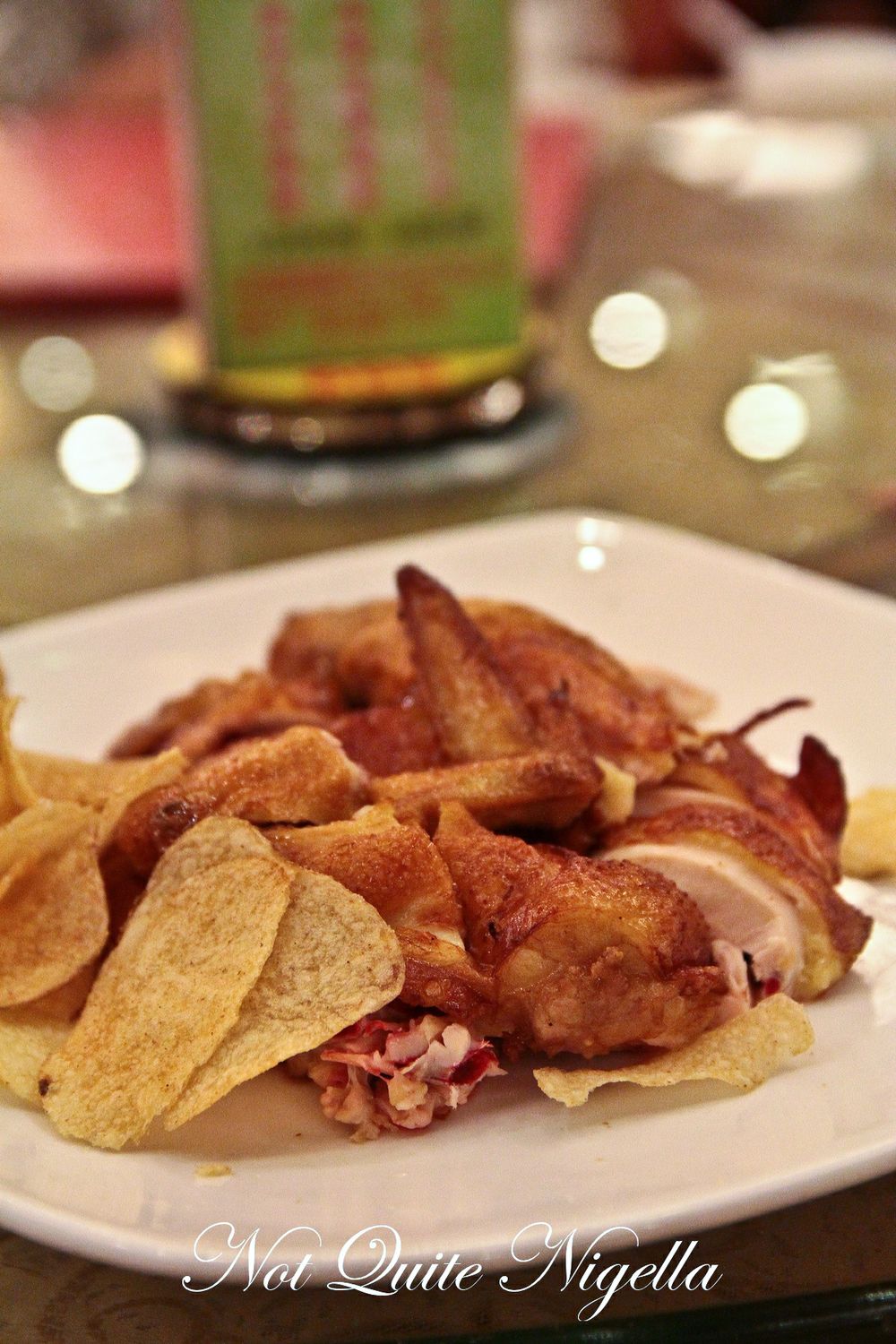 Baked salty chicken with crispy skin Y62/$9.77AUD
We chose from the picture menu. The first item to come out is the baked salty chicken with crispy skin. It's not bad but it is served a bit colder than I'd like as I think the deep fried effect is best when it is served freshly fried.
Vinegar black fungus Y12/$1.89AUD
The black fungus was ordered as mushrooms were one of the group's favourite and these black fungus are slippery, slightly crunchy and lightly dressed with a vinegar and sesame sauce.
Braised assorted vegetables Y68/$10.71AUD
A surprising favourite was the braised assorted vegetables which came with a rich oyster and sesame based sauce that was so very moreish. There were all sorts of mushrooms in this as well as beans and dried red dates.
Deep fried pigeon with taro Y58/$9.14AUD
This was similar to the dim sum dish although it was laid flat with a layer of pigeon meat on the bottom and mashed taro on top. The coating was feather light and crispy. It was served with a garlic rich sauce. Some pieces had pigeon meat on the bottom whilst others didn't.
Steamed shrimp dumplings Y30 for 6/$4.73AUD
Large bamboo steamers of the dumplings arrives and the steamed shrimp dumplings are absolutely delicious. The shrimp are so fresh and juicy and the skin skillfully thin.
Steamed BBQ pork bun Y30 for 6/$4.73AUD
I'm not a big bbq pork bun eater (except for the famous Tim Ho Wan ones) and these aren't bad but I prefer less bun and more filling.
Deep fried dumpling with diced pork and mashed potato with curry Y30 for 6//$4.73AUD
These were adorable little piggies filled with curried pork and mashed potato. Again these were slightly cold by the time they arrived (perhaps the kitchen is at some distance in this enormous complex) so these would have been better if they were hot.
Steamed sesame paste bun Y30 for 6/$4.73AUD
The steamed sesame paste bun had a rice flour dumpling outer and were filled with a sweet sesame paste inside.
We have a quick shop at One Link Square which has four floors of items-not for the luxury shopper, but if you are after cheap gifts, especially for kids, then you might want to pay a visit. Prices are cheap and if you have time to wade through the items you may come up with a bargain treasure.
Bling, China style
We head back to the Sofitel Sunrich where we have a 30 minute spa treatment scheduled. This starts with a cup of herbal fruit tea, slightly sweet and this is served with a macaron. Heading into our treatment room, I undress (and a little warning, I found that two therapists walked in without knocking). Once I lie face down on the table, they ask me if I would like a traditional Chinese massage without oil or one with oil. I ask for oil and they proceed to give me a massage that is half of each.
My back was expertly massaged with oil (although you may have to request a particular pressure)  and then my legs were massaged through the towel with pressing motions. It feels like over 30 minutes but a quick glance at the clock shows that it was and outside I am greeted with a cup of tea and a fluffy, fresh marshmallow.
One last meal in Guangzhou is at the Sofitel's Robata restaurant. The 10 course menu is a very reasonable Y350 or $55AUD and encompasses items from the sushi bar and the robata grill.
Assorted sashimi
A very generous portion, the sashimi is delicious. The prawn sashimi is a particular highlight as it is so creamy as is the kingfish, salmon, tuna and sea urchin. They tell us that the fish is from overseas, some from Australia.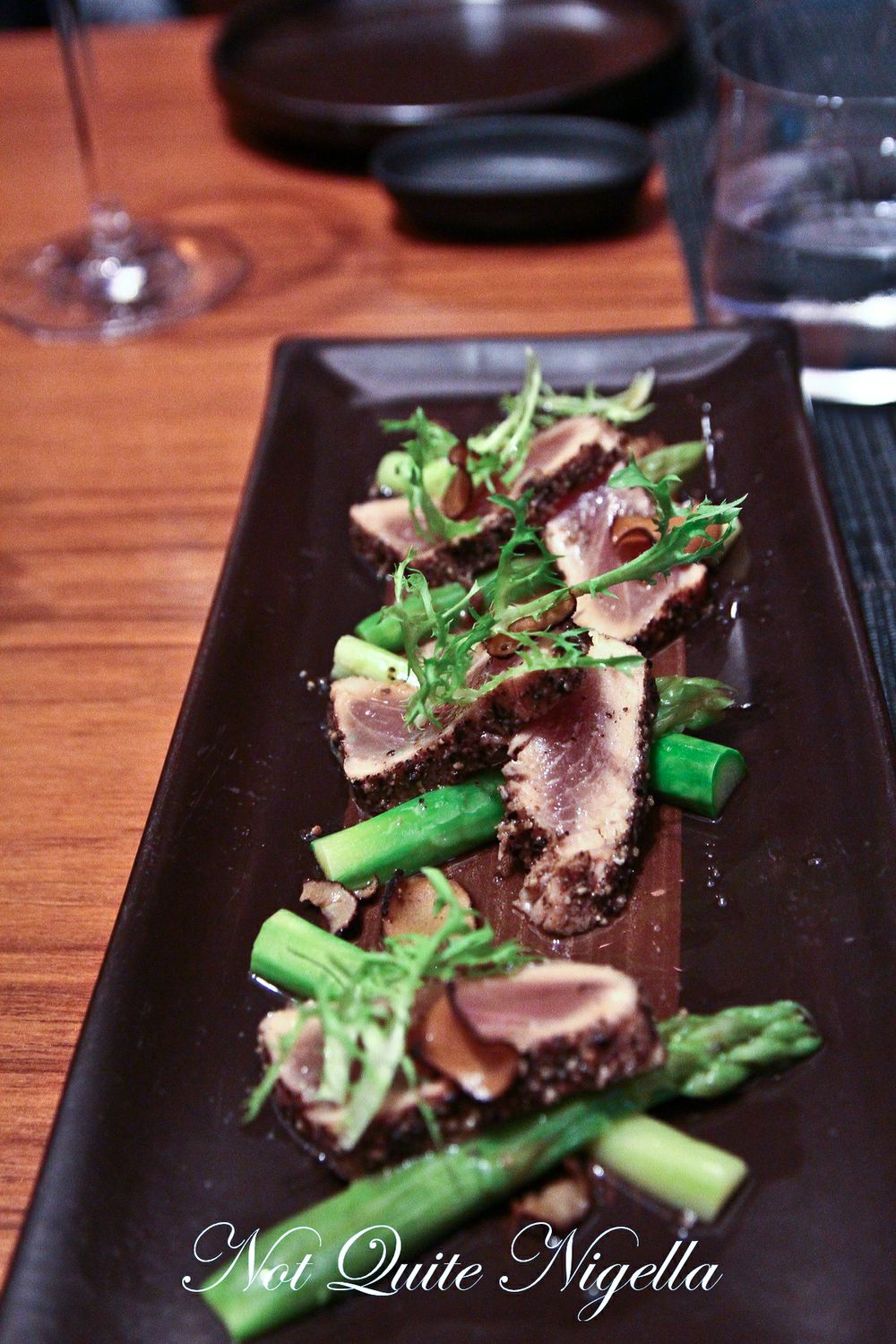 Tuna tataki with marinted green asparagus, yuzu vinaigrette and shaved truffle
The truffle and yuzu vinaigrette is a little muted and the predominant flavour is of the black pepper that the tuna is rolled in.
Assorted sushi
I preferred the sashimi to the sushi as the fish had developed a bit of a layer on top of it from exposure to air. Also there was a lot of wasabi on the sushi and I prefer it if you can add it yourself. Along with the tuna, salmon and kingfish nigiri, there is a small bowl of sushi rice with roe.
Mirin marinated pork bely with sake, orange dip
I adored this delicious mirin marinted pork belly with the juicy fat still hot and melting.
Miso flavoured Ahi tuna with pickled mango and lime dressing
These little cubes of tuna were interesting and given an unusual treatment with the topping of finely pickled mango and lime.
Green asparagus with sesame dressing
By this stage I was getting very full having gorged myself on sashimi and I had had enough asparagus with the tuna tataki dish. I also wasn't wild about the sesame dressing with the asparagus so I mostly left this.
Grilled sweet potatoes with sweet soy and micro greens
The grilled sweet potatoes were lovely and caramelised from the sweet soy and grill but I would have liked this to come out with the steak as it felt a little out of time by itself.
Snow Dragon beef tenderloin
Snow dragon beef is a Japanese breed of cattle that is raised in China. The beef tenderloin is served thinly sliced and medium rare and is deliciously melt in the mouth.
Duck fat fries, home made ketchup
The beef's perfect partner is of course duck fat fries, a serving of the long, crispy batons perfectly fried so that they are golden and crisp. The home made ketchup is a little on the sweet and watery side.
Alas, there is no time to try the dessert because we need to catch a plane to our next destination! Yep five cities in 10 days. Perhaps we were mad!
So tell me Dear Reader, have you ever been on a round the world trip? And if you could go on one, what are your top five destinations?
NQN traveled as a guest of Sofitel hotels, Skyteam & RailPlus
Sofitel Sunrich
988 Guangzhou Da Dao Zhong Tianhe District, Guangzhou, Guangdong, China, 510620
Tel +86 20 38838888
Skyteam
www.skyteam.com
Rail Plus
www.railplus.com.au/
Bing Sheng
2 Xichun Road, Zhujiang New Town, Guangzhou, China
Tel +86 20 3803 5888
Open 11am-midnight
Pan Xi
151? Longjin West Road Liwan, Guangzhou, Guangdong, China
Tel +86 20-81834350