"Have a delightful day"
"Have an enchanted evening"
The phrases tinkle musically around me while the distinctive aroma of The Langham's signature gingerlily fragrance envelops me.
I've just flown into Shanghai and arrived at The Langham Xintiandi situated in one of the most prestigious areas of Shanghai. Designer shops radiate in every direction and the city's busy lights glow. Xintiandi in Shanghai is an area in which its well dressed inhabitants glide past in chic coats, suits, heels and handbags.
We're in an elegant oasis in the midst of the city, the calm in the busy storm of Shanghai. As we are checking in quite late, the Langham staff thoughtfully complete check us in our rooms. We ride the elevator floor to the 25th floor where I check into room #2529 a Langham Club Junior Suite. There are only one these junior suites on each floor and it's a beauty.
With curved floor to ceiling windows in a bedroom that gives an expansive view of the city below, it's hard to know where to look. There is a large working desk with 40 inch flat screen television and a king sized signature blissful bed. An extraordinarily comfortable curved couch hugs one corner making it the perfect spot to curl up with a book and a cup of tea after a hectic day sight seeing or shopping.
The room measures a total of 55 square metres or 590 square feet. Controls are easy to understand and clearly labelled and there is a panel next to the bed which makes things easy. There is free wifi (although this does have some limitations with phones) and there is another thoughtful addition - a universal multi adaptor which meant that I didn't have to wait to charge every device separately using my one adapter.
The bathroom has a glassed area for the shower and bath with monsoon and massage shower heads and a gorgeous Japanese style wooden bath in the corner. Even though I had a lot of work to do, I steal twenty minutes one evening to soak in it fortified with the mineral salts provided. My body was ever so thankful.
There are two sinks and there are the famous Langham amenity kits with pink boxed amenities including shaving kit, toothbrush, shower cap, cotton tips and pads and talcum powder. There are also a Chuan spa shampoo, conditioner, body wash, body lotion and scrub. In the bathroom are three lighting "scenes" that you can set for moods, each progressively darker than the other.
And the toilet? Well I don't usually feature them but this is a Japanese style toilet that has lots of buttons. The lid even raises when you approach it, the seat is warmed and it also serves as a sophisticated version of a bidet.
The luggage area can be accessed from two sides and there is also a cleverly concealed mini bar. In fact I had to ask where it was and they slide the mirrored bathroom door to reveal it. There is a Nespresso Cube machine with three types of coffee pods and a selection of Ronnefeldt teas. The mini bar is on the pricey side with a bottle of sparkling mineral water at 45RMB/$7.80AUD.
One concern if you're a light or early sleeper is the street noise. Although The Langham is double glazed, you may want to bring ear plugs because the constant beeping of the cars can keep you up at night. The car horns keep beeping even at midnight.
The next morning I visit the gym. There are plenty of treadmills and cycling equipment but I prefer weights and the selection could be improved. After a quick shower, I have a quiet breakfast in the club lounge where there is a neat but good selection of food.
There are Western breakfasts, freshly cooked eggs, jamon iberico, smoked salmon, cereals and juices to Chinese offerings like congee with a range of toppings and dumplings from plump prawn har gow, juicy mouthfuls of siu mai all eaten with a double dose of XO and chilli sauce.
Downstairs at Cachet, the selection is much more extensive and the buffet seems to be endless. I'm really quite serious about the choice and it is best to approach it with circumspection and a completely empty stomach.
Knowing that we had a good solid day of eating ahead, I decided to conserve stomach space and go for something small. Very small, in fact dumpling sized!
Every day a buffet lunch is also held at Cachet and you can also order a la carte with menus on iPads. I'm not usually a buffet person but sometimes buffets in Asia challenge that with their freshly cooked to order offerings like hand pulled noodles that are made to order. The noodles come with a long list of additions but I have them with baby bok choy and their wonderful broth and seaweed. Of course more dumplings are a given.
The Langham is also known for two things: its Chinese restaurant, T'ang Court, a replica of its Michelin starred restaurant in Hong Kong. It is also known for its Chuan Spa, a relaxed oasis where they combine the five elements of wood, fire, earth, metal and water using traditional Chinese medicine. The treatments encompass a range of facials, massages and other treatments using Thalgo products.
My therapist called Apple is as delightful as her name and every time I say "Thank you" she responds back with an enthusiastic "You're welcome!!!" My measure of a good facial apart from results is how quickly I nod off to dream land and Apple is so good that I drift off shortly after she applies the exfoliant.
I've chosen a Terre Mer facial meant for sensitive skin which calms it down perfectly and her comprehensive facial massage leaves my skin glowing-not its normal state I promise!
Before we make our way down to dinner at T'ang Court, I pop into the club lounge to take a peek at their pre dinner offerings. The offerings are substantial and rather than people making up a dinner of pre dinner canapes which I've done if I have been too tired to go out, there is the option to have a full dinner meal with steak, lamb chops, freshly cooked pastas and seafood all included in the club price. It makes the club upgrade good value as there is free flowing Bollinger and premium spirits available.
I alight the elevator at T'ang Court, a predominantly Cantonese restaurant where chef Tony Su also incorporates some Western elements to his dishes. We're dining one of the many private rooms this evening which allows us to relax a bit more.
Avocado with pork crackling, scallops
Our first course demonstrates chef Tony's light fusion concept. It's a bed of finely diced avocado from New Zealand topped with crisp pork crackling cut into two. On the right is a layer of goose liver underneath three scallops with a rice wine sauce. The avocado is a clean flavour with a creamy texture given a burst of crunch and flavour from the crackling while the scallops are soft and delicate against the rich goose foie gras. The red wine sauce binds both elements together and there is a row of cracked Szechuan peppercorns in the centre.
It comes with a glass of the Stag's Leap Karia chardonnay 2009 from the Napa Valley, one of the many wines in their 400 strong cellar.
Crab meat soup with black truffle
The crab meat soup has that wonderfully slippery texture that some Chinese soups tend to have and was filled with watercress, crab meat and tiny slivers of black truffle. The crab meat was lovely but the black truffle very light and almost indiscernible.
Xiao Long Bao and Har Gow
No Cantonese meal is complete without dumplings and these are the famous Xiao Long Bao, which is Shanghai's most famous dumpling. In Shanghai the traditional dumpling is filled with just three ingredients: pork mince, chicken soup and salt. The prawn har gow is plump and filled with lots of prawn and it is served with an addictive XO chilli sauce and chilli sauce, two things I'm getting quite accustomed to. I wonder if people ever bring it along to meals like they do with hot sauce.
Three Scallion Lobster
This is the dish that won a 2002 "Best of the Best Culinary Award" award in Hong Kong. It's simple in idea - stir fried lobster cooked with three types of onion: red onion, spring onion and shallots. The idea is simple but onions, which I'm absolutely crazy for when served caramelised, go so well with the succulent lobster.
Shrimp three ways
Although some of us were starting to get full, there was room immediately made for this dish. The shrimp was prepared three different ways and the first was coated in taro and deep fried with a whole shrimp or prawn in the centre. This is usually one of my favourite yum cha items and the creamy smooth taro contrasts so well against the crispy, crunchy flyaway golden coating.
However, the centre shrimp was my favourite. It was coated in wasabi mayonnaise and sprinkled with black sesame seeds. The texture of the prawn was so creamy that and the wasabi giving it flavour rather than sinus clearing properties.
The third prawn was the prawn stuffed with ham and stir fried with XO sauce. Whilst this was good the crab meat was a bit drier on this.
Pan fried spotted grouper
The pan fried fillet of spotted grouper is expertly seasoned with salt and pepper and is perfectly cooked but we're getting very full by this stage and I'm starting to wish that I hadn't worn such a tight dress.
Carving the Peking chicken
Peking duck is of course well known all over the world but chef Tony decided to put the Peking chicken on the menu tonight. The Peking chicken is brought out on a trolley and carved in front of us and you can hear the skin crackling it is so crisp.
Peking Chicken
It's a two day process with much time needed to dry out the skin so that it crisps up so. It tastes just like Peking Duck with less fatty and I can't help but finish both pancakes.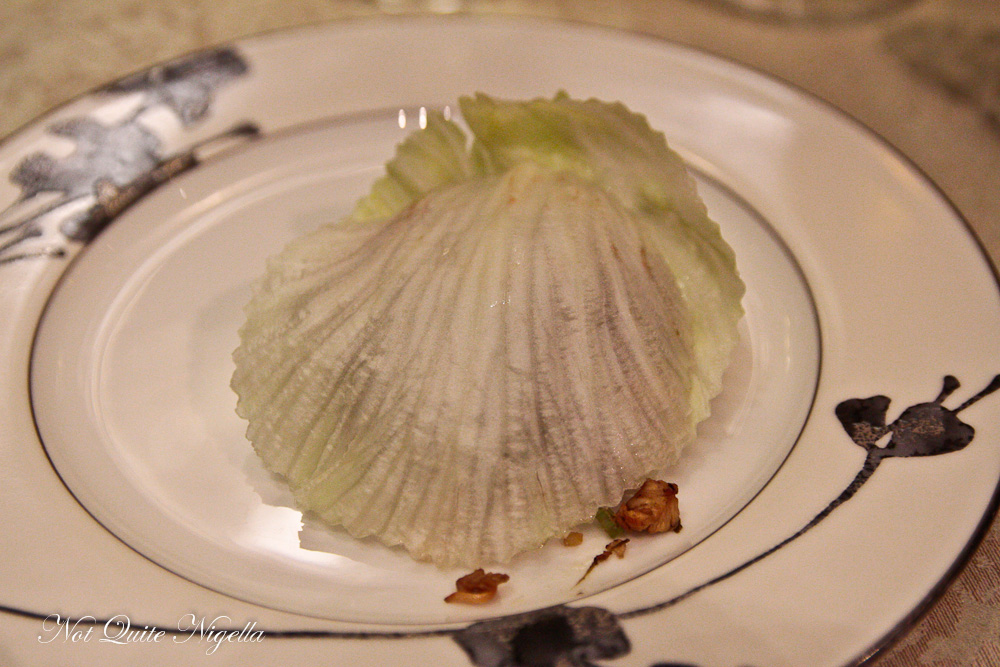 Sang choi bao
The second course comes out with the chicken meat in a lettuce cup shaped like a scallop shell. The meat is quite a different texture to the duck meat and it doesn't have a lot of the water chestnut and other vegetables, it's mostly meat.
Sweetened almond milk
The dessert is a refreshing, lightly sweetened almond milk. It's the sort of dessert drink that grows on you from sip to sip and before I know it I've finished my little pot, spurred by the warming sweetness but also apparently because it is said to be good for the skin and I need all the help that I can get!
With all of this to do in one hotel, one needn't ever leave. But of course we do so stay tuned for more Shanghai adventures!
So tell me Dear Reader, what is your favourite hotel chain? And do you often eat in house and use the spa when you stay in a hotel?
NQN traveled to China as a guest of The Langham Hotels and 88 Xintiandi
The Langham Xintiandi
99 Madang Rd, Huangpu, Shanghai, China
Phone:+86 21 2330 2288
http://xintiandi.langhamhotels.com/