There's a complaint often heard about politicians: that they hold too much power. And in some countries, they choose to exercise in curious ways. When Chairman Mao took to power, he abolished the ritual of yum cha as it was deemed too capitalist and not in keeping with the country's newly adopted communist strategy. The social ritual of eating and drinking tea only resumed in 1976 after his passing.
Panxi,  meaning "by the river" is a 1,000 seater, 10 km2 restaurant famous for its yum cha. Given the size, it's almost as big as a small town and indeed has the same sorts of issues as a large city. A man sits at a table yelling at staff about his order. His protests are loud and attract the attention of those around him who look up from their bowls of food and turn away from conversations to regard his outburst.
The last time I was here a waitress whispered to me to look after my bag and to be on the lookout for pickpockets. And on the same occasion as we were exiting, a journalist from our group grabbed a packet of tissues to wipe her hands. She was yelled at by four staff members. Which makes our little encounter with security at the end of the meal an echo of prophecy.
But I'm getting a little ahead of myself. Panxi is located at the Western City Gate in the old town (that is, the Chinatown of China). They have several yum cha seatings a day (7-10am, 11am-2pm, 3-5pm, 6-9pm, 9pm-midnight). The restaurant caters to a mostly Chinese clientele.
The outdoor kitchen
There is a small yum cha menu in English but this shorter than the 70+ item Chinese version that will later cause an international incident.  If non Chinese speakers want to use the trolley system (i.e. the look and choose system) then the best times to go are outside of lunch and dinner times when the trolleys will roam one of the over ten dining rooms. Servers fetch dishes for large orders from the main kitchen. For smaller orders like ours, they go to the outdoor kitchen. I notice on the menu that there is apparently a special peacock dinner available. Yes, it's actual peacock.
We order with the help of our guide Hobbie who goes through the Chinese menu with us. What we end up learning is that a lot of the yum cha offerings available in Sydney are similar to what is available here. The food comes out quickly and we start in on the dumplings.
Siu mai
Topped with a single prawn the siu mai are fresh, bouncy and delicious. They last bite with a touch of salty roe is perfect and I reach for another.
Shallot pancakes
The shallot pancakes here are swirled and a little thick and dry. I  took one bite and mostly left this.
Water chestnut cake
I chose this one mainly because the last time we visited, I saw this on every table around us. It's a smooth, chewy, mild flavoured slightly sweet jelly tasting of water chestnuts (which in themselves don't have a very strong taste, offering texture more than anything else).
Chee Cheong fan
We tried three types of chee cheong fan, those slippery rice noodles that are filled with either prawn, beef or pork. The beef with a thick, flavoursome sauce are the favourite followed by the pork and the prawn is a distant third.
Pigs
I must admit that we ordered these two because they were cute. They're both the same inside and outside except for the shape and the pigs are undeniably cute. They're deep fried dumplings with a sweet curry filling mostly made up of potato.
Mapo tofu
The mapo tofu is a deep bowl filled with soft tofu and a deeply flavoured chilli, garlic and ginger sauce. It's gingery and hot and slips down the throat like silk.
Har gow
The har gow are pleasingly plump and full of juicy, gingery prawns.
Chicken's feet
Everything is looking quite similar to the offerings we get in Australia and the chicken's feet is an interesting one because it has such a noticeably sweet sauce. The chicken's feet are soft and the flesh and skin eases off the bone easily.
Pai gwat
I can usually take or leave pai gwat at home but the pork ribs here are something special. They've got a lot more flavour than ones that I've had elsewhere and are a must try.
Char siu bao
I generally find the ratio of bread to filling too much in favour of the bread and these are the same.
Man taking his bird out for a walk
As we leave, our guide Hobbie passes us a few of the paper menus for us-they're single sheets of paper that customers fill in with the details of what we want. But before we know it, a server comes over to us and snatches them out of our hands. Then security is called and discussion about the menus lasts for about ten minutes.
We finally extricate ourselves from the firm grasp of security and leave the restaurant and walk to Fengshuiji (Feng Shui Bridge). As we recover from our brush with security we pass a man who ambles down the road carrying his bird in a cage. He's taking it for a walk. We giggle and he smiles and poses for photos. Of course and only in China.
Qingping markets was a market in which until 2003 you could buy live wild deer, birds, raccoon, dogs, cats and snakes for eating. Since SARS, said to be caused by wild animals, this is no longer the case. When we visit the food market these animals are absent but there are a proliferation of pets. These range from myriad fish in a kaleidoscope of colours to turtles from the large to tiny ornamental green turtles that look like brooches.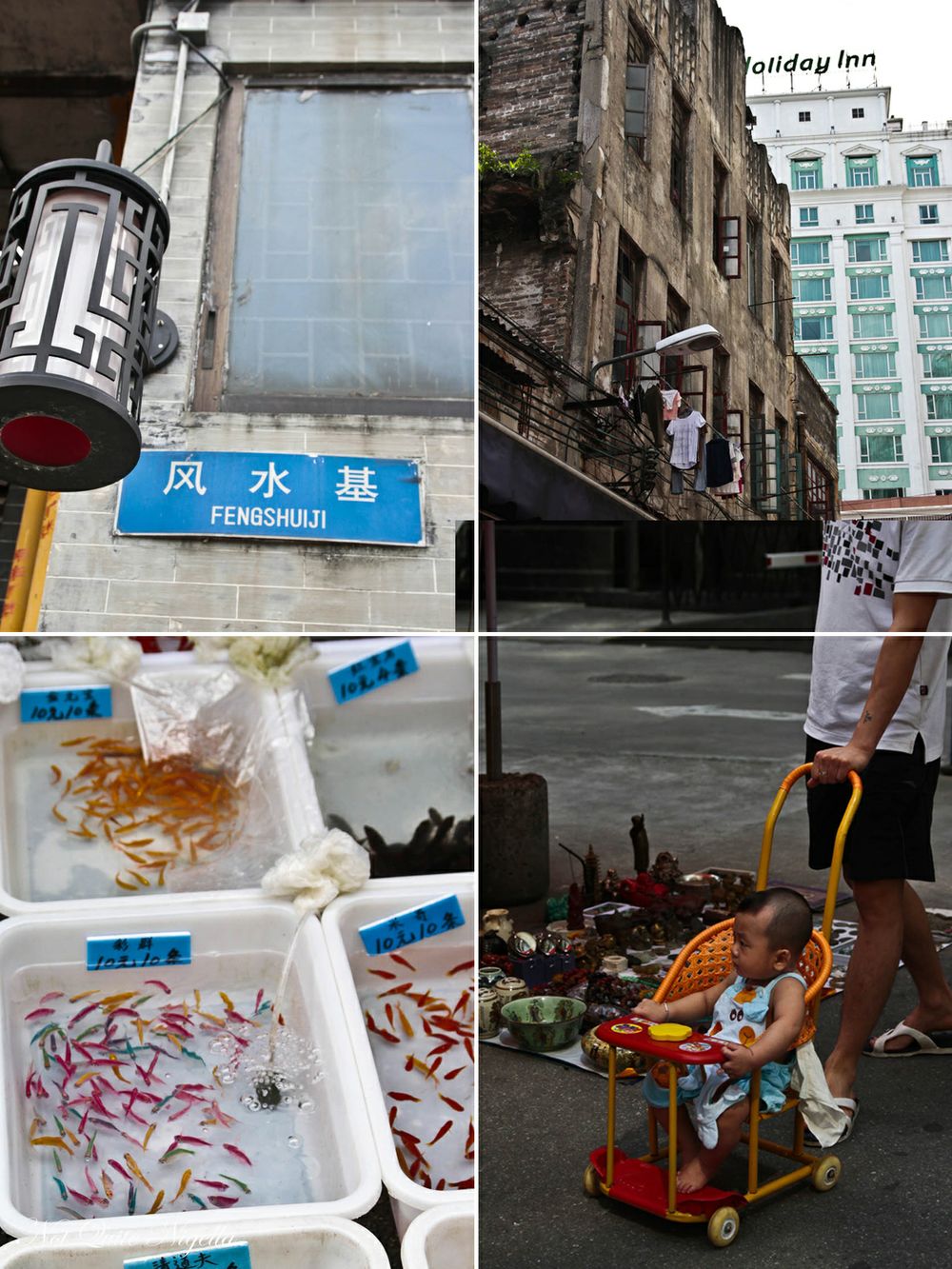 Grumpy cat
We are assured that the dog and cat market is a pet market. There are also squirrels running back and forth, rabbits feeding on coconut and birds each cage full chirping at each other en masse. The herbal medicine section at Qingping is huge and nearby is "C1" or "Up Down 9", is a shopping street with plenty of modern Chinese fashion. Your ears become accustomed to the sound of clapping as the shop keepers clap to gain your attention as you walk past. Most of the clothes are doll-like in style.
Just one last stop before dinner and that's at one of the local spas, about 300 metres away from the hotel. It's down a quiet street full of locals but I had heard such amazing reports from my travelling group about the foot massages there that I had to try it.
There are three of us and we go into a  small private room with recliners. My diminutive Sailor Moon outfitted masseur with three inch platform thongs looks dainty but she's as strong as a seven foot tall body builder. She starts off the foot massage with a comprehensive back, neck and shoulder massage and it's bliss while my feet soak and then she starts to work on my feet. By the end I am walking on air.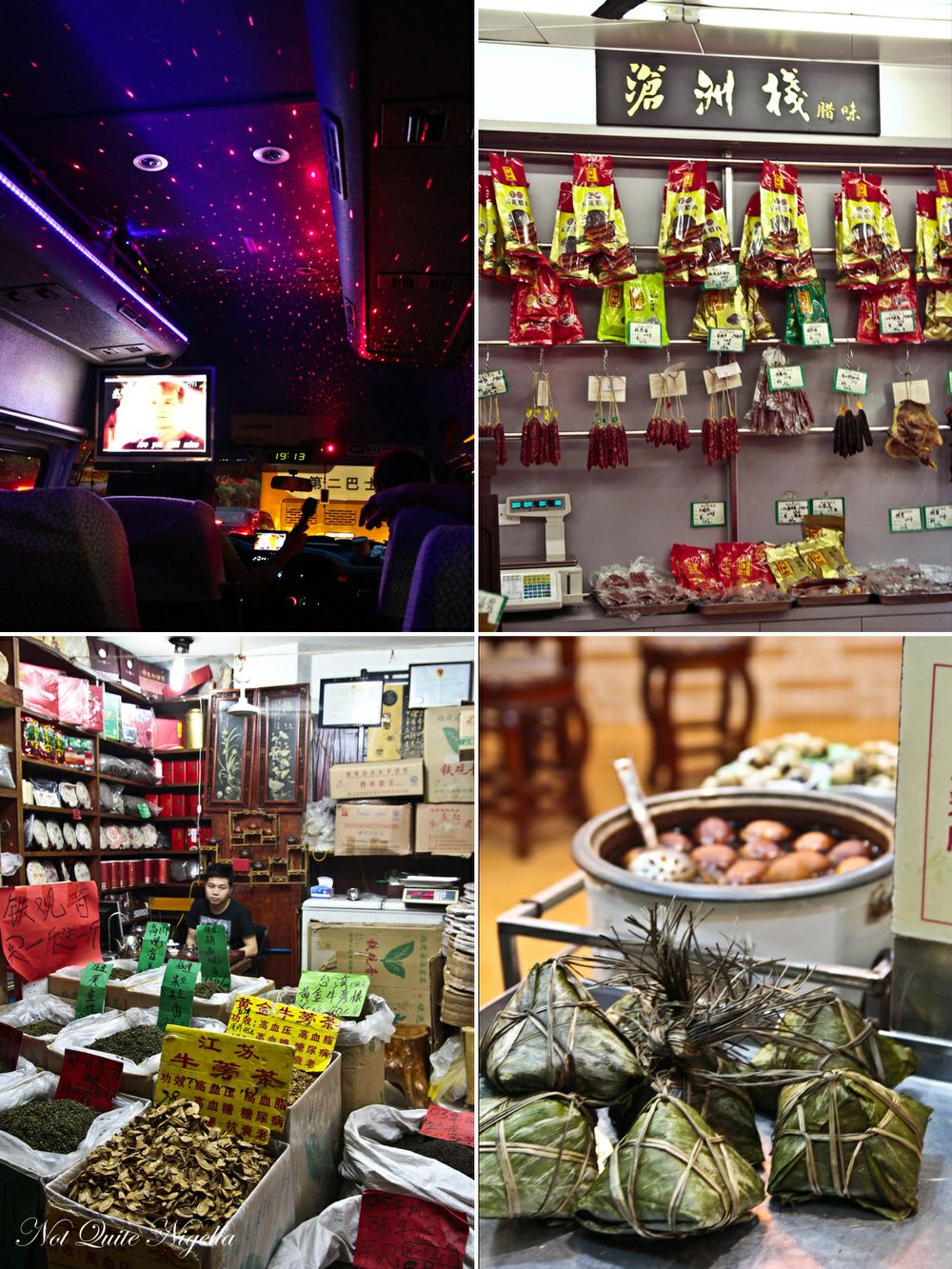 Clockwise from top left: the disco bus that we were given with free internet and karaoke, cured pork sausages, rice dumplings and tea
Later that evening, we adjourn back to the Yide or Yi De Road. The road is a popular one for locals to frequent with few tourists venturing down the lantern lit streets for a snack of grilled street meat or to pull up a plastic chair in an unglamorous but full eatery. The popular eat street stretches for about one kilometre and is filled with eateries and shops. On our visit during the day on the last visit we snagged some still warm egg custard tarts -5 for $10 or Y2 but tonight there are mostly restaurants and shops selling red dates, tea, street meat and desserts.
"Would you like to try an all pigeon menu?" our guide Hobbie asks us when we pass a place called Shen Ji Ru Ge Zhuan Men Dian that is famous for their pigeon. It's an eager nod yes and when we walk in the wall is decorated with a unique vision: a giant image of pigeons taking flight. In a world where burger joints, pizza joints and cafes abound we figure why not pigeon?
The restaurant is made up of cosy booths and large tables and there is a picture menu available including a slightly disconcerting looking picture of two plucked cooked pigeons, their plucked heads nestled together as if they were snuggling - that's the hot pot. But for us Hobbie is ordering pigeon done several styles.
Cucumber Y13/$2.26AUD
Nobody really expected to love the cucumber but love it we did, so much so that another two plates were ordered. It's done simply garlic, chilli and sesame oil but it's so full of flavour that every baton is finished. "That's the breakout star and I generally regard cucumber as a waste of space" Ute says.
Roast pigeon Y33/$5.75AUD
The roast pigeon comes out with the two heads placed just so, the leg parts and the wing parts alternating. It's succulent and crispy in the same way that Peking Duck has that glossy lacquered skin. The bones are small enough to crunch on and the leg pieces are the prize with the most meat. And I'd say that it's entirely possible to eat an entire pigeon by yourself!
Tea pigeon Y33/$5.75AUD
The tea pigeon and the preserved pigeon look similar and the tea one is a milder tasting pigeon that is served slightly colder than the others so that the texture is slightly jellied in parts.
Preserved pigeon Y33/$5.75AUD
The pigeon is preserved with bean curd and is my second favourite of the pigeon preparations after the roast pigeon. The bean curd doesn't lend it a distinct taste but it's well seasoned and worth taking a second piece of.
Ginger pigeon Y33/$5.75AUD
I expected to like the ginger pigeon more than I did, after all it looked similar to Hainan chicken rice. It's not bad by any means but out of the four, it is the least favourite.
Seafood Y38/$6.52AUD
The seafood is a curious dish that comes with a separate small dish of sauce. I'm not sure why they didn't just put the sauce in the dish because without the sauce, it is bland and flavourless but with it, it's quite nice (although I was really more fixated on the pigeon).
The rice at restaurants here comes right at the end of the meal which I must admit I'm not quite used to (this is done in the Southern way Hobbie tells us and the Northern Chinese eat rice with the rest of the courses). I must admit that I like rice to soak up sauces.
Fried rice
The fried rice is made up of carrot, onion and egg without any prawn or meat and it's actually quite good but unused to having rice at the end, I think we're all really quite full so a lot of this enormous serve is left behind.
Alas, there is no pigeon dessert!
"What's that smell?" someone asks and we breathe in the aroma of grilled meat. While some of the restaurants have closed, the activity with the street stalls provides options for late night diners. We cross the street and take a look at the menu. It's a picture menu but all in Chinese.
We watch as they prepare our order of half a dozen goat skewers (six skewers for 6Y or $2.30AUD). There is a mound of enormous oysters cooked with garlic that is served to another table. We watch as the chef bastes the goat meat skewers with several sauces and flavours finishing it off with a dark grey liquid squeezed from a bottle. We take a bite of the skewer and it's delicious and the aromatic smell of cumin and the light smokey grill of charcoal gets the mouth watering all over again.
So tell me Dear Reader, have you tried pigeon or would you? And if you were a politician, what is one policy that you'd instigate?
NQN travelled to China as a guest of China Southern Airlines and Anantara Hotels. On ground tour provided by Creative Holidays
Anantara Hotel Xishuangbanna
xishuangbanna.anantara.com/
China Southern Airlines
www.flychinasouthern.com/
Sofitel Sunrich
988 Guangzhou Da Dao Zhong Tianhe District, Guangzhou, Guangdong, China, 510620
Tel +86 20 38838888
Creative Holidays
www.creativeholidays.com
Tel: +61 1300 301 711
Panxi restaurant
151 Longxiji Rd, Guangzhou, China
Tel: + 011 (020) 81721328
http://gzpanxi.com.cn
Shen Ji Ru Ge Zhuan Men Dian
Yide or Yi De Road
Tel: + 011 (020) 81731339