"Don't worry, I'm a motorbike racer" says Gary, who is cooler than the Fonz with black earlobe discs hanging and skull motifs adorning his motorcycle leathers. We're about to embark on one of the most exciting mornings of the trip with Shane and Gary from Insiders Experience exploring tiny alleyways of Shanghai's old town and ducking in and out on streets, all from the comfort of a motorcycle side car.
I don the helmet provided - it's optional but traffic in Shanghai is unpredictable and chaotic so I don't want to take any chances and I slide into the sidecar. I've worn a scarf as suggested - the late autumn weather turns chilly when riding at speed. With a deep roar of the engine, we take off leaving the luxury of Xintiandi's plane tree lined streets behind.
The streets change markedly, lanes narrow and the trees fade from view. Trucks carrying black market goods park with their boots open ready for sale. A young man sells the new season's hairy crabs and live turtles on the street while a friendly fish vendor waves to us.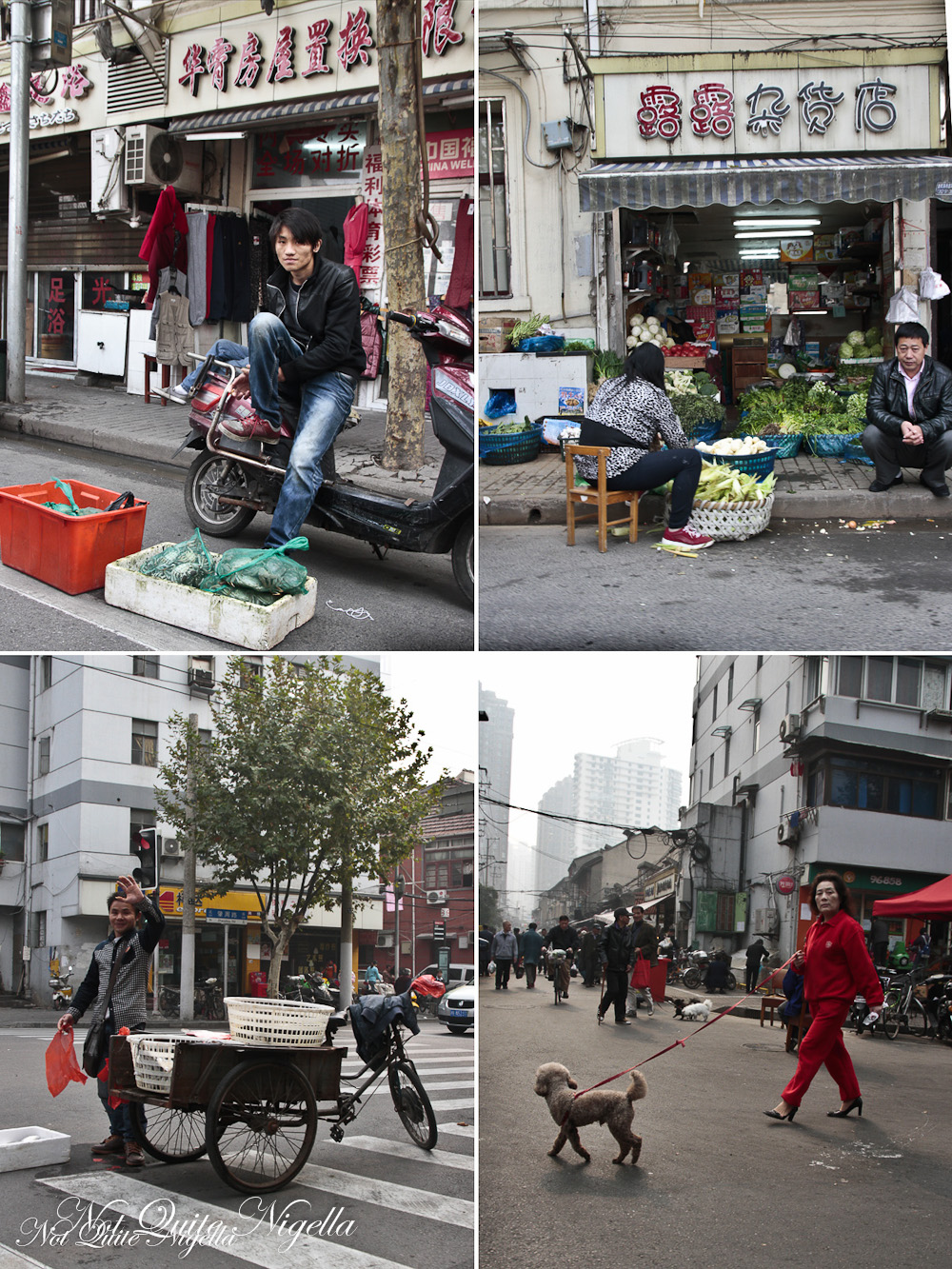 Laura points at a queue and asks what they're waiting for. Gary who is from Shanghai tells us that they're lined up for breakfast and lunch treats. A man walks away from the counter holding a takeaway container full of luscious looking char siu while a woman holds a box of buns.
Near Zhonghua Street is the demarcation of where old town starts and the difference between the affluent Xintiandi where we are staying at The Langham and the old town is marked. The Chinese had already settled here before the British arrived in 1842 so the area is rich in history. Gary explains that the houses in this area would often house three to four families in each, all sharing a kitchen and bathroom. There's more laundry hanging outside than the eye can see.
Chinese babies with their cherubic pinch-ready faces and smiles return waves and squeak "Ni hao!" while people regard the motorcycles and sidecars with curiosity. The front motorbike guide Shane narrowly misses getting the world's largest pair of underpants in his face ducking at the last minute. We alight and Shane takes over the tour in front of a building where what has to be hundreds of people's laundry in every shade hangs.
A man walks past blasting a pre recorded message from his bike. He is seeking electronics which he will buy from people and bring to a shop to repair and sell. Shane shows us some curious items like stamped phone numbers on the concrete walls - these advertise services like plumbing and other services and serve as the community's version of the Yellow Pages.
An ad board details rental prices for properties and Shane reads out an ad for a seven square metre room for 500RMB/$87AUD a month while a 46 square metre place is 6000RMB/$1047AUD a month.
We see houses where there are no kitchens or bathrooms. Instead there's a communal bathhouse that the neighbourhood usea. A "Ni Hao" and a smile gets you far in this town where we are welcomed with cautious curiosity by some and with wide smiles by others.
Around a corner, the aromas of freshly cooked food hit our nostrils creating hunger pangs. There are plenty of stalls selling mid morning snacks from dumplings to noodles and cooked meats and vegetables.
We buy deep fried bread dough sticks from a vendor who is rolling and frying them fresh. These have a significance on the 1st of November because they look like the number "1".
I'm convinced that there is potential in a book called the Dogs of Shanghai. So far we've seen some of the most manicured pooches in the world. They seem to adore their canine friends so much that there is a rumoured "one dog policy" and a man carrying his dog in a basket with a bag of sugar cane walks past and we coo at the dog. He's as proud as a grandpa.
We stop at a stand that is popular-the first rule of street food is to patronise stalls that are busy with customers that are making the food fresh so food doesn't have time to spoil in the sun. He is making shenjianbao another Shanghainese dumpling delicacy.
They're similar to xiao long bao but these are made out of a yeasted puffier dough. They rise and are cooked on a large hot plate the bottoms crisp while the tops stay soft and doughy. He also has potstickers and and we take a seat and grab a can of Wong Lo Kat, the Chinese version of Coke in popularity, a sweet herbal non carbonated soft drink.
Next door is a stall full of sweets. Some look familiar while others don't. The woman nursing a baby quotes Shane and Chu a price. They both speak excellent Mandarin but she has them pegged as "foreigners." When her suit wearing husband gives us a price she chides him and tells him that he should have charged more because we are foreigners. Alas a lot of the sweets are a bit dry but it did satisfy a curiosity to try them.
A woman beckons us to try her spring onion pancakes and we politely decline as we are full and keep walking past seafood vendors until we get to a tofu vendor. There are squares of black tofu next to the creamy coloured tofu, both coated in spices. Shane asks the vendor about the black tofu and the vendor tells him that the black tofu is stinky tofu, the black being Hunan style tofu. Stinky tofu is usually sold as deep fried paleish squares but curious to try it, we buy some.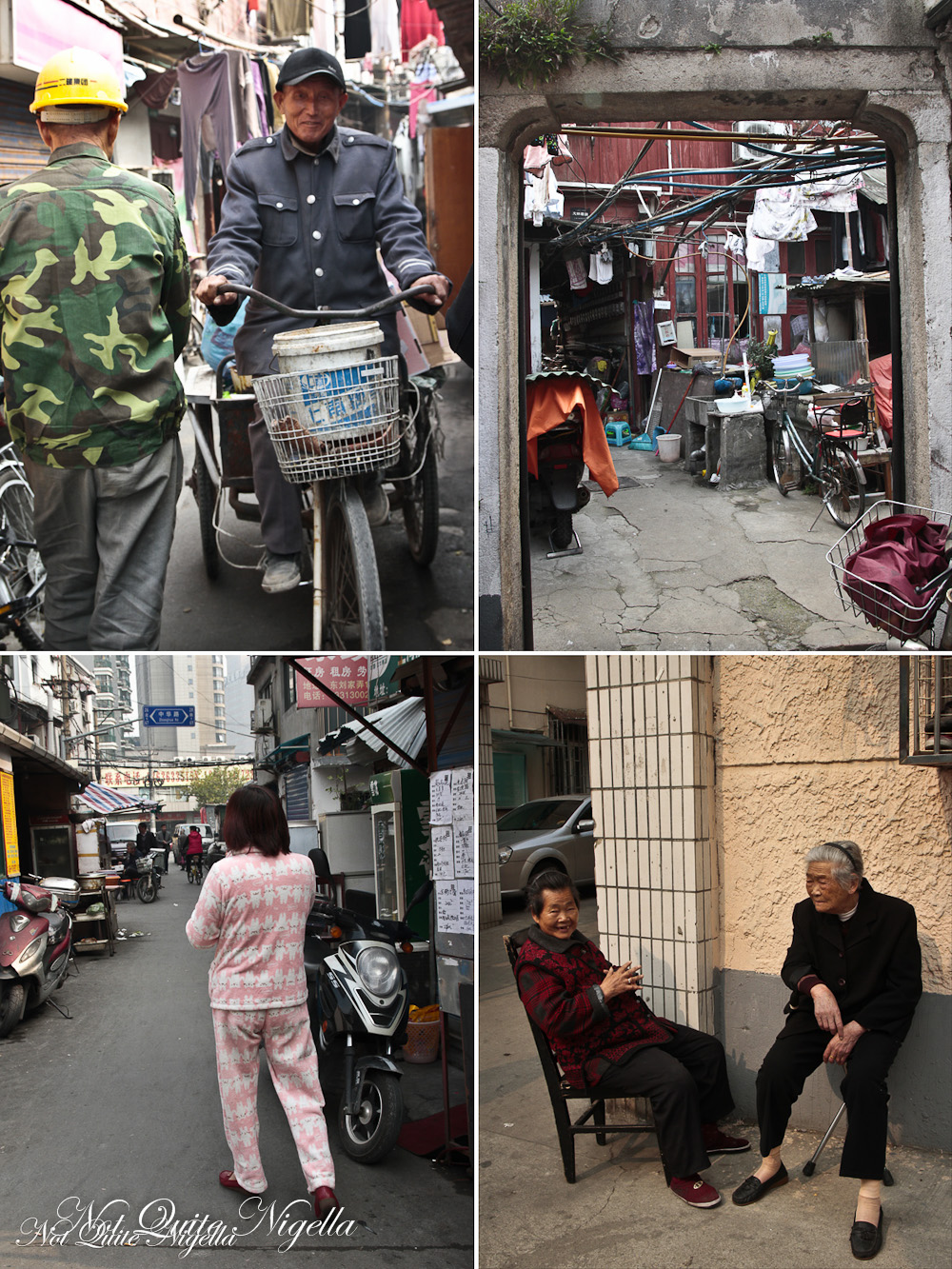 It has the slight waft of garbage but is quite mild. Shane tells us that there is another stinky tofu lady that often sets up shop nearby and you can smell the stand many metres away. Unfortunately she isn't here today.
As we leave the neighbourhood one woman waves goodbye (or was that hello?) to us and we head towards the Dong Tai Rd Antique Markets. These markets are slated for moving due to development and vendors don't know when exactly it will happen.
We take a quick stroll up the short antique market. Many of the goods are the same although a few of the stores hold some beautiful treasures including this picture and frame and some prints which we eagerly buy. Chu tells us to ask for a price and then divide it by ten!
Our next stop is a fun boutique area called Tianzi Fang on Tai Kang Road where reasonably priced clothing, shoes and trinkets can be found, some really quite unique and quirky.
Of course with shopping comes its natural partner food and there are plenty of places to stop and eat. We watch a man eating a hollowed out sugar cane and try some for ourselves. It's filled sticky yellow rice with a citrus flavour.
We also spy a group of teens eating a tofu dish-it's a savoury tofu soup topped with seaweed and nuts and trying a bowl of our own we find that it is warming, comforting and utterly delicious.
We duck through narrow alleys and one shop has drawn a small crowd. What I thought were cat ornaments are real cats asleep in the window of a cat themed cafe!
Which brings us to the final stop of our tour - not a stop usually with Shanghai Insiders but Shane perhaps senses our fascination with the slightly oddball so he brings us to "More Than Toilet" a toilet themed restaurant with the catchphrase "delicious and happy."
Chairs are toilets whose seats are covered with plush material and people sit near cheerfully smiling turd cushions. The food, well it's not a strong point but it's fun and slightly mad. I order a coconut milk tea and it comes served in a toilet seat cup with handle.
Chocolate puff 35RMB/$6.11AUD
The chocolate puffs resemble well...you can probably see that. They're actually chocolate choux puffs filled with a moussey chocolate filling.
We head back to our new hotel the 88 Xintiandi Shanghai which is also a Langham property less than five minute's walk away from the Langham. The atmosphere here is completely different from The Langham which bustles with glamour, gold, pink and business.
The 88 has a low key entrance and lobby - in fact it's easy to walk past it. A display of wooden tree trunks sits in the window and it is a charming boutique luxury hotel with a distinctly Chinese feel to it from the genuine antiques in the common areas to the room appointments.
There's a sense of calm that envelops me as we walk in. I notice a complete absence of car horns which pleases me greatly. There are seven floors in this hotel with just over 50 rooms compared to the giant Langham. 88 is an especially lucky number for Chinese.
I check into room #602, a Lakeview Studio room which overlooks Taipingqiao Lake. The room is subtly but beautifully decorated with traditional Chinese details from the wooden lacquered lattice screens to orchids and red glowing lantern lamps. It's a good size at 56m2 and the super king sized and very firm bed is slightly elevated with sheer curtains surrounding it. Most of the clientele at the 88 Xiantindi are non Chinese with 17% Chinese.
There's an enormous work desk with a handy little antique looking box that has all sorts of work supplies you may need and internet is free and very fast. A bowl of White Rabbit milk lollies sits temptingly on the desk within my paw's reach. There is also a large 41 inch flat screen television and excellent speakers and all plugs are international ones.
One of the hotel guests' favourite features is the Juliet balcony which provides a tranquil view of an otherwise busy, energetic and enterprising city and its inhabitants.
Behind the desk is the small kitchenette with a coffee machine, kettle and blender so that you can make coffee, tea or your own smoothies using the fruit from the fruit bowl in the room. Traditional Chinese tea cups and Western ones are supplied along with a good selection of tea.
The bathroom is on the small side and all of the bathrooms are around the same size. Still they're clean and well appointed with plenty of amenities and there is a bath shower combo and monogrammed, fluffy towels.
There are some quirky interesting touches to our rooms including a Ray X well panel that sits under the bed that absorbs the radio magnetic rays from electronic equipment like laptops and phones. There is also a humidifier which helps to counteract the drying effects of air conditioning which is a brilliant idea. A foot massager is tucked away in the corner of the room to relieve any foot woes (this became vital one day when I hobble in after a long day out) and the compendium lists a comprehensive amount of restaurant and shopping recommendations personally selected by the hotel's ever present and charming manager Serge van Vegten.
The club is situated on the third floor and is open from 6:30am-10pm and guests can use it to have breakfast or for a mid morning or afternoon snack. They can also use The Langham's spa, restaurants and health club facilities and charge things back to their room.
The food served in the club is home style food. Cakes look like the ones your grandma might have baked to give visitors a sense of comfort. The club also serves as Serge's office so he greets every guest by their name and assists with any questions or needs.
I'm craving something from home as we are nearing the end of our trip and for me that means two things: toast and jam, smoked salmon and won ton soup. The toast is excellent and the bread is made on the premises daily and the jams are also home made in four different flavours-the apple jam is a firm favourite along with the blueberry.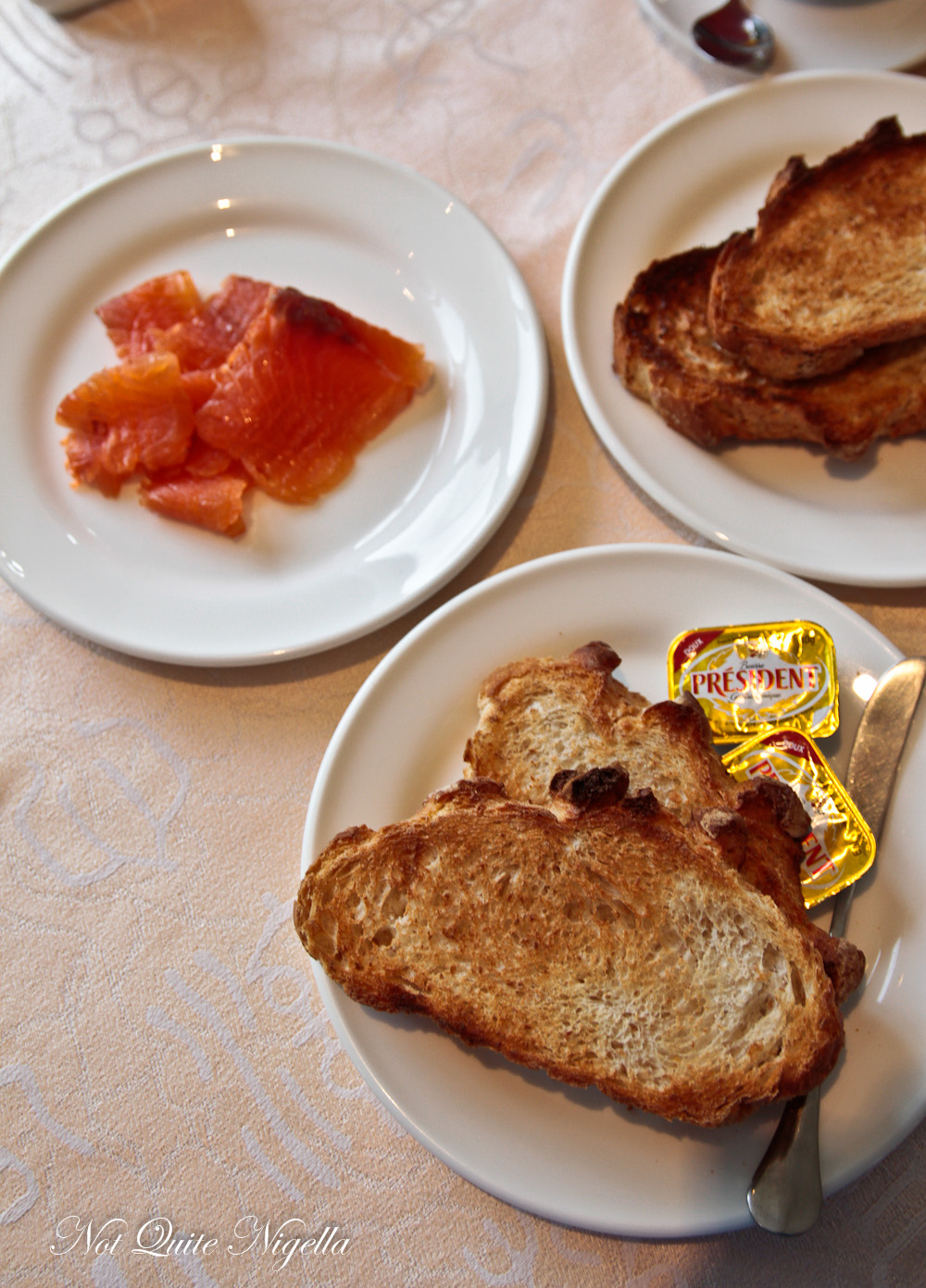 The won ton soup is flavoursome and light and the pork filled won tons are deliciously juicy. I may have eaten all of them...okay I did.
The 88 Xintiandi also has a unique room service offering with links to over 30 surrounding restaurants so if you want to order room service, they'll arrange and serve everything to you in the room. One evening, after a long day out we decide to avail ourselves of this service and upon Serge's recommendation we order from Xin Jishi or "New Jesse."
At exactly 6pm on time Serge arrives at our room with staff and they set up the table for us. We went with his menu recommendations.
Jujube stuffed with glutinous rice RMB 38/$6.63AUD
The jujubes are red dates that are so popular in China and these glazed dates are stuffed with sticky glutinous white rice. They're actually a savoury starter to the meal and quite delicious albeit mild flavoured.
Kaofu (wheat gluten braised with soy sauce, sugar, star anise)RMB 30/$5.23AUD
At first this looks like beef rendang to me but it is actually kaofu or wheat gluten served as spongey cubes or slippery thin pieces braised in an utterly delectable and moreish sauce of soy sauce, brown sugar and star anise with sesame. This is a dish that I'm sure could even turn the tofu apathetic. My mouth is watering even thinking about this and Serge promises to send me the recipe.
Wine preserved crab RMB 268/$46.78AUD
This dish was such a surprise but in a good way. The smell of quality Chinese rice wine pervades the air and I note that the shell is actually black which means of course that the crab isn't cooked.
I remove the shell and it's a crab sashmi resplendent with slippery coral red roe. It's full flavoured and a knockout dish in every way. I suck on a date stuffed in glutinous rice and wonder how I can wrangle my way into living here. I could get used to this...
Turndown has been performed in my room already and there's a pair of super soft slippers and a cloth laid out on the side of the bed. Herbal tea has been laid out along with home baked brownies and chocolates. Curtains are drawn and the room and bed look inviting.
I wake up the next morning to the faint sound of traditional Chinese music from the morning Tai Chi in the park. I'm not sure where it is coming from but it's a wonderful way to get a sense of place when you're traveling and you often need a reminder as to where you've lay your head.
So tell me Dear Reader, what's your faovurite mode to see a city? by car, foot, public transport or bike? Have you ever tried stinky tofu or would you? And do you prefer to stay at smaller boutique hotels or larger business hotels? And Happy Chinese New Year! xxx
NQN traveled to China as a guest of The Langham Hotels and 88 Xintiandi
88 Xintiandi
380 Huangpi South Rd, Huangpu, Shanghai, China
Phone:+86 21 5383 8833
Insiders Experience
http://insidersexperience.com/