Shanghai is an intoxicating mix of sophisticated, rustic, Western and Eastern. It is where gangsters, artists, criminals, the rich and the poor sought refuge in the 1800s. From 1840-1940 Shanghai developed into what it is today due to the opium wars. From 1730 to 1839 the British sold Indian grown opium to the Chinese. When the government realised the detrimental effects on its citizens, it stopped importation of opium. The British didn't want to stop supply of opium as it earned them such a significant sum so they went to war over it.
The British were victors and the Treaty of Nanking was established and a result of this were ceded areas or the foreign concession areas throughout Shanghai with French, British and American neighbourhoods. Each had different laws and criminals and gangsters flourished in each area because each neighbourhood operated under separate laws. To escape punishment, they simply moved to a different neighbourhood.
The current day soundtrack to Shanghai is the sound of car horns beeping. The area that we are in, Xintiandi (meaning "new heaven earth") is one of the wealthiest with rents outclassing many of the world's most expensive cities and designer stores line the paths from Harry Winston, Chopard, Tiffany & Co. and Prada.
Juxtaposed against these glittery stores are the Shikumen buildings whose Eastern and Western sensibilities best represents the blending seen in this area of Shanghai. The name literally means stone gate and resemble terrace houses with orange detailing. There were thousands of these houses in Shanghai and many remain in various states of repair.
A typical writer's room
In Xintiandi, the Shikumen Open Museum provides a detailed look into the life of a middle class Shanghainese family. One family would typically live in one of these two or three story dwellings while one room, the hot and north facing room above the kitchen would be let out to mostly writers. Shikumen have a long legacy with literature because of this.
Walking down the alleys of Xintiandi, one could be forgiven to doing a double take or wiping eyes with confusion - it could be Paris or Europe. And in an irony not lost on many, the birthplace of communism on Xingye Road also sits right next to a cluster of brands including Starbucks.
The Museum of the First National Congress of the Chinese Communist Party is located here and there are plenty of displays in both Chinese and English that detail the history of communism in China.
Another popular area is the waterfront Bund area. Each evening, thousands of people walk along the Bund so named after the Persian word for embankment. Many of the granite and sandstone buildings are built in a range of architecture styles from Gothic, Baroque, Renaissance and Romanesque. These were home to the largest banks and their imposing, grand facades still remain. Nowadays, they hold restaurants, high end hotels and some businesses.
This evening we're dining at Lost Heaven on the Bund, the newer branch of the Lost Heaven brand. The restaurant is said to serve "Yunnan Folk" cuisine which is a combination of Tibetan, Dai, Bai, Yi, Miao and Mountain Mekong cuisine drawing inspiration from the recipes and ingredients of the Yunnan province, Burma and Lao.
The main lobby features photographs from these areas with people in traditional dress. Upstairs is the enormous 300 seat restaurant, all dark and moodily lit. The picture menu is comprehensive and it's with help from Chu and Marlene who are both locals that have visited before that we narrow down our choices.
Yunnan eggplant and tofu salad 50RMB/$8.71AUD
Our first taste is the tofu dish where soft strips of eggplant sit below thin slices of soft, slippery tofu. And if you thought that tofu was bland, the mixture of herbs atop livened the dish considerably whetting our appetite for more courses.
Jinbo style ghost chicken salad 68RMB/$11.85AUD
I keep going back for more of this ghost chicken salad. Chickens are sacrificed to the gods when someone passes away and this ghost chicken salad is made up of crispy, marinated, boneless chicken pieces served with a fresh array of flavours from chilli, lime and coriander.
Da Li style chicken with chilli and green onions 68RMB/$11.85AUD
I recall having something very similar when I visited Xishuangbanna earlier this year. It's a lovely dish where the chicken is smothered in an aromatic combination of finely diced herbs, green onion and chilli giving it freshness and so much flavour.
Yunnan Wild Vegetable Pancakes 40RMB/$6.97AUD
I adore these very unique and crispy pancakes. Coloured green from the wild vegetables, they are thin and crispy, almost like a cross between a pancake, crepe and cracker. They arrive with a spicy tomato dipping sauce which is also good but I preferred them ever so slightly more plain without the sauce.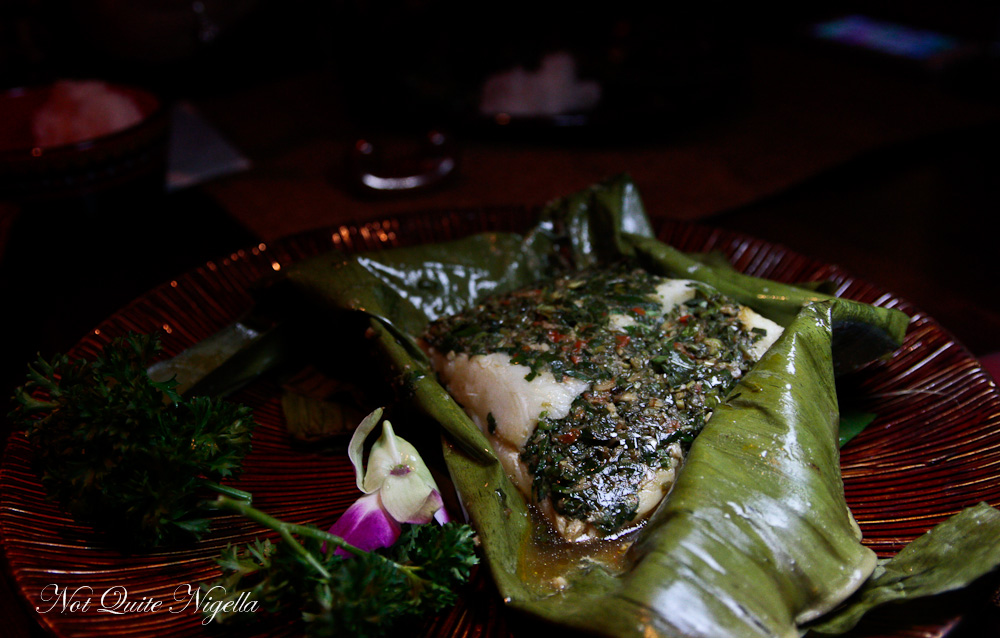 Spicy Cod steamed in banana leaves 220RMB/$38.34AUD
The cod was a beautifully cooked thick, fleshy fillet which was moist inside from cooking in the banana leaves. It wasn't particularly spicy but still with a good amount of flavour.
Braised crab in coconut tomato sauce 280RMB/$48.80
The braised crab was a single crab, perfectly cooked in a delectably rich, fragrant tomato based sauce. It's probably a good thing that it was dark because you can believe I took the top shell and finished off all of the sauce on it and then had a couple of the succulent legs.
Yunnan rice cakes with ham and preserved vegetables 66RMB/$11.50UD
What ends up being my favourite dish of the night is a simple dish: the Yunnan rice cakes served with ham, preserved vegetables and egg. Apparently this dish was fed to the last emperor of the Ming dynasty by the people of the village in which he sought refuge. Ever since it has been called "dajiujia" or the emperor's salvation.
Clockwise from left: Strawberry ice cream with coconut milk 50RMB/$8.71AUD, Shaved ice with tropical fruit 40RMB/$6.97AUD and Iced Lilium with goji berry 50RMB/$8.71AUD
We decided to order three desserts. Laura and Chu had eaten here the night before and told us in no uncertain terms that we had to try the strawberry ice cream dessert. I'm glad they did because otherwise I probably wouldn't have ordered it as it sounded a little boring. The dessert is delicious with a scoop of strawberry ice cream, pearls of soft ago and coconut milk mixing Thai and Western desserts.
The shaved ice with tropical fruit cubes and translucent, sweet palm seeds wasn't bad but the iced lilium wasn't anyone's favourite with a slightly odd bitter aftertaste and hard. We all finished the last our last mouthfuls with the strawberry ice cream dessert instead seeking the lost heaven.
So tell me Dear Reader, have you tried much regional Chinese cuisine? And are you a fan of tofu or do you find it bland?
NQN traveled to China as a guest of The Langham Hotels and 88 Xintiandi
The Langham Xintiandi
99 Madang Rd, Huangpu, Shanghai, China
Phone:+86 21 2330 2288
http://xintiandi.langhamhotels.com/
Lost Heaven on the Bund
38 Gaoyou Rd, Xuhui, Shanghai, China
Phone:+86 21 6433 5126
http://www.lostheaven.com.cn/location-top.aspx?type=location-bund&