It was a trip that just didn't start well. Mr NQN and I were looking forward to visiting the mid north coast of NSW region including Coffs Harbour where he grew up and when the time rolled around he couldn't make it due to work commitments. I then asked a friend in his place and when three days before we were about to leave she cancelled on me in a frantic state. Luckily I found someone to come with me! Enter the lovely Julie from Gourmet Getaways who happens to live in Coffs Harbour. Sometimes things just work out nicely :)
So that's how I find myself in Julie's car being picked up from Port Macquarie airport on sunny morning. We're off to taste what the mid north coast of NSW has to offer and in one day we'll be sampling from macadamias, avocados, cheese, chocolate, blueberries, strawberries and tomatoes. And somehow trying to still fit in our clothes!
Our first stop is Lorne Valley Macadamias where Jo and Ray Scott grow a variety of macadamia nuts and mixed citrus for the Australian market on their 50 acre property. Out the front is a cafe open four days a week with a lovely lush green view of macadamia trees. They make all of the food in-house (excluding the bread, that proved too troublesome Jo tells us). They are part of the Nambucca Nuts cooperative and here they grow, dehusk, sort and dry their macadamias which are then sent to Macksville to the cooperative to be further dried to 1.5% moisture level, sorted and priced. It's a family run business that has been here for 15 years and Ray's 86 year old father even helps out with harvesting while his 83 year old mum helps in the cafe.
Lorne Valley Macadamia Farm
The cafe has a good range of salads and sandwiches mostly featuring macadamias but with some exceptions. And instead of using almond meal for their flourless chocolate cake they use a luxurious macadamia meal which is more buttery than an almond meal (and which I cannot wait to try!). But before lunch Ray shows us around the macadamia trees which are mid harvest at the moment with some in bloom.
They have 1,400 macadamia trees and also use about 20 acres for a mixed citrus orchard where they grow tangelos and blood oranges  They grow several varieties of macadamia and they are all hybrid varieties grown for a combination of taste and harvest. There is a variety called H2 which has a particularly tasty nut but they have a thicker shell and therefore a lower return on the weight so other hybrids are more popular with farmers. Each tree has a long flower raceme which has about 100 flowers on it. From these 100 or so flowers you can get between 1-10 nuts on each raceme and variables such as weather can affect the flowers with temperatures above 30-40C killing off the flowers.
Over the years they have learnt that they need to concentrate on quality nuts rather than quantity as there was a recent influx of macadamia nuts from South Africa which were priced at $6-7 a kilo. However it isn't possible to grow and harvest them here for under $13 a kilo as our costs of labour are higher. This last year they harvested 10 tonne of macadamia and a good year has 12 tonne of macadamias harvested.
And the best way to package macadamias? Vacuum seal them in foil. But of course the problem with foil is that consumers can't see the macadamias and they like to see the product.  The "00" nut is the most expensive nut as it is the largest but these are rare and they concentrate on the middle of the range here. Like many farmers they aren't certified organic but they use organic practices and don't spray as they live right near the trees and the cafe is nearby. And if you are curious enough to want to grow a macadamia tree, what kind should you buy? There is one breed which has pink flowers and it is self dehusking with thinner outer shells for easy cracking.
Harvest salad $14.90
_ _Speaking of the cafe we're headed there for lunch. Jo recommends us some salads and I'm very happy about that as the weather is warm and sunny. There's a harvest salad which has a lovely sweet macadamia and basil style dressing and a mix of roasted vegetables including pumpkin, mushroom  and red capsicum and little cubes of feta amongst the mixed salad leaves and cucumber as well as three crispy lavosh crackers. And of course chunks of roasted macadamias!
_ _
Chicken salad $15.90
Now chicken salad can be a risk if the chicken is tough but this is tender and juicy with four generous pieces of chicken and a slightly sweet but well balanced different dressing which has a distinctly Asian flavour to it. The chicken is marinated in chilli, ginger and macadamia satay and there is a layer of caramelised onion on top of the pieces of fresh tomato and salad leaves.
_ _
Carrot cake $7
Now this carrot cake was said to be very good and when it comes with a sunny flower on top I immediately smile. But then I see them..the huge chunks of macadamia nuts! The cake has a nice citrus tang and some fat, plump sultanas and there's also a trail of citrus syrup around the cake and a cream cheese frosting. Finally there is a final scoop of macadamia nut ice cream which is a commercially made one but with a nice thick dense texture to it. I have to really stop myself from finishing the cake off.
Flourless chocolate cake $7.50
The flourless chocolate cake has lashings of chocolate ganache sauce on top and a berry compote and is rich, thick and moreish. But I'm afraid the carrot cake with the variety of textures and unexpected citrus flavour and crunch from the huge chunks of macadamias has won my heart.
Macadamia tea
The macadamia tea is a nice light tea and reminds me of a caramel tea with an innate sweet aroma to it.
We go inside to try some of the roasted macadamia nuts and we end up trying them all. There is a plain natural roasted, honey, caramel, salted, sweet chilli and smoked and they are as Ray mentioned crunchier than what we are used to. And the salted was my favourite as it really showed how fresh and crunchy these were.
And as we leave we notice a little gift from Ray left on top of Julie's car with a lovely note. Macadamia nuts in their shell-Mr NQN will be very pleased!
Ticoba Berries
Ahh mother Nature...how she moves to her own pace. And when we reach Penny Tideman at Ticoba Blueberries and avocados we notice that the blueberry trees are full of flowers and not replete with berries. The colder and longer Winter has ensured that while they would normally be in full harvesting mode they are now merely flowering... and waiting. Penny and her family bought this property 10 years ago where it was originally an organic beef cattle farm. Now they grow blueberries, Hass avocados and green tea.
The blueberries and avocados are grown for market and the green tea is a hopeful prospect for the future although green tea is proving a fickle and difficult item to harvest as it needs to be steamed within a few hours of being picked.
As luck would have it, they decided on blueberries long before they became popular as a healthy berry.
They previously grew seven varieties of blueberries but now are down to four which all flower at different times allowing them to harvest from September to January. During picking season things work at full speed with 50 pickers employed to pick the delicate berries which can last up to three weeks after they are picked. Once the berries are ready, they have five days to pick them and they harvest twelve tonnes of blueberries a year on their 200 hectare farm. Only  five hectares are taken up by the blueberries with half of the land being natural bush and the rest for the avocados.
Blueberry seedlings
The blueberries with the Ticoba label make it all the way down to Sydney and after they are harvested they are quickly put into a cool room to cool them down as quickly as possible for an hour. Then they are packed and placed on a truck where the next morning they will arrive in Sydney at the markets for eager blueberry lovers to eat! And with armfuls of green avocados we bid her goodbye and venture off to our next stop.
Comboyne Culture
**
We stand outside the Comboyne Culture not quite knowing if we are in the right pace. "You look lost" a colourful neighbour says. And before we can wonder where he is Ron Lindsay comes driving up the driveway dressed in his cheese-making whites.
"I want to make cheese that you can only get here so people have a reason to come here" Ron says. He is a former avocado farmer and landscape gardener and now cheese maker. He show us the cheeses that are draining and awaiting the next brining stage. He makes severeal types of cheeses from a camembert  which he tells us is the most popular mainly because people are reluctant to try the washed rind or a blue vein.
Of the 600 cheeses he makes a week there is a camembert, a washed rind, a blue surface ripened cheese (bluembert), a Thone River Blue and a blue vein called Lindsay Blue "named after me" he says laughing. He considers the washed rind his star product and shows us the coolroom with the cheeses ready to go. They are sent to Sydney to go through two distributors and they will end up at markets including Pyrmont, North Sydney, Orange Grove and Castle Hill markets.
We start to taste the cheeses and they are lovely and creamy but also have a strong saltiness to them."Ah the old man's cheese" he says and explains the popularity of bluemebert, one of his surface ripened blue creations. He found that at markets older men (who are on salt restricted diets) would come with their wives and when offered a taste of the blue the wives might eschew the idea of a blue. But the men that tried it loved it because it was a highly salted cheese and they could get their little buzz of salt without their wives knowing. Moral of the story, taste what your husband eats! ;) The washed rind and the Lindsay Blue are my favourite, they've got a lovely texture, creaminess and complexity to them. And it is at this point that we wish we had brought a chill bag because Ron gives us some cheese to take with us!
Baba Lila
**
Russian dolls signify a bit more than an adorable toy or a much copied design. For Tash Topschij they mean her heritage and her mother. Her chocolates brand Baba Lila was named after her mother-Baba for grandmother and Lila for her mother's name-her mother being the one whose recipes she uses for her chocolate. Whilst her mother wasn't a chocolatier Tash remembers helping her mother make chocolates while growing up and when she was waylaid due to illness for a year while she was a graphic designer she serendipitously found her mother's recipes for chocolates.
The unique thing about Baba Lila chocolates is that they are handmade. And by hand made we mean hand mixed as in the filling is mixed with her own hands, not an electric mixer (unless it is Christmas where the demand exceeds the amount of elbow grease that she can expend) and as a result her electricity bill for the factory is a mere $5 a week. Each chocolate has a hand churned filling, is then hand rolled, hand dipped and hand wrapped. All done in this small shed out the back of her house at a rate of 1,500 chocolates a week or 4,000 a week at Christmas time.
There are two ranges of her chocolate: a traditional range including prune & brandy, rum & raisin, hazelnut, almond, rosewater and marsala & cherry. But the native Australian collection is beginning to overtake the traditional popularity and consists of wattleseed, wild lime, aniseed myrtle, Tasmanian pepper berry, Davidson plum & coconut and lemon myrtle and 90% of the native ingredients used are from the local area. The look and feel is similar to that of Paddington chocolates.
Interestingly she doesn't use a couverture chocolate but a high quality compound chocolate. She says that couverture is too hard to work with and can be temperamental especially with temperature fluctuations and she doesn't want a bloom appearing when she sells them at markets. She uses a 35% dark chocolate to coat the chocolates as the fillings are sweet and she doesn't dabble in white chocolate. For a while she did work with an organic couverture chocolate. Another reason why she says she doesn't use couverture is the price point for the local market. People are willing to pay $1.50 per chocolate but she tells us that $2 is a little too high for the local market.
We take a bite into a chocolate and they are deliciously good-sweet yes there is no doubt but of the sweet little bon bon variety (and I find myself craving these late at night). The wild lime has a soft chocolate ganache centre interspersed with a native wild lime marmalade (I would have loved a bit more zing to the lime) and the hazelnut has a centre of hazelnut cream with two large pieces of hazelnut inside. And I imagine I'm going to be very popular when I get home with macadamia nuts, avocados, cheese and chocolate in my luggage!
Ricardoes Tomatoes
"We were just happy to have some beer money" says Anthony Sarks who owns Ricardoes Tomatoes and Pick Your Own Strawberries. He is explaining how they started in the tomato business eight years ago with his brother Richard. Starting off with an honesty box at the door he learnt one thing: People were willing to drive for good produce. They placed an ad in the For Sale section of the classifieds and learned that people would drive from Kempsey, Taree and Wauchope just to buy a bag of good tomatoes.  In 2004 and 2005 they built their greenhouses over their two acres undercover and with 20,000 plants it has now become a tourist destination.
After a while they "took a big leap in technology" Anthony says pausing "We went from an honesty box to a cash register. He explains that in the early days they were yet to perfect their farming so there were many second grade tomatoes. They tried their hand at preserving their own jams and "that lasted one batch" and they then handed over the reigns to local chef Eric Robertson who now makes 20 products including their multi award winning strawberry jam and tomato and passionfruit jam which was the highest ranked jam in the Hobart  and Sydney royal Shows.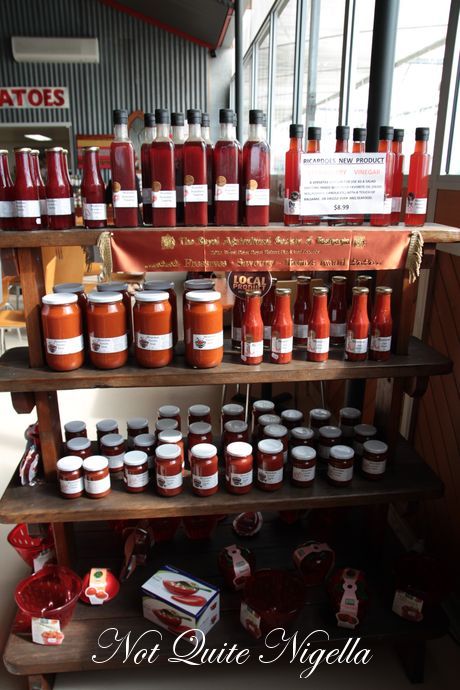 Now nothing goes to waste and whenever there is a surplus due to warm weather like recently when a  tonne of strawberries ripened overnight, they can make them into jam. We witness a busload of tourists that have arrived and are busy buying tomatoes. Another large family sit down in the cafe and shop and order food and drinks. We also take a look at the greenhouse where they grow four types of tomatoes, the most common is the tradiro tomato which makes up 95% of the tomatoes grown here. There is also the egg cherry with the sharp base, the conchita cherry tomato and the roma tomato, all Dutch varieties. And to count them, they have about 3 million tomatoes, 5 kms of tomato rows and 20,000 tomato plants.
All of the tomatoes in the store were picked this morning and they can last for up to three weeks from date of purchase. They don't tend to grow heirloom varieties as they are more difficult to handle but they did try growing some oxheart tomatoes. What's their secret to their tomatoes? There's no secret but Anthony says they do as mother nature intended. Simply that they give the tomatoes light and pick them when they're ripe. They pick them every morning which is the best time to pick them as they are hydrated at that time and the vine snaps easily.
Before we go out to pick some strawberries we try a scone and some of their award winning jam. The scones are light and twelve dozen are delivered every second day by a woman that bakes them. The jam has lovely large chunks of fruit in it and the scones are light and lovely. We make our way to see the strawberries next which are housed in two large undercover sheds. The trick to these strawberries and the reason why they're so popular is because unlike traditional strawberry orchards where you bend down to pick the strawberries, here they are all upright which makes it easier for everyone to pick them.
Anthony shows us the strawberry plant growing from the pipe which is where they receive the water. Here there are 130,000 strawberry plants and 7 million strawberries are harvested a year with a total of 43kms of strawberry growing pipe.
For pick your own, they give you a bucket, a pair of scissors and off you go. Anthony shows us their bees that pollinate the strawberries and he shows us a single strawberry. If a bee has pollinated the strawberry properly then the strawberry will come out in a perfect strawberry shape, but if not they may come out lopsided. On each bunch of strawberries there are berries with differing levels of ripeness. As you would expect the reddest ones are the best to pick and we quickly full our bucket of strawberries.
And we don't leave without a wonderfully burgeoning box of goodies from Ricardoes! I wish I had brought my big suitcase for all of my goodies :)
The Observatory Hotel
Our home for the next two nights it the Observatory Hotel located right across from Town Beach at Port Macquarie. Service at reception is very friendly and as we're exhausted it's thankfully a quick check in before we make our way upstairs.The Observatory a new hotel with 1, 2 and 3 bedroom apartments and Julie and I have a 2 bedroom apartment (#306-1 and 306-2)  with separate doors and rooms. I have the room on the left which has a spacious lounge and kitchen area, bedroom and bathroom and a balcony that extends around both the lounge and the bedroom.
The  decor is neutral and all very nice and modern but the thing that draws your eye is the water view which is spectacular. There is a queen sized bed in the bedroom and I spend a bit of time trying to figure out how to turn on the light- it is connected to a remote control looking device and when you flick the switch the fan and the light go on. The bathroom has a bath and a good set of toiletries including body lotion although tissues and milk appear to be missing but this is rectified with a call downstairs to reception.
Our room in the Observatory O-Zone apartments have been designed for travellers that want to experience an environmentally  themed stay. By 2012 it has become the first 4.5 star hotel to commit to becoming carbon neutral and the O-zone package is an additional $40 tariff. For that you get a small box of green tea tea bags, green instant coffee, a tasting platter which is quite good indeed (the pick for me was the grilled banana bread-so good with a cup of tea while doing work). They also provide Nintendo, Wii fit, exercise fitball and weights and stretch equipment, the complimentary use of backpacks and picnic sets so that you can take a ride on one of their bikes (available complimentary to all guests) so that you can  ride along the scenic coastline.
The tasting platter
Use of backpack with picnic equipment
There are also environmentally themed books to read and with each package purchase they will plant a tree in conjunction with Landcare mailing you out a certificate. The whole visit is a carbon free visit with emission offset by their Green Future program which is monitored by the Carbon Reduction Institute. And the grilled banana bread, I mentioned that right? Oh what I would do for a piece of that now...
The Stunned Mullet
I know my priorities. I settle in with a piece of that grilled banana bread and a cup of tea and do some work and then it's time to get ready for dinner. We hop into the car and look at the address before realising that the restaurant we are eating at tonight is just down the road from the hotel! It's The Stunned Mullet opposite Town Beach. Service at the restaurant is polite, knowledgeable and friendly with one waitress giving us local recommendations for a return visit.
Crisp King Prawns wrapped in wonton, shiso and shiitake served with a yuzu miso and fragrant oat flakes $25
We start with a bonus starter sent out from the kitchen. They are three halved king prawns wrapped in a paper thin almost translucent spring roll wrapper with shiso and shiitake and deep fried and then served with a zuzu miso sauce and curried oat flakes. Yes I know the curried oat flakes do sound odd and they are oatmeal with some light curry sauce drizzled on it but the combination does work quite well together with the Asian flavours.
_Salt and Peppered Baby Squid tossed with garlic chips, fresh chilli & fresh coriander on a bed of baby rocket  $19 _
The salt and pepper baby squid was very lightly tossed in flour and deep fried and was tender and moreish. The accompanying salad that it sat on with rocket, chilli and coriander however needed a dressing to it as it was undressed.
Pork Belly and Seared Scallops nuoc cham dressing and Asian salad $23
My favourite entree was the pork belly with seared scallops with an excellent nuoc cham dressing and a coriander and chilli salad with segments of orange. The pork belly rectangle has a wonderfully crisp top and a soft, unctuous bottom layer with the scallop was perfectly cooked and matched it for the soft texture. The orange provided some freshness as did the Asian salad which also gave it a burst of fresh flavours.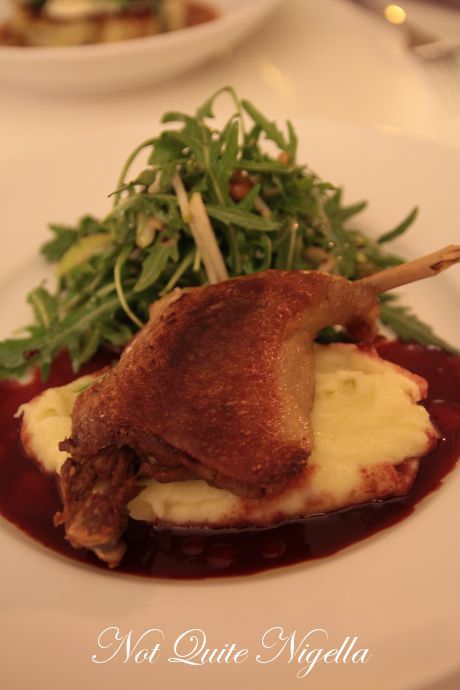 Confit Duck Leg truffled desire mash, sour cherry reduction, rocket, pear & hazelnut salad with a verjuice vinaigrette $36
Although I love seafood both seafood dishes (including a daily special called The Sea Dweller) were deep fried so we chose one of the more popular mains a confit of duck leg which is very good. The leg is soft and falls apart whilst the layer of skin on top is crunchy and crispy. It comes with an aromatic truffle mushroom desiree potato mash (so rich and so good that I can smell it as soon as it hits the table) and this is ringed by a pool of sweet sour cherry reduction. There is also a rocket, pear and hazelnut salad with a tangy verjuice vinaigrette.
Buffalo Ricotta, Spinach and Roasted Pumpkin Rotoli crispy sage, tomato veloute and meyer lemon aioli $29
There are three large rotoli pasta dumplings filled with ricotta and spinach and these are pan fried with a delicious crispy edge to them. They are topped by crispy sage, a smooth but mild tomato veloute and each rotolo has  dab of meyer lemon aioli to give it a lift.The dish is good and I particularly like the crispiness of the pasta, the lemon lift and the sage but the tomato veloute needs a little seasoning.
The Sugar Pie Honey Bunch pie, burnt orange, dark chocolate, candied walnuts, crème fraiche $15
When I saw this the first thing I thought of was the maple pie that I had in Canada and when the waitress recommended this I was  curious to see whether it was similar. This pie was delightful with a smooth creme brulee custard silky texture to it it was sweet but honestly not tooth achingly sweet like say a fudge is. It sat in some burnt orange syrup which helped to counter the sweetness and a decoration of dark chocolate drizzle and candied walnuts. I have some trouble pushing this away as the texture makes for compulsive eating. Then chef Lou Perri comes out and we ask for the recipe and it turns out he is actually originally from Edmonton in Canada and the pie is inspired by the Canadian sugar pies.
Sesame Snap Mille Feuille Tahitian lime and coconut curd, chilli-inspired caramel  $15
The other dessert is on the other end of the scale weight wise. It is their lightest dessert and Asian in flavour with a crispy black and white sesame seed tuile, light, fluffy coconut curd and a a bed of Tahitian lime syrup with pieces of mild chill on the side. I love the crispiness and the flavours of this dessert and the ightness and the Tahitian lime gives it a contrasting tang.
Our eyes are getting heavy from a busy day travelling so we bid them farewell and I think to myself that stuffed and happy mullet would be the most appropriate way to describe me at this point in time.
So tell me Dear Reader, do you bring along large luggage with a lot of spare space to accommodate food or other shopping purchases? And has your luggage ever been overweight? And have you ever done pick your own fruit?
NQN travelled to and explored the mid North Coast of NSW as a guest of Destination NSW and Mid North Coast Tourism
Lorne Valley Macadamias
1181 Lorne Road, Lorne NSW 2439
Tel: +61 (02) 6556 9653
Ticoba Blueberries
(location not open to public, available in selected stores in NSW)
Comboyne Culture
See stockists: http://www.comboyneculture.com/stockists.html
Baba Lila
See stockists: http://www.babalila.com.au/range.html
Ricardoes Tomatoes and Strawberries
221 Blackmans Point Road, Port Macquarie, NSW
Tel: +61 (02) 6585 0663
The Observatory Hotel
40 William Street, Port Macquarie NSW 2444
Tel: +61 (02) 6586 8000
The Stunned Mullet
24 William Street
Port Macquarie NSW 2444
Tel: +61 (02) 6584 7757