Rising early is not a natural thing for me. I often wish I was one of those people that only need six hour's sleep. For me I'm barely functional unless I get eight or nine hours. So when the alarm goes off at 6am I am not a happy person. But when you bribe me out of food with food...well that doth soothe the savage, growling beast within.
I'm tracking backwards a little so please bear with me but before we leave Port Macquarie, we must sustain ourselves with breakfast-not that we need it after the gluttonous feasts as we've been well and truly spoilt. Breakfast this morning is downstairs at Milk Bar which is the cafe at the front of the Observatory Hotel. My travelling companion Julie from Gourmet Getaways and I take a seat and be warned it gets furiously busy come 8am on a weekday so we quickly snare a bench at the front. Customers order and pay at the counter and we ask for a recommendation from the staff.  "Anything with the sourdough bread is good" they say and so we order items that include the sourdough from Hearthfire Rustic Bakery in Bellingen.
Milk bar brekkie with bacon $15
_ _The milk bar brekkie has bacon and two baked eggs with gooey runny centers, basil tomatoes, halved button mushrooms and wilted spinach. As recommended, the toast which is excellent and the whole plate is a nice upmarket take on a big breakfast.
Organic fruit and macadamia sourdough toasted with apricot and vanilla jam $6.50
The toast comes as three pieces of lightly toasted fruit and nut bread with plenty of chunks of macadamia and a thick apricot jam which is light on vanilla and slightly tangy.
French toast with sweet ricotta, marinated figs and maple syrup $12
The French toast has two slices of the bread very lightly dipped in egg. It is then fried and topped with cinnamon scented sweet ricotta, sweet marinated figs, fresh strawberries and maple syrup and the cinnamon ricotta in particular is very moreish. And it is pretty indeed!
Caramel tart $3
Oh my, these little tarts were heaven! I know tarts aren't you usual breakfast food but when they're this rich and with a buttery coconut base and thick, silky caramel you just have to make an exception...
Before we go, we take a little peek at the store next door called For Good which is full of Scandinavian goodies and covetable props and then we're off on our next stop!
Gaian Poultry & Game
**
Gaian's client poultry list is impressive, notwithstanding that Gaian Poultry is a family business headed up by two school teachers that still teach. Their free range muscovy and pekin ducks and pigs end up on some rather stellar dining tables including Rockpool Bar & Grill and Berta among others. Started just two years ago by Beth and Lleyton McMillan, the business started because Lleyton loved to eat duck!
They contacted Hudson Meats through the Essential Ingredient and every week Rockpool's Neil Perry buys half a dozen Muscovy ducks and Berta buy ducks and about two pigs a week (they have Tamworth, Wessex saddleback and black Berkshire pigs) and Bells at Killcare also order from them. The pekin ducks are much quicker to be ready at 8 weeks while the muscovies take 5 months until they are ready.
They follow the Joel Salatin model at detailed in his book "Pastured Poultry Profit$" and followed the principles laid out within. The farm is also sustainable and only uses solar power. The rabbits, and Beth tells us that these are the only animals on the farm that aren't free range because they don't actually like to be free ranged, are tended to by their 16 year old son Zane who is paid to tend to them for 1-2 hours a day. He knows all about rabbits and he tells us of their breeding cycle and to never put a male in a female's cage because "they get really protective of their space and will kill it." Eeek!
Oh hai!
Zane tells us that rabbits have a three week breeding cycle and a 30 day gestation period and they can be mated on the day after they deliver a litter and then can deliver their second litter but they need a three day rest after that. A manageable amount in a litter is about a dozen or less because rabbits have eight teats.
And with a little cuddle of Lola the adorable chihuahua we have to be on our way!
Lola the chihuahua tells the pigs who is boss-and they look like they are listening!
Fredo's pies
**
The wall of awards
We really didn't have time to stop here although with Julie's skillful driving (all within the speed limit I should add but it's great visiting these areas with a local!) when we realised that we were five minutes ahead of schedule we decided to pop into Fredo's Pies, an iconic pie store located in Frederickton.
Crocodile pie $5
Mr NQN is from Coffs Harbour so I have many memories of driving from Sydney to Coffs Harbour and we would stop at Fredo's Pies for something to eat. I'd always know that it was coming up when I'd see a sign for "Bellimbopinni" (try saying that ten times in a row! ;) ) and then my stomach would immediately get excited and ready to try a pie.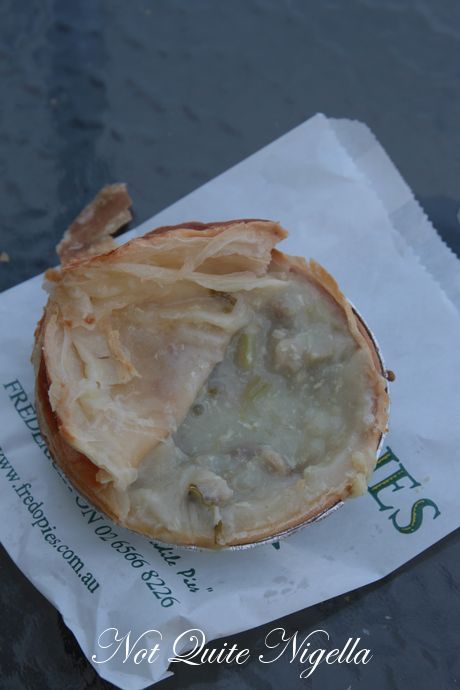 Even 10 years ago I loved trying the unusual pies and there is a crocodile pie on offer today among their myriad flavours. The crocodile has small chunks of crocodile which has the texture of chunk tuna with the flavour of chicken and it is very saucy with a lot of celery in it. The crust is buttery and crunchy and a good way to envelop the liquidy filling. And we managed to complete our stop within five minutes!
Saltwater at Emerald Beach
We didn't mean to stay as long as we did at The Jaaning Tree but when you eat the food and look out on the view it is very difficult to tear yourself away from it. We take the hour long drive from Nambucca Heads past Coffs Harbour to Emerald Beach just 15 minutes on the other side of Coffs Harbour. Tonight we will be dining at the 2nd Annual Mid North Coast Signature Dish dinner at Saltwater restaurant. Last year the winner Dustin Bowie Ford who is the chef at Saltwater, won the signature dish competition so this year he is cooking the dinner which will feature his winning dish as the main.
Dustin Bowie-Ford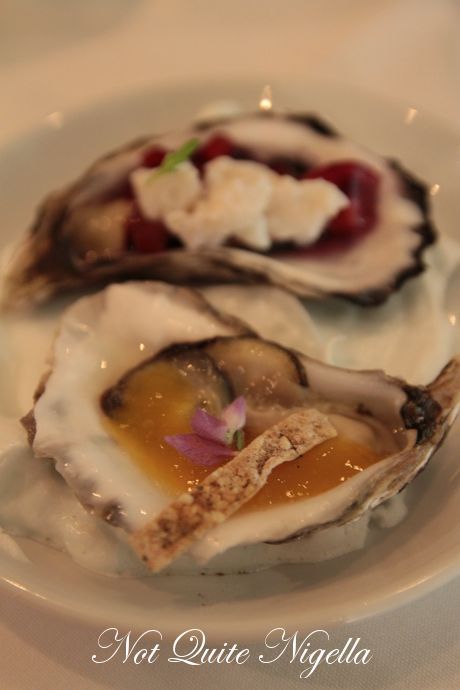 Oysters and passionfruit served with Casstein Edition Noir N.V. Pinot Chardonnay
After a lightning quick clothing change and shower, we make our way downstairs to the restaurant and take a seat at a table. Everyone is excited about the dinner and the talk is of the Mid North Coast Signature Dish competition. Dinner tonight comprises of four courses and reading the menu whets our appetites.
The oysters come out sitting in a swirl of meringue (not to eat although I suppose you could). There are two types, one with a passionfruit gel and one with crab meat and tamarillo. I must admit I only really like oysters with the lightest of pairings as I find it can obscure the flavour of the oyster and whilst this was a hit with many at the table I wasn't quite as taken.
Swordfish and chickpea served with Cassegrain Reserve 2009 Fromenteau Chardonnay
_ _The swordfish dish  has a piece of well cooked moist swordfish, soft braised fennel, tender cuttlefish and a chickepea sauce with crispy chickpeas. Even though you don't usually see chickpeas paired with fish the combination works well and the dish and the balance of flavours and textures is excellent.
Confit Duck and Pork Belly served wtih Cassegrain 2010 Pinot Noir
I'm sitting next to Donna from Bent On Food who was last year's judge along with Bathers Pavilion's Serge Danseareau and they had judged Dustin's confit duck and pork belly as the dish that defined the Mid North Coast. It is a three part dish with a confit of organic duck leg from Gaian poultry, a masterstock pork belly rectangle which is soft and jellied and a ginger daikon roesti cake. All three elements are very good and the richness of the meats are offset with the freshness of the Chinese pickled carrot, daikon, cucumber, mango and chilli salad. And because a meal isn't complete with crackling there is a long baton of crispy, crunchy crackling. We can see why it won.
Palate cleanser
The palate cleanser is one of those tricks of the mind and tongue-an orange and beetroot jelly where the purple is from the blood orange and the orange is from golden beetroot.
Lemon Meringue Pie served with Casay
_ _The lemon meringue pie is a deconstructed version with lemon curd set in a block shape with a piping of lightly torched meringue, shards of pavlova and finished with a gingery snappy triangle of biscuit. Lovely!
Dustin and his crew come out to introduce themselves and to draw a winner of the Mid North Coast produce hamper which goes to a holidaying English couple. And a fun night was had by all and knowing that we had work to do we reluctantly retreat.
We go back upstairs to the apartment which sits around the side and behind the restaurant. It is a spacious three bedroom apartment with a open plan lounge and large kitchen with a balcony that faces pretty Emerald Beach.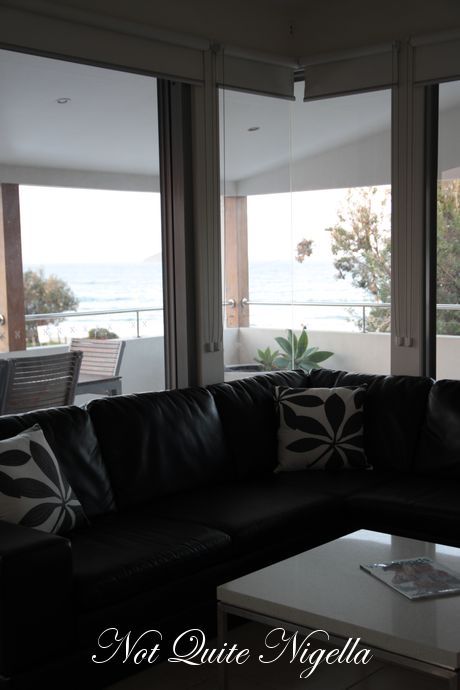 I'm in the main bedroom which is spacious and has an ensuite to the right, a luggage and dressing room and and entrance to the balcony on the left. A few creature comforts are missing-hot water in one shower, strong water pressure in the other, tissues for taking off makeup and an alarm clock but the apartment is comfortable and you just cannot beat the view. In fact after we checked in there were about a dozen people milling around just watching the surf and drinking in the view of Emerald Beach.
The local breakfast bounty
I wish I could tell you that we woke up the next morning and ate all of this but we were quite full so what did we do? We took all of this delicious food home with us! There was no way that we were going to let this lovely produce go to waste.
The Big Banana
Our last stop on the trip was to visit the Big Banana. We Aussies are obsessed with big versions of items and the Big Banana is Coffs Harbour's top attraction bringing through 1 million visitors a year. It is the first thing that you see when you drive into Coffs from the North and as we see a queue of people waiting to get their photo taken in front of the banana. And I have to tell you a secret-as Mr NQN grew up in Coffs Harbour his brother The Assman used to drive the train at the Big Banana! He only stopped after an accident and they abandoned the train rides shortly thereafter.
We meet with Drew the General Manager of the Big Banana for a tour of the facilities. This is family style entertainment so a ticket of $12 for adults and $8.50 for kids gives you two shows in two theatres. The first is an IMAX 3D type of screen and shows you the history of bananas. The second show tells you all about eating bananas and why they're good for you. After the movies we go on a plantation tour. The Big Banana grows their own bananas and use most of them at the attraction itself with their banana themed desserts.
Shallow root system
Here they grow cavendish bananas as that is what the Coffs region has historically always grown and as Coffs Harbour is considered sub tropical it takes longer to grow bananas than in Queensland. They have between 5-6, 000 plants and harvest just under 6,000 bunches a year which equates to about 300,000 kilos of bananas. It takes between 12-16 months to grow bananas in Coffs Harbour but it takes 6-12 months to grow them in Queensland. Because it takes a longer time to grow them here there is more time to develop the sugars in a banana and the floury less sweet bananas that you can get are a result of the shorter growing time. They show us the shallow root system which explains why the recent banana crisis affected the plants - once there is a lot of rain or storm the trees simply fall over.
The gassing room
Next we see the ethylene gas room where they gas the bananas to ripen them. Bananas are picked green to allow for even ripening as it is hard to get them all at the correct level of ripeness on the tree. They are then put into a gassing room where they sit for 6 days at 18°C/64.4°F to ripen using ethylene gas, the gas that bananas themselves give off when they ripen. They are then stored in a cool room at 14°C/57.2°F.
But onto the food because I know you'll be interested in what they offer. We go to the cafe where they sell between 80-90,000 frozen bananas on a stick a year! They also sell hands of bananas at a mere $4.50 a kilo (at the time of the visit they were about $14 a kilo in Sydney) and during the worst of the crisis they sold them at $2 a kilo as they didn't want to be seen profiteering from the crisis.
_Chocolate coated banana $3.95 _
I start with the nutty peanut sprinkled chocolate coated banana and it would make a great snack during hot weather. These always remind me of the Bluth banana stand in Arrested Development and I've made chocolate coated frozen bananas with almonds and they taste like a healthier version of a Magnum almond.
Chocolate coated banana $3.95
I then try the hundreds and thousands chocolate coated banana and out of the two I much prefer this one as the sprinkles give it a nice crunchiness and it reminds me of a freckle chocolate ice cream.
Banana fritter $6.95 and banana shake $5.50
I do like the banana fritter which is a banana deep fried until golden with some caramel sauce, a scoop of banana ice cream and a scoop of vanilla ice cream. The banana ice cream is made for them commercially although this has a taste of faux banana flavouring rather than real. The banana milk shake is good-none of that banana syrup flavouring, just the taste of fresh banana-plus it is a gigantic serve!
Banana splits $6.95 each
And I can't believe it but I'm almost banana'd out as I've had more banana than I've eaten in the last six months or so. The banana splits are bananas split in half, lavished with whipped cream, ice cream and topping and served in a banana boat dish-of course!
Dried bananas
I got to take home one of Mr NQN's favourite snack-dried bananas-his family grew bananas so no doubt he ate plenty of these growing up! I may have just given him one packet...sssh don't tell him! ;)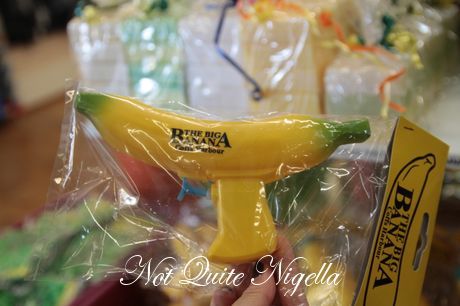 The best selling item-the banana water pistol!
Just before we leave we take a peek into the shop which has over 100 banana related items including this banana plate set which they kindly gifted us with!
So tell me Dear Reader, have you visited many of the "big" items? And which one impressed  you the most?
NQN and Gourmet Getaways travelled to and explored the Mid North Coast as a guest of Tourism NSW and Mid North Coast Tourism
MilkBar Town Beach
Town Beach, 40 William Street Port Macquarie NSW 2444
Tel: +61 (02) 6586 8000
Mon-Fri 7.30am - 3pm (breakfast till 11, lunch 12noon - 2.30pm)
Sat-Sun 7.30am - 12noon
Gaian Poultry
Gaian poultry is available from Hudson's Meats
410 Crown Street, Surry Hills NSW 2010 (Cammeray and Lane Cove addresses too)
Tel: +61 (02) 9332 4454
Open Weekdays 9am-7pm; Weekends 9am-5pm
Fredo's Pies
5 Macleay Street, Frederickton, NSW
Tel: +61 (02) 6566 8226
Open every day but Christmas Day
Saltwater Cafe, Restaurant and Accommodation
104 Fiddaman Road, Emerald Beach NSW 2456
Tel: +61 (02) 6656 1888
Breakfast Wed - Fri 9:00 am, Sat - Sun 8:00 am
Lunch: Wed - Sun 12:00 pm
Dinner: Wed - Sat 6:00 pm
The Big Banana
351 Pacific Highway, Coffs Harbour NSW 2450
Tel: +61 (02)6652 4355
Open daily 9-4:30pm (except Christmas Day