I once watched a documentary on schoolkids in China. They taunted certain kids because they were slow eaters whilst simultaneously bestowing praise upon the good eaters. I have to admit that as strange an asset as this sounds, I really like choosing dining partners based on whether they're good eaters. Strict dieters, the terminally fussy or the plain bewildering are just not ideal dining companions. So tonight when we were dining at Sean Connolly's new restaurant The Morrison, I have Laura, the vegetarian who offers such classic lines as "is it wrong that I will only eat chips cooked in duck fat?" She was bringing along Peta who she claimed was a very good eater. One should never underestimate how much girls can eat...
So it seemed only appropriate that we try a good portion of the menu. "That's quite a bit of food" our waiter says to us. "You've never met us, you'd be surprised what we can eat" we answer. The vibe at The Morrison is quite noisy, slightly meat-marketish with guys perched on bar stools with a ready raised eyebrow and "hey ladies" smile.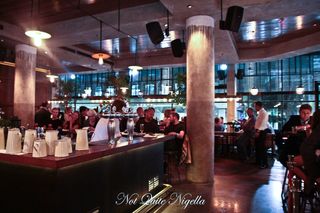 The main room has dining tables lining the two large windows and a bar area in the middle. To the left of the bar area  is the oyster bar where they feature freshly shucked oysters and past that is more dining space. The atmosphere is bathed in warm yellowy tones with glowing upturned jar lights on each table-and heated floors no less which make this windy spring evening very warm indeed!
Ex Astral Chef Sean Connelly is the executive chef at The Morrison although he isn't in this evening. The menu is one page long although a newspaper sits on the table with the wine list and a back page oyster menu 30 oysters long and at any one time, a selection is served.
There are three types of oysters tongiht: Pacific, Rock and the lesser known Angassi. I must admit, I got quite excited about trying Angassi oysters but alas it was not to be. Instead, there were Port Stephens Rocks, Pambula Rocks and Coffin Bay Pacifics. They were served ice cold with fresh lemon and a house made tomato and horseradish sauce which was lovely and spicy. And I wasn't really joking when I said that we should order a hundred as they tasted of the pure ocean.
My mother makes something like these and they disappear in a flash which is what they did here. There are six pieces of Southern fried chicken with a crunchy, golden coating served with an utterly moreish chili & molasses dip. A vegetarian in a class of her own, Laura was lured by these while saying "I'm only eating the skin!" she said dipping it into the heady, sweet sauce.
There was a generous amount of snow crab mixed with crème fraiche, lemon zest & chives on small dark rye toasts. The crab toast had an appealing creaminess although it was a tad watery but had nice, big chunks of crab meat.
Coming three to a serve, this was a spicy crab meat filled lettuce taco with a chardonnay vinaigrette, a lovely pop of salmon caviar and thinly sliced bird's eye chillis. I could have eaten a dozen of these and been perfectly happy as they had the balance of spiciness and tang just perfect.
There's a big pause between entress and mains-made more noticeable only because entrees appeared in a flash. "Oh my god, there's a guy that looks like Eric from True Blood!" Peta says coming back from the bathroom and we bide our time by going for a walk to the other section before our food arrives. First is the salad. I usually buy burrata as one large mozzarella ball filled with cream but this is a smaller one sliced up with roasted beetroot, chilli flakes and  beetroot leaves. The mozzarella and beetroot are a wonderful pairing, the former soft and milky and the latter sweet and earthy.
A serve for two, the lamb shoulder is served bone in as Connelly likes to serve meat, and is glazed with a lovely sweet raspberry vinegar and star anise. The meat comes off the bone and it is rich and jellied in parts, the prized bits being the sweet raspberry vinegared glazed outer pieces. And try as we might, we couldn't finish it all so it was packed up in foil to take home.
Laura's main was the chilli crab linguine, one of the easiest and most satisfying dishes to make at home. Here there is a good amount of snow crab, parsley, mint, chili, lemon with some.
What is this entree doing in the midst of the main courses? As all of us are seafood freaks, we thought that the meat heavy mains were missing some seafood selections whereas most of the entrees are seafood based. So we thought why not order the split scampi sashimi with chilli, microherbs, extra virgin olive oil & sea salt flakes. Some of the creamy scampi has roe on the legs which was a nice bonus.
Onto sides...what does grandma do with carrots? She slices them vertically and serves them with some chopped parsley and lots of butter. Probably why everyone loves their grandma...
A must order the duck fat chips come out thinner than expected (I don't know why I was expecting thicker ones) and are crisp and moreish. They come with a small pot of garlicky aioli.
I got so excited when I saw this on the menu as I had watched an episode of Modern Family that was pretty much devoted to wedge salad. Alas, this wasn't very interesting, the dressing was mainly on the top and it was served in a small oval metal plate. It really needed a knife to serve this because the fork and spoon given wasn't suitable and would have just lifted the top layer with the capers and blue cheese and egg dressing. As it was, the pieces that I got were mainly just the lettuce and when I did try a piece from on top, it tasted mainly of capers.
There are just three desserts on offer so with three of us, we tried one of each. The brownie is a crackly crusted, rich, fudgey brownie with a generous scoop of malt ice cream and fabulously crunchy caramel popcorn that you just want to buy by the bag.
Full of promise the peanut butter and jelly sandwich sounded intriguing but it didn't thrill us as much as the other two desserts. The crunchy toast bread was filled with a peanut butter ice cream and there was a little glass pot of jelly on the side. I don't think that we quite knew how to eat it. Were we supposed to pick up the sandwich and eat it like an ice cream sandwich? But then what do we do with the jelly (which was really a jelly, and not a jam)? It wasn't exactly spreadable so I think we just gravitated towards the other desserts instead.
Everything seems deconstructed nowadays and this cheesecake has two large quenelles of airy lemon cheesecake mousse,  a sprinkling of crunchy biscuit crumbs on top and some dehydrated raspberries for a contrast in texture. This is Peta and my favourite dessert of the three, closely followed by the fudgey brownie.
A nice touch at the end with the bill is the Fortune Teller fish which I haven't seen for years! We place the fish in the palm of our hand. The fish moves his head and tail which means "in love"!
So tell me Dear Reader, do you gravitate towards seafood, meat or vegetarian choices on a menu? And who remembers those fortune telling fish? Do you think that they're accurate? :)
The Morrison Bar & Oyster Room
225 George Street, Sydney
Tel: +61 (02) 9247 6744