This restaurant has now closed
The song goes around in my head all day (and apologies in advance if it goes into yours). "If you go down to The Woods today, you're in for a big surprise..."
It's partly fitting, The Woods at the Four Seasons hotel is said to be quite a surprise for those familiar with the hotel. In its former incarnation of The Regent, it contained Kables, one of the most well regarded restaurants of its time. It has been years since the space has been used for something exciting and I had many fond memories of meals had there with seamless formal service and starched white linens. So much so that I expected The Woods to take up place where Kables used to sit.
Instead, it is downstairs on the ground floor, adjacent to the reception and lobby area. The Woods is an enormous 180 seater restaurant and the primary brief to Dreamtime designer Michael McCann was to make sure that it didn't look like anything like a hotel restaurant.
They engaged Bar H's Hamish Igham as executive consulting chef and he brought some of his team along including baby faced Restaurant Chef Joshua Niland. The food is different from that served at Bar H which is modern Chinese. Here, there's no trace of that but there is an emphasis on smoking with the many woods on the name and meats from the wood fire.
The wood fire is to the left of the kitchen and in front of this is a rotating hand hewn butcher's block upon which rests firestick radishes and purple parsnips which were grown especially for the restaurant by Anthia Mishra at Little Leura Farm. Some of the vegetables were grown from seed give to them by Ingham.
The butter is churned in house and drains on muslin in a large wooden bowl. There are plans to make fresh bread in the wood fire oven in the future but for the moment, it's Iggy's sourdough.
The chef's table stands right next to the vertical herb garden with fine bone china vegetables showing above and below ground views. The chef's table is the one with a screen print of a lamb subtly marked on it. There is also an enormous semi private dining section with names of various winemakers from Australia and around the world.
And I was told to look up to the ceiling because there's a treasure trove of recipes, note and letters. There's an enormous reproduction of a letter than Ingham received about fiddle head ferns. Above the main open kitchen are lines of text, upon closer inspection they're actually recipes written out in detail. The sommelier is Clint Hillery of the late Time to Vino.
I'm dining with friends Ute and Natasha along with it seems almost everyone from Sydney's food media scene tonight.  The good thing about dining with Ute and Natasha is that we've already agreed to share our dishes - the more to try, the better! The live scallops come out and they are sashimi silky and taste strongly of the ocean and are garnished with purslane and citrus. Oysters are also a focus here although we didn't try any as the entrees were pre-ordered for us.
The ash seasoned ocean trout is simple but perfectly seasoned and accompanied by smoked trout toe, a fresh parsley salad and slices of soft, white lightly toasted bread.
The rich intensity of the sea urchin is countered with the cooling cucumber salad and yogurt. Many remark that this is their favourite entree for the unusual pairing of the ingredients.
We asked for recommendations for our mains and pigeon was suggested. And there it was, in all of its glory, head included. Although technically an entree, it was still a good size and came with half a grilled white peach, roasted wings, claws and legs and pink cheeked breast. On the side were some fantastically good deep fried chickpeas and I enjoyed the flavours of this dish and I could have easily had a bowl of those chickpeas as an ideal snack.
The flavour of the pot roasted sand whiting were good although some bites of the whiting yielded many bones. The flavour was really of the sea which sounds silly as of course fish comes from the sea but this is further emphasised with the clams and seaweed.
The Mallee wood roasted spathcock was succulent and came with wilted radicchio for bitterness, crunchy pine nuts, currents and preserved lemon. It's a good sized dish with plenty of juicy meat and was the table's favourite main.
I tried some of the whole wood roasted crab with a garlic and pepper berry sauce. Said to serve two, it didn't come with any accompaniments and whilst it was good, I'd say that $65 for two blue swimmer crabs is on the pricey side and it would only really feed two if it came with a side. The other mains were however very well priced.
"The lettuce is fresh and sexy!" our waitress tells us to admittedly much giggling. Fresh and sexy lettuce? Sure, if you say so! It is indeed very fresh and superbly crunchy. Sexy? Well I like lettuce but it's purely a platonic relationship. A few remark that the price seems a little high for the portion size too.
I don't think I've ever seen a Swiss roll on a menu before but we have to order it to satisfy our curiosity. It was a pretty spiral of chocolate cream filled chocolate Swiss sponge with salt generously sprinkled on top (a tad too generous in parts). It came with halved grilled cherries and a sesame ice cream which was strong in smokey sesame oil. The salt and the sesame oil really evoked savoury memories and this was a tad challenging for the palate and brain to reconcile.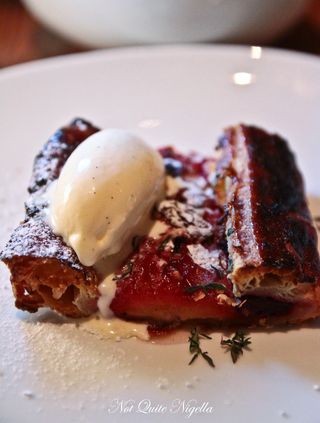 The rose geranium ice cream was light and floral and sat atop with soft, lightly toasted brioche with a white peach caramel sauce underneath and on top of the brioche. The white peach gives the caramel an additional flavour and the brioche is soft and tender.
We enquired about The Woods tart and it was a yellow peach tart served on a very caramelised puff pastry with little sprigs of thyme and a quennelle of vanilla bean ice cream. The puff is a little too caramelised in parts but the creaminess of the ice cream and the tartness of the fruit combined with the thyme is an interesting end to the meal. Surprises? Yes. But that's what happens when you go into the woods apparently ;)
So tell me Dear Reader,  do you share dishes with your friends? And did you find the lettuce sexy? ;)
The Woods
Address: 199 George Street, Sydney
Tel: +61 (02) 9250 3160 This restaurant has now closed
www.thewoodsrestaurant.com.au
Lunch Monday – Friday from 12pm – 2.30pm
Dinner Monday – Saturday from 5.30pm – 10.30pm
Coffee and pastries – 10am – 12am
Drinks and bar menu – 12pm – 10pm