The 3.5 hour flight is drawing to a close and I fidget in my seat. The man sitting at the window seat who I've exchanged pleasantries and amicable nods with suddenly taps me on my arm and points out the window. Just at that moment, amongst the ochre sands, Uluru or Ayers Rock passes under the plane which seems to hover. I involuntarily gape and say "Oh my god! That's Uluru!" I've seen Uluru countless times in photographs but nothing is quite like getting right close to it. As if your hands could reach out of the plane and touch, like the clouds or stars that seem just out of reach.
Media from all over the world are gathered at Uluru at the Mutitjulu community for a special event. A chopper flies overhead blowing up a gust of red earth. It deposits a spray of lollies and then flies away within seconds.
The kids of the Mutitjulu community forget their football game and run towards the lollies grabbing at the little nuggets of freshly deposited sweetie treasure. It's like an N.T. version of a massive pinata from above. The Mutitjulu community have never opened themselves up like this before. To tread this land and the community which lies adjacent to Uluru, you would have to be invited by an elder. And for this day they've gathered a pool of indigenous and indigenous friendly talent for a concert where the world is invited to see how they live.
Some people sit under trees, red dirt flies around and covers limbs, pig melons grow in the arid ground and large female led groups of women sit together watching over groups of children playing, many with sun burnished copper blonde hair.
There's a briefing for all of the media. They instruct us on how to respectfully negotiate the cultural differences with Aboriginal culture. Females will generally only speak to other females as gender divides are strong and we are told that they may give short answers which doesn't indicate dissent but they are processing the information as English is not their first language. Eye contact is a sign of rudeness or disrespect.
Everyone is gathered for one song that was released in 1982, a song whose lyrics were inspired by Goanna singer Shane Howard's 10 day trip to Uluru and a spiritual awakening where he realised that white settlement were claiming ownership of something that was not theirs. It was a song that enjoyed enormous commercial success both here in Australia and in the United States despite their record company's misgivings about the song's political content.
Today we will hear three versions of the song, firstly a slower version with Shane on guitar or as they call it an "old man" version, a second version with Neil Murray, Archie Roach, Bart Willoughby, Stephen Pigram, Warren H Williams, William Barton, Amy Saunders, Emma Donavan, John Butler, Dan Sultan and Blue King Brown's Natalie Pa'apa'as as well as a rap version.
One of my favourite images of the trip. I was standing there watching everything being set up and suddenly I was surrounded by a game of kids playing football. Taken on a Sigma 17-50mm F2.8 EX DC OS lens, focal length 17 mm, ISO 100, 1/200s.
The Mutitjulu people were an easy target, Shane tells us because of their location being in a national park. That made it easy for the federal government to brutalise the community under the guise of intervention. The Mutitjulu community know that in order for Aboriginal rights to become an issue, they need to show their language, culture and law. For Dan Sultan "this song is the reason why we're all here, it (Uluru) has a story, it is not just an icon. It's time to open up the community...It's not just carnage, things are actually quite beautiful" he says, his throat catching.
Suddenly, a truck drives through spraying water with it brings commotion and excitement as the kids follow the truck. This is an area that typically gets about 300mm of rainfall a year. The truck stops and the kids beg for the driver to spray some more. He stops and talks to them but alas the water fun is over.
Another privilege extended to everyone that has come to visit the community on this open day is an inma or corroboree. An authentic one is hard to come by, this too is by invitation only. Three elder women sit taping the clapping sticks and signing into microphone  Opposite them six women with brightly painted chests hold up colourful ropes and echo their signing with a slow, gradual advancement with small jumps.
After a quick break where people can buy slices of watermelon, snow cones or hot dogs, Shane Howard takes to the stage and delivers a beautiful rendition of Solid Rock. Other pieces follow including a gutsy rock version of Solid Rock resonating deep with William Barton's digeridoo - they proudly tell us that he is this year's Aria award winner for best classical recording. The sun sinks down, children dance and weave in between spellbound listeners and the sky with its blanket of stars descends on us all. It's more profound than anyone could ever imagine.
Sails in the Desert
I take the transfer bus to my accommodation for the next two nights called Sails in the Desert. I'm not in bad company, musician John Butler was on the flight and is staying at the resort too. The lobby and resort is actually mid renovation and is expected to finish within a matter of weeks. The lobby is tastefully decorated courtesy of the renovation although glass cabinets remain empty for the time being where a boutique will sit.
All of the resorts are owned by the Voyages group which means that you can get a complimentary shuttle bus between all of them and use their facilities (with the exception of Longitude131). I go upstairs to check into room 308-it's hot, and they gave us plenty of warnings to re hydrate during the day. Alas the electronic key doesn't work but my carry-on is heavy and luckily a staff member comes by to let me in. The room is spacious with nice soft furnishings, with Aboriginal patterns and paintings and is more a 4 star resort than a 5 star as it is sometimes advertised.
The pool is to the left of the balcony and this is a child friendly resort so perhaps not ideal for honeymooners or those seeking a quiet retreat. The furnishings look new, there is a sound dock and a large flat screen television and a mini bar.
The bathroom has his and hers sinks has all of the basics including a bathtub and Elemis shampoo, conditioner, soap and lotion. Two thick robes and slippers hang in the closet and internet is $25 a day (although google chrome users may experience difficulties). There are some issues with luggage arriving - after 45 minutes, a reminder call was made about my luggage so I'd advise to take what you need with you. It turns out that the luggage was lost en-route to my room and delivered to someone else but while we are out it is delivered into my room a few hours later.
Sunrise at Uluru and the Valley of the Winds at Kata Tjuta
There was no way that I could sleep after that concert and it's dark a few hours later when we rise and we climb into a car. Even though it is 5am, the resort is alive with people all on the same pilgrimage-to watch the sun rise above Uluru. Our guide Sara from SEIT a small group touring company, gives us a run down about our activities today. For our sunrise walk, we drive past Kata Tjuta or The Olgas, another of Australia's most famous rock formations. The height of the largest rock formation is 546 metres whereas Uluru stands at 348 metres. Kata Tjuta is considered a very sacred site for Anangu people in particular the Anangu men and Sara tells us that there are rules in which it can be photographed-a single rock cannot be photographed by itself, it must always have the V shape between it. Because it is so sacred, the mythology and stories associated with Kata Tjuta are not revealed to outsiders.
We walk up to the viewing platform which is a brisk 5 minute walk from the car park. Sara was encouraging us to walk quickly so we could nab a prime position and I manage to luckily get a spot right in front of Uluru. We watch little birds dance across the spinifex grass and the ground is a graduated series of greens and ochres. The Desert Oak with its many tiny saplings break the flat terrain. We watch as an orange glow surrounds Uluru and then the sun peeks out from the right hand side. It rises seemingly quickly as if we are watching a time lapse and the glowing ball of the sun emerges high right.
There are signs advising people that "the climb" is advised against. This is because the route take is the same that the Anangu people's ancestors took when they first arrived at Uluru and it is of spiritual significance. The Anangu also feel a great sorrow when people are hurt or die on the climb (over 30 people have died doing it) as they have a duty to look after visitors. Despite this, around  30% of visitors to Uluru still insist on doing the climb but once numbers drop to below 20%, they will close the climb.
We stop for a quick breakfast of raisin toast, cereal, fresh dates and juice and a much appreciated cup of tea. A tablecloth is laid out on a bench and we tuck in.
Our next stop is Walpa Gorge, part of Kata Tjuta where we will go for the Valley of the Winds walk, a one hour or 2.6 kilometre walk across rocky terrain. Walpa means windy and it certainly is in parts although the early morning weather means that it isn't too hot. A litre of water (per hour of activity), a hat, sunglasses, sunscreen and runners are a must though or the walk may be uncomfortable. On the way we see enormous boulders that have fallen from the large algae lined wall opposite. One is predicted to fall soon and Sara reminds us that these rocks are like icebergs-we are only seeing the tip of them and it is estimated that there are 6 kilometres more rock underground.
We reach the platform where everyone has a rest and look at the greenery - many would assume that there was no greenery but this is considered one of the most verdant areas. Photographs looking back at the trees snaking down the gorge are not allowed to be published although they can be taken for personal use.
On the way down Sara shows us spear vine which is a light, thin, long vine that they use to make a spear which is one of their most important weapons for survival. Although tangled, once heated they can be straightened out to use as a spear. However because they are so light, they wouldn't be able to break the skin of a kangaroo so they use the wood of the Mulga tree, the hardest wood to make the tip of the spear.
They attach this with the resin from the spiky base of the spinifex tree. For European settlers, the spinifex tree was thought to be useless as most animals won't eat it and it is spiky and not soft but the Aborigines use its resin for glue. Once extracted as orange crystals, it is heated on a firestick or kitty and becomes a resin that can be reheated and shaped time and time again. She tells us one last way to secure the spear tip and this would be for the men to take a kangaroo tendon and chew on it and then use that at a further way to secure the spear tip.
Sara then takes us to meet Arty, who is an expert on bush foods. He is going to show us how the Anangu could find enough food to live on in this seemingly inhospitable climate. He points out termite and ant mounds and he points at a small slit in the ground and tells us that it is a scorpion hole. He taps a bull dog ant's nest with his woomera or spear thrower but no-one is home today.
He tells us that unlike popular misunderstanding, when Aborigines go nomadic, they don't hunt in large tribes. Instead, they do it as a small family with parents, grandparents and children. They make use of a space of land and use up all of the bush foods in that area and that is usually enough to sustain them for 2-3 days. Feeding an entire tribe would not be feasible. The Anangu people were traditionally naked and the only adornment came from items that they could make from their hair like belts and headbands for the men.
One of the treats of the bush are honey ants. Women take these ants with what looks like an unfeasibly large ball holding a sweet honey syrup and extract the sweet liquid from them by biting them and sucking out the honey. He tells us that these are considered a winter food as they live closer to the surface during winter and shows us a large cavity in the ground where women have dug deep holes looking for them. Women are the gatherers looking after "mai" or foodstuff, men are the hunter and look after the "kuka" or the meat. "Kopi" or water is found underground.
"There's sugar everywhere here" Arty says. He tells us that there is sugar in the sand dunes and the honey grevillea and corkwood trees have flowers that contain a syrup and these are added to water to sweeten it. Indeed the mulga tree which is so useful to the Aboriginal people secretes a toffee like substance and you simply break a branch off and suck on it. The same tree's leaves can be used as bush tobacco where they chew on the ash of the leaves to sustain themselves with water and reuse their own body's water supply. It is also used as a wind breaker as temperatures can get cold and it is the wind that mostly chills at night. The Anangu also use the seeds to make damper.
And how to find those mysterious witchetty grubs? They live in the wood of soft acacia trees and tunnel out of the roots. You can usually tell the presence of the grubs due to the presence of the dark brown sawdust which is emitted from when they burrow through the roots. Any roots that crack open easily would have witchetty grubs inside. He tells us that the raw ones taste like egg and the cooked one like crinkle cut chips.
We make our way back to the tent where we take a seat. There's a spread of bushfoods for us to taste. He starts with a dried bush tomato-it's tiny and strong in tomato flavour with a slightly sandy texture to it.
Next are quandongs which are tart little fruit. He has fresh, dried and quandongs poached in a sweet glaze-the poached ones are heavenly.
A saltbush dukkah which is a mix of herbs and nuts is delicious. He then grinds up the mulga seeds with his bush mortar and pestle which provide roughage in the diet.
We have a sniff of the chocolate wattle flower with its intoxicating scent-caution though, as this is used as a laxative!
This is irrmangka irrmangka which has a menthol scent and is sold as a balm and used in a similar way to Vicks vapor balm. He also shows us a boomerang which is used for small birds of flight. There are just two birds in this area, a bush turkey and a pigeon and he tells us that the best way to get a pigeon is to simply offer it any food-no boomerang required!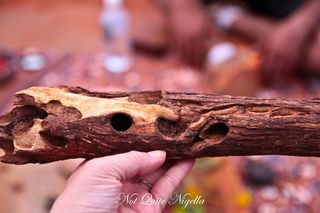 The outback is not short of luxury experiences. Luxury lodge Longitude 131° is Voyages' premium accommodation with just 15 luxury "tents." It is the area's most private adult's only resort and the tents themselves are perhaps best described as luxury free standing villas with tented roofs rather than actual tents. It shares the same longitude as Uluru and Kata Tjuta. Longitude 131° guests are afforded resort only privileges such as their own tours but there is one experience that the non Longitude guest can partake in: the Tali Wiru dinner.
Despite its distance, what makes it even more impressive is that the Tali Wiru experience (meaning 'beautiful dune') is set amongst the undulating sand dunes. No heels are required, in fact they will need to be removed first before climbing up the 250 metre red ochre sand hill to find yourself facing a spectacular view resplendent with layers of green, yellow spinifex and grey deceased trees. The north face of Uluru and Kata Tjuta sits bathed in the setting sun.
We're greeted by Longitude 131° staff who seamlessly welcome us to the firepit area where yidaki player Dwain Phillis play the instrument. Half Aboriginal and half white, he is proud of both sides of his heritage. The sound is deep and compellingly beautiful, particularly when set against this backdrop. He explains that he has been playing the yidaki  for 13 years-digeridoo is actually not the name of the instrument but the rhythm itself. To play the yidaki you need a few things: lung capacity, fitness and control over your diaphragm and lips. Only men are allowed to play the yidaki. The bigger the yidaki, the deeper the sound and Dwain's digeridoo is worth $3,500. They are made of either woolybutt, stringbark or bloodwood trees.
A glass of Louis Roederer champagne is offered and they start bringing out the canapes. Everything is cooked in the shed structure kitchen where supplies arrive daily in crates. The Tali Wiru experience is a new one and has become an instant hit-the tariff is $295 a person but the response has been acclaimed by guests and it is expanding from five nights a week to seven.
Chef Tim Malligan and sous chef Greg Greenup use tweezers to put the finishing touches on the canapes and we sip drinks while watching the sun set.
These scallops are divine little portions with finger lime caviar giving the succulent scallops on the shell a lovely tangy pop. I could have eaten a dozen of these morsels easily!
The layered pastry tarts are filled with a sweet truffle honey and creamy gorgonzola filling-a classic pairing with a good balance of sweetness and richness.
Most of the food in the N.T. is either trucked in from Adelaide with some from Alice Springs. The Port Lincoln diced raw tuna sashimi was creamy and delectable-although these were served without a spoon so licking them provided a cat like eating experience! ;)
Our very first sit down course was a divinely soft smoked duck leg in a petite portion. This was perfectly balanced with quandong poached mini pears and a light organic stilton mousse, fig vincotto and small leaves.
Wattleseed Rubbed Kangaroo Carpaccio, Sour Cherry Jelly, Fried Capers, Horseradish Aioli, Parmigiano Cigar, Aged Balsamic served with Katnook Estate Cabernet Sauvignon, Coonawarra, South Australia
There was a choice of prawns or kangaroo carpaccio and whilst I usually love seafood, we don't often see kangaroo as carpaccio so I decided to try that. It was thinly sliced and delicious-not very gamey and perfectly tender. It came with a buttery cheesy Reggiano pastry stick and leaves.
Native Thyme & Garlic Grilled Darling Downs Wagyu Fillet, Seared Parmigiano Gnocchi, Broccolini, Cab Sav Jus Smoked Olive & Kutjera tapenade served with Penfolds 389 Cabernet Sauvignon Shiraz, Coonawarra, South Australia
The main was a wagyu eye fillet fillet which is tender with four fluffy, soft potato gnocchi and broccolini on a bed of smoked olive and kutjera tapenade. The wines are fantastic and this course came with a Penfolds 389 cab sav. Special mention must be made of the service which is exemplary-deferential but never still or formal and nothing is ever too much trouble.
_Dark Chocolate & Chilli Mousse, Toasted Coconut Sable, Chocolate Ganache, Pineapple Slivers, Chocolate Cigars and Coconut & River Mint Jelly served with De Bortoli 'Noble One', Hunter Valley, New South Wales _
We all loved the rich chocolate mousse with little crunchy pearls scattered over it. It came with little cubes of vanilla panna cotta and fresh pineapple slices.
A cloudy night means star gazing is a little difficult. They turn off the lights on the table and Jenny Clark shows us various constellations and points out Alpha and Beta Centauri which are pointer stars that show us where the Southern Cross would be located.
Afterwards we head down to the firepit and sit around, some nursing glasses of port. A young Aboriginal man called Wayne "Bulla" Krause comes to talk to us and tell us about his life and heritage. It's a wonderful way to end an extraordinary evening.
Sunrise and camels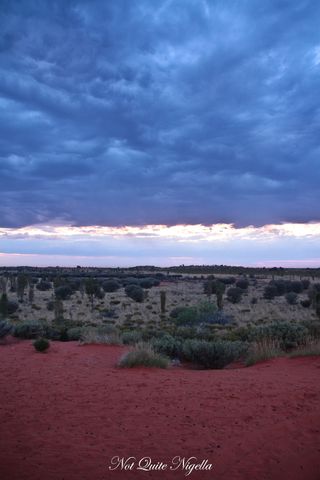 Chances are that over your lifetime, you may not meet an Australian cameleer. And why is that? Because there are only 30 cameleers in Australia and it is said to be such a tightly guarded skill. And did you know that Australia has about one million wild camels? Initially brought over to build the Overland telegraph and the Ghan rail line connecting the Northern Territory to the rest of Australia. Once the work was done, they asked the Afghani handlers to shoot the camels. They didn't and now the population roams the outback.
Camels have become an industry for the area. Apart from camel tours, Australian camels are said to be free of the diseases that plague others so they are prized as work camels in the Middle East where they are now sold. Our guide Matthew 'Roscoe' Ross at Uluru camel tours is one example of a cameleer who feels privileged to be invited into this somewhat guarded group.
At Uluru Camel Tours, they do sunrise and sunset tours. First up is a safety demonstration which is simple, hold onto the metal bar on the saddle and don't try and lean down and adjust your foot straps because that's a good way to fall off a camel. Nelson and I are assigned Murphy, the commander camel at the back. He's enormous and the highest ranking camel so the other camels heed his direction. He has walked all the way from Western Australia to Uluru.
We set off on our 45 minute ride across the plains across private land. Each camel has a different personality and Murphy is known as a calm, expert camel. All of their camels have been trained from wild and they use a form of hypnosis to train the camel - they are intelligent creatures so they can be trained easily. The cameleers all have favourite camels-usually the ones with the most personality.
He tells us of two camels Jill and Diesel who are inseparable and will start to fret if separated. Others play "hooky" by faking injuries to get out of doing work and some are just plain uncooperative. They're said to have excellent memories and if you change clothing or looks, they will still recognise you. Rosco tells us the only time that they stay away from humans is when they're tipsy or drunk - he explains it like "as if they know that it's not really you."
We stop and look back at Uluru. There are clouds which make for spectacular photographs and as we stop, the sun breaks through and warms up the side of Uluru. We stop at a couple more points while Roscoe answers questions about the camels and before we know it, we're back at the homestead tucking into a feast of wattleseed beer damper slathered with butter and quandong jam (or Vegemite). There is also a sampler of the fantastic saltbush dukkah, a bush spices mix which is fantastically savoury, chutney and oils.
It's a big thank you and a kiss for a long lashed peaceful Murphy and then we are off. Our adventure has only just begun.
So tell me Dear Reader, do you think that it is wrong to climb Uluru? Would you or have you done it?
NQN travelled as a guest of Tourism NT
Sails in the Desert Hotel
Yulara NT 0872
Tel: +61 (08) 8957 7417
http://www.ayersrockresort.com.au/sails/
SEIT Kata Tjuta Tour & Bush Tucker Tour
www.seitoutbackaustralia.com.au
Tali Wiru Dining at Longitude 131
www.ayersrockresort.com.au/tali-wiru/
Uluru Camel Tours
http://ulurucameltours.com.au