I once got in terrible trouble at school for refusing to go to school camp. My geography teacher Mr Flanagan mentioned my lack of school camp participation in all of my school reports. Even after I had left high school, we bumped into him at the Easter Show and he still brought it up. Can I help it if the only thing I was mainly interested in eating damper around a campfire?
So when our dinner this evening is of the lovely, low key variety and I'm told it's prepared on a camp fire by Indigenous bush chef Bob Taylor, I'm nothing short of delighted. Because of time restraints, we're just doing half of Bob's Mbantua dinner and tour which usually starts with a tour of the historic telegraph station reserve and a demonstration of fire and bush setting. Instead we pull up at Simpson's Gap (although pick up and drop off is usually provided) and we see a fire crackling in the distance. On top of this sits camp oven and billy cans cooking away with tonight's dinner and the smell of the food makes my stomach rumble.
Bob is a straight shooting tell you like it is guy who is happy to answer anything that you might want to know. He tells us that he learned to cook as he was offered other trades but wasn't good at maths and cooking was the only option for him. Born in the N.T., he grew up in Adelaide-he was one of the "stolen generation" taken away from his Aboriginal parents at age 8 and given a new life in Adelaide with adopted white parents.
He is honest when he tells us that for him, it wasn't necessarily a bad thing. It afforded him access to education and opportunities that he may have missed. It also gave him a better life and as a child, having more money was not necessarily a bad thing. What he does object to is the way that while he was taken abruptly, he was turfed out just as suddenly and at age 16, he told that he had to make his own way in the world. However, since he didn't have the support of his parents or anyone else, it was sudden and harsh.
His pragmatic views are interesting and everyone enjoys talking to him. He also tells us that he lived in Holland for three years as an adult and that his father is a renowned watercolour artist. They are both Arrente people from Rainbow Valley where some of the products he uses are from.
While Bob prepares dinner, we help ourselves to wattleseed and bush tomato spiced macadamia nut which are crunchy and delicious. I think I've eaten half a bowl by the time we are done.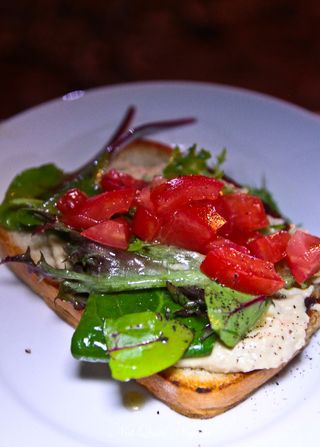 We take a seat around the roaring campfire while Bob prepares our next course of bruschetta. It's on a bread that he makes himself, but he says that it's no particular bread type or recipe. He tops this with hummus with lemon myrtle and native pepper, chunks of tomato and greens dressed in a lovely sweet caramelised balsamic and olive oil dressing. It's fantastic and the caramelised dressing adds a nice sweetness to the rest of the bruschetta. He also passes around some small semi dried bush tomatoes which are very good but so strong in taste. The semi dried ones are better than the completely dried ones but they certainly pack a flavour punch.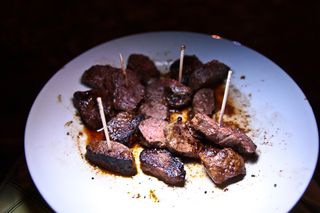 Next a plate kangaroo fillets is passed around. We're all comfortably seated in chairs around the campfire. It's a bit windy so Bob says that he's having some troubling getting the heat high enough but they are perfectly tender and delicious.
We pass around small cubes of camp fire toasted home baked bread with a wattleseed, native pepper and coriander dukkah and an olive oil that he infuses with lemon myrtle. We dip the lightly toasted bread cubes into the olive oil and the dukkah and it has a fantastic flavour with a little zing from the lemon myrtle at the end too.
Our main arrives and it is a bowl of tender beef stew with vegetables. Accompanying it is buttered vegetables and a sweet yam fritter and a relish strong with a fennel flavour. All perfectly cooked on the camp fire so that the beef melts in the mouth.
The puddings take about 15 minutes to steam and they're served in metal cups. Topped with a sweet caramel coconut topping, underneath is a lovely light white chocolate pudding studded with quandong and dried apricot and wattleseed. The predominant flavour is the apricot but you do get the occasional piece of quandong to balance it out as it has a nice tartness to it.
Everyone cradles a cup of tea or coffee and sits around the fire chatting to Bob and each other. Now if they had told me camping was like this, I would have gone long before...
Nowhere else is the issues that have arisen with the white and indigenous population more prevalent or addressed than in the Northern Territory. At the Karen Sheldon training and development school they strive to train indigenous men and women to ready them for the workforce. Cultural differences mean that some have struggled in the mainstream workforce.
Chris Callan, one of the training managers explain that as Aboriginal people are often very shy and looking at people in the eye is a sign of disrespect, this is often interpreted in the wrong way. Conversely being spoken to in a direct manner and being told to do something or finger pointing is something that they consider rude.
The Kwerrayle cafe (meaning "future stars") aims the be a training ground where they undergo a four week pre employment training where they will learn about conflict resolution, hygiene, OH&S, RSA (responsible service of alcohol), health & nutrition and life skills such a dealing with "humbug." This is where other members of their family or community will beg or demand them to share the money that they have earned.
They encourage them to keep two bank accounts - one where their pay is deposited and another where they keep only a small amount of money. An emphasis is made on allowing them to choose what they want to do and not pressuring participants to accept "white" values, instead doing what is best for them and their situation. The final aim is to get program participants into long term work and many end up going into hospitality whether it be reception work as well as libraries, mines or rangers. Importantly, after their time there, they mentor them for 3 months afterwards to try and make sure that the work is suitable for them and to answer any questions they may have.
We try the food which is brought to us by Nyukana who is one of the training program's success stories. At first, she was reluctant to work in front of house taking orders but now does it with ease. We try some saltbush quiche and it is fantastic-so good that I have four pieces! The savoury muffin is studded generously with flavour and spring onion and is soft and fresh. The chai latte is very good too with a good amount of spice and sweetness. We also try some sliced fruit and the wattleseed and berry muffins and these are lovely and soft.
After breakfast, we take a peek into one of the classes. People of all ages sit there with pens and paper and the majority of them are women. They're drawing elephants and this is to make the lesson fun-the elephant that they're drawing is related to today's lesson regarding the elephant in the room. That is how to deal when they are ignored at a shop or a Caucasian person gets preferential service or served first even though the Aboriginal person is next in the queue. Sadly, many of them have faced that very situation.
Some of them slowly open up and talk to us while others keep drawing but listening, occasionally nodding in agreement at points their classmates make. Tamara, one mother of four tells us about totems. A totem is usually an animal that they can't kill or eat. Sometimes totems are family wide, sometimes they are related to an individual person.
She tells us that when her mother was pregnant with her, the mother saw a perentie lizard cross their path.People started beating it and her mother felt labour pains and the lizard would only leave when her mother appeared. This was taken as a sign that the perentie lizard was an incarnation of her daughter and now Tamara cannot eat or harm perentie lizards.
Afterwards, we visit Tangentyere Artists Art Centre which has a fantastic range of Indigenous art. They have 480 artists on their books with 60-80 being regular attendees. They go to the centre to create art and the centre allows them to get a decent price for their work. 50% of the sale of the art goes directly to the artist and the remaining 50% goes back to the non profit centre.
They explain that Aboriginal art tells a story and sometimes they are made up of dreams. Some are split into four quadrant representing each of their four grandparents. Here they mostly paint on canvas or sometimes metal. They also paint on found objects like hub caps and bottle tops.
Afterwards, it's a short drive to the town centre of Alice Springs where we are left for an hour to explore the town. Although we aren't particularly hungry (especially after that delicious quiche!), we wanted to check out Monte's-something of a local institution also recommended by NQN reader Rachel. And when you think local institution might be something like a pub or cafe, you would be wrong in this case.
In Alice Springs, it is a circus carnival themed restaurant cafe that is a bit circus, cabaret and sideshow all at the same time. We spot it from across the road where we see a pair of painted eyes staring at us and we walk through the gates. A mural of painted velvet curtain greets us and we walk into what has to be one the quirkiest, most charmingly unexpected places.
The bar is to the back of the room on the right and above it is an array of mannequins and stuffed animals. Carousel horses are suspended above ornate mirrors. Booths are to the left and under the glass tops are a range of games laid out-we choose the Monopoly table. Barbies in various pole dancing poses hang from lights above fat, stuffed Chesterfield leather sofas. Every which way you look there's something else to take a photo of, be it the Barnum & Bailey posters or the elaborate paintings.
We choose a platter to share and it comes out quickly which is a good thing because we don't have long til we're expected back. There are toasted triangles of pita bread, a brie, a cheddar cheese, dolmades, olive tapenade, capsicum dip, roasted eggplant and capsicum and a deliciously dressed salad-the perfect item for sharing with everything fresh and flavoursome. Oh and another favourite thing? The David Bowie soundtrack playing!
It's sad to have to leave so quickly but our interest was peaked by this sign. We wondered aloud about the signs's meaning and a voice from behind us says "it's the best coffee in town." It's a customer of Cafe Gonzo and we walk into the cafe which is eclectic and eccentric. I've often asked if it is ok to take photos but I've never been answered with "absolutely, would you like a nude one?" and the owner Kam poses as if he were a naked statue.
As time is of the essence we get a takeaway latte-it's a very good one indeed. He uses a blend of beans from Melbourne and local ones. And before we go, I have ask him about the sign outside and he tells us that he didn't want to boast that he the world best anything!
A little further down the mall is Page 27 where we have breakfast one day. The cafe looks as if it would be right at home in Sydney or Melbourne with a mix of modern and vintage furniture from painted metal chairs, milk bar tables and a coffee machine table.
I opt for the vegan breakfast for something lighter as we've been eating quite a bit these past few days. For good measure, and perhaps not very wisely given that the temperature has dipped to 16C, a cold fruit smoothie. You order and pay at the counter and it is cash only. Service is friendly and laid back.
The drink arrives and it is fresh and full of tropical fruit-I can taste mango and banana for the most part. It's also quite cold and that's my fault to choosing a chilly frozen drink while it is cold so I don't get to finish it all.
The vegan breakfast comes next and on the plate is some avocado, half a cooked tomato, slices of delicious tofu which are soft and well seasoned, sauteed mushrooms and beans. Two pieces of toasted white baguette come with it. It's perfectly fine and I particularly like the tofu.
I try some of Leena's flourless orange and almond cake which is moist, sweet and heady in orange with the inclusion of whole oranges.
Later that evening is the final dinner at Alice, our last before we head back to our respective homes all around the world. The weather today is vastly different from just a couple of days before where it was a sweltering 38 degrees-today with temperatures of 24-26 degrees it is much cooler and when we walk through the Desert Park, it looks and feels as if it were a completely novel place to us and that we hadn't treaded these floors before.
The Bushfoods gala dinner is part of the Alice Desert Festival. Chef Bryant Wells from Brisbane's Tukka restaurant has flown in for the event. He specialises in bush foods at his restaurant which he says must be used in the correct quantities in order to bring out the correct flavour. An example is wattleseed where people tend to use too little-the resultant flavour is often unimpressive whereas if they added more, the flavours really come together. His West Brisbane restaurant's 9 x 8 metre garden is where he grows some of the bush foods fresh. On tonight's menu are some items that I haven't yet tried including possum and emu!
We start with some bush dukkah with lemon myrtle olive oil and a caramelised vinegar. The dukkah is quite sandy with some sesame seeds, lemon myrtle and a bit of macadamia-I think some more nuts would have been good as the other dukkahs that we'd tried and really enjoyed on this trip had a good proportion of nuts.
Our first course, an amuse bouche of possum was served. I was so curious about this as we never seem to see possum on the menu and Bryant told us that it is a dish that they can't remove from his Tukkah restaurant menu as it is so popular. The possum is a brush tailed possum from Tasmania as they are considered a pest there while they are a protected species in the mainland. According to Bryant, it is to rabbit what duck is to chicken, that is, a richer version. It comes out on a small toasted piece of house made brioche with a Davidson plum relish and a small piece of possum meat on top. I try a little by itself as the Davidson plum relish is very strong and tart and can overwhelm it. It reminds me of a corned or boiled beef although with a slightly fattier texture.
There is a commotion in the corner and we notice that there is some judging taking place. Three local food identities Rayleen Brown, Lisa Parry and Bec Gooderham are judging the finalists of the bushfoods competition.
On offer are a breakfast muffin topped with a kangaroo tail patty and omelette, bush bliss balls with wattleseed and bush tomato and chocolates filled with bush tomato or bush raisin. We get to try some of all of the entries and the kangaroo tail is interesting, reminding me of oxtail.
The bliss balls are crunchy and coated in sesame seeds and whole wattleseeds which resemble black sesame seeds and the chocolates are divine with the crunch of the dried bush raisin inside that ends up tasting like a praline in amongst the chocolate.
Daintree vanilla bean cured crocodile fillet cooked Sous vide and served with cider braised pears and a tangelo and wattle seed emulsion.
But back to the dinner menu! The next course was crocodile with diced pear. It is served fridge cold and sliced thinly like a white fish sashimi. I've usually only had it in pies with a lot of sauce so this is interesting to try on its own. The crocodile is a little dry and it doesn't have a lot of flavour so it needs the tangelo and wattleseed sauce. I didn't go for the pairing with the diced pear and there was a lot of it!
Bryant has introduced every dish and he warned us that the emu was a very lean meat so we should slice it very thinly. It is served rare with a celeriac puree and halved roasted baby beetroots. The emu reminds me of venison and I hit some sinewy bits but the flavour is pleasant and very much like venison.
Hennessey roasted strawberries topped with a pepper berry meringue, sugarbag honey and goats cheese sorbet with a toasted macadamia bread
What ended up being my favourite course was the pepper berry meringue which reminded me of a soft lavender meringue cloud that was lightly toasted. It was paired with sweet roasted strawberries, a dollop of cream and a lovely lemony goats cheese sorbet.
One of the finalists, the second runner up Sue Woods brings around a platter of her chocolates. Among the shapes, there are some gorgeous molds including a kookaburra, wombat and wallaby. I pocket one of the kookaburra to take home for Mr NQN. Otherwise he may not believe me about the adventure that I had ;)
So tell me Dear Reader, have you ever tried possum or crocodile and would you if offered?
Lasseters Hotel Casino
Barrett Drive, Alice Springs
Tel: +61 (08) 8950 7777
RT Tours Mbantua Dinner Tour
Tel: 61 (08) 8951 8788
http://rttoursaustralia.com.au/3-mbantua-dinner-tour.html
Kwerralye Café
6 South Terrace Alice Springs
Tel: +61 (08) 8953 4004
http://kwerralyecafe.com/
Tangentyere Arts Centre
4 Elder Street, Alice Springs
Tel: +61 (08) 8951 4241
http://www.tangentyereartists.org.au/
Monte's Lounge
Corner of Todd Street and Stott Terrace, Alice Springs
Wednesday to Sunday, 11am-late
http://www.montes.net.au/index.html#middle
Kafe Gonzo
10/76 Todd Street Alice Springs NT 0870?
Tel: +61 (0) 415 336 314
Page 27
3 Fan Arcade, Alice Springs, NT 0870?
Cash only
7.30am-3pm Tuesday to Friday, Saturday 8am-2.30pm, Sunday
8.30am-2pm