It's heat that you can practically see. The kind that melts views in the distance and causes you to blink several times and reach for water to quench parched mouths. We arriving in Alice Springs at midday and anyone that has any sense is inside so the streets are empty with cars on the street waiting for owners to collect them.
A plaintive bowerbird calls in the distance. For those unfamiliar with bowerbirds, the male of the species spends hours collecting and arranging items of certain colours to attracts mates to their bower or nest. This bowerbird has collected the most curious mix of white and grey objects and the pink necked bird makes his calls from the thick of the tree.
Hungry stomachs must be attended to so we enter Bean Tree cafe nearby where we order a quick lunch to take away but end up eating outside. I get a little bit excited when I see that there is deep fried possum on the menu but find out that it's a joke. Instead, I choose the kangaroo salad which comes out shortly afterwards.
The wild rocket is fresh, the native pepper berry spiced kangaroo tender and perfectly cooked and there is a light dressing. On top is a sprinkling of macadamias, crumbled garlic, shallot chips and sunflower seeds to give it flavour and crunch and a generous serve of sweet roasted beets and tiny lemon myrtle labne balls.
We're fading fast in this heat-the heat of Uluru was a dry heat and much more tolerable but today's freak heatwave saps everyone. Well everyone that is, except for our guide botanist and plant records officer Scott Pullybank at the Desert Park who eagerly takes us out to have a look at some of the 360 varieties of plants that are grown here on this manufactured desert park with 52 hectares of public space and over 1,000 ha of overall land.
They started the park in 1996 and brought in truckloads of red sand to create this desert environment. Each area of the desert park is based on a naturally existing area and they have mimicked the plantings that occur naturally. We go looking for some bush foods which include bush bananas.
The bush banana flowers taste like a dry  version of snow peas. Bush potatoes are high in water and this is where the Aborigines used to get some of their water supply. The most popular is the bush cucumber which is a small, smooth skinned little fruit.
The skin is thick and quite tough and squeezing it between your fingers is like squeezing a small inflated ball. The taste of the fruity pulp inside is like eating a salad with cucumber and tomato. I could snack on a bowl full of these. Scott tells us that a lot of bush foods have a bitter taste which is not a flavour profile we see a lot in Western cuisine.
We settle into our hotel for the next few nights, Lasseter's hotel Casino named after the business man and speculator Harold Lasseter. The outside is a slightly dated salmon pink and green colour and we're shown to our rooms in their newly refurbished wing, number 5 just past the pool. The rooms are brand new, clean and with a large king sized bed with a good range of soft and firm pillows, large flat screen tvs, a good sized working desk and sliding doors that look out onto the garden and pool (although at the time , they were obscured by bright orange "keep off the grass flags" which didn't contribute greatly to the look). But guess what? There's free, fast and easy to connect internet throughout the entire hotel! Hooray!
The bathroom is also new with a large shower and two shower heads-a monsoon and a massage head, although there's no bath. There is shampoo, conditioner, body lotion, cotton pads and tips, shower cap and sewing kit which are all quite good. There are a good amount of light switches conveniently and logically placed and it is a solid four star hotel, at least as far as the new wing is concerned. I did find the other room doors opening and closing very loud and I seemed to have the misfortune of having a very noisy family right next to me and I learn that the walls are quite thin in this new wing.
Having had two 4am rises with 45 minutes sleep one night (the excitement after the concert rendered me unable to sleep), all of us were itching for an early night. This was a free night where we could choose whatever we wanted to do at our own expense. I must admit that the idea of room service did dance in my mind for a moment but when we were recommend Hanuman which is about two minutes walk away we all decided to take the short walk there.
Hamuman is one of Jimmy Shu's restaurants. He is a big name in the N.T. and his blend of Indian and Thai cuisine - not together,  has proven popular. His emphasis is on Thai, Nonya and Tamil flavours. Service is friendly and they give us some recommendations and the food arrives shortly after.
Trumpet mushrooms topped with a fine mince of pork, prawn (imported) and spices warmed with coconut cream sauce $17.50
Completely not what we expected presentation wise, these were small, soft balls of finely minced pork and prawns on top of a layer of trumpet mushrooms and coconut cream. They were topped with a slice of chilli coriander. One word? Divine!
We were very pleased with our choices and there wasn't a dud dish among them. The prawns were large specimens and cooked in a thick coconut and wild ginger curry sauce.
Only Leena had heard of meen moolie before, a Keralan dish with soft wild barramundi fillets with a light, creamy sauce of turmeric, fresh curry leaf and coconut. This was one of my favourite dishes, the cubes of barramundi tender and the delicate sauce perfect for rice.
Red curry of duck roasted then simmered in a rich coconut and red curry sauce with thai basil, kaffir lime leaf, lychee and fresh pineapple $27
The boneless red curry was thinly sliced and served in a red coconut curry with Thai basil, kaffir lime leaves, enormous lychees and fresh pineapple. Whilst I really enjoyed this, I enjoyed the idea of the prawns and the meen mooli more as they were a bit more novel.
These were soft rice noodles redolent in oyster sauce and rice wine with a sweet aspect to them. Egg omelettes, Chinese greens and generous, large slices of beef tenderloin came with it.
There's no time for dessert as more work and bed beckons and we go back to our rooms.
The next morning is a trip out to the historical area of Hermannsburg. With a temperature of 38 degrees expected we pack plenty of water and sports drinks and take the 1.5 hour drive there. Hermannsburg is famous for a few things, firstly for being the first Aboriginal mission in the N.T. In 1877 Lutheran missionaries from Germany arrived to spread the word on the religion.
It is also famous for one of its most important residents - world renowned Aboriginal artist Albert Namatjira was born in Hermannburg. His talent at painting watercolours "whitefella" style started at the age of 35 when a painter Rex Battarsbee hired him to be a camel boy and to show him locations in the area that he could paint. He demonstrated his abilities and before long, was exhibiting alongside Battarsbee. His first exhibition sold out completely and he went on to become one of the most sought after and renowned artists in Australia and his meeting Queen Elizabeth II set Australia and the town of Hermannsburg abuzz.
On the way to Hermannsburg, along the West Macdonnell ranges (which from an aerial view resembles a processional caterpillar), we spot at the spot where his famous two ghost gums painting was painted. Sadly the gums appear to be dying and a rock signifies where Albert would have sat and painted the painting.
We also pass a memorial rock for Sir John Flynn who pioneered the vital Royal Flying Doctors Service which allowed people in remote areas to access information and medical help.
Arriving at Hermannsburg, we alight at The Precinct which is an area of the community which is open to visitors. Here, there's the Kata Anga country style tea room at Strehlow's House that serves lovely locally blended teas and apple strudel of all things! We wander around the homestead which has a little shop while they prepare our food and tea.
Each of the eight teas available are to lovely and distinct, it's hard to pick one. I try a cup of 'honey bee' tea which is fragrant with honeybush, lavender, vanilla and jasmine.
The apple strudel is soft and tender crusted and baked daily on the premises. Inside the strudel is small diced apple and large chunks of apple, yet they are all the same consistency. Served with ice cream and or cream, it's a lovely strudel and well worth making the stop for. And where did they get the apples from those many years ago? They were brought from Adelaide as a special treat.
The scones come two to a serve with jam and cream and are also soft and warm. The other rooms in tea room are full of interesting pieces of history. A bronzed figure of Albert Namatjira features in one room along with a book on his history. Another building is also worth a visit-it's not well signposted and part of a private building but it is a gallery of his work along with the work of his descendants and relatives.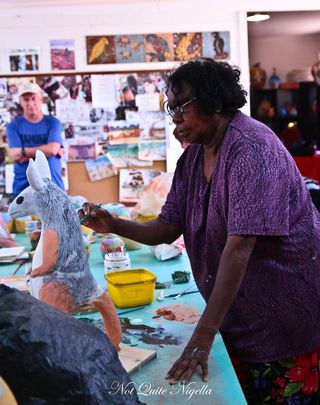 Across the way is Hermannsburg Pottery which is one of many indigenous workshops across the country that help to bring Aboriginal art to the rest of the world. It allows the artists to be paid fairly for their work. Traditionally, men made clay figurines but over the years here aboriginal women such as Judith, Irene, Hayley and Rahel here have made the art works. John and Veronica Rigby assist the artists in order for them to bring their artwork to the world.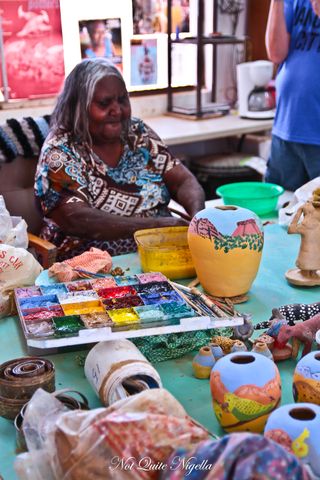 They have exhibited across the world in almost every country of the world. John who manages the studio, tells us of taking two of the artists to Shanghai where they would wake early in the morning to go "walkabout." They never got lost but he remarks that people were always kind to them and helped them back to the hotel. What is sad is that a lot of Aboriginal artists nowadays seem to be of the older generation and that it is a skill that is slowly being lost.
Some of the ladies here who grew up during the missionary days offer an interesting perspective on it. They actually wished that the missionaries would come back to teach the current generation about working hard as it instilled a work ethic within them that they don't currently see with the children.
After we bid the ladies goodbye, we are on our way again. About an hour away, and given that the two closest towns are two days away so yes there are long stretches of driving, is Ellery Creek Big Hole which is a large waterhole where you can go swimming. There are picnic tables where our driver Laurelle from AAT Kings sets up our lunch which is a light one today-salad, quiche, fresh fruit and juice boxes.
I have forgotten to bring my swimmers so I dip my feet in the water which is surprisingly cold. Braver or perhaps hotter souls than me go swimming in the waterhole which is fed by Ellery Creek. It's a perfectly surprising day.** **
So tell me Dear Reader, if you could collect any artist's work, who would it be? And do you think you would enjoy living in the outback?
NQN travelled to the Northern Territory as a guest of Tourism NT. Meals at Bean Tree Cafe and Hanuman restaurant were independently paid for.
Bean Tree Cafe
Lot 1286/Tuncks Road Alice Springs NT 870, Australia
Tel: +61 (08)8952 0190
Alice Springs Desert Park
Larapinta Drive Alice Springs NT 0870
(08) 8951 8788
Lasseters Hotel Casino
Barrett Drive, Alice Springs
Tel: +61 (08) 8950 7777
Hanuman Restaurant
Crowne Plaza Hotel, 82 Barrett Dr Desert Springs NT 0870, Australia
Tel: +61 (08) 8950 8000
AAT Kings Palm Valley and Hermannsburg Tour