I hand over a $5 bill at the airport shop and the woman behind the counter smiles at me broadly, hands me the change and my bottle of water and with much enthusiasm, tells me "Well may god bless you today!" before serving the next customer.
I had forgotten how interesting America can be and Mr NQN and I are visiting the tropical U.S. state of Hawaii for the first time. Starting in Maui, there were the signs: the chickens underneath the rental cars, the cars with their enormous wheels that jut out from the sides, a sign for Mr Pineapple and a Guns and Ammo shop that we were in part topical paradise, part U.S. of A.
I had already researched where to go for dinner for the evening of our arrival. Scouring my friend Carolyn's blog for Maui's best places to eat, I had made a classic rookie mistake-forgetting how generous the serves are in America. We're at Leoda's, a local's favourite on Oloewalu Village Road. Leoda is a woman who used to bake pies and open up her house to everyone.
Leoda
Pictures of a Leoda, (not the original one but one of the owner's mothers) and Mrs Fuji, their 100 year old landlady, line the walls. The food is comfort food, Hawaiian style. Think hoagies, enormous burgers sandwiches with fabulously fresh, wholesome, house baked bread (even their hot dog buns are baked there) and the sweetest high piled pies your fantasies could ever conjure up. The team including Top Chef contestant Sheldon Simeon, learned how to make bread at Zingerman's in Ann Arbour, Michigan.
Mrs Fuji
I had also forgotten how good service is in America. So much so that I think Mr NQN is a bit taken aback at how helpful they are here. The poor dear, he isn't quite used to the enthusiasm. At Leoda's, you choose from the blackboard menu and pay and then take a seat in the home style beachhouse dining room.
Home brewed tea $8USD
Choosing is hard, there are some covetable options and in the end we go for a sandwich each, a side to share and a last minute addition, a salad. They've sold out tonight of the sweet pies except for some sweet hand pies so we make a mental note to come back another day at 10am when the display case is full. We start with a home brewed tea, unsweetened and medium strength. We both expected this to be sweet but it's probably a good thing that it isn't, especially if you order a sweet pie at the same time.
Veggie burger $10.50USD
Leoda's uses local, fresh produce and there's a chalkboard with details of their local suppliers on the right. We're sold on the veggie burger made with their garden's own taro. They have sold out of hamburger buns so they ask us what sort of bread we'd like. As with all things American, there are so many choices that we just end up picking the one that they recommend, a soft white wheat bread. The veggie patty is softer and they warn us of that but having made veggie patties at home, I know that some of the tastiest and softest vegetable burger patties are this way. The bread is wonderfully soft but still sturdy and spread with basil pesto. The taro veggie burger sits on top and then it is finished with garlic aioli, Maui sweet onions, tomato and lettuce. It's devilishly good and I'm glad that we ordered it.
Roast pork hapa hoagie $11.75USD
The hapa hoagie roll is soft and squishy and holds a generous amount of soft, seasoned roasted pork, spread with ham drippings (mmm, yes!), a layer of sauteed broccoli rabe and a slice of melted provolone. The real gangbuster ingredient is the garlic, so much so that it's like garlic bread mated with a sub sandwich and produced a most beauteous offspring.
Fried mac and cheese $5.75USD
This was a side dish and I figured that for that price, it would come out as a small portion. But it was as big as an entree in Australia with seven or eight pieces of macaroni and cheese, crumbed and deep fried until golden, served with a house made marinara sauce. Crunchy on the outside and creamy and soft on the inside, this is what you turn to when the world has done its worst and you need a hug. Or a coronary ;)
Fried salad $6.75USD
I thought about this salad for a while before deciding to order it and figured we could take it away if need be. It's a butter leaf salad with celery leaves, radish and mint and topped with paper thin, delicate crisps of deep fried brussel sprout leaves. And how do the fried brussel sprout leaves taste? They remind me of those moreish kale chips. The killer accompaniment is the burnt orange dressing which is a bit sweet and sour.
Plans are made to come back another day for pies. And to share just one pie, the banana cream pie. A few days later, we stop by and put some pies on hold. I'm pleased to see that the much raved about banana cream pie is there and for good measure, I also take a chocolate mac nut pie on their recommendation but in a smaller size. Just because... ;)
Banana Cream Pie $8.50
The banana cream pie has a bottom layer of cookie crumbs topped with sliced banana, vanilla custard and a topping of something like Cool Whip, which I've only tried on a few occasions but it's a dairy free cream substitute. I must admit that I'm not a huge fan of Cool Whip at all as I prefer the taste of fresh cream so I burrow underneath the thick, white cloud-like layer and eat the treasure underneath.
Mini Mac Nut Chocolate $4.75
The mac nut is popular as a flavour not just because macadamias are grown so much on Hawaii. This pie has a crumbly chocolate base with a layer of caramel, chocolate pudding, cool whip, macadamia nut pieces and chocolate shavings. It's just the right size too as it is so rich that I don't know if I could eat a whole thing. But of course, I'm willing to try ;)
Marilyn's Maui Country Farm Tour
Three years ago, I first met Marilyn Jansen Lopes on this little site called Twitter. It's funny how oceans and miles can be lessened by the evolution of technology. Marilyn, who first arrived on Maui in 1973, is a blogger and a tour guide in Maui, who would start her tweets to me with an "Aloha!" which seemed entirely fitting. Little did I know that three years later, I'd be sitting in her vintage Mercedes being shown a farm tour of Maui. Maui is a large island and driving distances between areas are long so seeing it by car is definitely the recommended way.
Farming on Maui? "Don't they ship everything in?" I hear you ask. Once upon a time, the native Hawaiians made use of the land but more recently, they have become so reliant on produce that comes via the ships that they can only last a few days without it. So Marilyn's aim is to highlight some of the 800 farms on Maui and bring a pride and awareness of the local producers.
The Hawaiian flag on the right with the Union Jack-the only U.S. state to feature the Union Jack (from when it was under the influence of the British Empire)
Did you know that Maui has two distinct vegetation sides to it? A dry side where the ground is brown and dry with dead trees and then the opposite with expanses of lush, green areas? It's this duality, split down the sides of the mountains that contributes to the frequency of the ever present rainbows.
Yellow Caturra coffee bean
Hawaii is known for the Kona coffee but on Maui, there are four types of coffee beans that are grown: Maui Mokka (which is only grown here and in Yemen), Typica, Red Catuai-said to be the cabernet of coffee and Yellow Caturra, a spicy flavoured bean. And at MauiGrown's 500 acre estate on the West Maui Mountains, they grow all four.
Coffee bean sorting trays
Tastings of the coffee are available at their store on Lahainaluna Road. We try each of the four blends and they taste vastly different from each other. There are also interesting added value items like coffee jam and coffee jelly-the former is a mix of espresso coffee, sugar and pectin.
"It takes 22 hands and 28 beans to make one cup of coffee" Greg Stille, Piliani Kope farm
There are 32 coffee farms on Maui and 8 coffee businesses. We head towards the mountains to reach Piliani Kope farm where Northern Californian grocery chain owner Greg and his wife Susy changed their lives to be able to live in Maui. He is a cancer survivor that took stock of his life and found a way to produce coffee and live on Maui using wild coffee trees.
In 2004, they bought a piece of land and were hiking in nearby Launiupoko Gulch when they came across some wild coffee trees. Coffee was considered an invasive crop so they were given permission to remove as much of the heirloom Kanaka Kope trees as they wanted so they planted them in their coffee orchard.
Organic defence: ladybirds
The coffee trees are stumped at knee height so that they grow more side branches instead of their natural vertical inclination. The ground is planted with a clover crop which provides nitrogen to the soil and they also plant companion or complementary trees like papaya, Hawaiian chilli pepper (which is quite spicy), ice cream fruit and most intriguingly cacao trees. I've never seen a fresh cacao pod from a tree and Gary splits one open and we try the cacao pods which have the distinct smell of well... chocolate of course!
Cacao pods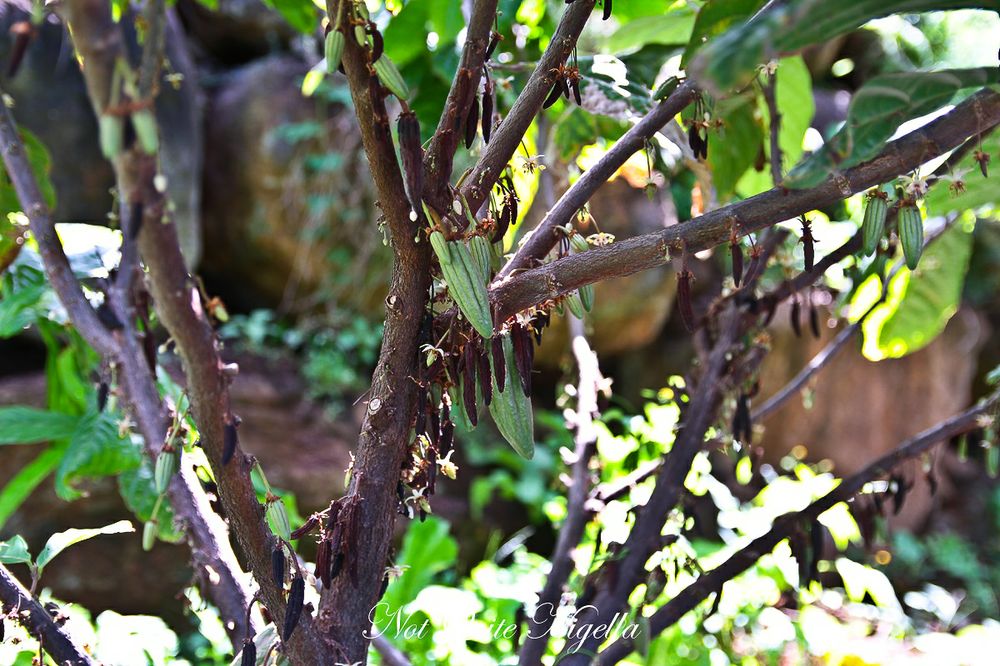 Cacao pods starting to grow from the branch
Greg is also experimenting with a sought after and highly regarded coffee called the Panama Geisha which I tried at Joe Black in Sydney a few weeks ago as a siphon coffee. Picking of their coffee beans is all done by hand and they employ permaculture practices to look after the land. On a tour with Marilyn, we'd normally break for lunch around now but we decide to take a trip to Mama's Fish House instead (look for that in an upcoming story ;) ).
If you'd ever think to farm a crop, lavender would have to be up there. Hardly needing irrigation, with perennial varieties, it was the perfect crop for the high elevation at Kula, where AKL (Ali'i Kula Lavender) farms are located. And the views at 4,200 feet on the slopes of Haleakala crater? Astounding. They have picnic tables on which you can sit and a cafe and gift shop with every thing you could possible think of made with lavender.
Here, they grow three types of lavender: French (mostly used for culinary purposes), English (for cosmetic) and Spanish (for decorative purposes). The plant lasts commercially for 7-8 years although a plant can live up to 15 years, and it is a natural pest repellent (it even repels deer). Simply rub your fingers on the flower to release the perfume.
The farm is also the first to grow olives and they grow a range of items including these Australian wildflowers-look familiar?
Schwartzkopf succulent
There are five house guided tours daily at $12USD per person and each tour takes about 45 minutes and you can gather up flowers from the cuttings that the guides give you or you can visit with Marilyn where she will conduct her own tour. After we finish looking around the grounds, we stop in for a scone and a cup of lavender tea and coffee. On certain days, they also have scavenger hunts for kids which allows parents to relax in the cafe.
The scones are all baked daily by Jeanne the Bread Lady who lives nearby. To make lavender scones of your own, you can also use the stalks of the lavender as well as the head and here in America, they are shaped into triangular shapes, as opposed to the round scones we have in Australia and England.
Scones $3USD and lavender tea $2.50USD
The scones are beautifully fresh and they offer toaster ovens outside in which to heat them up. We spread them with the butter and their lavender and liliko'i or passionfruit jam and sit back and admire the view. A spot of shopping later and I have some of the strawberry and chilli pepper jam which tastes like strawberry jam at first before a zing of chilli hits you.
Our final stop in our Up Country tour with Marilyn was at a winery which seems like a fitting end. We pass by the area where Maui's most famous resident Oprah Winfrey lives before we reach Maui Winery in Kula. Set on the grounds of Rose Ranch, it is Maui's only winery. Before the tasting room is a fascinating room that documents the history of King David Kal?kaua (or the Merrie Monarch) and his relationship with the Makee family who planted sugarcane and had six very socially sought after daughters. King Kal?kaua and his Queen Kapi'olani loved the estate so much that they were frequent visitors.
Their specialty is pineapple wine with three varieties being sold. It sounds obvious to say that it smells like pineapple but that it does. Their Maui Splash is their best selling wine made from pineapple and passion fruit and is very sweet but not quite a dessert wine. A little drier is the Maui Blanc. Grape varieties like a syrah are used in the estate blend and they also grow chenin blanc, chardonnay, malbec and viognier in the high altitude rich, volcanic soil. Samples of pineapple snow, a white chocolate confection with pieces of macadamia nut and Maui Blanc Pineapple Wine is sweet and unusual and makes a good gift.
Our tour ends with a last farewell from Marilyn. Taking out her ukelele, she sings "Stand By Me" followed by a Hawaiian song "Little Grass Shack" to two broadly smiling Australian visitors and gives us copies of her three lovely books and a logo top. It's a warm welcome to Maui indeed.
So tell me Dear Reader, have you ever been to Hawaii and if so, what did you think of it? And which country do you think has the best service?
NQN travelled to Hawaii as a guest of Hawaii Tourism and Hawaiian Airlines. For the Country Farm Tour, she was a guest of Marilyn's Maui Country Farm Tours. The meal at Leoda's was independently paid for.
Leoda's
820 Olowalu Village Rd, Lahaina, HI 96761
Tel: +1 (808) 662-3600
http://www.leodas.com
Maui Country Farm Tours
Tel: +1 808 283-9131
P. O. Box 278 Makawao, Hawaii 96768