I've learned three things about dining out in Hawaii.
People are really friendly and it is not uncommon to see one table of people talking to another.
Water glasses are about two thirds ice and a third water.
Never underestimate a Hawaiian American Sunday Champagne buffet.
Mr NQN and I staying at Ka'anapali resort Hotel, billed as Maui's most Hawaiian hotel through its extensive program of cultural activities. Alas, we've missed the hula competition as it was on the day before we arrived but we partake in the food aspect of Hawaiian culture with Ka'anpali's Sunday Champagne brunch.
At first, when we walked in and were seated, I saw a couple of tables worth of food and didn't quite see what the fuss was all about. They poured us champagne (or actually a sparkling wine called Barefoot Bubbly) and the proceeded to keep filling it throughout the time we were there.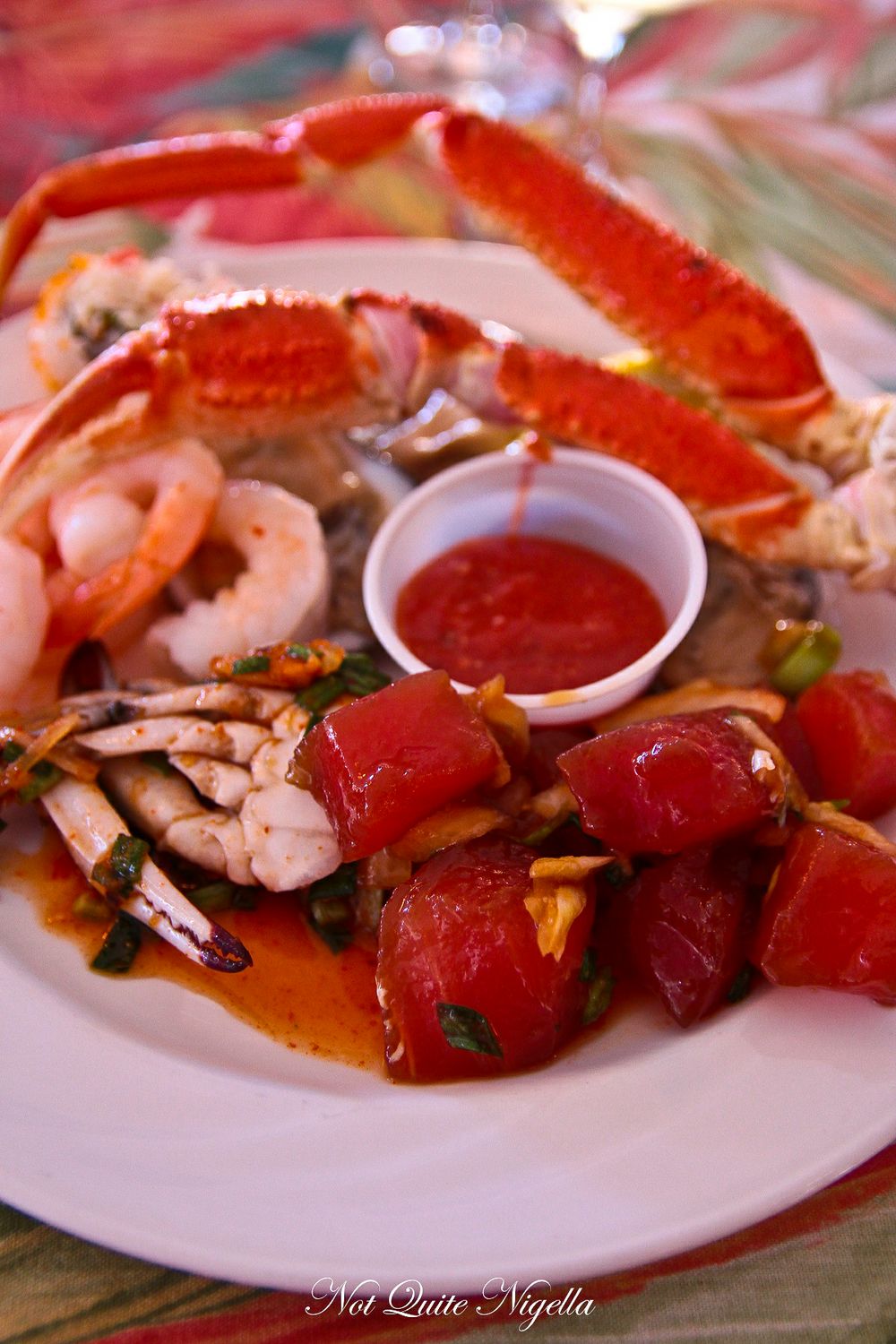 Seafood including ahi poke, crab and prawns
We got up to have a look and that's when I spot another room. The room for the serious buffeters. It's a large room that reminds me of a conference centre room but with an enormous amount of choice. The seafood features oysters, peeled prawns, two types of crab and sushi. For meat eaters, there's lamb, standing rib roast and a leg of pork. Past this is a range of about 10 desserts in duplicate, a selection of salads which end up being my pick and then about 15 hot dishes, including some Hawaiian specialities.
There are a few similarities between Hawaiian cuisine and Maori given their shared Polynesian origins and the luau leaf wrapped dish was very similar to one I had in New Zealand. It's really an exercise in quantity but I do like the tuna poke-poke being that very Hawaiian dish where sashimi grade fish is cut into cubes and seasoned with flavours like soy garlic and sesame.
A live Hawaiian band comes over and interacts with the crowd and hula dancers gracefully move - it's actually very relaxing watching their dance as they move easily and gracefully, their fingers and wrists moving in unison.
Afterwards, we go for a stroll along the beach which stretches the length of all of the hotels that sit side by side. We watch as cliff jumpers jump into the bluest of the blue water. The water is full of people towards one end while boats gather people around them at other points along the beach.
Our rooms at the Kaanapali are acceptable but are in need of an update and the grounds are more the attraction than the rooms. The grounds are immaculately groomed, with plenty of chairs and opportunities to laze around. Service from the staff is very good and comes with a smile.
We take the short drive to Front Street in Lahaina, about five minute's drive away. This is the area where you head if you want restaurants, henna tattoos, bikinis and souvenirs It's a pretty area with the waterfront street lined with American flags. The prices for clothing are surprisingly around the same as you would get in Australia. It is more expensive to buy items in Hawaii than the mainland as things obviously need to be shipped here. Although intriguing items like red salt and the ubiquitous macadamia nut are in plenty of supply.
The sunny weather makes us yearn for a shave ice and we stop one of the many shave ice stores for a bowl of shave ice. You can up to three flavours and for an extra 50c, they will add some sweetened condensed milk. I know that they're artificial flavours that come out of a bottle but there's little more refreshing than the combination that we have: root beer, mango and guava, the mango being the favourite and it's the perfect late afternoon sustenance in the sun.
Our dinner that evening is at Gerard's, a French restaurant in Maui that is housed in a lovely plantation style building in front of the Plantation Inn. Inside is more of a floral wallpaper theme and lace curtains while sitting outside is the pick as fans turn and the Maui breeze soothes. There's a relaxed plantation style vibe and the building has stained glass accents, French accordion music playing. The Hawaiian French combination is echoed in certain dishes on the menu whilst the rest are classical French.
Apologies for the blurry image, it was one of those unexpected moments when we didn't expect a fisherman to come through the restaurant with a fish!
French born Chef Gerard Reversdale has a television profile having been featured on The Great Chefs of America on Discovery and Country Cooking on P.B.S. He supports local business by only using produce grown on Haleakala by local farmers and fish from local fisherman. As if to demonstrate the point, there's a squeal of bike bakes and our waiter whispers to us that there is about to be a fish delivery. Sure enough, the fisherman unwraps an enormous whole Mahi Mahi fish from a towel and carries it through up the stairs and through the restaurant.
Amuse bouche-pork rillettes
We start with a tasty little morsel, the amuse bouche of pork rillettes which also features on the menu. It is served on a crouton with split cornichons.
Ahi Tartare with Taro Chips $16USD
For appetisers, we try two of the restaurant's most popular dishes. The first is a tuna tartare which is given the same treatment as a steak tartare with a balance of seasoning and flavours from capers to Tabasco and this is served with Aina Lani Farm micro greens and salted homemade taro chips that are like giant round potato chips. Both two steak tartare lovers, the tuna tartare is no second choice or runner up and I make plans to make something similar at home.
Seared Foie Gras Medallions $24USD
The foie gras is succulent and seared on the outside. It is rich and heady with five spice and comes with a sweet French toast, macadamia nuts and Pohà Berry compote.
French Onion Soup au Gratin $14USD
I wanted something quite light for dinner as I was still full from today's brunch so I decided to go for the French onion soup. This is cooked to order and takes 30 minutes from placing your order to arrive at the table. It is a light beef broth with a tangle of soft onions underneath a slice of bread and bubbled, melted gruyere and parmesan cheese. I usually make mine quite rich and dark with red wine but this lighter version fits the warmer weather.
Locally caught Hawaiian Snapper $39USD
The locally caught Hawaiian snapper was roasted in savory olive oil, and accompanied with a fennel fondue, potato and carrot puree and emulsion of orange and ginger. Mr NQN loved the sweet orange and ginger but I really preferred just the diced fennel fondue and potato and carrot puree with the moist cooked fish as I'm not much of a sweet with savoury person as he is.
Pineapple tarte tatin $12USD
By the age of twelve, Chef Gerard was baking croissants from scratch so when they tell us that the tarte tatin is made with pineapple from his garden and house made puff pastry, it's a no brainer. I know it's good from when it is set in front of me. The caramelised puff is high and the aroma of butter is absolutely intoxicating. This is when Mr NQN and I swap desserts back and I eat every last crumb from the plate.
Gerard's homemade Sorbets Rhubarb compote, strawberry jus, macadamia coconut cookie $12USD
Mr NQN was doing that thing-you know when he tries to psych me out by telling me something is terrible because he wants it all to himself. He tried it with the home made sorbets. I try the three flavours: coconut, guava and passionfruit and they taste just the way you want a sorbet to: of pure, sweet fruit. They're served with a rhubarb compote, strawberry jus and a coconut and macadamia macaroon biscuit. A perfectly sweet end to a relaxing day.
So tell me Dear Reader, do you enjoy buffets or a la carte? And what is the most extensive buffet you've been to?
NQN travelled to Hawaii and a guest of Hawaii Tourism
Kaanapali Beach Hotel
2525 Kaanapali Parkway Lahaina, HI 96761
(808) 661-0011
Gerard's
174 Lahainaluna Road Lahaina, HI 96761
(808) 661-8939