Before visiting Maui, I had no idea how much of a driving destination it was. It seems that everyone else is clued in on this little secret, with so many Mustang convertibles we slowly lose count. Maui's silvery Pacific Ocean glistens resembling the silver skin of a fish and then later on, we watch as the white caps appear through the bright blue of the ocean.
It's over an hour's drive to get to the North Shore of Maui and the area of Makawao from where we are staying. Well, that is, if you take the right route and don't stop off at Leoda's Kitchen and pies to reserve yourself a pie on the way home. Research, darlings research!
We were armed with a "Road to Hana" picnic basket from our hotel, the Sheraton Maui. The 5 -6 hour drive each way to Hana is said to be one of the most popular tourist activities but we didn't know about it until too late and we didn't have a whole day to spare so we decided to stop and have our picnic on the way.
So there we were, me giving Mr NQN directions, listening to Bob Marley and Michael Jackson on the radio and just hoping we were going in the right direction. Thankfully, the drivers in Maui are relaxed and friendly and Mr NQN finds it exciting when people beep their horns when they go through tunnels. He's funny like that.
We stop at the North Shore's Ho'okipa Beach Park which was to keep Mr NQN happy. It's considered the windsurfing capital of the world and he is a keen windsurfer so he wanted to watch them criss crossing the water. The lovely Marilyn from Maui Country Farm Tours had shown it to us just yesterday and we had noticed the picnic tables so we set up camp there. Just past this town is the famous surf break called "Jaws."
The lunch was plentiful with deli salami, turkey and ham, slices of baguette, three types of cheese (Swiss, smoked and American orange), an apple and orange, a spiral pasta salad, crudites with French onion dip and two bags of Maui potato chips (like kettle chips) and a huge serve of pineapple and macadamia bread. I would have loved a green salad but the spread was plentiful and a good alternative to making your own and more than enough for the two of us. We watch as surfers take the right hand side of the waves and windsurfers the left.
We're back on the road again! Stopping through the town of Pa'ia, we took a little look through the seaside town where surf and organic aloha reigns. Mr NQN is feeling right at home. When heading towards Hana, Pa'ia is the last town to stop before continuing on. We stop into Mana Foods which is an enormous organic and vegan store with an incredible amount of products. It looks relatively small on the outside but once you enter and walk past the vast wall of organic, vegan and raw chocolate your mouth falls open at the sheer amount of items available.
It's incredibly busy and people help themselves to ready made salads and other items are available behind the counter. We take home a raw pizza for $4.95 a slice, made with sunflower seeds, dehydrated Maui onion, tomato, garlic, spinach and miso - it's not quite like pizza but it is full of flavour with a slightly crunchy buckwheat crust.
There are bags of kale chips, nut chips, drinks with white chai and everywhere we turn, we discover a new health food that we have never seen before. The prices are also what attracts people, it's reasonable and even Mr NQN can't argue when I put things in the trolley. There are even fresh lei's available by the counter.
It's hot and we stop by Ono Gelato - ono means delicious in Hawaiian and the store has flavours like Pumpkin Pie, Lilikoi (passionfruit) and goat's cheese. Supporting local business is important in this town and a list of suppliers is detailed on a chalkboard. The Liliko'i passionfruit is divine, my favourite of the selection although the pumpkin pie also has a nice range of spices in this seasonal flavour.
One last stop is Flatbread which has a good range of pizzas made in their wood fired clay oven. A chain of restaurants, when I ask if it's ok to take photos, our waiter and the rest of the staff are easygoing and offers us confirmation with an enthusiastic "guaaaranteed!"
The menus are covered with drawings by their younger customers-it's casual and like being at a friend's house and when I ask if it is ok if we just share a pizza they tell us that we can have whatever we want, even just drinks.
We decide to split a pizza and our waiter confirms that we can do a half half "guaranteeeeed!" which is nice in this world of no half and halfs. Some pizzas have a tomato based sauce while others such as Mopsy's Kalua Pork which comes with a mango bbq sauce which of course, we just had to order. Menu items are nitrate free and feature chemical free meats, organic salads and pizza bases are made with 100% whole wheat flour with the wheat germ restored.
Mopsy's Kalua Pork $8 for half pizza
Topped with Kiawe smoked free-range pork shoulder, homemade organic mango BBQ sauce, organic red onions, Maui pineapple, their own blend of Hawaiian goat cheeses, premium whole milk mozzarella, imported Parmesan cheese and an organic herb mix, this pizza is by far their best seller and is a very of the classic Hawaiian pizza (ham and pineapple). It's good although the goat's cheese is quite strong on it and overtakes the rest of the flavours.
Pa'ia Bay Ohana $7 for half
Topped with wood-fired cauldron tomato sauce, caramelized organic onions, organic mushrooms, premium whole milk mozzarella and imported Parmesan cheese baked on organic bread dough with homemade organic garlic oil, sprinkled with organic herbs. This was my favourite of the two halves and was the waiter's recommendation.
On the way to or from, you can also stop at Makawao which is a town of about 7,000 people. The first thing that strikes us is the cowboy element along with the Hawaiian boutiques - Mr NQN describes it as a Country and Western Ubud. There are the original hitching stations for the horses from when the main road was a dirt road and they used to ride horses through but the boutiques are similar to those that you might find in Ubud with plenty of galleries and floaty clothing.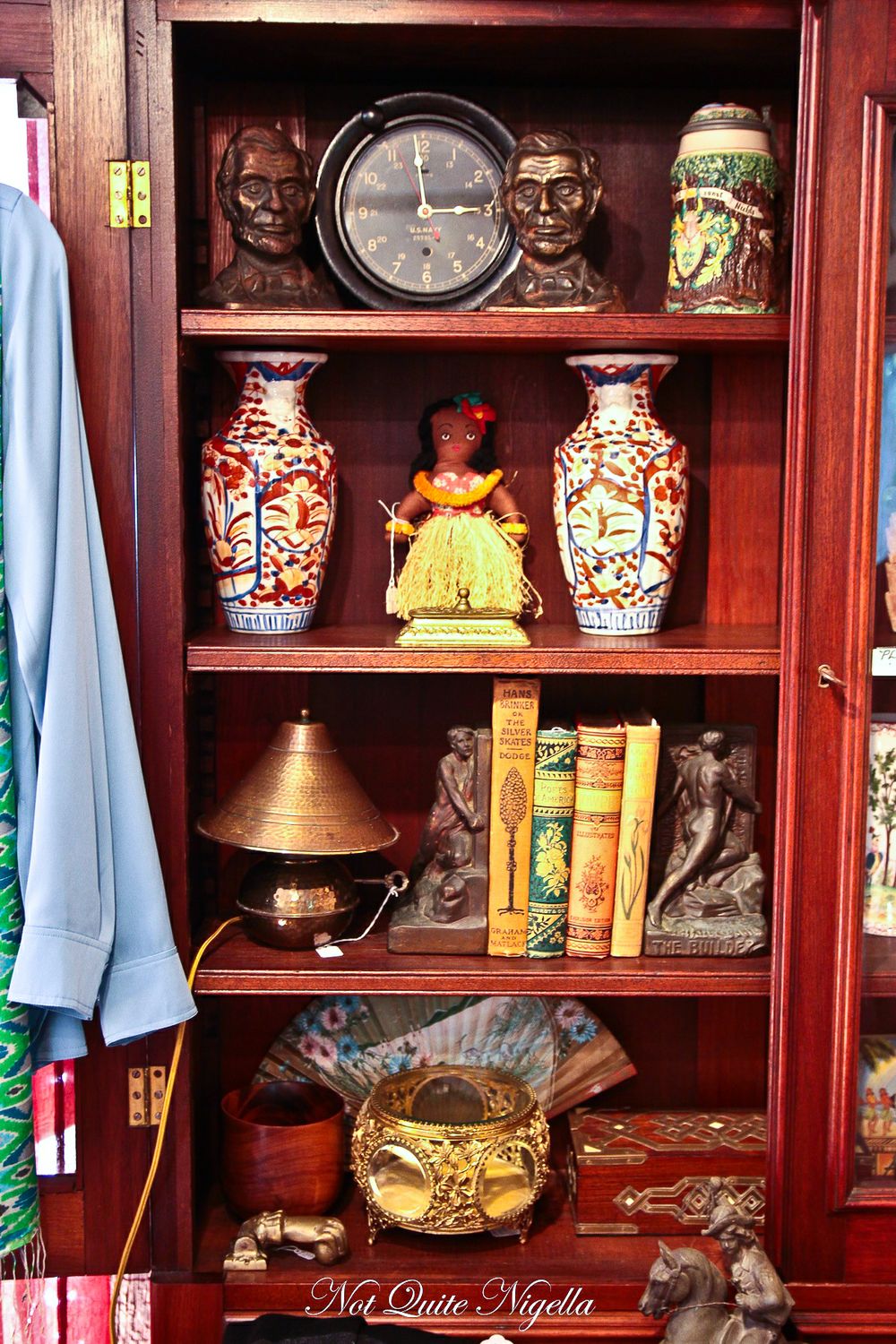 I find myself lost in the Antique Boutique which is a family business on one the main streets of Makawao on Baldwin Avenue. Shawn and her parents run the shop and collect from all over the US and sometimes in Europe. And by lost I mean Mr NQN was hoping that I was just going to take a quick stop here but I ended up finding my Christmas presents: these 1930's Lincoln brass book ends and this brass bell who looks a bit like Little Red Riding Hood!
I didn't buy these although I did love them-Victorian picture earrings.
Mama's Fish House
"You have to go to Mama's Fish House in Maui. Awesome! ;)" said Carolyn from Food Gal.
"While exploring paia have lunch or dinner at Mamas...its right there" said my high school friend Seini.
It was advice from a blogger friend and a Maui local friend and one I was only too happy to heed. Mama's Fish House in Up Country Maui in Pa'ia is one of Maui's most upmarket restaurants specialising in the freshest fish available.
Doris and Floyd Christenson
Set amongst a coconut grove, there's always a crowd. And even though the restaurant seats 220, it has two lunch and three dinner sittings and yet it's always full. Open for 39 years, Mama is Mama Doris Christenson who along with her husband Floyd Christenson, opened Mama's Fish house. They had their start in the restaurant business by managing the Lahaina yacht club.
One day in 1973 an acquaintance rang Floyd. He had enormous and serious gambling debts and needed money quickly. He had some properties on Ku'au and asked Floyd if he wanted to buy it for $125,000. Floyd only had $12,000 accessible but he and the acquaintance made a deal and by 5pm that day the acquaintance had the cash and Floyd and Doris has the property where Mama's now sits.
A friend Hilda Costa told them that if they bought the property, she would run it and her image serves as the pretty Hawaiian woman holding a string of fish and a thin spear in the other hand on one of the menus. Locals and friends thought that the purchase was crazy, it was not in a salubrious neighbourhood and its former inception was a brawl filled establishment. Fish was only something locals ate but they realised that tourists were curious to try Hawaiian fish.
Every day a menu is printed with the catch, the name of the fisherman that caught it and where it was caught. Several expert filleters work on the fish before it is handed over to the chef. What do most people order? The restaurant's signature dish, the Mahi Mahi stuffed with lobster and crab with a macadamia crust and passionfruit beurre blanc. Lunch or dinner at Mama's isn't inexpensive, this dish comes with a $48 price tag and lunch for three including tip is about $300USD not including any alcohol.
Oh I didn't mention the view did I? Well the entrance starts with the turnoff from Hana Highway at the Mama's Fish House boat. There is complimentary valet parking for guests and you walk past the restaurant with the colourful vintage Polynesian tablecloths and you marvel at how large and busy it is. You check in and walk past the wall of autographed pictures from Fabio, Ann Margaret, Helen Hunt (Maui resident) and various sports players. The flower arrangements are expansive and breathtaking from enormous vases full of red ginger flowers to waxy, colourful red and green Anthuriums.
We're having lunch with Marilyn and we take a seat and drink in the view. It's palm trees and beach, so soothing that you may forget to order. The cocktail list and the bar also proves popular. There are lighter style drinks as well as regular cocktails and the menu features a seafood rich selection of choices as well as a few meat dishes with duck, pork and prime beef short rib. Service is exceptional here.
A small loaf of poppyseed and whole wheat bread and butter arrives at the table and it's a sweet, freshly baked roll made in the kitchen.
A little amuse of kula, asparagus and taro leaf arrives shortly later and it's an inch full of flavoursome soup.
Papa's three fish sashimi $22
Papa's three fish sashimi is a fresh selection of three types of fish. My first bite is the Onaga with coconut chilli and Molokai pink salt and is my favourite out of the three but it's hard choosing a favourite. The bright red Ahi tuna with star
anise daikon and Kukui nut salt is also wonderfully flavoursome and the Kampachi with pineapple pomegranate and Hawaii Island black salt provides a sweet aspect to the tasting plate.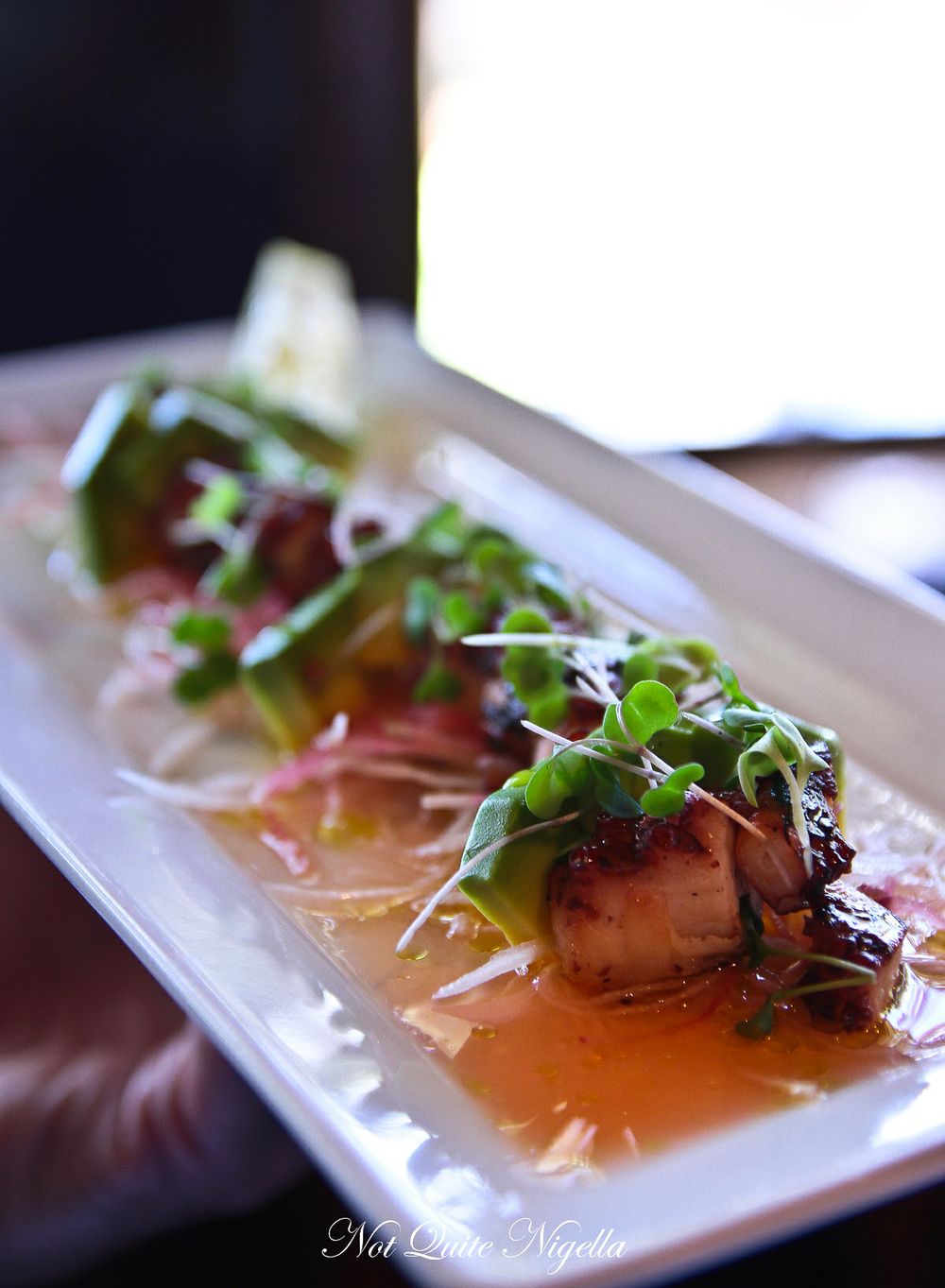 Grilled Maui He'e (octopus) caught by Guy Singson free-diving near Kuau Cove $25
A long tentacle of octopus, it's grilled and served with a finely shredded daikon and radish salad with mango and a sweet sauce.
Ahi sashimi $28
How glossy and bright is the _ahi _? It's a tuna sashimi, creamy and fresh and beautifully sliced with pickled cucumber and carrot.
Mahi Mahi caught along the north Shore of Maui by Adam Reeves $48
As soon as our appetisers were cleared, our mains arrived. This was Mama's famous dish and as soon as I took a forkful of the buttery soft fillet highlighted with rich crab and a slightly crunchy macadamia nut crust, I could see why it was the signature dish. The passionfruit beurre blanc was aromatic but never sweet.
Ono caught trolling in the Alenuihaha Channel by Shawn Conners $42
Served "up country" style or mountain style, the Ono fish is a moist fillet covered in sweet Maui onion, Haiku golden tomato baby bok  choy and red rice seasoned with Hawaiian chilli pepper water which gives it a nice, light spice. The fish is perfectly cooked and nicely savoury but it's hard to go past the Mahi Mahi above.
Liliko'i Creme Brulee $12
One of the dessert choices was a no brainer. Marilyn had had it before and waxed rhapsodic about it. It was the liliko'i or white passionfruit and vanilla bean creme brulee that was featured on the Food Network's television show "The Best Thing I Ever Ate." Indeed, the vanilla bean speckled custard underneath is silky smooth and on top, past the crackling toffee crust is a liliko'i or passionfruit syrup with just the right amount of sweetness, countering the aromatic vanilla perfectly.
Huau Chocolate Pie $12
We asked the waitress for her recommendation and she said that the staff favourite was the Huau Chocolate Pie made with a crumbly, thick but moreish chocolate cookie crust, a layer of thick caramel and a smooth chocolate ganache filling. It was entirely sweet and rich, yet an invisible force kept the fork coming back again and again.
I suspect it's the same invisible force that keeps everyone coming back.
So tell me Dear Reader, when you travel, do you rent cars or do you use public transport to get around? And do you like to know where the food that you are eating comes from?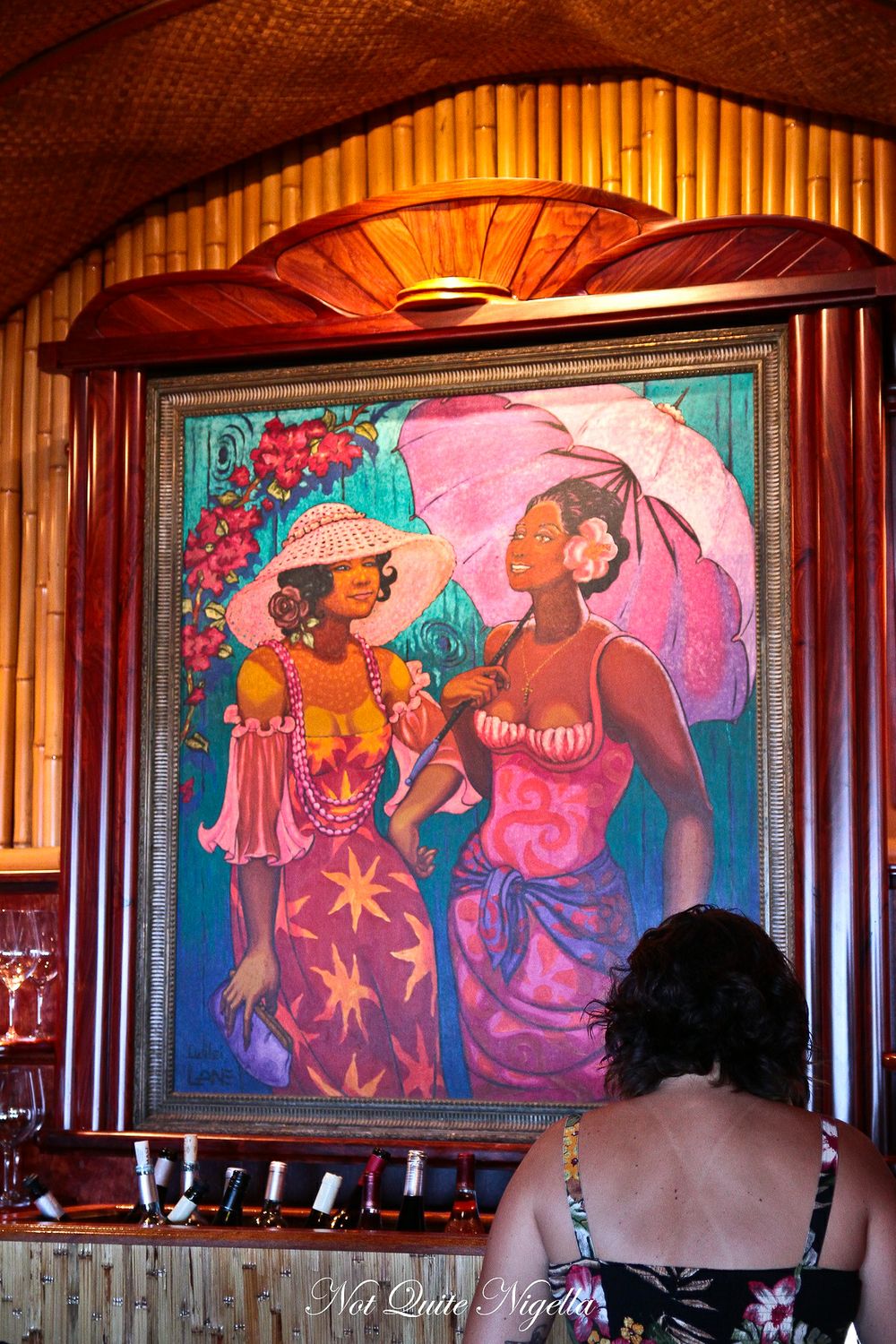 NQN travelled to Hawaii as a guest of Hawaii Tourism and Hawaiian Airlines. All meals but the Sheraton's Picnic basket were independently paid for.
The Sheraton, Maui
2605 Kaanapali Parkway Lahaina, HI 96761
Tel: +1 (808) 661-0031
Mana Foods
49 Baldwin Ave Paia, HI 96779
Tel: +1 (808) 579-8078
Ono Gelato
115 Hana Hwy Paia, HI 96779
Tel: +1 (808) 579-9201
Flatbread
89 Hana Hwy Paia, HI 96779
Tel: +1 (808) 579-8989
Antique Boutique
3619 Baldwin Ave Makawao, HI 96768
Tel: +1 (808) 573-9219
Mama's Fish House
799 Poho Place Paia, HI 96779, United States
Tel: +1 (808) 579-8488