It's an oft heard story around Sydney lately. Chef that works at a high end restaurant leaves and pairs up with another to open up a cafe or casual eatery. And the eaters of the town rejoice. The end.
Okay not really the end. When Joan Holloway proposed lunch recently she asked if we could make it at Devon Cafe. I immediately though of the lunch meat called Devon but it turns out the Devon is from Devonshire Street where it sits right near Central Station. Opened by two chefs, Bistro Guillaume's sous chef Zacharay Tan and Guillaume's chef Jacqui Ekotors, it's an airy Scandinavian looking long space with plenty of room up the back where heaters warm appealingly. There's graffiti on one wall and a wooden bowl of seasonal fruit and vegetables on tables. We seat ourselves right next to the heater.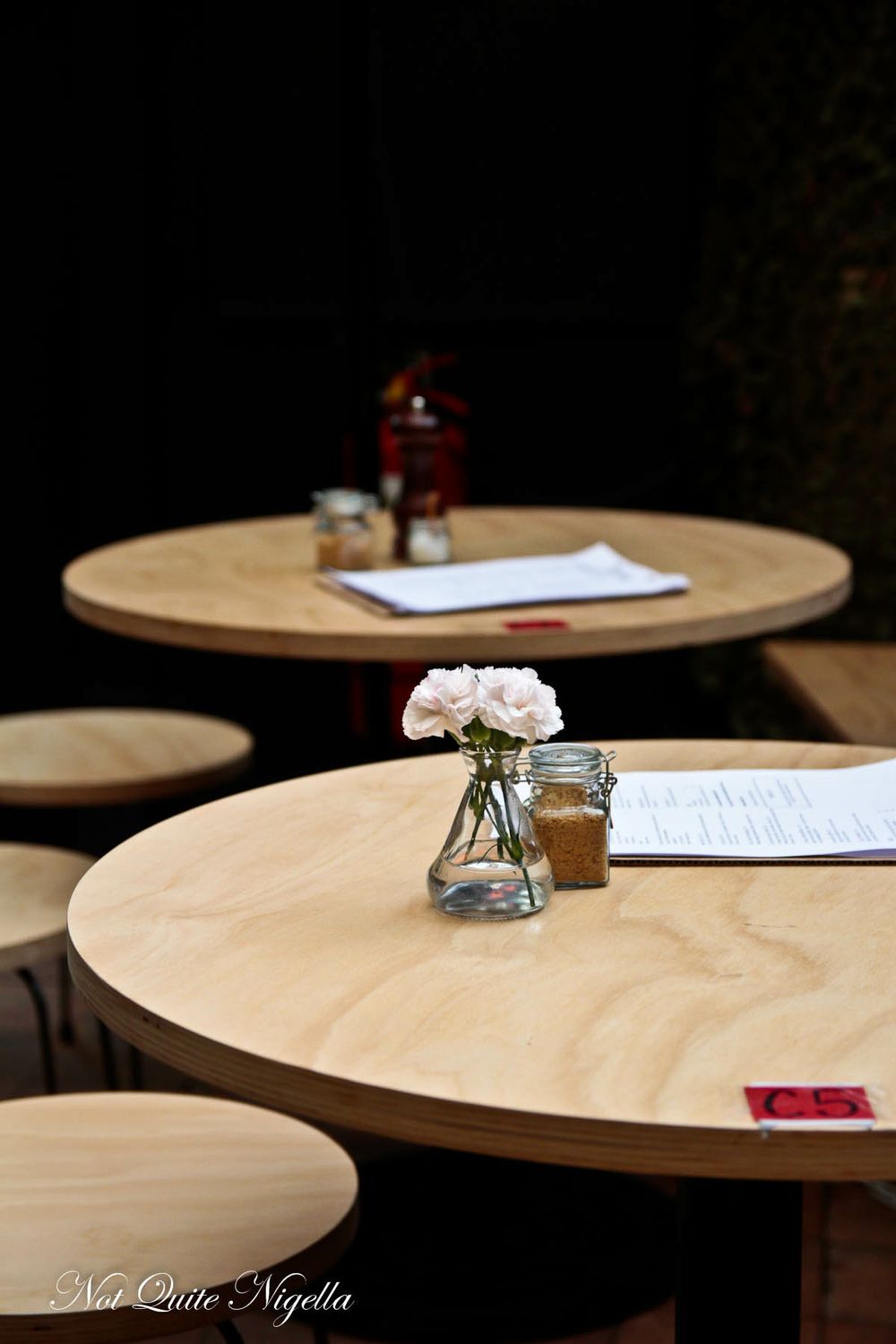 The breakfast menu that finishes at 11:30am is more extensive with some cutely named items like "My Asian Cousin" and "Two Chicks in Basque" but the lunch menu has a small but enticing number of selections including a braise of the day, three sandwiches and three salads of the day although by the time that we order at 1:10pm there's only one type of sandwich left. Joan and I are approached twice by the waitress before we make our order while we mentally tussle between the ham hock with 63 degree egg and the pork belly sandwich to the "strongly strongly recommended" house made pasta with spanner crab.
Organic Chai $4.50
The Rabbit Hole Tea chai comes in a little pot and is steeped in milk and sweetened with honey, just the way that I like it.
Pork belly sandwich $14
The pork belly sandwich was a special of the day and we couldn't resist it as soon as we heard it. It's given an Asian treatment with a creamy Asian slaw with herbs, cucumber, salad and thinly sliced apple, fried shallots and namh jim. The flavoursome filling is plentiful and it has just the right ratio of filling to bread although I would have loved a bit more crunch to the baguette.
Spanner crab pasta $25
I was expecting a lot from this as the waitress could not recommend this strongly enough and pleasingly, it fulfills expectations. The pasta is house made and skillfully thin and beautifully silky in texture. Crab pasta is an easy enough dish to make at home but this is really that much better. The pasta comes as a generous serve and is mixed through with a sauce of cherry tomatoes, garlic, herbs and a decent amount of spanner crab.
Pea, shallot, mint and smoked ricotta $6
As soon as I saw that there was a salad dedicated to one of my favourite vegetables I knew that we had to order it. A miscommunication means that it arrives some time after we've polished off the sandwich and pasta but we get a few mouthfuls in (and I don't think that we expected such a sizable serve). For a simple enough side there is plenty going on from the sweet peas, savoury soft shallots, lightly smoked creamy ricotta and the uplifting mint.
Pear and walnut muffin $4.50
The pear and walnut muffins are large and served warm and split in two. They're a little dry and I wished that there was more pear throughout the muffin whereas it appeared mostly on top or at least it was in my half.
Strawberry friand $4
The strawberry friand was moist and there's a trace of coconut unless we are mistaken.  It was good but again, I wish that there was more strawberry in the friand rather than the single piece. These along with some bought in gluten free cupcakes are the only sweets on offer and aren't quite at the same blissfully good level as the savouries.
So tell me Dear Reader, do you tend towards eating at casual places or high end places? What's your favourite casual and high end place to dine?
 All images taken on a Sigma 17-50mm F2.8 EX DC OS lens
Devon Cafe
76 Devonshire Street, Surry Hills, NSW
Tel: +61 (02) 9211 8777
Mon - Fri: 6:30 am - 4:30 pm
Sat: 8:00 am - 2:00 pm