All images taken on a Sigma 17-50mm F2.8 EX DC OS lens
The last of the passengers board the flight to Amman, Jordan. Men wear their thawb garments, the red and white hattah fabric secured by a black agal cord on top of their head. A hand holding a glossy bag full of sweets first catches my eye and then I look further up to the man holding the bag. His beard is the vivid colour of saffron. The red henna dye is a now oft copied style imitating what Mohammed the prophet did when fighting the war to help camouflage against the desert sands.
A woman follows him, her eyes kohled with exaggerated sweeps, her elaborate bun reminiscent of Nefertiti sheathed underneath the black abaya robes and hijab head dress. She is impatient that they are taking so long and she rolls her expressive eyes. The queue moves on and she glides past us wafting the scent of rosewater. I am on my way to one of the most intriguing areas in the world, Jordan in the Middle East.
The view near the Citadel
Jordan's location is an interesting one. To the north is the strife torn Syria as well as Beirut. To the west is Egypt and Israel, south is Saudi Arabia and east is Iraq and yet Jordan remains a peaceful neighbour. It's mid morning when we arrive and our first destination is Amman, the capital of Jordan.
Unlike Oman's capital Muscat, which is less conservative than further out areas, we were briefed that Amman was a conservative area and we were asked to wear respectful clothing that covered the arms, legs and chest although a head covering was not necessary.
On the way we spot street vendors selling boxes of strawberries, carrots, radishes and Jordanian bananas. Pure white camels sit amongst those caramel coloured and herds of goats congregate nibbling on grass on the side of the highway. Amongst the Arabic script are a Starbucks store and ads for Oreos. Limestone brick houses create a creamy white multiple layered backdrop. A blue mosque sits alongside two churches.
Our first stop in Jordan is lunch which is eaten at Abu Jbara which serves traditional simple cuisine. Lunch is the main meal in Jordan and we are looking towards our first bite. The aroma of freshly made felafel proves irresistible and we take a seat. The mint tea is strong but not bitter, given aroma by the fresh mint leaves.
The food starts arriving and first is the puffed up freshly made pita bread deposited in a basket by staff holding tongs. A plate of salty pickles also sits on the table, the whole chillies spicy and salty.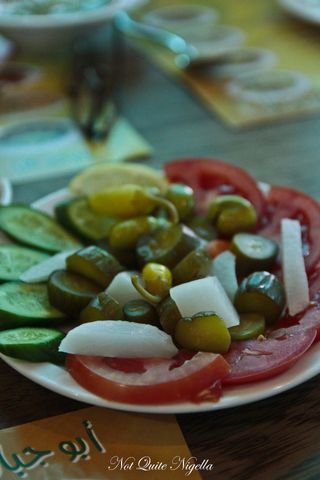 Following this is a divine hummus, smooth as silk and lemony. When I make hummus at home, it's not this smooth and on top is a butter made from goat's milk which is vivid yellow in colour and spring onions which gives it much flavour.
Ful meddames
The foul medames is a fava bean salad which is tangy and full of flavour from the olive oil, lemon juice, parsley and sumac. It's a flavoursome contrast to the creamy, silky hummus.
Fatteh is similar to hummus but it is mixed with bread giving it a milder flavour.
The felafel is crispy and crunchy but never dry, moist inside and it's hard to stop at one. I split the pita bread, spread it with hummus, a slice of tomato, some ful meddames, a salty chilli and half a crunchy felafel. It's bliss.
Dessert is at Habibah, a few doors down. Metal trays of gleaming sweets a metre in diameter beckon to us. There are glistening baklava filled with nuts and topped with puffed, shiny filo or green pistachios and cashews. The wonderful staff behind the counter they are kind enough to offer us one of a few to try.
Knafa
We are here to try knafa, a stretchy pulled cheese not unlike mozzarella and it's topped with chopped pistachios and drenched with honey syrup. It's sweet and quite a novelty eating cheese this way although I have to admit that the pastries really won my heart.
Just next door to the sweets store is the Turkish Bath. Until now I hadn't considered myself prudish but I am reluctant to strip down in front of my newly acquired travelling partners. Women in ponytails and swimming costumes pass us tiny cotton wraps and we don these although they are quickly whipped off like a band aid by staff at the shower. It's dark in there but not quite that dark!
The experience starts with the jacuzzi and steam room after we shower and then we receive a scrub and massage. I opt for a massage only and am taken to a mosaic tiled room by my diminutive and enthusiastic masseuse. Do you know how you can often get an impression of someone's voice from the phone? If I were to guess what my masseur looks like from her touch, she would probably be the love child of Brigitta Nielsen and Dolph Lundgren. Instead, she is petite with curly dark hair and pale skin.
My request for a medium strength massage translates to about the same level as firm in Australia. My masseuse is friendly and direct. "My name in English means dream!" she says smiling while massaging away at my limbs. I return back to the real world after a shower feeling ridiculously clean, the two flights completely washed away. The cost for this little corner of post flight bliss is about $35AUD.
We check into the Le Royal Hotel in Amman. All of the higher end hotels require all guests to put their bags through a scanner and walk through a metal detector. It's a nice hotel although I will just caution people that are sensitive to cigarette smoke that certain floors are smoking floors. We weren't asked which we would prefer and I was given a smoking room. Opening the windows didn't help and I asked to switch which they did so after dinner.
The room is spacious. I'm given twin beds and the main room has a writing desk. The tea and coffee service is on the table next to the flat screen and the kettle is plugged in ready to go (a touch I always like). There's a large bathroom with a bath/shower combo (although the floor of the bath was very, very slippery, I think someone had used oil).
The toiletries include shampoo, conditioner, body lotion, shower gel, shower cap, cotton tips, cotton pads, soap and a nail file. The decor is all about golds and warm browns and the room is well lit. But we were only here for the shortest of time so I didn't get to explore it or the room as we checked out early the next morning.
I'm glad that we went to the Turkish bath because we don't have time to change or shower before we went downstairs for our transfer to dinner. And special mention must be made of our driver Sayeed (which means "happy"). He employed some seriously impressive moves to manoeuvre the bus through the narrow, crowded streets of Amman. We're dining at Fakhr El-Din restaurant, a beautiful Lebanese Middle Eastern restaurant set in an authentic Jordan style mansion built in the early 20th century.
The building and entrance are elegant and we make our way through the restaurant to the conservatory towards the back which also serves as a private dining room. Firmer guests include King Abdullah and Queen Rania, Placido Domingo, Mikhail Gorbachev and many presidents and celebrities. Despite this pedigree, prices remain reasonable and the set menu is around $35JOD or $50AUD.
Vegetable centrepiece
Arabic hospitality is one of the most generous in the world and service here is exemplary and as per the custom, there is an overflowing bounty of food. There are over a hundred items on the menu but we're having the set menu tonight. The mezze sits on the table and there is an impressive looking vegetable platter which causes everyone to take their cameras out.
Lemon and mint drink
One drink which we all rapidly became very accustomed to is the refreshing lemon and mint drink. They vary in sweetness from establishment to establishment but no matter how sweet or tangy, this deliciously refreshing drink was always a welcome respite from the heat.
Baba ghanoush
The hummus here is divine and I'm already wondering how they get their hummus so smooth here! It's like the texture of sour cream but with the flavour of chickpeas, lemon and tahini. There is also the eggplant dip moutabal which is similar to what we call baba ghanoush in Australia. This is studded with rubied pomegranate seeds. There is also their baba ghanoush which is an eggplant dip with onion but made without tahini so you get a strong, smoky eggplant flavour.
Vine leaves
The vine leaves are simply stuffed with rice and are delectable. There's a curious dish called shanklish which is a cow's milk cheese salad, the cheese finely chopped and served with tomato. The cheese has a strong flavour and when we enquire about this they are kind enough to bring out a log for us to see.
Pickles
Kubbeh Nayeh
The highlight apart from the hummus is the kubbeh nayeh, the raw lamb mince that is flavoured and served so finely ground that it tastes creamy. The tabouli is fresh and lemony and the Aleppo olives are salty and spicy. We didn't even get the chance to try the pickles as we were warned that there was plenty more food coming and there certainly was!
Tabouli
Sujuk sausages
A plate of small sujuk or spicy little beef sausages comes out next, its colour darkened by the spices contained within. After this comes a quick succession of items, served to us at the table. These include fried kibbeh which are football shaped morsels. They contain deep fried lamb mince stuffed in the centre with pine nuts.
Kibbeh
Chicken wings
There's also chicken wings, served simply in lemon and garlic and charcoal grilled. My favourite were the chicken balls (alas no photo!). They are filled with a garlicky butter and chopped pistachios that spurts the delicious nutty butter when you cut into the deep fried chicken mince coating.
Raqaeq bl Jebneh
Raqaeq bl Jebneh is a delicious stretchy cheese filled cigar wrapped in filo pastry.
And we haven't even reached our mains! There's a selection of shish kebab and tender juicy cubes of chicken and lamb as well as a seasoned lamb mince which is divine. The flavours and herbs in this are so moreish that they make me forget the amount that I've just eaten!
Dessert is often a plate of fresh fruit and this is brought out. Alongside these are candied figs and apricots. A sweeter end to our first day you could not imagine.
So tell me Dear Reader, do you like Middle Eastern food? And how do you feel about going al naturale at public baths? Would you prefer to keep your clothes on or do you do as locals do?
NQN travelled as a guest of the Jordan Tourism Board
Abu Jbara
Almadeneh Almonawra st, Amman, Jordan
Tel: +962 6 554 4150
Habibah
Almadeneh Almonawra st, Amman, Jordan
Turkish Bath
Almadeneh Almonawra st, Amman, Jordan
Le Royal
Al Mutanabbi Jordan
+962 6 460 3000
Fakhr El-Din
40 Taha Hussein Street, Jabal Amman, 2nd Circle, Amman 11184, Jordan