_*Warning: this post contains graphic photos of dead animals.
_
I once heard Salalah called the Coffs Harbour of the Gulf. Whilst I think it was said for comedic effect, the fact is that when the weather in Muscat rises above what is tolerable, locals from the Gulf states make a beeline for one particular area in Oman. Salalah, on the southernmost area of Oman facing the Arabian sea is where the locals flock. And why? During a time called Khareef or the summer monsoon season, cool winds and light mists results in cooler weather.  Monsoon winds from the Indian Ocean bring along with them  a much welcome curtain of rain and mist and it is a welcome respite from the oppressive and constant heat. And yes it rains in the desert!
Every year, coinciding with this, Omanis make a quick sojourn to Salalah to holiday before the start of Ramadan where they will return to their families and fast before Eid. The Salalah area of Oman and parts of nearby Yemen are the only Gulf states to have this unique occurrence. Where sand once lay, the ground is lush and green with vegetation for just these few months of the year.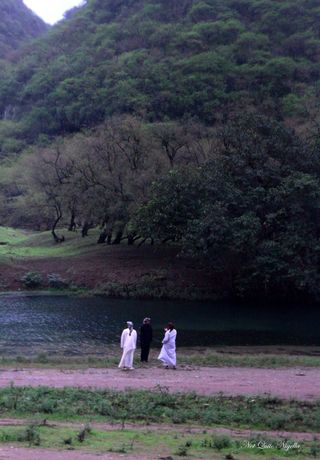 Waking up early to leave Muscat we take the 1 hour 40 minute flight to Salalah which can also be reached by car although the journey takes about 10 hours and is bereft of much scenery. Many here speak Jaballi which is similar to Hebrew and is said to be the mother tongue of Salalah. With a population of almost 200,000, it is the second largest city in the Sultanate of Oman after Muscat, the capital city.
The airport is about 30 minutes from the town centre although this in itself is quite spread out. We pass hundreds of ornate black and gold street lamps that go on as far as the eye can see. Cars pass us covered in a layer of dust and sand and the view of flat, sandy stretches are punctuated with the occasional camel. They move in that slow chewing amble, big long lashed eyes batting. Further up, a herd of adorable tiny goats run across the sand and we also see low lying frankincense trees. We drive over wadi which are valleys where water may occasionally run through to the sea.
Throughout the long stretches of drive between areas, we see families lay down picnics on the sandy, rocky ground. Our guide Ali tells us "Gulf city people, they come for the rain and for the clouds. We are different from Western people, we love the clouds and the rain." The prices for hotels are at the highest during Khareef. Direct flights from Europe during September to June bring holiday makers from overseas who don't want the rain and the clouds but instead the sunshine. We drive down highways and see blue and red tents adjacent to the highway.Families will sit having picnics in the rain without flinching.
Warning: graphic photos to follow
Camping is another aspect to Omani life which is done differently to the West. Here they congregate in groups renting tents on the side of highways. The ground isn't soft, it's rocky and dry and unlike those who want to camp in a far away area, the tents are clustered together. They camp near vendors who cook grilled meat kebabs or roasted whole animals.
Goat appears to be particularly popular with skinned goats being hung in front of the stand selling goat. And in front of one stand is a skittish white goat tied to a rope, perhaps aware of its fate. Strips of meat dangle from lines ready to be cooked while another line holds strips of fat. Red, yellow and orange spiced chicken sit already grilled and in foil cooking away, the charcoal smoke catching the wind.
The car makes the slow and mist filled journey up to Job's tomb. A prophet in Islam, the site of his tomb is said to be about an hour's drive out of Salalah (although several places claim to be the tomb's location). Taking the slow drive up we become increasingly engulfed in fog and for much of the drive, we can only see a few metres in front of us. Photos are next to impossible and we watch as kids stand up through the sunroofs and stretch their hands to touch the fog.
Wadi Darbat which flows into the sea at Khor Rori is another popular location. The national park is a place for picnics or get togethers. Once we arrive at the wadi we see stalls selling food and on the water, small boats carrying people make their way down the wadi and there is said to be a waterfall at times.
The hillsides surrounding the wadi are thick with vegetation and we watch as one family picnics there with a small girl dancing in the middle of their circle. Treats like popcorn and dates are sold at stalls and I get a cup of corn with lots of lemon and spice. It's probably not my favourite snack but I'm glad that I tried it.
Salalah is also known as the perfume capital of Arabia and one of the scents that originated here was Frankincense. It is the sap or resin that comes from the Boswellia tree. The Frankincense tree pictured above is a small one and would not be mature enough to harvest from. Harvesting Frankincense is a difficult procedure and is usually only done on trees that are much older with a lot of leaves. To harvest the sap, you make small cuts into the branch and allow the Frankincense to bleed out and dry (called tears).
However, if you make the wrong cuts, you can easily kill the tree. The trees only thrive in dry, arid areas and harvest season is after the khareef or monsoon season as well as January to March. There are four different types of Frankincense trees that produce this resin and it is sold in little amber coloured lumps. There is a little Frankincense on this tree which we try. The aroma is similar to a complex lavender and then some and it is a sticky resin, much like wax you would use for waxing hair off skin. Our guide Ali popped some into his mouth and chewed it, apparently it makes for a good chewing gum and the taste is similar to Vietnamese mint and lavender.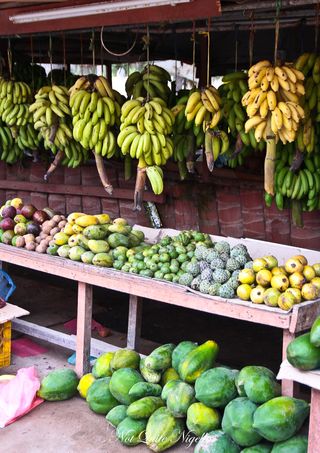 We're here to try some more traditional Omani food. Because of the different climate here in Salalah, there are tropical fruit such as coconut, papaya and banana. We stop by a road side stand that sells different types of bananas including a milk banana which is similar to sugar banana, another variety which is close to the Cavendish banana. We take a sip of coconut water which is lightly sweet and refreshing. There are a range of fruit, some new to us including bithen, egg fruit, chico as well as mango guava, custard apples and pomegranates.
A man walks past us carrying fairy floss in bags. Here it is called Shein Banat which means girl's or lady's hair!
Curiously, we notice here and in other places that the long stretch of Al Dahariz St Da??r?z road is lined with countless banana and fruit shops and it seems that competition is not an issue as we see streets full of hairdressers and barbers, sweets shops, bakeries all clustered together.
A series of sweets shops yields a quick tasting of halwa, a sweet made out of sesame seeds with a gelatinous texture not unlike Turkish delight. It's different from the Jewish halwa which is almost powdery or chalky. This is stretchy and delicious stuff. Halwa's sweetness means that it is followed by Arabic coffee which is a type of unsweetened coffee. Tea with milk is drunk all throughout the day and sometimes they may add rosewater or cardamom to flavour it.
There are three types of halwa on offer, a dark date halwa, a plain halwa and a cashew and honey halwa. The prices for trays of each is 1.50 OR/$3.77AUD for the plain and date and 3.00 OR/$7.54AUD for the cashew and honey. The cashew and honey is my favourite followed by the date and the sticky, sweet texture ensures that the you keep coming back for more.
We take the drive to Mughsail Beach, about 40kms west of Salalah which is a popular destination and flocks of Omanis visit there. Thy watch the enormous waves crashing against the moss covered rocks and blow holes spurt water high up into the air.
The women there mostly wear the abaya dress with the niq?b veil some covering the hair while others cover their face completely except for the eyes. A cafe sits right next to the ocean and the strong waves are choppy and full of white water foam (and there are not recommended for swimming or surfing due to the strong currents).
It's lunch time so we take a drive to a restaurant serving traditional food. Outside, there are cars that drive up outside. Waiters in uniform take their orders and bring back bags of food to take away. It's drive thru or drive past, Omani style.
We sit down on the floor of a carpet lined room with three thick cushions to lean against. They spread out a light plastic cloth and Ali orders our food for us as the menus are in Arabic. Here at Khoor Al Mukala they make Yemenese food as Yemen is close by. They are known for their rice, five kinds in fact. They bring us our drinks and food quickly.
We start with bowls of soup, fragranced with cumin and coriander seeds, the flavour is like a dahl but without the lentils at the bottom and more of a clear soup.
There is also sheaf of wild rocket served with our mains. The five types of rices come in various shades. The favourite rice is mandi rice which has a gorgeous light smokey flavour to it. There is also a plain rice with shredded carrot, an onion and garlic rice which is also delicious. And the way to eat it? Traditionally you would eat with your hand. The washrooms are nearby and we wash our hands before digging in. You gather the rice in your hand and use the thumb to push it in the mouth. And yes it takes practice!
The grilled half chicken is spicy with a char from the grill although served slightly cold. The fish is quite dry and dipping it in the tomato, garlic and onion sauce helps a little but the best bet is with the chicken. Dessert is a plate of orange segments and sweet, glossy dates.
Our hotel for the time in Salalah is the Juweira. The location is quite far away from where the action is, about 30 minutes or so on a high speed 120kms/hr drive. The hotel itself is a boutique hotel that has very recently opened and it has that brand new feel to it. The lobby is welcoming and the staff are friendly for the most part.
I make my way to the room 105 which has a marina view. The room itself is spacious and very clean with a long desk for working and a large king sized bed. Lighting fixtures are modern and there is a view out to the marina with the large sized chess pieces. A largeish flat screen tv faces the bed and the channel selection is somewhat limited with a couple of channels for English movies and tv shows and apart from that, there is news. However my room was near the giant chess board and as I learned, sometimes crowds can gather to play right outside your window until quite late.
The bathroom isn't too bad a size and although there is no bath. The shower is very comfortable with lots of space with a powerful shower head. The toiletry selection includes shampoo, conditioner, body lotion, vanity set with cotton buds and pads and a shower cap. Soap is in the shower cubicle although there is a large liquid soap pump on the vanity. Towels are very soft and there are also soft, thick robes and slippers.
The mini bar is very reasonably priced with mini sized cans of soft drinks at 1 OMR/$2.50AUD although the range for crunchy items is limited (something that I tend to crave). Two bottles of complimentary water are given along with tea and coffee making items including that very odd non dairy creamer stuff. A bowl of fruit holds an apple, orange, kiwifruit, grapes and a mangosteen.
Internet is 6 OMR for 24 hours or 2OMR for an hour and when you log in, it tells you that the price is for up to three connections. Although my internet was fast, neighbouring rooms have little to no internet signal. Also when we checked out later, despite it saying that there were up to three connections allowed, each device was charged for separately so the wording is deceptive.
I do a few hours of work before I realise that it's time for dinner. We start with a drive to to Murbait port where we have a distinctly camelly encounter. There are hundreds of camels that roam the areas alongside the highway and they occasionally make their way onto the streets. Here's one slowly but determinedly making their way to where they live via a side trip in front of a moving car.
We pass a goat herder or shepherd who corrals his charge of tiny goats in browns, black and whites. They obediently follow him with small, fast steps.
We drive through the old city which is full of abandoned buildings in various states of disrepair. Once lovely houses are crumbling, with windows broken. Off in the distance, we see boats of fishermen who are coming in for the day. We one again see the goat herder again who brings his herd in for the night.
Crowds gather to inspect the fish brought in. Every day from 4pm to nightfall the fishermen sell their catch. Just opposite, there are charcoal grills with skewers being turned. The meat on the skewers is camel meat, all red cubes of flesh with the occasional white cube of fat.
I try a piece of the marinated camel meat and it is really good indeed with a tangy spice mixture and char from the grill, it is served with a tamarind and garlic sauce.
As it is festival time, there are events that are held as part of the celebrations so we head back to Al Dahariz St Da??r?z past the banana stands which are still in operation until 11pm or midnight. These are now lit up with bright fluorescent tubes. Further on, the street turns into a huge shopping street where mobile phone stores line up against each other. There are also ready to wear clothing boutiques, hairdressers and grocery stores although the fashion isn't quite the same as what we would see in boutiques at home.
We make it to the festival which draws a huge crowd and is only put on for the khareef festival. Cars park in every space available and we walk through the clothing bazaar to the main area.
We opt for a traditional Omani dinner and there are five items on offer here such as Tharid which is a vegetable and bread curry very popular around Ramadan. It's tomato based and the bread pieces are slippery soft, like pasta. There is also biryani or baryani, speaking to the Indian influence in their cuisine. There are also makroni and spaghetti type of noodles with a light sauce and the pasta is cooked until quite soft. The Masarin or offal is actually one of my favourites with a lot of flavour. I pick and choose my offal pieces, I'm not a big tripe fan so I leave this but the rest of the offal is delicious. The Al Hareess is a thick gruel type of dish made with wheat grains. Mild flavoured but savoury, it is close to grits or porridge.
And what's for dessert? These gorgeous syrupy donut balls are soaked in a cardamom syrup. Biting into one squeezes the lovely syrup out so you are best to swallow one whole.
Another cuisine that is represented in Oman is Lebanese. Restaurant Baalbeck, named after a region in Lebanon serves both Lebanese and Omani food. Located on the 23rd July street (the date that the Sultan ascended to the throne), it does a fast trade for takeaways with bags of takeaway awaiting collection. There is also car washing available for 1 OMR (about $2.50AUD), a necessity in this location.
Prices here are quite reasonable and the menu is in both English and Arabic. We start with the mixed dips which has a range of creamy smooth hummus, motabl (an eggplant dip with onion), a crunchy fattoush salad, tabouli, dolmades and cheese, spinach and meat sambousek. They're all delicious and come with pockets of fresh, soft Lebanese bread which we use to dip and spread.
The strawberry juice is simply pureed fresh strawberries that are deliciously sweet. I don't tend to drink a lot when eating out but it's so good that I can't really bear to send it back half drunk so they put this in a container to take with me.
The shawarma is served either on Lebanese bread or on a plate. We opted for the breadless version as we had plenty of bread already. Ali ordered a mix of chicken and beef and it sits on a plate of that lovely hummus. We happily devour it with a little of the whipped garlic sauce.
The mixed baalbeck comes with two rounds of pita bread, one underneath the meat and one on top. The top round is spread with tomato paste and onion and underneath it lies the several types of meat. There are skewers of beef, beef mince, chicken and chicken mince along with a lamb cutlet which is a bit dry. They all have a fantastic grill flavour to them but the chicken meat is the favourite as it is tender with a lovely spice seasoning mix. There is also the addictive Omani hot sauce on the table although this isn't really fiery at all.
The beef kebab comes as three thick skewers of beef mince topped with a tomato sauce and an onion side salad. It's good although out of the kebab meats, the tender flavoursome chicken meat is my favourite.
The Om Ali means "the mother of Ali" and is a pastry pudding mixed with milk. Quite mildly flavoured it relies on the chopped, toasted almonds on top for flavour. It is like a wetter, milkier but less sweet version of a bread and butter pudding. I've also had it in the past with coconut or raisins added to it.
The Mehalabia is a thick pudding made of milk and cornflour or mastic. The texture is thick, almost like a jelly or kazandibi and it is drizzled with honey and toasted chopped almonds and has a light flavour of cardamom.
The next day we wake early to see a little before we leave Salalah. The undercover stalls at the Al Haffa markets house Omani and Indian traders offering shoe repairs, jewellery, clothing and of course the omnipresent frankincense. There are several grades of Frankincense and the highest grade is this green opaque frankincense. A 800g bag of good quality frankincense retails for 8 OMR/$20AUD and the texture when dried is similar to rock or yellow sugar.
Stores sell burners and alongside the frankincense are jars of dark black perfumed wood. You place these highly aromatic oil laden wood shavings in a burner and the aroma will envelop a room much like an incense stick. Men and women also stand over these oil burners and it fragrances their dishdashas and abayas with perfume until the smoke emerges from their arms holes.
Warning: graphic photos will follow shortly

About five minutes drive away is the fresh market where camel, beef and fish are sold. Staff wear maroon uniforms; some are butchers, others are workers that take care of customers. Customers can opt to have their meat delivered to their car directly. Inside, the butchering takes place and there are all sorts of parts being butchered. I debated with myself whether to put up some of the more graphic pictures-of course these were just reflecting the way of life there and there's little gained from people thinking that meat comes from plastic sealed trays. Nevertheless, it is quite confronting seeing buckets full of jaws and hooves with the skin still on.
The fish market has baby shark, and large fish. Dried hammour fish similar to jerky is a popular snack.
A traditional Omani breakfast can be had at Lialy Hadrmout where we watch several men eating the same dish. It's scrambled eggs with tomato and onion picked up using their fingers and a torn corner of the enormous charred flat bread. Similar to chapati, it is thin and dry and served piping hot from their oven. The chef rolls the dough fresh to order and then places them in the oven and fishes them out with a flourish using a metal stick. He then cracks eggs into a frypan of sauteed onions and tomato in the little room which is ferociously hot.
The milk tea is a strong black tea and a sip instantly reminds me of a Hong Kong milk tea but with a few more spices and a layer of tea leaf sediment at the bottom.
And the price for a breakfast like this, three teas and three bottles of water? Just 1.2 OMR or $3.10AUD. The breakfast is delicious although you'd be hard pressed to finish the enormous disc of bread folded over in many layers. We follow the lead of the man at the table next to us who used a piece of the bread to scoop up the tasty egg filling.
Next we return to Muscat to see what else the capital has to offer and see how the other half live...
So tell me Dear Reader, what do you think about graphic photos? Do you think I should have shown more or less?
Juweirah Boutique Hotel
Marina Town, Salalah Beach Resort Taqa Road Salalah, Oman
(0)23 239600
Baalbeck
23rd July Street, Salalah, Sultanate of Oman
Tel: 23298834
Open 8am to 1am
Lialy Hadrmout Restaurant
Sultan Qaboos St, Salalah, Sultanate of Oman