There are some experiences that you can hear or see but they don't compare a jot to actually being there. Nizwa, about 1.5 hours from Oman's capital Muscat's souk and Friday's goat and cattle auctions is one of them. A bit of background on Nizwa: it was Oman's early capital city in the 6th and 7th century and is absolutely steeped in history.
Two mosques dating back to around 623 AD stand and Oman's most visited historical monument Nizwa Fort stands, imposing and are a fascinating climb. To protect the Imam (spiritual leader), several traps were built including drop holes in which intruders would plunge 3 metres below. And from the other direction, boiling hot date syrup would be poured on them, scalding and killing them.
It's about 46 degrees celsius (about 114 Fahrenheit) and the climb to the top of the fort saps strength. To fortify ourselves, there is an room where people are served Omani coffee and sweets. Our guide Abdul has brought some halwa from a souk and it's fantastic. The gentleman in the room rinses small teacups in a bowl of water and pours us a small cup of Omani coffee (khawa).
Rinsing some spoons in the same water, he hands us each one and we help ourselves to the luscious dates which are more syrupy than Medjool dates. There's also sewyah which is a sweet pasta noodle pudding fragranced with cardamom and sweet, sticky, halwa jelly studded with slivered almond pieces on top. And the rule is that for a stranger, you shouldn't overstay your welcome by having more than three cups of coffee and if you don't want any more, you simply hand back the coffee cup while shaking it gently.
As I round the corner and walk into the goat auction I'm taken aback by the activity. There are men and Bedouin women with their distinctive masks that cover their nose (each design signifies which tribe they are from). A boy sells bottles of honey at the door and there are goats feeding on grass and people sitting around. But all of the action is in the centre and it's so full of men wearing their dishdasha robes that we scarcely get a look in.
We walk around the outside, craning our necks and when a man carries two small baby goats for auction, we can't help but exclaim. This prompts the men in the throng to turn around and they smile and welcome us into the crowd and give us their spots. Throughout our time here, the Omani people have been so welcoming to us and even though we were just tourists and strangers to them, they did things like offer us gum if they were sitting next to us on a plane or give up their position the auction throng.
We watch closer and there is a circle of buyers on the outside. They watch as men holding goats on leads parade them past the buyers. The inner circle holds the sellers. The goat wranglers occasionally yell out a number and 58 OMR or $150AUD is the average price of one goat. Different breeds go for different prices. There are goats also from Pakistan and other countries but an Omani raised goat fetches the most. People even buy goats and fatten them up only to onsell them when it comes to Eid, the feast after the fasting during Ramadan. And because we are here on the start of Ramadan, the activity here is high. The cattle auction will follow the goat.
They ask where we are from and when we answer Australia they smile and encourage us to go up into the inner circle. We brush past the goats with their thick fur and stand up top to watch. Each potential buyer stops the goat wrangler and squeezes it on the goat's hind haunches and inspects it's teeth. Squeezing the haunches indicates how fat a goat is and how much meat it has on it. Inspecting the teeth shows up any disease in the goat.
Walking through the rest of the souk, we see fat bees buzzing and the floor of the now the floors of the almost closed fruit and vegetable market are covered with the paper thin purple and white skins of Omani garlic. The fish market is almost finished and we watch a couple of workers prepare the dried fish. A man walks past with a malodorous wheelbarrow full of dried fish skins and bones. We make our way to the craft souk where Nizwa's famous silver is crafted into curved daggers called khanjar. There are also antiques and copper items which are about $20 OMR/$50AUD for a small hammered bowl.
Our noses and our guide Abdul leads us to the spice market where you can find imported spices that are so crucial to Omani cuisine. Whole dried roses, Iranian saffron as well as lower grades are also sold here. Fascinatingly, there is also a thriving gun market where we daren't ask to take photos. It's all very male dominated in the gun market and a little confronting with the wooden automatic rifles and the metre long magazines of rifle ammunition. The Omani guns are the most expensive and Abdul tells us that guns are fired at ceremonies and at weddings.
Although it's early, we are hungry for lunch as the rise was early to make the goat market. Lunch is at Bin Ateeq, a chain restaurant that serves Omani food and it is here that we will try some of the most traditional Omani food including dried fish and shark. The heat is getting to us so an order for yogurt salad, mixed salad and hummus is added to foules medames and the three fish dishes.
Hummus 0.80 OMR ($1.98AUD), foul medammos 0.80 OMR ($1.98AUD), small salad 0.80 OMR ($1.98AUD), salatha rob yogurt salad 0.50 OMR ($1.24AUD),
The dried shark curry is unusual in texture as the dried fish is salty and only partially rehydrated in the curry sauce which by itself is lovely. It's not unpleasant though and quite nice although it is very different from fish curries that we are used to.
Wet fish with onion, garlic, ginger and lime juice 1.8 OMR/$4.46AUD_, salted wet fish with onion garlic, ginger and lime juice 1.8 OMR/_$4.46AUD
These two dishes, seen above with a fabulous chilli sauce, are the same application for two different types of fish. There are the small dried fish which remind me of the dried anchovies in Asian cooking, and wet fish which is like a dried fish that has been rehydrated. Both are served with an abundance of sliced red onion, garlic, ginger and lime juice and after the first bite you do get used to the flavours and they're not bad at all.
We visit Wadi Tanuf adjacent to the falaj water systems that deliver water to the towns. Near these are a popular place to have picnics and we see groups of people having showers under the falaj waterfalls or starting to prepare lunch. There are two men who have hung a goat and are skinning it. Stopping at a petrol station (and if you're curious, petrol or gas is 0.12 OMR a litre or $0.30AUD a litre), we just catch the shop at closing time as Fridays between 11:30-1pm is prayer time.
We're on the move again and this time we are visiting Jebel Akhdar. Jebel means mountain and Akhdar means green. To head up there, you need to have a 4 wheel drive and go through a checkpoint as it is a nature reserve where there are many fruit trees giving the area the name green. It is also a significant area for the Omani culture.From 1957 to 1959, the then Sultanate of Oman staged an uprising to usurp the power of the Imamate of Oman. The Imam escaped to Jebel Akhdar where he hid with the rebels. The sultanate enlisted the British RAF to assist in the battle. The Imam was eventually exiled to Saudi Arabia.
Princess Diana visited in the 1980s and they named the place at which she stood as Diana Point. The green trees visible below are pomegranate trees.
It also also an area for much sweet fruit including peaches, butt fruit, figs and apples. Abdul stops by the stands manned by young kids wearing Man United soccer shirts and teens in dishdashas and buys some fruit. They're a freshly picked bargain at 1 OMR/$2.48AUD for each container. The apples are small, sweet and crisp.
We've been steadily watching the temperature gauge in the car rise and it's a relief to see it dropping to the 30s because we are at such a high altitude. We arrive at the Sahab hotel and the lobby is filled with interesting artifacts. We make our way to the room, 201 for me which is a 40 square metre balcony terrace room and the views are astoundingly beautiful and are  the main drawcard.
The rooms themselves are well appointed and comfortable. There is free wifi provided which is a nice touch given our remote mountain location and there is a reasonably priced mini bar and a small flat screen television. A small selection of tea and coffee is provided although there isn't an iron and ironing board.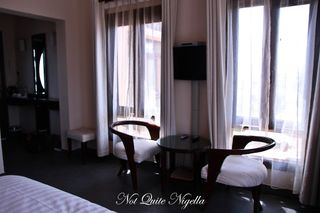 The bathroom has a bath shower combo and there are some stones set into the walls although there are some dead bugs at the bottom of the tub perhaps as a result of keeping a window open. The toiletries include shampoo, conditioner, body wash, body lotion, comb, soap and toothbrushes and the scent of the toiletries is actually very nice. I usually find the scents for hotel toiletries a weird strong scent designed to cater for men or women. This is sweet, feminine but fresh. There are also slippers and robes.
The internet signal inside the rooms is weak so I take that as an excuse to go outside and sit on a sun lounge and finish off some work. After a few hours it is 7pm which is when dinner service starts so I make my way downstairs to the main restaurant. Outside is lovely but once dusk falls, so descends hordes of mosquitoes.
I had read on some review sites that the food at the hotel was not perhaps its strength and that many were disappointed that there wasn't Middle Eastern or Omani cuisine instead preferring to offer international cuisine. I'm not particularly hungry given that I've eaten so many of those sweet butt fruit and figs so I order the only Middle Eastern item on the menu, a soup. Service is...well it's very unsure albeit sweet and quite a few things weren't brought or the wrong item was brought.
The soup ends up being very nice indeed with the beans giving the broth a richness and thickness. Cream has been added to it to soften the bean flavour and there are chunky pieces of onion and bean at the bottom. And the Arabic bread which was supposed to come with it arrives after a reminder and dipping in pieces of the bread to soak up the soup is tasty.
I had originally ordered a scoop of vanilla and a scoop of mango but only mango was brought. It came with a topping of some strange sort of whipped cream which wasn't whipped cream and it was very thick. We retire to our rooms and I think about all that I've seen today and how the goat auction feels as if it were days ago.
So tell me Dear Reader, do you ever see and do so much that it feels like you experienced it days ago? And what's the hottest climate that you've ever visited?
Sahab Hotel
Jabal Al Akhdar, Nizwa 621, Oman
www.sahab-hotel.com/