"We plant our olive trees for our children, just as our ancestors did for us." Our guide Al Salam explains the business of olives and their significance to Jordanians. Olives grow easily here in Jordan and the use of olive oil in extensive throughout the culture. He tells us that some olive trees are over 1,000 years old and these are called rumi after the Roman Byzantine period.
Older trees are sought after because the best quality olives and oil come from trees at least 40 years. These elder statesmen flora are protected and Salam's friend recently paid more than $1,500USD for a thousand year old olive tree. "To cut an olive tree it's like you are killing the owner or the farmer," he explains further. And forget politics, at the end of October to November in Jordan, talk is dominated by olive trees and olive oil. A typical couple will buy a supply of at least 20 litres to last a year.
We are on our way from Amman to Mount Nebo, a site of great religious significance. We pass shops on the way where fresh green almonds are sold and these signal of the onset of spring. Squat chickens in cages are alive but they are killed and cleaned and given to customers once sold.
Mount Nebo is the site where Moses or Musa as they call him, first glimpsed the promised land and was said to be his final resting place (although this is controversial). As a result, it is a popular destination for many faiths. From Mount Nebo, the expansive view shows the Jordan River and Jerusalem. Buses deposit school children for picnics on the rocky roadside.  In 2000, a monument was installed by Pope John Paul II and on the back lies the Arabic text that reads God is Love.
There was an uncovered Basilica style church discovered here but this isn't yet open so we busy ourselves with looking out at the view. Ancient mosaics lie behind ropes telling stories of what happened on this religiously important site. Groups of school girls descend on our group, taking photos on their mobile phone. They are friendly and giggle and greet us with "hello!" and ask us where we are from.
We stop at a mosaic and souvenir store called Jordan Jewel. The right entrance is the workshop where artisans painstakingly add mosaic stones to a sketched outline. The Jordanian stones are from Petra and Madaba and each artist has undergone at least three years of training on how to set these.
The smallest stones are the most intricate and expensive and a mosaic like this would take about forty five days to complete. The artisans cut the stones with cutting pliers and then place them rough side up onto the cotton. These are then set in concrete and flipped over so that the smooth surface faces up. The shopping here is on the expensive side and we are left to roam the shop to buy souvenirs. There's an interesting style of furniture and at first glance they appear to be white side tables that resemble marble. It turns out that these tables are made out of wood topped with a layer of ground camel bone.
There is a short drive to the town of Madaba a city almost 5,000 years old tracing back to the Middle Bronze Age. Madaba is a popular town for tourists and its streets are busy with shops and places for lunch. People are friendly and there is no shortage of shops selling souvenirs and traditional clothing.
_
St George's Greek Orthodox Church_
Our main stop here is for lunch but first there is a visit to St George's church, a Greek Orthodox Church in the heart of Madaba. When Christians first arrived in the town, they wanted to build a church so they starting rebuilding an old church.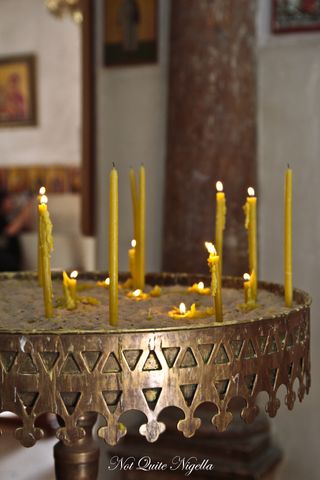 During the renovation they discovered a complex sixth century mosaic inlaid on the floor consisting of about 1,600,000 stones. It is said to be the earliest depiction of the holy land. This was made by the monk Salaman and his team of five. Parts of it were damaged during the 747A.D. earthquake. It's awe inspiring to think that we could get so close to something as old as these mosaics.
By now it's around lunchtime and the best restaurant in town is said to be located at Haret Jdoudna which means ancestor's or grandfather's neighbourhood. There is a souk and handicrafts centre alongside the restaurant Al Saraya.
A group of women sit in the restaurant smoking shisha pipes and the aroma is sweet and pervasive. Sugar, flavouring and glycerine are combined with tobacco to create a fruity scent.  It's a busy restaurant with quite a few tourists and we are partaking of a set meal. Prices are reasonable - a main dish like the chicken further below is around $6.80JOD/$9.24AUD.
The mezze comes out quickly and it consists of gorgeously puffy pita bread. We pair this with the baba ganoush, again this one is made without the tahini and it is strong in smokey eggplant and less creamy than the type we have in Australia which they call moutabal.
There is also hummus (although this is not quite as smooth as the two types we had in Amman), tabouli and small deep fried cheese stuffed pastries that look like slightly oversized ravioli.
After the mezze came the two mains. The first, a chicken dish consisted of golden skinned roasted chicken pieces on the bone, sliced roasted potatoes and dried herbs. It's comforting and tasty.
The other main is kefta which is made up of tender roast beef slices topped with sliced roasted potatoes and blanketed with a creamy hummus based sauce.
Mint tea and coffee is offered alongside dessert, a square of semolina pudding cooked with milk, rosewater and topped with pistachios. It's similar to a rice pudding and not too sweet. After a quick browse in the shop, it's time to make our way to Feynan Eco Lodge in the area of Dana.
We pass more goats and shepherds standing on the edge of the highway. Large trees bend down  as if they were trying to kiss the ground. We stop at this lookout whose view sprawls as far as the eye can see and to the left is the Dead Sea and the Jordan River. The salt lingers around the bottom edge of the cliff bleaching its base white.
We pass Ma'In Springs where John the Baptist was beheaded. The afternoon sun hits the water of the Dead Sea that gives it a silvery iridescence. The road is winding and the view of the Dead sea ebbs and waves with each curve. The salt in the  water gives it a ghostly aspect.
Entrance to the Ma'In Springs is free and it's a poplar stop for local Jordanians. Lush patches of green contrast against the limestone and Salam tells us that they are growing tomatoes on the side of the highway. We pass canyons on the left where people park their cars and take a walk looking for the hot springs. Salam says "Water is like a dream to us, like something you cannot have. We have a special prayer for rainfall." When I ask him about the orchards by the side of the paved roads he answers simply "Once you have water, you have farmers."
At 4.43pm a man lays out his prayer mat on the side of he road, his children milling around him. An older woman with a walking stick, abaya and niqab gathers wood and carries it across the road. The Kings Highway becomes Wadi Araba and the vegetation starts to disappear. We transfer to jeeps to take us the last 30 or so minutes to Feynan Eco lodge.
The lodge is located in Dana Biosphere Reserve among land inhabited by Bedouin communities and it is owned by the Royal Society For the Conservation of Nature. It was designed by Jordanian architect and painter Ammar Khammash. All of the people that we pass by wave, the kids running towards the bus with curious expressions or peeking out from behind fences or through gates to catch a quick glimpse. We pass a shepherd on his mobile phone. They tell us that locals used to predict the weather from the look of the leaves on the plants and trees but nowadays, it's using their mobile phones.
Feynan Eco Lodge aims to enrich the lives of the Bedouin communities and all profits go back to the community. The Bedouins are nomadic people who move location depending on access to water and weather conditions. There are 26 staff in this eco lodge and instead of hiring outside drivers, they hire Bedouin drivers.  All the money from the car transfers goes directly to the drivers and there is no commission is taken by the lodge.  In 2012, 80 families or 400 people in the community benefited from the lodge's activities.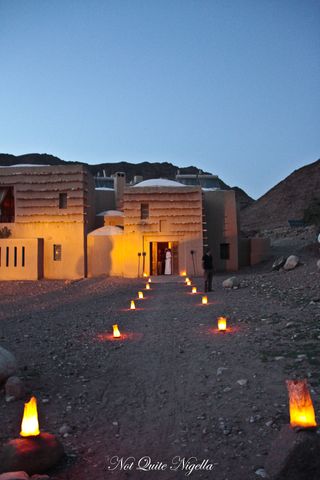 We are arriving later than originally planned and unfortunately have missed the spectacular sunset that occurs at 6.45pm this time of the year. We are greeted by two rows of candles, made by the local community.
Quiet hours are from 10pm-7am where guests are asked to keep noise levels to a minimum and it is really a quiet retreat to escape. There are activities that can be arranged and these often include getting to know the Bedouin community and bird or plant watching or cultural excursions. Sunrise and sunset hikes are offered daily although the sunrise hike is for intermediate to advanced hikers (i.e. not me! ;)).
And how is it an eco lodge? It is entirely energy sustainable thanks to solar panels. All of the water is solar heated and there are no plastic bottles; instead they use clay jars that are disinfected daily which saves 8,000-10,000 bottles a year. To fire the fireplaces they use a by-product of olive pressing.
We check into our rooms and have a few minutes before we are expected for dinner downstairs. I take quick stock of the room. Its quite simple, the bedroom area does not have electricity so four candles cast a low glow and a queen sized bed draped in a gauze mosquito net dominates the room. A clay jug of water and a glass sits on the side (although this does leak water and in the dark I didn't realise this and I left my bag nearby).
The bathroom is the only room with electric light and there's a hot water shower although apparently hot water is only available from 9am-7pm but I think they've switched it on for our late arrival. There is a small writing desk near the door and a traditional closet. The Orjan hand made soap is also made locally.
And although there is no electricity in the rooms they are trialing the internet which is fast although and available in the lobby area. They can also charge devices for in the main building, but you will need to bring your own adapter.
But no time to dawdle because we are expected downstairs for dinner, after which will follow a visit to a Bedouin camp and some stargazing. The dinner is a completely vegetarian buffet. There is a chilli yogurt dip, salty green chillies and shredded carrot which gives a fiery kick. There are also chickpeas, roasted whole tomatoes, sautéed spinach, creamy cauliflower bake and zucchini stew. Dessert is a semolina cake flavoured with rosewater.
It is all quite nice but my favourite thing would have to be the rolled up village bread which is so fresh and light that I eat two pieces. But the real highlight meal was actually breakfast rather than dinner. I had two of these soft village breads with cream and their honeyed sweet whole apricots in syrup and it was utterly blissful.
Carrying flash lights (or really, our phones), we take the short walk to the nearby Bedouin community and take a seat in a hand made tent. Although we are partaking of this ceremony at night, this is usually an activity reserved for day time. A community elder shows us the way to make Arabic coffee. First he roasts in the fire before grinding the beans.  To serve coffee you start with the eldest first or begin right and go left. Take the drink in the right hand and drink three cups but not more than three. The first coffee is for the guest, second one for the soul, the third for the mood.
They pound the coffee while goats bleats behind us. The metal pestle chimes against the mortar and sounds like a bell chiming. This sound usually signals to the neighbour that it is coffee time and they can gather to discuss any issues in the community. This is the domain for the men and women don't make the coffee.
While the coffee is being made, we chat to some of the Bedouin women in the tent next door. They are four women out of the community of thirteen people and two of the women are married to the elder. It looks like this will be the end of the community as the youngest generation have indicated that they don't want to live in this manner anymore. When asked what they miss the most, the answer is an emphatic "electricity!" followed by television and computers.
And we ask one of them what is their favourite meal. She answers "Makloubia" which is a delicious upside down rice dish. This particular Bedouin group have been here for thirty years and move twice a year for summer and winter. The move isn't far because most of them have jobs and the lifestyle is augmented by trucks bringing them their needs. We thank them for answering our questions and they giggle and look back at us shyly and wave. Back in the main tent, the coffee arrives in a small cup and it is fragrant with cardamom.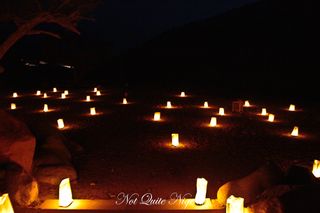 One last item on the agenda is a spot of stargazing. The bed is calling to me, mainly because I am still a bit jet lagged but a friendly staff member convinces me to just come up quickly to have a look. "Would you like to see Jupiter?" he asks and adjusts the telescope while the stargazing lesson is conducted around us. "There is Jupiter and three moons" he whispers and indicates for me to look through the lens. I startle at its clarity. Only away from the bustle of cities can you really star gaze. But sometimes you have to travel much further to see the extraordinary.
So tell me Dear Reader, are you a religious or a spiritual person? Oh that sounded rather serious didn't it? What has been the most surprising country that you've visited?
Mount Nebo, Madaba
Mount Nebo is about 1 hour's drive from the capital, Amman.
Haret Jdoudna
Adel Jumean Street, Madaba - Jordan
96253248650
http://www.haretjdoudna.com/
Feynan Eco Lodge
Dana Nature Reserve, Dana, Jordan
http://www.feynan.com/