Fat drops of rain fall outside of my tent and after a few days in Oman, the Omani love of picnics in the rain makes complete sense. We've just gone through a five hour drive from Muscat to The View, one of the most spectacular camp sites on top of Oman's mountains. Dear Reader, I know that camping and I are not exactly friends but this is not your usual camping. There are seven tents and The View, aptly named but a little misty on arrival is a luxury campsite 1,400 metres up where you don't need to set up a tent or bed.
The drive to The View starts with sealed roads; the roads in Muscat are smooth with wide lanes to cope with 120 km/h speed limits. There are actually three main streets that run through the city of Oman. Our guide, Abdul tells us that if you get caught speeding at say 160km/h, a couple of nights in prison might set you straight. Unlike Salalah there are no camels crossing the roads as it is a large city.
To fortify ourselves for the day, we stop at a large supermarket for supplies for a typical Omani breakfast. We buy some Arabic bread, some triangles of soft children's cheese, a packet of Oman chips (made in one flavour, chilli), Omani hot sauce, a Sun Top drink and Mountain Dew. Yep Mountain Dew, apparently they are crazy for the stuff there as they find the citrus flavour refreshing.
Abdul even tells us that they tend to drink Mountain Dew with fish or chicken and Coke with beef! There are plenty of overseas brands here at the Lulu hypermarket supermarket and we pick up some cardamom flavouring in small bottles, some nuts in honey as well as Oman's favourite chocolate, Galaxy which is like a caramel and chocolate in one with a slightly stretchy texture and very sweet taste to it.
Sitting by the water, Abdul spreads the cheese on a round of soft bread, fills it with chips, splashes some hot sauce on it (which isn't that hot but is addictive) and wraps it up. Delicious! I haven't had a chip sandwich in years and now I think that adding cheese and hot sauce to it is a great idea. Sun Top...well that is like a popper drink but a really artificial one more like an orange cordial than a juice. And Mountain Dew? Well I'm still not a big fan but I'm still glad that we tried it as we wanted it to be as typical an Omani breakfast as possible.
Setting off for the long drive, we stock up with plenty of chilled water. The first portion of the drive is on smooth road and we nod off and stop for lunch at a little coffee house. Abdul tells us that there is nothing for another 2.5
hours so we need to eat now. The menu is in Arabic so he orders for us and I choose a chicken biryani and we also get some salad and hummus as well.
The biryani has sultanas in it and the chicken is much crispier and juicier than it first looks. The salad is a welcome sight and we dip the bread into the hummus. And the cost for three chicken biryanis, salad, hummus and drinks? 10Euros for the three of us.
We turn off onto the mountainous road where they are building new roads and the 4 wheel drive kicks into gear. The temperature outside climbs and dips from 42 to 52C (107.6-125.6F)  as we climb up and down the mountains. It's rocky, rubbly and during it, you wonder if your brain will dislodge from shaking. We meet plenty of goats on the way who scale the rocks with ease and graze on shrubs. There are rock terraces and we see a car off into the distance, looking impossibly far away.
Looking up even further, Abdul points up at the top of a mountain and says "That's where we will be going." He's a joker so I'm not sure if he is being truthful but it turns out he is. It is called The View for a reason and up the top of an imposing mountain are the tents. It takes less time to approach this from the historic area of Nizwa.
We pass villages along the way and amongst these are vegetable plantations. A garlic plantation is lush and green and we see walls of water piping snaking alongside the mountain. They are a veritable oasis amongst the mountainous desert. We pass rippled mountains of every shade and texture. From palm trees hang baskets of fresh dates.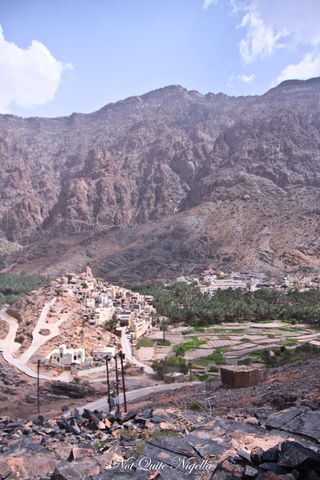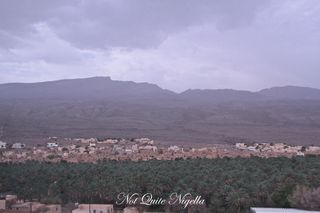 After scaling mountains with extremely sheer drops (kudos to Abdul for his nerves of steel) we reach The View at Hail Al Shas. I hide a smile as I know that Mr NQN has been trying to get me to camp for ages to no avail. But walking into the main area we are given cold towels which instantly cool us and a glass of mango nectar.
the view trio
We are shown to our "Eco luxe" tents and they're quite lovely and simple. The winds are intermittently strong on the mountain and inside is an air conditioning unit that blasts Arctic cold wind. There is a bed, two singles pushed together, touch lamps and tea and coffee making facilities.
There is also a bathroom with a shower and toilet and for hot water, you just need to flip a switch 30 minutes beforehand. But in this heat there is no need to flip it as the water comes out warm. You do need to bring your own toiletries as there isn't any apart from liquid soap and towels are noticeably hard. The zips on the tents don't work and in this wind, I secure the velcro as tight as possible. There are creature comforts like tea and coffee and a 1.5 litre of bottled water.
The large balcony area looks out into the vast expanse of the valley and I stand outside and admire the view until rain begins to fall and the hot winds whip around me. I retreat back into the tent to have a shower, write and make myself a cup of tea. I watch as the sun cast a peaches and cream glow over the camp-site and then head to dinner in the main dining room. Dinner is buffet style and there is also a family of four and a couple also as guests.
That's a bright green patch of a football field below. It is lit up with a game in progress!
The entree of minestrone needs a little hot sauce and Natasha asks for some and within minutes, they bring it along with a sweet hot ketchup.
There is a chunky Greek style salad with feta cheese, cucumber, capsicum and carrot. Hummus is laid out on a large platter and there are rounds of Arabic bread, plain rice, Goan chicken curry, creamy penne pasta and steamed vegetables. The goan chicken curry is particularly flavoursome with a decent bite to it and the chicken is tender with the sauce creamy and strong with green cardamom pods throughout-seconds aren't really possible as everyone seemed to like this. Fruit salad is offered and we watch the twinkling lights glow stronger as darkness fades.
I decide that there is nowhere else that I'd rather be than here.
So tell me Dear Reader, do you enjoy camping?
NQN travelled as a guest of the Ministry of Oman
The View Hail Al Shas
http://www.theviewoman.com/