All images taken on a Sigma 17-50mm F2.8 EX DC OS lens
It must at least cross every visitor's mind at some stage during a visit to Hawaii that they could really live here. It was a few days in when it hit me. Yes, I could really live here. It's a laid back state with great food and shopping and the people? Well, it's hard to think of a more easy going and friendly bunch.
With every city, comes new excitement and when I talk about excitement, I mean the stuff worth getting up early for, not necessarily staying up late. The KCC Famer's Markets in Honolulu is one of the most popular destinations for tourists and locals. So much so that there are people as far as the eye can see. Tourists are bussed into the community college campus which has about 60 or so vendors of produce and cooked food. Unless you want to be frightened away by the sheer number of people, arrive early, around 7:30am when it will already be bustling.
These are the actual farmers that grow the produce. But along with this, about half the market is made up of cooked food stalls, all cooked to order. The produce is all Hawaiian grown and there are countless stalls. We're seeing the markets with expert guides too. Hilton's Executive Chef Jeffrey Vigilia and Chef de Cuisine of Bali Steak and Seafood Matt Alleshouse are showing us around the markets. They have a real relationships with these growers. Even for a hotel as large as the Hilton Hawaiian Village, they order their produce from many of these growers.
We watch as the growers greet them warmly and Jeffrey sets up meeting times to see them to discuss orders or future events. He lets the growers know six months ahead of time about large conventions so that they can grow produce in order to supply them. Conversely, Jeffrey tells us of a grower that told him that they had three varieties of persimmon so they are discussing which varieties to order as a special item.
They're just as excited as we are to be here and eager to share the best of the island's produce with us. They show us stall after stall that sell unique or particularly good items. They stop at the stand for Nalo farms that grows varieties of fresh greens and herbs and they even sell bags of herbs grouped together that are good for cooking with certain meats.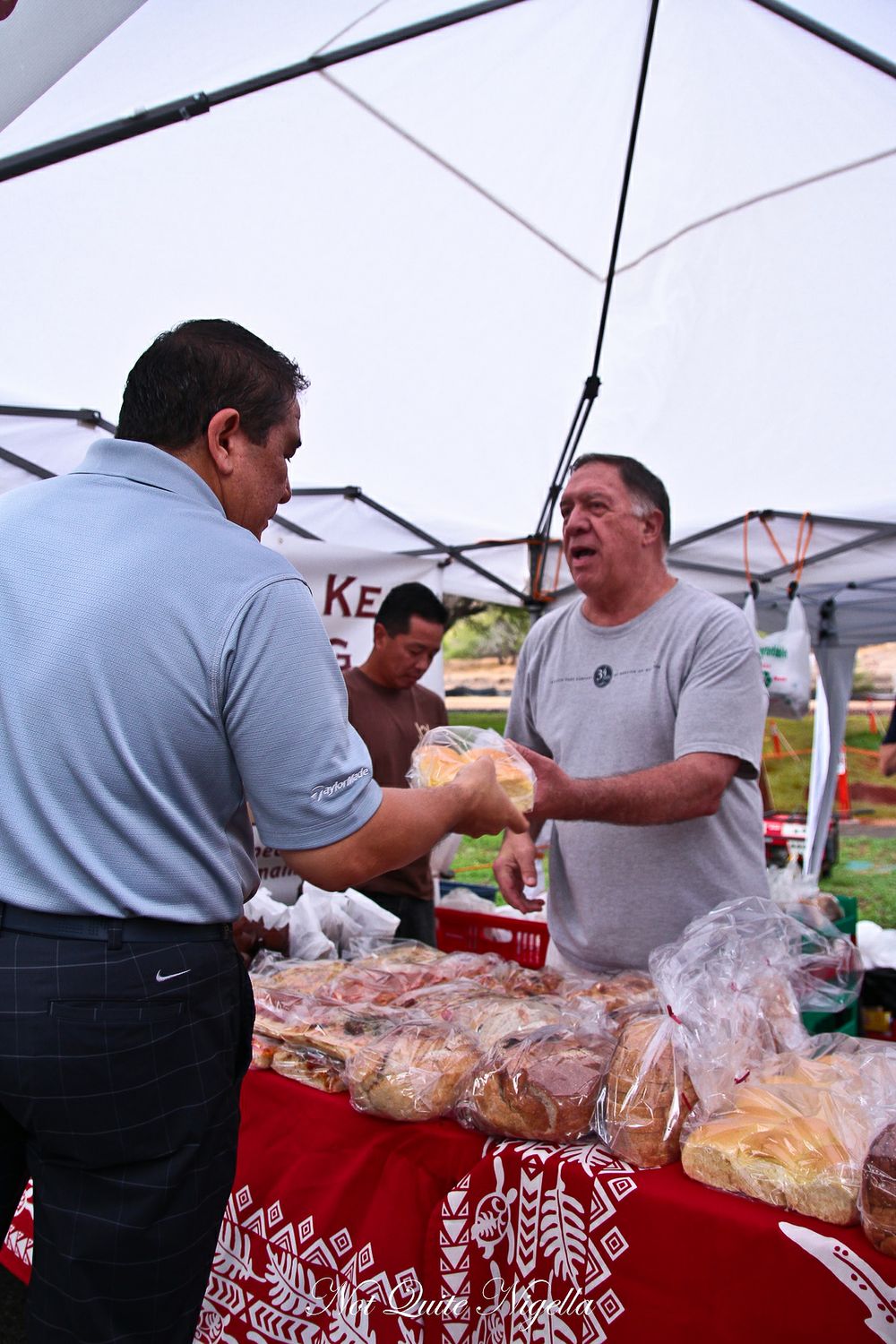 Bread made with sweet potato
We stop at Mauna Kea bread making company which is one of a few bakeries here. They do fresh pizza types of breads and foccacias along with vividly shaded loaves coloured and made with sweet potato. Their sweet soft rolls are pillowy soft and divine.
We try Sea Asparagus at the Marine Agrifuture stand. It's a a type of seaweed that has a flavour similar to asparagus. Their sea asparagus pesto and dressing are sublime and I wish we could take it all home with us. Many of these vendors are generous with the samples and we got to try quite a bit while here. They also sell the ogo seaweed in two varieties  a spindly thin version and a thicker one too.
Jeffrey is a big fan of the Kahuku Farms papaya so he buys us a half papaya with pineapple-except they know him so well that he is never allowed to pay for anything. "Your money's no good here!" they tell him smiling.
Hilton's Executive Chef Jeffrey Vigilla
Na'ono roasted Kahuku sweet corn comes in myriad varieties but we go for Jeffery's favourite with the Li Hing powder. This bright orangy red powder is made up of ground plums and sweetening, food colouring, salt and sugar. It brings out the flavour and complements the corn and the cobs are sold with the silks peeled back.
There are some stands that are so popular that they need ropes for queues. The pesto pizza is one made with island tomatoes. Another long line is the stand for Fried Green Tomatoes but Mr NQN was fading fast so we couldn't bear the queue.
The Manoa honey company sells raw, organic honey and we try a few varieties. They too sample readily and we particularly like the ??hi?a lehua honey which is rich and buttery which is collected from wild bees. And the bottles are cute little squeezy honey bears.
Suddenly, there's a heavy downpour and everyone scrambles. "Come under here!" they tell us at the honey stand and we wait a few minutes for the rain to pass. The owner Michael is excited to tell Jeffrey and Matt about a new honey they have called Mango Meli-their other orange blossom sold quickly but he hands him a bottle of the Mango Meli to try-it's gorgeous stuff.
Of course sweet Hawaiian pineapple is everywhere...
And the line for Kukui sausages is enormous too. Alas Mr NQN my eater extraordinaire was feeling very sick with the flu and I couldn't bear the thought of having just a couple of bites and then discarding the rest so I had to give it a miss-and I must admit that the queue was a little daunting!
The weather isn't quite right for shaved ice alas. At Blue Lotus, they actually make some of their premium syrups themselves using real fruit. They are paired with the omelette stand where they make a variety of omelettes as well as  fabulous Kalua chicken where the chicken is so soft and delicious.
The bun is heated on a grill, spread with mayonnaise and then topped very, very generously with kalua chicken which is like the softest pulled chicken. It then comes with some kim chi cucumber which they make themselves.
Licious dishes is a raw vegan place which was so generous with the samples that I tried just about a bite of everything. As I knew that Mr NQN might not be able to go out for dinner tonight, I bought him the raw vegan lasagne. The rest of their savoury items are full of flavour and their raw cacao spread is like delicious chocolate pudding.
There's even soul food! Fried chicken and waffles for breakfast? Why not :)
The Pig & The Lady is one of Matt's favourite stands and he likes it all from the pho bowls to the banh mi sandwiches. I get a bowl of hot oxtail pho for Mr NQN to eat for lunch which is really good-there isn't the thinly sliced beef but the oxtail is soft and plentiful and the broth rich and sustaining. They bake their own bread and the sourdough here tends to be softer than the sourdough that we get in Australia.
Chef de Cuisine of Bali Steak and Seafood, Matt Alleshouse
Otsuji stands sells fresh dinosaur kale juice mixed with pineapple which makes it really good and drinkable. A medium sized drink without ice is $6 and is refreshingly good for you without feeling as though it's too green or savoury.
One of the last stands is the Ba-Le or La Tour Bakehouse and Jeffery's eyes light up as he tells us of the story behind it. It was started by a Vietnamese immigrant  Thanh Quoc Lam who arrived in Honolulu. He opened up his first bakery in Chinatown in 1984 and now has 30 stores and a thriving wholesale business. They too supply to The Hilton Hawaii Village and Jefrrey tells us that the owner now lives in a $10 million dollar mansion.
Their range is astounding. They make everything you could want and prices are excellent. They make stollen, pastries, granola, cakes, lavosh, baguettes, pies, little caramelised puffs and pretty much anything and everything baked. Matt loves the furikake puffs and they are so moreish with a distinct umaminess to them. They hand Jeffrey a bag of baguettes with the parmesan cheese, multigrain seed, garlic butter and olive baguettes and they've got a lovely intense chewiness to them and each flavour is distinct too.
Jeffrey tells us that to know if you have a good donut or not, if you squeeze it and oil comes out, it's a goody!
That evening, we are booked into the restaurant on which chef Matt has placed his culinary stamp on with his new menu. Bali Steak and Seafood restaurant is situated on the beachside part of the Hilton resort. Set on the floor above the beach, it enjoys waterviews and service is warm and helpful.  It makes things a little hard to choose because there are a few things that we want to try and there are also ways to upgrade your meal by adding lobster or other items to your steak.
Bread basket
The bread basket comes out first and there's a combination of white and whole wheat dinner rolls and an addictive paper thin, crispy lavosh.
Ocean Catch $72
For our entree, we decided to share the Ocean Catch. The seafood plate was an impressive array of fresh seafood. The ahi poke, a Hawaiian dish where raw tuna or ahi is cut into cubes and then seasoned is just divine. With onion, avocado and piquillo peppers it has the perfect balance of flavours. Oysters were from Goose Point and they were very creamy but without that palate wakening zinc. The Alaskan crab legs had very sweet meat and the abalone was tender and sliced into pieces for us.
There were three sauces: citrus ponzu sauce which was recommended for the abalone and the two others given were a cocktail sauce and whole grain mustard aioli. Oh and the final item, and my other favourite along with the ahi poke were the prawns which were so fresh with an excellent texture and were rich with flavour.
Beef ribeye on the bone _ $59 with gorgonzola butter with Kona smoked sea salt $3 extra _
The beef here is from the mid-West and today they are serving the ribeye on the bone for extra flavour, something I'm always happy with. It's a 300g or 10 oz steak including the bone and it comes with a disc of divine gorgonzola butter. Perfectly cooked medium rare, it makes a steak doubter like Mr NQN into a steak lover and even though I'm quite full from the tastings today, I can't help but go for bite after bite of this. With it is a head of caramelised garlic and you simply remove the sweeter-than-sweet garlic with the tip of the knife and spread it over the gorgonzola buttered steak. It doesn't even need the three sauces that it comes with (Bali steak sauce, sweet onion and a superb cabernet sauce).
Crab cake $18
I didn't feel like a huge main so I went for the crab cake, which was generously filled with crab meat along with red capsicum and onion. The outside was crispy as it sat on a bed of wholegrain mustard aioli. It is topped with fluffy fresh Nalo greens whose stand we visited that morning.
Island vegetables $28
It seemed only fitting that we try the vegetables from the buyers at the markets that we had met. The vegetable side dish has quinoa, kahuku sweet corn, local greens, sliced hamakua mushrooms and a roasted red pepper puree. It was good but it could have done with more of the red pepper puree as this provided much of the moisture and flavour punch.
Hamakua Coast vanilla bean cheesecake $10
I hadn't actually tried vanilla beans from Hawaii before so we thought that we'd got for that as we've had plenty of macadamias. The vanilla flavour in this is very light and the cheesecake itself is lightly textured with a nice thin crust. It comes with poached strawberries and rhubarb and whilst it's pleasant, it's hard to compare it to the next dessert, the buttery crusted pineapple tart.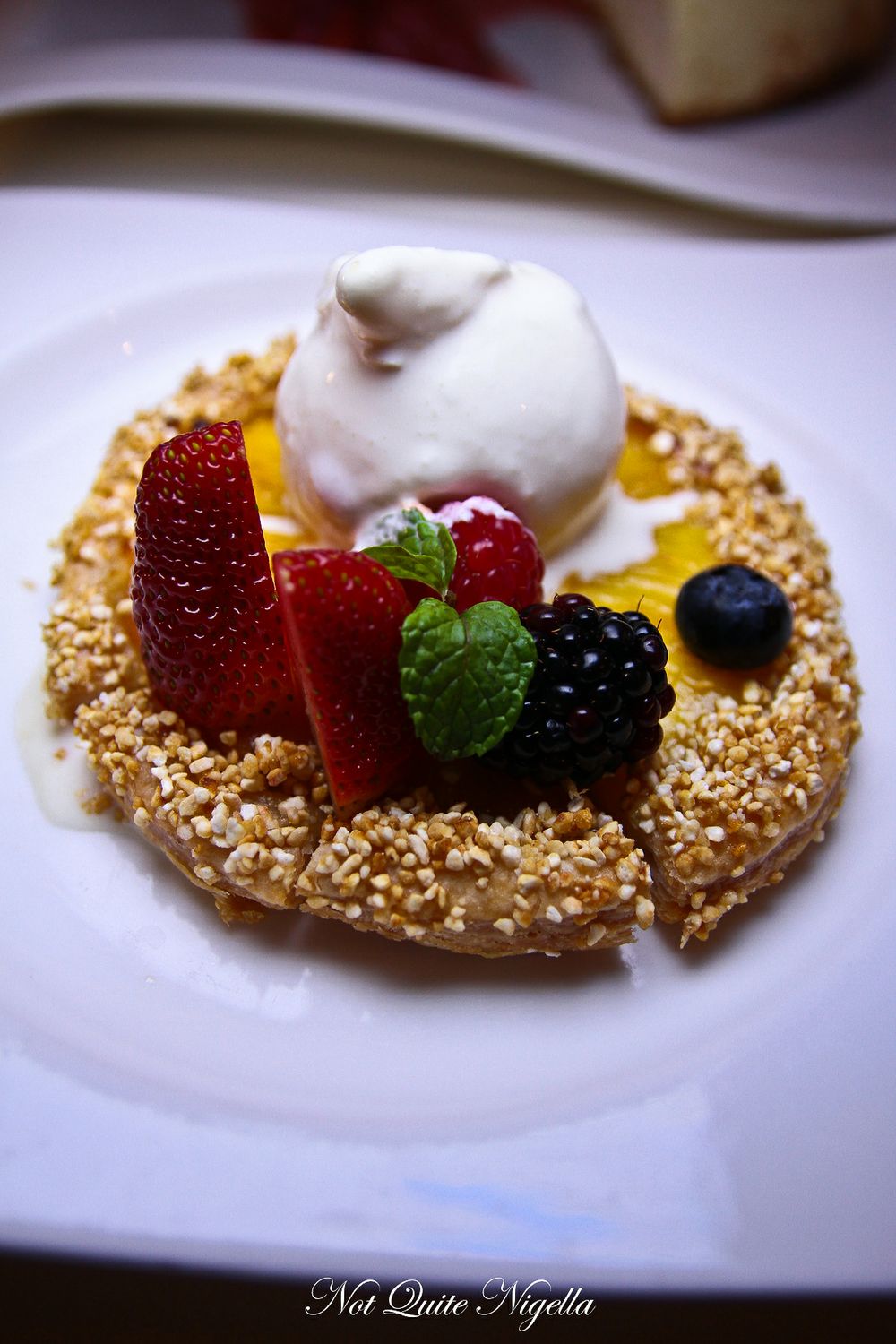 Pineapple tart $10
This is one of those desserts that you employ the emergency dessert stomach for. An almond tart served warm with a buttery pastry base, filled with sweet pineapple, it is cleverly cut into little triangles so that it is easier to eat. The honey macadamia ice cream that it came with was perfect. And Mr NQN makes an interesting observation-desserts in Hawaii seem to be well priced whereas in Australia, they're usually $16 and above.
And a little goodbye for our final meal in Hawaii? Chocolate chocolate chip cookies sitting on a bed of toasted coconut. They were the most delicious morsel to eat on the plane ride home. Yes we'll miss the aloha spirit, the people and the food. I can imagine that many before us have contemplated moving here.
So tell me Dear Reader, do you prefer steak or seafood? And do you like to know whether a restaurant supports local business or does it not matter to you?
NQN travelled to Hawaii as a guest of Hawaii Tourism and Hawaiian Airlines. 
KCC Farmers Market
Kapiolani Community College, 4303 Diamond Head Rd,Honolulu, HI 96816
On every Saturday from 7:30-11am
Cash only-there is an ATM and bathrooms at one of the college building near the car park.
Bali Steak & Seafood
Hilton Hawaiian Village, 2005 Kalia Rd, Honolulu, HI 96815
Tel: +1 (808) 941-2254
Open Tuesday to Saturday 5-9pm