Dear Reader, what is your favourite sense? Is it sight and being able to see beauty up close? Is it hearing or the ability to listen to music that turns a foul mood into a joyful one? Is it being able to taste the most delicious food or drink on your tongue? I find that one of the most evocative senses for me is smell. I was cursed with a keen sense of smell. Our first house was a very long one and I recall one afternoon being in the front of the house. One of my mother's friends had come over to visit and they were in the kitchen which was at the back of the house. I had situated myself as far from them as possible because my mother was fond of asking me to play the piano for guests and I was, quite frankly, spectacularly untalented at it (I could tell from the frozen fixed smiles of polite slow torture on the guest's faces while I was playing).
I had been in her cupboard and had taken one of her fur coats out and was lying on it reading a book on their bed pretending to be from Dynasty or something (did they ever read books on fur coats?). Suddenly, something wafted under my nose. It smelt not only like rotten garbage but the rotten garbage of a whole city and it took on an almost solid, menacing form. No matter where I turned, it followed me. I thought immediately that it was a noxious gas. I covered my face with the coat and ran to the window screaming "Mummy, something's happening, something's wrong!" thinking that the world was somehow ending and that we were being gassed out.
I opened the window panting and breathed deeply touching the flyscreen to my lips in an effort to suck in more air. My mother came into the room holding a wet knife which terrified me even more.
"Who are you fighting?" I asked
"Why are you wrapped in my coat. I told you not to touch it!" she demanded.
"But mummy we're being gassed!"
She rolled her eyes "Don't be silly. Your auntie just brought over some durian. Come and try some" she said.
Now that in itself isn't anything that extraordinary-durian is a fruit that is banned on the streets of Singapore due to its strong odour and this odour's ability to travel and waft. That day I refused to go near it as the closer I went, the worse the smell was. Seeing my reaction and not being particularly enamoured of durian themselves, my parents never bought any again which I was thankful for. I just could not separate the sense of taste and smell and when I have a cold, like most people, I just don't enjoy food anywhere near as much. For the rest of my childhood my parents would put up with my annoying sense of hyper smell although it became useful at times.
"Mummy, there is rain coming in a few hours, you should bring in the laundry" but mostly it was less charming like "That person or food smells funny".
Now this cake is a beauty. Because not only does it smell incredible and perhaps will have any stray relatives, children or pets coming out of their respective hiding places for a slice, but it also tastes absolutely divine. It is also one of the harder cakes I've made. The recipe originally came to me from the gorgeous Chanel from CatsLoveCooking . She instagrammed a picture of a Czech honey cake that she was eating and I was instantly smitten by the toasted nut coating and the multiple cake layers sandwiched with cream. Her colleague had bought it from Alchemy Bakery in Manly where the woman who bakes it kindly wrote out the recipe for it.
Knowing that I was eager to make it, Chanel sent through the recipe. It looked quite daunting but the instructions were clear. It reminded me of the time I made the Hungarian Dobos torte with its many layers. This one had five layers and is filled with a dulce le leche buttercream and this alternates with a sweetened condensed milk buttercream and is coated in toasted walnuts. The only thing that prevents one from diving head first into this scrumptious cake and eating their way out is the fact that it is quite fiddly to make. I also made it on a warm Sydney day which wasn't ideal but this cooler weather we're getting might help persuade you ;) But if you're up for a challenge that will reward you with a cake that literally cuts into slices of pure heaven, this is the one.
Oh and I have some knee- trembling exciting news (well knee trembling for me anyway! ;) ). My book is now available for pre-order! I never thought that this day would come and when they sent me my first copy, I was actually a little scared to look at it and took a quick peek to check on the cover and then placed it back inside the envelope until relenting and opening it up a few hours later. I'm so pleased with how it came up and the illustrations by my mother in law Tuulikki complement the text perfectly. It comes out on April 24th which is just in a few week's time and will also be available in e-book form!
If you are interested, you can pre-order the book on Bookworld   or Booktopia and for a bit more information about it, the Penguin site describes it as:
"From passionate home cook to Australia's most popular food blogger, Lorraine Elliott has her cake and eats it too – and she's never been happier.
Lorraine Elliott has long been a food enthusiast who believes cakes belong in an art gallery. Not so long ago she decided to ditch her day job as a highly paid media strategist to cook, eat and write – even though she's not quite Nigella. Now her fabulous food blog Not Quite Nigella is the go-to internet destination for hundreds of thousands of foodies from around the world.
This is the story behind that journey. With her irresistible humour and optimism, Lorraine reveals the pitfalls, triumphs and challenges of becoming a full-time food blogger, and shares the best of her new-found wisdom: the secret to winning a man's heart through food, the key to baking perfect macarons, tips on hosting unforgettable dinner parties, and how to create a successful blog.
More than a celebration of food, Not Quite Nigella is the inspiring and delightful story of how one woman set about turning a dream into a reality."
So tell me Dear Reader, which is your favourite sense and why? And do you prefer ebooks or paper books? And what do you think of the cover? I'd love your honest opinion! :) xxx
Czech Honey Cake or Medovnik
Degree of difficulty: hard
Serves: 8
Preparation time: 30-40 minutes
Baking time: 15 minutes
Waiting time: 2 hours
Assembly time: 45 minutes to 1 hour
For cream filling
380g tin caramel top and fill
200g tin sweetened condensed milk
9 tablespoons runny honey
100g/3.5 ozs. walnuts, toasted and crushed
300/10 ozs. softened butter
For cake
180g/6.36 ozs. caster or superfine sugar
180g/6.36 ozs. butter, softened
3 tablespoons runny honey
450g/1 pound self raising flour
For syrup
2 tablespoons rum or rum essence (optional)
To decorate
120g/4 ozs. walnuts, toasted and crushed
Whipped cream and walnut pieces
Step 1 - Firstly, make the creams as they need to firm up in the fridge. You'll be making a sweetened condensed milk cream as well as a dulce de leche or caramel cream. In one bowl, add 200g of the softened butter, 60g of the crushed, toasted walnuts, six tablespoons of honey and the whole tin of the caramel top n fill or dulce de leche and whisk all of the ingredients together until there are no longer lumps in the butter. In another bowl, add the remaining ingredients, that is, 100g of the softened butter, 40g of the crushed toasted walnuts, three tablespoons of honey and 200g of sweetened condensed milk and  whisk all of the ingredients together until there are no longer lumps in the butter. Cover and place both bowls in fridge for at least two hours.
Step 2 - Place a large heatproof bowl snugly on top of a pot of simmering water. To the bowl add the sugar, butter, egg, cream and honey and melt all together until smooth. While it is melting, sift the cocoa and mix the flour and cocoa together.
Add one quarter of the flour mixture to the butter mix on the stovetop, while it is still warm-adding it slowly and whisking it means that there are not as many lumps. Gradually add the rest of the flour mixture in three or four more lots until it is smooth. This becomes a dough-because of the amount of butter, it doesn't stick to your hands.
Step 3 - The key to this cake is having the layers as thin as possible so you can between five or seven but if you want to be cautious as thin means it tears more easily, make five layers instead of seven. Tear out as many pieces of baking parchment as you are making layers. I found this easiest if I drew a circle on each piece. I used a XX cm tin as a guide.
To make it fairly even, I calculated how much the dough weighed (1148 grams) and divided it by seven. I pinched off about 168 grams of dough and pressed it down on a sheet of marked parchment. I then rolled it gently with a non stick rolling pin and trimmed the edges using any extra for another layer-it rerolls easily.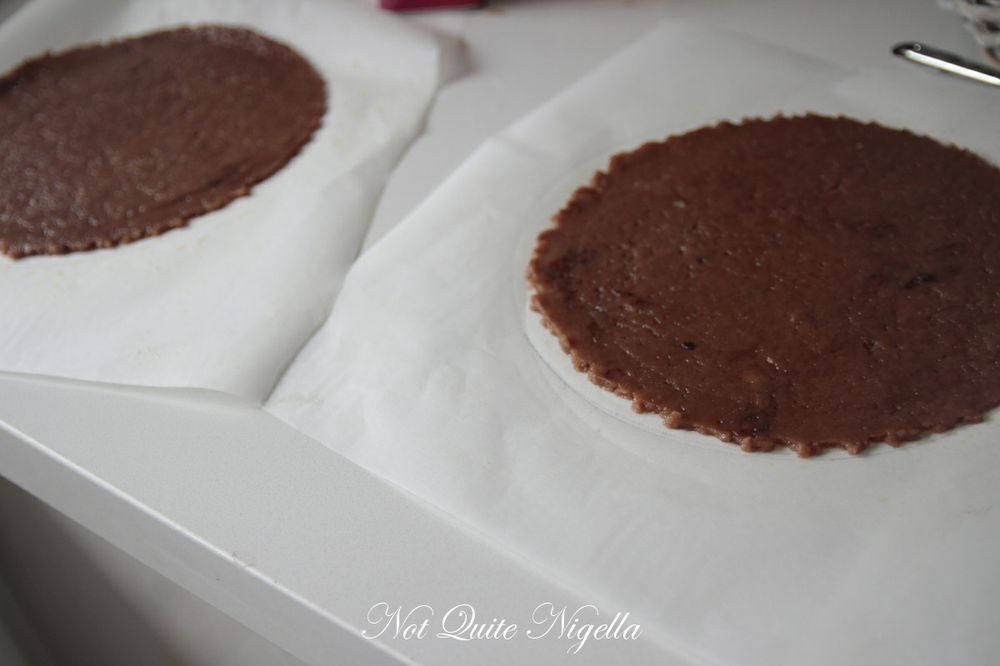 Step 4 - Preheat the oven to 180C/350F. Have three oven racks and baking trays ready so that you can do a few at a time. Bake the layers for about 4-5 minutes. You will need to bake them more if they are thicker but I baked mine for 4 minutes exactly. The tops should not be sticky.
Step 5 - Allow to cool completely and do not place anything on top of it (I made the mistake of placing them on top of each other while warm and they became very delicate). Place cling wrap between cooled layers (I found that the baking parchment stuck to some).
Step 6 - To make the syrup, place all of the ingredients in a small jug and stir.
Step 7 - To assemble, carefully trim the cakes using the bottom of a round tin and a knife so that they are all the exact same size. Place the first cake layer on the serving plate or stand. Brush with the honey syrup and then spread with the cream filling. Repeat until you have added the last layer.
Step 8 - Spread cream filling all over the top and sides and press extra crushed, toasted walnuts on top. Once you have a good layer of crushed nuts on top, you can gently but firmly press the nuts against the icing with an angle spatula or knife. Cover with cling film and place in the fridge to firm up. You can add some whipped cream and walnut pieces too if you would like but do this after you add the whipped cream roses.