This post is brought to you by Woolworths Gold
My mother and father are fairly quiet people. I rarely hear about their upbringing in their respective countries of Singapore and Hong Kong but when I do hear snippets I feel like I get a better understanding of what their life was like and how their personalities developed to what they are today.
I always connect my childhood memories with food and good memories always seem to have an element of good food attached to them. The other night my mother described birthday parties growing up on a rubber farm in Singapore. She described how she and her siblings would receive not cake but a plate of fried noodles, two boiled eggs and some fizzy drink on their birthday. The fizzy drink was an orange flavoured drink made by a local factory but during that time, it was an especially fun treat. Her mother was widowed during the war and with six young children to look after, treats were rare but her mother always made sure that the kids had something special on their birthday.
From when I was small, I used to love reading an enormous 3 inch thick "Good Housekeeping" cookbook that my mother had. I would wear it down while poring over its pages looking at treats I had never seen before in my life. They were British Australian recipes and I looked at it at least once a week. It became so worn out that the spine came off and it split into still two volumes.
One recipe that I was fascinated by was Simnel Cake. This cake has a history as far back as Medieval Times. Simnel cake is like a fruit cake but with three layers of marzipan to add moisture and flavour to the cake. Traditionally, it was a cake served on Mothering Sunday or Simnel Sunday, the 4th Sunday of Lent. It was made by servant girls returning home to their mothers. On top there are eleven or twelve marzipan balls to signify the apostles with or without Judas. Nowadays, it's often associated with Easter.
In it I used one of my favourite products from the Woolworths Gold Range, their Ligurian Bee Honey from Kangaroo Island in South Australia. I was fortunate enough to visit Kangaroo Island a couple of years ago and it was a beautiful, unspoilt wilderness in the world. The honey produced there is rather special indeed as it is made using the last strain of pure Ligurian bees. Kangaroo Island's distance means that it is too far for mainland bees to fly onto the island keeping the strain pure. It is also considered to be the oldest bee sanctuary in the world. The taste of this honey is wonderful and it recently won a silver medal at the Royal Melbourne Fine Food Awards.
I ended up making this cake using a huge bag of dried fruit that my parents had gifted Mr NQN for Christmas. They know of his love for fruit, fresh or dried and this was a gift that he happily ate from. As it was a 1 kilo bag, he scarcely made a dent in it so he happily offered it up for this Simnel Cake. It's a straightforward cake, even more so if you buy marzipan but I love the taste of freshly made home made marzipan. And it gives me an excuse to put those cute little Easter chicks on a cake.
So tell me Dear Reader, do your memories involve food? And are you yay or nay for fruit cake and or marzipan?
And pssst here is a little peek at the Woolworths Gold Easter range with three handcrafted eggs in White & Milk Chocolate With Salted Caramel, White Chocolate With Cranberry and Pistachio and Dark Chocolate With Blood Orange. Plus a 900g bunny that has my name on it!
DID YOU MAKE THIS RECIPE? Share your creations by tagging @notquitenigella on Instagram with the hashtag #notquitenigella
Easter Simnel Cake
An Original Recipe by Not Quite Nigella
Serves 8 people
Waiting time: 1 hour to 24 hours
Preparation time: 30-40 minutes
Cooking time: 2 1/4 hours
450g/1 pound mixed dried fruit (including some glace fruit like cherries or pineapple)
1 cup orange juice
1/2 cup brandy plus 2 tablespoons extra
240g/8ozs plain all purpose flour
1 teaspoon ground cinnamon
1 teaspoon ground nutmeg
180g/6 ozs softened butter
150g/5ozs honey
4 eggs
1/4 cup buttermilk
750g/26.5ozs. of marzipan *see recipe below
1 egg yolk, beaten, optional
Marzipan
300g/10.6ozs ground almonds
300g/10.6ozs. icing or superfine sugar, sifted
3 egg whites
3 tablespoons plain all purpose flour
A little yellow food colouring
Step 1 - Steep the fruit in the orange juice and brandy overnight. If you don't have a lot of time, heat up the juice and brandy and pour it over the fruit and allow to steep for an hour. Cool.
Marzipan can be rolled
Step 2 - While the fruit is macerating, make the marzipan. In the bowl of an electric mixer fitted with a beater attachment, add all of the ingredients and beat together on low speed until combined. Cover with cling film. You should have about 750g or just over 1.5 pounds/26.5 ozs of marzipan.
Step 3 - Preheat the oven to 150C/300F and line a 22cm springform cake tin with parchment on the base and sides. Whisk the flour, cinnamon and nutmeg together in a bowl or jug.
Step 4 - Beat the butter and honey together until smooth and then add eggs in one at a time. If the mix looks like it will curdle, add a tablespoon or two of the flour mixture to the mixer. Complete with all eggs and add the milk so that it is a smooth mixture that you can dollop.
Step 5 - Take one third of the marzipan and break it up into pieces and mix into the batter. You can also put the marzipan into the cake a different way which is more traditional. Simply add 1/2 of the marzipan-less batter into the prepared tin and then roll out a third of the marzipan into a round and place on top of the batter. Then add the remaining batter on top of the marzipan so it bakes as a middle layer.
Step 5 - Spoon the batter into the prepared tin and cover with foil. Bake for 1 hour. Remove the foil and then bake for another 60-75 minutes. Check in the centre for doneness. When ready, remove from the oven and while still hot spoon over the brandy on top. Cool completely in the tin.
Step 6 - Roll out another third of the marzipan into a round that fits the top of the cake. It is a little sticky so it is best to do this between two layers of parchment. I use the sides of the springform to measure it and then gently lift this onto the top of the cake. Crimp the sides if desired.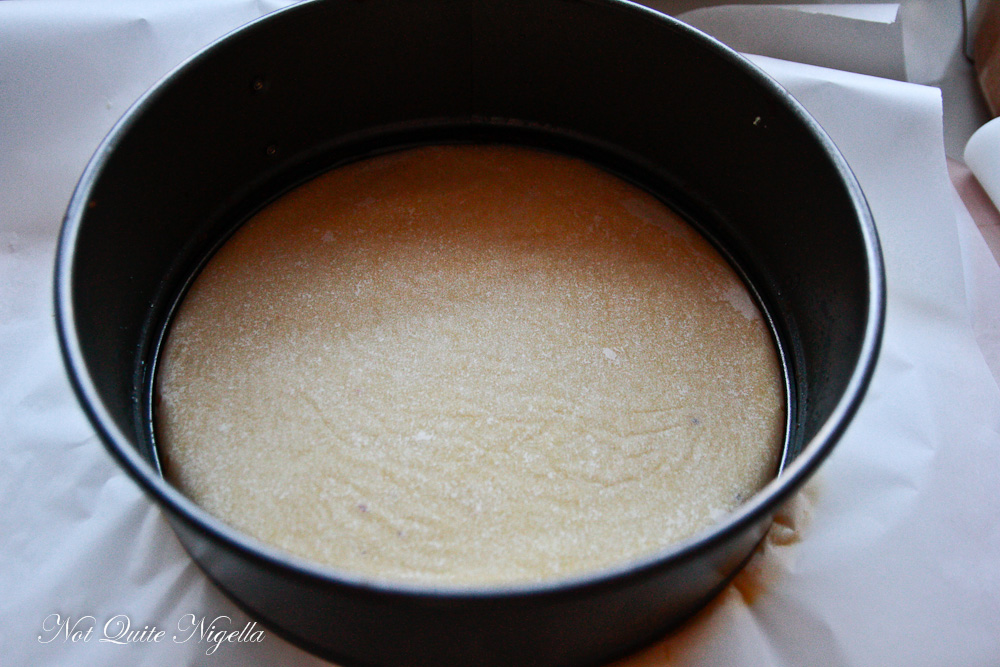 Step 7 - Roll the remaining marzipan into eleven even sized balls and place on top of the cake.
Step 8 - The next step is optional but turn your grill up to high and brush the top with a beaten egg yolk. Then place the cake under the grill, turning the marzipan light brown at the top.