Once upon a time, there was a place called Strangers With Candy. Intrigued by the name, a girl and her boy used to go past there always meaning to go in. This happened for years, sometimes they would be closed when they tried to book and so a booking was never made. Then one day the girl drove past and noticed that it was no longer and that Strangers With Candy had disappeared. In its place was a completely new place, all white in interior. It was called Kepos Street Kitchen.
I was catching up with Ute in between both of our travels and when trying to decide where to meet up, I thought that I wouldn't miss another chance to try out a neighbourhood newbie. Kepos Street Kitchen is located on the corner of Kepos Street and Phillip Street in Redfern (but more the Waterloo end of Redfern). The menu is one page of food and one page of drinks (it's B.Y.O here) this evening with an appealing sounding list of mocktails. I am a bit of a failure at drinking too much and I always appreciate some sort of effort for non alcohol drinkers.
The chef is former Bather's Pavillion's Michael Rantissi and his Israeli heritage shows on the menu with references to Tel Aviv felafels, kibbeh, kefta, husroum (verjus) and halwa featuring. There is a front section as well as a garden courtyard section in the back which is a bit cooler. In an effort to get a bit more natural light, we sit at the front. Neither of us are really hungry so we share a couple of entrees and a main. None of the mains go over $29 which is good for a neighbourhood restaurant.
This was mixed at the table and was a combination of spices including cumin and cinnamon, walnuts, parsley crushed wheat and pomegranate molasses. The raw lamb mince was mixed up with this heady, aromatic combination and it was served with a moreish crisp bread. It was a delicious combination with a sweetness from the pomegranate molasses and olive oil.
Both Ute and I wondered about Tel Aviv felafels and how they differed from other felafels. It turns out that they're really not that different with a fabulously crunchy outer and a  soft inner. There are five pucks to a serve and they're paired with a garlicky green tahini made green with herbs.
Oh how we were smitten with this dish. I love squid ink and the sauteed cuttlefish was so soft like butter. Actually let's call it so soft it was like buttah and we both had to check the menu to ascertain that it was cuttlefish.  The squid ink risotto is creamy and buttery and is flavoured with tomato, garlic and zhoug, the Middle Eastern spice mix but this one is without chilli. It is a good sized portion and so good that you might want to keep going but I think this is really best split between two as it is very rich (just share another main ;)).
Probably not necessary but sometimes you need some fries. These are fatter chips rather than French fries and have a soft filling and are paired with a garlic aioli.
There's something about jars that makes me feel as though I'm peering through the looking glass. What do I see but chocolate mousse with chunks of halwa brownie housed in a preserving jar. The halwa (Israeli rather than Middle Eastern halwa) gives the brownie a nice chewy texture and the rich large chunks of brownie, four in total provide a rich foil to the light chocolate mousse. Hmm didn't we just say that we weren't very hungry?
So tell me Dear Reader, do you ever skip meals entirely if you aren't hungry? Or do you eat something light instead?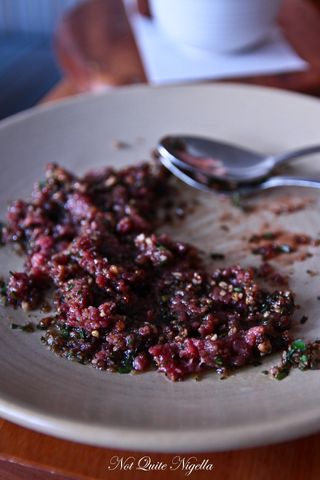 Kepos Street Kitchen
96 Kepos Street, Redfern, NSW
Tel: +61 (02) 9319 3919
Tuesday – Friday 7.30 am – 3 pm
Saturday and Sunday 8 am – 3 pm
Dinner
Wednesday – Saturday 6 pm – Last bookings 9.30 pm