Don't shun me Dear Reader, but I have never seen Star Wars or Star Trek. Worse still, I often get the two mixed up. I know that one involves a Princess with buns on the side of her head and a bikini and the other has people with pointy ears. Neither of them involve E.T. The Extra Terrestrial...
But when I heard whispers of a new restaurant just six weeks old in Sydney's Northern Beaches in Avalon called Yoda Cafe, I had to call Manly residents Louise and Viggo. He's a long time Star Wars enthusiast. Indeed at last year's Halloween party he wore a full Darth Vader costume but I did have to warn him that there was no guarantee of an appearance of Yoda.
The statue that looks like Yoda
It's a beautiful Sunday afternoon when we take the one and a half hour drive to Avalon. It's almost like being on holiday in this scenic, laid back area of Sydney and we take a seat at Yoda Cafe and wait for Louise, Viggo and his mum Madame Butterfly to arrive. There's a wine list available but I order a Yoda Drink, a sparkling water with a wedge of kaffir lime, coriander, mint and cucumber which is a refreshing way to hydrate. It's busy this afternoon with some walk ins while others hold reservations.
Yoda water $4
Called Yoda Cafe because of the statue towards the back of the cafe, it has served as a guidance to the friendly ex-pat couple Michelle and Brendan who have lived in countries across South East Asia for nine years. The statue also looks a bit like Yoda, hence the name. The menu is a mix of Asian goodies from Singaporean (Kaya toast) to Vietnamese to Thai as reflected in the couple's travels. I ask if the Kaya coconut jam is home made and Michelle answers "Are you Singaporean?" because apparently it's the question that comes out of Singaporean visitor's mouths (and yes it is home made).
Coconut hot chocolate $4.50
They had run out of coconut juice so in place we ordered a coconut hot chocolate which is rich with a strong coconut flavour with a swirl of chocolate sauce at the bottom of the glass.
Kaya toast $4.50
The kaya comes along with butter and two thickish slices of toast. The kaya itself is eggy and sweet and they're kind in offering us a spoon to eat it with and the offer of more if we need it.
Betel leaves $15
I'm so used to seeing betel leaf dishes for $4-$5 per betel leaf so we asked how many we got in a serve and were told about 8-10 pieces which is a generous amount for the price. It's self assembly here with shelled crab meat, toasted rice, peanuts, Thai basil, pineapple, green onion and coconut and a tangy chilli sauce to spoon over the betel leaves.
Vietnamese baguette $9
The Vietnamese baguette is a house baked baguette with soft, thick slices of pork, pate,salad and images. I'd love a bit more filling or sauce but the pate is appealingly strong and it's a good lunch offering.
Vietnamese Noodle soup $12
The pho isn't quite pho as we know it, it's a much sweeter, darker number with plenty of what tastes like masterstock in it. The noodles are thicker than we're used to which makes picking up slippery work and we add some chilli sauce and vinegar to counter the sweetness of the soup. It's enjoyable with wonderfully tender beef but pho purists might find it on the sweet side.
Green Papaya Salad $12
The green papaya salad is everyone's favourite-the finely sliced kaffir lime leaves lift the fresh salad and the two pieces of sticky caramelised pork provide a flavoursome foil for the virtuous but flavour packed salad.
BBQ Short ribs with tamarind sauce $15
The bbq short ribs are softly cooked and fall off the bone easily and three fat pieces on the bone are paired with a sweet, moreish tamarind sauce and a side of salad.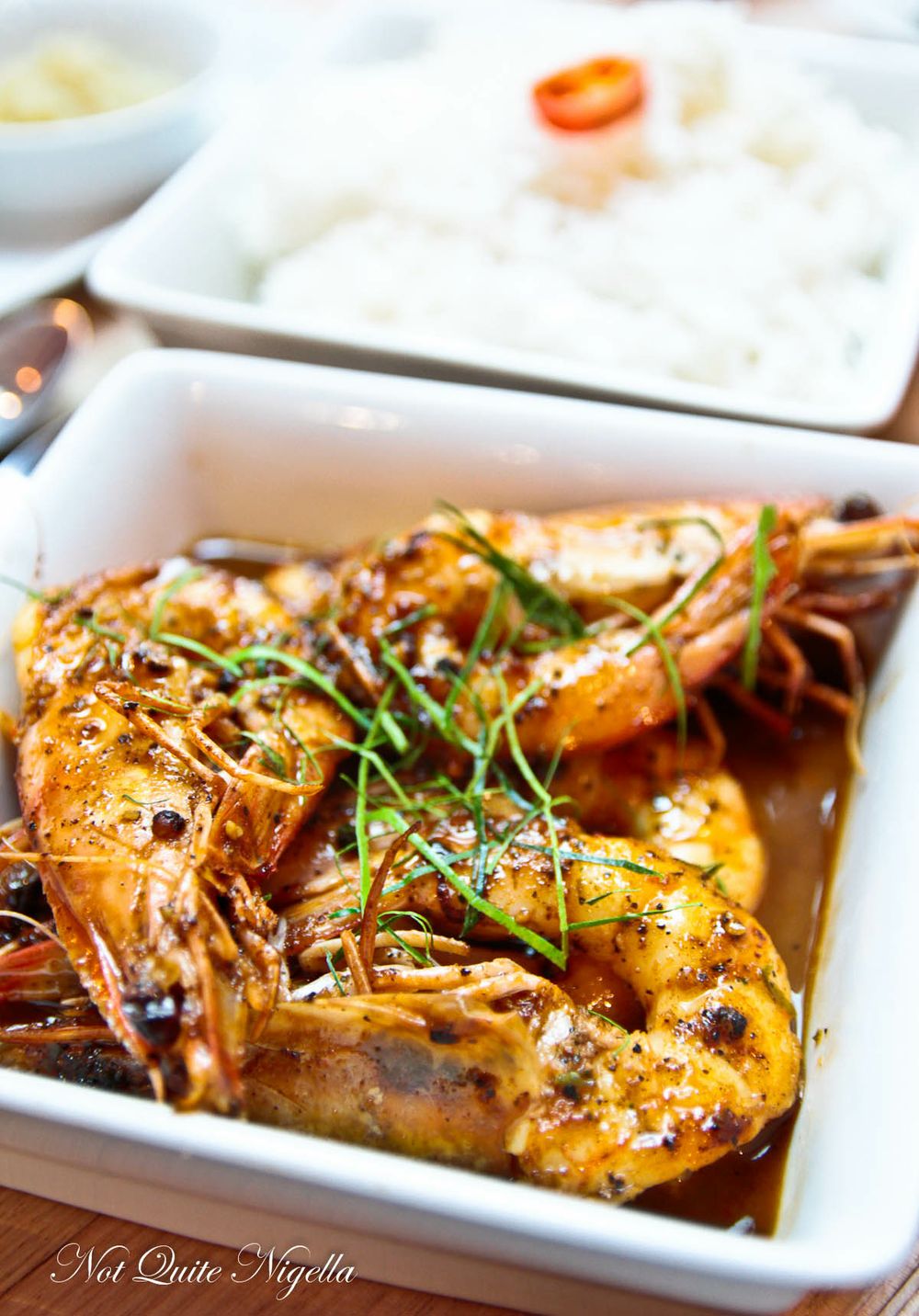 Black pepper prawns $18
I've loved black pepper caramel dishes ever since visited Vietnam (so much so that I included a recipe in my book) and the prawns which come as five large prawns to a serve are delicious. It comes with rice and a good thing too as you may find yourself  drenching the rice with the sweet, spicy black pepper caramel sauce. We didn't realise that it came with rice so we ordered two extra serves and I wish they had told us that it came with rice as the extra rice was mostly untouched.
Chocolate chilli torte $10
Over ordering means that we look upon the idea of dessert with a little apprehension which is a terrible thing indeed. But we know how much Viggo loves chocolate cake so we order the chocolate chilli cake. It's a chocolate crumb base with a thick, gorgeous chocolate ganache centre. And it's really true that you suddenly find room in your stomach when you want to. It's served with a rich chocolate sauce and toasted coconut. If you're looking for a chilli hit, it's very faint but as a chocolate ganache tart it's very good.
And even though I'm not much of a coffee drinker, the barista here is an avid coffee art enthusiast and creates swans and dragons. He noticed that we were taking photos of the food and sent out this upside down coffee which has chocolate at the bottom, coffee in the middle and milk on top and features a delicately intricate swan! And the bill is a pleasant surprise at less than $30 a person including tip. And a walk to nearby Avalon Beach seems the perfect start to working off lunch.
So tell me Dear Reader, do you like taking road trips on the weekends? And are you Star Wars or Star Trek fans?
Yoda Cafe
68 Old Barrenjoey Rd, Avalon, New South Wales, Australia 2107
0432 505 284 / 9918 0444
Open Tue - Wed: 7:00 am - 7:00 pm
Thu - Sat: 7:00 am - 10:00 pm
Sun: 8:00 am - 3:00 pm