The Mall area
Last month, a bunch of food bloggers and I went on a Meet My Suburb Walking Tour of Kensington and Kingsford where I showed them around the secret local's favourites in the area. It was so much fun so some other blogger friends and I decided to do the same in Cabramatta. Betty from Betty's Bites grew up in the area and when she emailed us asking if we'd like to join her on a little eating tour of Cabramatta, I didn't hesitate for a moment. I'm almost embarrassed to say that as a born and bread Sydney-Sider I'd never been to Cabramatta before. What I didn't realise that apart from the fact that Cabramatta has great food, the people are what I enjoyed just as much. Cabramatta residents have fun and a lot of laughs and the kids...well they're priceless and they love a camera. And I should warn you now that this is a long post so please settle in with a cup of coffee or tea (sweetened with sweetened condensed milk to put you in an authentic mood).
Colourful desserts
Trissa and I are driving together for the first time Cabramatta from Balmain and the GPS is guiding us. We get into the wrong lane accidentally misreading the GPS. Trissa winds down the window "Please sir, I need to get into that lane" she pleads with the taxi driver who looks at her like she just told him he has a chicken on his head and it's about to lay an egg. "WHAT?!" he says and before he can figure out what she means she manoeuvres into the space. We arrive at Cabramatta via the scenic route and spot Betty walking towards the train station, our designated meeting point. "Find a park where-ever you can on this street or the next" she says. Parking is notoriously hard in Cabramatta as crowds of people gather there on the weekends to buy and eat and the 50c car park (yep 50c to park your car, compare that to a city car park at $24 for 2 hours) is an option if we get desperate.
Fruit sold at a store
We're meeting Ja, Betty and journalist Carla and her photographer boyfriend James at the station. Trish is to join us later. It's a gorgeous day, we couldn't have asked for better for a food walking tour and Betty has been charged with showing us the best of Cabramatta.
**Stop #1 Kim Thanh Company Hot Bread
We start the tour off opposite the train station at Kim Thanh Company Hot Bread. Betty order ones of the mega rolls, a Vietnamese pork roll with the lot: chicken and pork plus all the trimmings. "Could you put it on a plate, let us photograph it and then cut it into 4?" The guy behind the counter is amused by our antics but we need to do it for the blog you do see. After the photographic ritual there's nowhere to stop and eat it but this is not a problem. Betty says that we can just bring it into the cafe where we'll refresh ourselves with some Vietnamese drinks - yes, apparently there isn't an issue with bringing other food in from other shops. "It's Cabramatta!" Betty says and we quickly learn that people are an easy going lot here.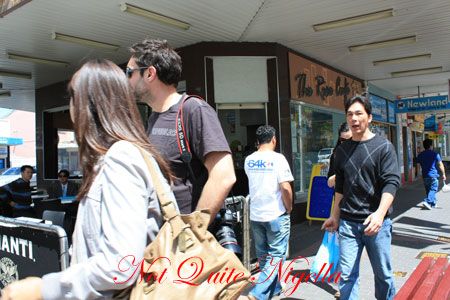 Stop #2 The Rise Cafe
We sit down at The Rise Cafe just round the corner. The main shopping and eating area of Cabramatta is small as there are lots of little arcades that join up to the carpark. We order a selection of drinks.
Soda Egg $3.50
The soda egg sounds frightening but it tastes more like a milky custard mixed with soda water and there's no raw egg seen or tasted. It's not particularly sweet though but it is refreshing.
Jackfruit and Lychee shake $3.95
The mixed Jackfruit and lychee shake is strongly flavoured with lychee with a slight jackfruit after taste. It would be a god send on a hot day with the finely churned ice giving it a slushee quality.
Custard Apple shake $3.95
My favourite is the custard apple shake which taste like pure custard apple blended up and smooth.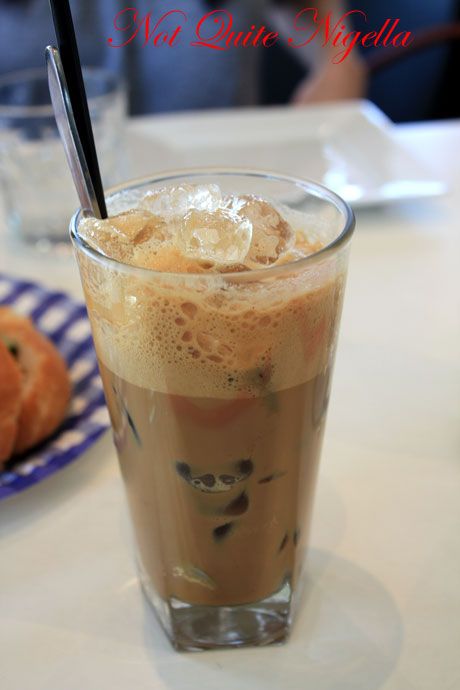 Vietnamese Iced Milk Coffee $3.50
The Vietnamese Iced Milk Coffee is very strong stuff indeed and it's sweetened with sweetened condensed milk. I can only have a few sips of this as I fear a coffee addiction coming on...
Mega Vietnamese Bread Roll $6
We try the Mega Vietnamese Bread Roll and it's delicious although different from the ones I've had from Mascot at Hong Ha and Vee Vee. There is flavoured vermicelli inside it as well as chicken, pork and pickles. Vegetarian Betty says that this is one item that she misses.
Stop #3: Huong Xua
The condiments always feature on the table alongside the omnipresent tissue boxes
Bun Nem (Cha Gio) 3 Cai $9
Refreshed and with something in our bellies, we go across the road to Huong Xua, a place that Betty tells us makes excellent Spring Rolls. We sit down and order the 3 Spring Rolls with Vermicelli and it comes out shortly after. The spring rolls are cut into pieces for easy sharing and the bowl of fish sauce comes double bowled. Betty explains that she dips the vermicelli in the bowl of fish sauce and then puts it in the clean bowl. The spring rolls have a thinner pastry - they use the rice paper pastry, not the thicker egg pastry. The thinner pastry means that the spring rolls are crispier and less oily. The filling is very meaty with a lot of mince inside and it's tasty, crunchy and moreish.
The 8 ingredient drinks
Jewelry store that sells socks and torches!
With a few more morsels in our tummies, we head towards the main centre of the mall area and to the arcades of shops. We pass by stores which sell material (Cabramatta is know for their fabric shops) and all sorts of goodies. There's a store where you can pick 8 different toppings to put in your drink from sweet red bean, avocado, wriggly tapioca noodles, fruit and taro. Fine jewelry stores sell all manner of things in the bins out the front from torches to socks.
"Am I going to be in the newspaper?"
The fruit shops are busy and are decorated with suspended bunches of green sugar bananas at the front. A man is giving away tastes of green mango which we try - it's an unusual taste, quite dry but sweet and it reminds me of a non juicy nashi pear. It's completely unlike regular mango and there's a slight tingle on the tongue afterward like when you eat unripe fruit but it's not unpleasantly so. He sees the cameras and says smiling "Am I going to be in the newspaper?".
Gigantic strawberries
Star Apples
Water Apples
There are enormous strawberries about the size of a child's fist, mangosteens, durian as well as fruit that I've never seen before like green water apples, little yellow berries which Ja tells me are very, very sour and Star Apples which smell beautifully fragrant. Some of the fruit like the water apple and green mango are sold with a little packet of salt and chili to dip it in.
Small yellow berries
Durian, of course.
Stop #4: Tan Hoan Cau
Nem Nuong pork ball skewers, 2 for $5
We stop at Tan Hoan Cao whose sign proudly declares "As seen on TV". We buy sticks with sweet pork balls on them which are rather tasty. Trissa and Trish who has now joined us say that they are similar to a Philippine snack but less sweet.  We also try some piping hot and fresh eggy custard puffs.
_Custard egg puffs, $5 a box
_
The fabulous kids of Cabramatta!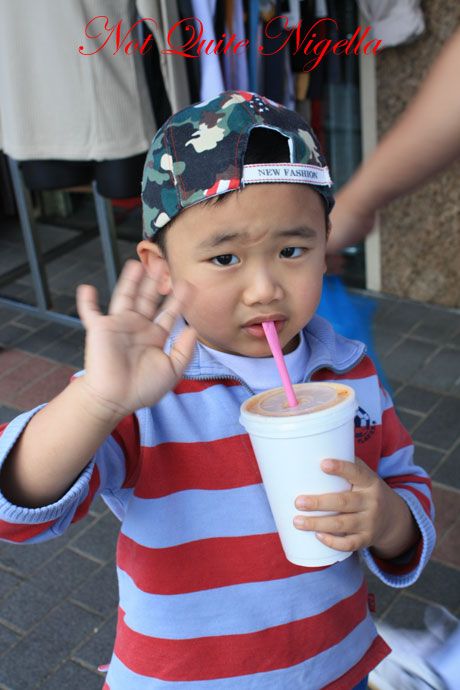 Oh Hai!
We're walking and a little girl being carried by her grandpa waves at me so I wave back. I want to go back and take her photo so I do but she's transfixed by the camera and her hand remains still. No matter, a little boy with a rather serious expression and a huge drink pokes his adorable face in the camera frame and starts waving enthusiastically. I take a photo of him and he waves me out of sight whilst staring deadpan at the camera. They're adorable these kids and they do love a camera.
Stop #5: Dong Tam
In one of the arcades we pass by Dong Tam and Carla buys some prawn cakes which are interesting: spongey and light and only slightly warm they're a bit oily and plain for my taste and they're much like prawn balls but in a flatter, rectangular form. I walk a bit further and see some cakes and photographing them I bump into another little boy.
Oh Hai!
He's transfixed by the camera lens - absolutely so. I don't think I've ever seen a child look at anything so intently. His father is standing nearby and seems amused but used to it and I take a photo of him and show the picture to him. He points at it and stares absolutely fascinated and his widened, curious eyes never leave my camera lens the entire time I am there.
Prawn Cake
We then try some prawn pancake which is similar to okonomiyaki and terrbily good indeed and at 80c it's the ideal snack.
Stop # 6: Duy Linh
However as the vegetarians (Betty & Carla) need some food, we head off to a vegetarian restaurant where they make mock meats. We order a few things to see how they do each type of meat. Fear not vegetarians, there is food for you here too!
Vermicelli soy shrimp on sugarcane $9
These aren't a great start to the meal with the soy shrimp tasting watery and spongey. Not as inspiring as we'd like and certainly not prawn like but the vermicelli is good in the faux fish sauce.
Soy duck with rice $9
The soy duck is good, particularly with the sauce, and we find the duck and chicken better approximations of the actual meat than the seafood.
Soy Hai Nam chicken $8
The chicken is also good but it's incredibly smokey which adds another unexpected dimension of flavour.
Deep fried soy prawns $4 for 4
These don't really resemble the picture which was a good imitation of a prawn.  Despite the fact that they don't really taste like prawn, they are very tasty indeed and much nicer than the prawn on sugar cane sticks.
Centella drink (Pennywort leaf juice) $2.50
_Array of drinks $3.50 each
_
The drinks are a range of coconut and red beans and wriggly noodle drinks. The two that stand out are the drink with seaweed, longan and barley in it which we dissect and give everyone a sample of and the centella which is a pennywort leaf drink which comes bottled and is a very herbal drink which reminds me of spirulina or grass jelly.
Stop # 7: Tan Viet
Criskin chicken $10
_ _
The one place that despite our full stomachs, we couldn't say no to was Tan Viet.We are so full but the lure of their famous criskin chicken with tomato rice has us making room in our tummies. It arrives quickly and we create some makeshift plates with tissues as the staff were perplexed enough with our one plate small order amongst 7 people that we didn't want to ask them for plates too. One bite into the chicken and we see that it is amazing stuff indeed. The skin is so crispy, like the crispiest Peking Duck skin but the chicken is beautifully moist and tender inside. The accompanying pickles are sweet and delicious and the tomato rice isn't bad although I prefer the chicken and pickles.
Stop #8: Hung Vuong
Prawn bread fritters with mung beans $2
We make one final stop to get some goodies to take home for dinner so we go back to Hung Vuong. There's the matriach, the smiling 75 year old woman who sits at the front every day taking orders while the rest of her family and staff takes our order. She's giggling like a schoolgirl at our antics (we should hope to be so happy and active at 75) and we buy some rice cakes with mung beans on top with a fish sauce and some puffy prawn cakes with mung beans for $2 each. Later at home we try them and the rice cakes are slippery and cool and delicious with the sauce on top and the enormous puffy prawn cakes are like deep fried bread and we can't get through one.
Mung bean filled donut $1
Trish and I are fixated on their donuts so we buy one to share. The regular donut shape is plain but the circles have mung bean filling inside them. We try a bit and the toffee is gummy and sticks to the roof of the mouth. The mung bean filling is a little dry in the centre.
Stop #8: Kaysone Sweets
One last stop. No visit to Cabramatta is complete without an avocado and durian shake.  Betty had asked at a few other stores and they didn't have Durian but she has finally found a good place that has Durian shake. They also sells vegetable chips with a drizzling of sugar syrup on top. We also try some banana fritter which is delicious and the batter is firm and crunchy with the starchy banana inside.
Sweet potato chips
She passes the avocado and durian shake to everyone. 5 out of 7 like it and James and I are the only ones that don't go for the distinctive smell. "Try it while holding your nose" everyone asks me and I do and the texture is lovely but for me, taste and smell are so linked that I just can't have more.
On that note, we all wave the white flag of surrender. Our tummies doth protest at having more food although I have to say our tastebuds are dancing a dance of pure delight. Big thanks to Betty for showing us her suburb!
So tell me Dear Reader, is there somewhere you've always wanted to visit but never have?
Kim Thanh Company Hot Bread
215 Railway Pde
Cabramatta NSW 2166
Tel: +61 (02) 9726 0546
The Rise Cafe
2 John St
Cabramatta NSW 2166
Tel: +61 (02) 9723 6201
Huong Xua
180 Cabramatta Rd
Cabramatta NSW 2166
Tel: +61 (02) 9755 0388
Tan Hoan Cao
Shop 3/73-79 John Street
Cabramatta NSW 2166
Dong Tam
Duy Linh
10/117 Joh Street
Cabramatta NSW 2166
Tel: +61 (02) 9727 9800
Tan Viet
Shp 3/ 100 John St
Cabramatta NSW 2166
Tel: +61 (02) 9727 6853
Hung Vuong
65 John St
Cabramatta NSW 2166
Tel: +61 (02) 9723 7270
Kaysone Sweets
59 Park Rd Cabramatta NSW 2166
Tel: +61 (02) 97241559