I'm a firm believer in magic. Truly honestly I am and it's the kind of thinking that makes my very scientific and logical husband just despair and roll his eyes with a tight, tolerant smile (think the same smile one gives to a potentially violent mental patient). So when I see an item on the cafe menu that says "Magic $3.50" I point at the item in question and say to him "Look! I told you there was magic!"
We're sitting at Joe Black which is a place near where Mr NQN works.  When I want Mr NQN to do something I go about it the wrong way. I do a version of a child tugging at their parent's pants or skirt and repeat requests a lot. When Mr NQN wants to insist that we do something he simply mentions that "We _really _should go there" and he says it with such a serious tone that I know he means business. And several times he talked about the coffee at Joe Black and said "You _really _should go there" with that serious look replacing his usual impish countenance.
I have walked into Joe Black and have staked a place at the communal table while Mr NQN is parking the car. It's a small cafe but with cosy service and they ask me if I would like a coffee while I am waiting. I'm uncertain and the barista holds up his palms and says "No pressure" while the girl behind the counter laughs and jokingly says "I'm just going to stare at you until you order" and pretends to stare avidly for a moment. I look around-there are walls full of memorabilia and just near the kitchen are four cookie jars suspended above the counter with cookies for $3  ranging from "chunky funky monkeys" to "giant rainbow cookies" and a rather amusing one called "Fresh Air" for $20-this of course being an empty cookie jar.
When Mr NQN arrives we take a seat at a table in a little further as its an unseasonably chilly Spring day. We face a wall of what look to be family school photos, along with a photo of what looks like someone's first teenage car. Bags of moustache stamped coffee sit on the counter and a coffee siphon machine sits to one side. Mr NQN usually orders a long black but today he has the time to try a siphon coffee which takes time both to make and to drink as you usually let it sit for about 5 minutes. Both luxuries he can't really afford on a busy work day.
They set down some enamel cups and brown beer bottles filled with water while we peruse the small, neat selection of menu items. There are five breakfast items available all day and four lunch items available after noon with a note that there is a "full menu coming soon (please be patient)." Items are described cheekily with items such as "granola with diced apple and berry compote (very fancy)" and "pikelet stack with stuff" and there's a selection of sandwiches by John Daly randomly named after the notoriously unhealthy golfer.  We ask the waitress for her recommendations and whether we should get the steak sandwich or one of the sandwiches and she says "The steak sandwich, I can't lie, it's awesome."
Flat white $3.50
The coffee as to be expected is very good and very drinkable with very little bitterness to it.
Making the siphon coffee
We watch as the siphon coffee is prepared which prompts the table next to us do too. They're unfamiliar with the concept and we all watch as the barista measures the temperature of the water and adds the grounds to make the siphon coffee. He then takes a sip from a small glass to try it and satisfied with it pours it into a clear glass and brings it over to our table along with a small cigar tin that houses a square of folded paper explaining where the coffee comes from and advises us to wait 5 minutes for the best results. There are three siphon coffees available and we went with their recommendation, a honey roasted coffee from Costa Rica.
Tasting notes on the siphon coffee-a Costa Rican bean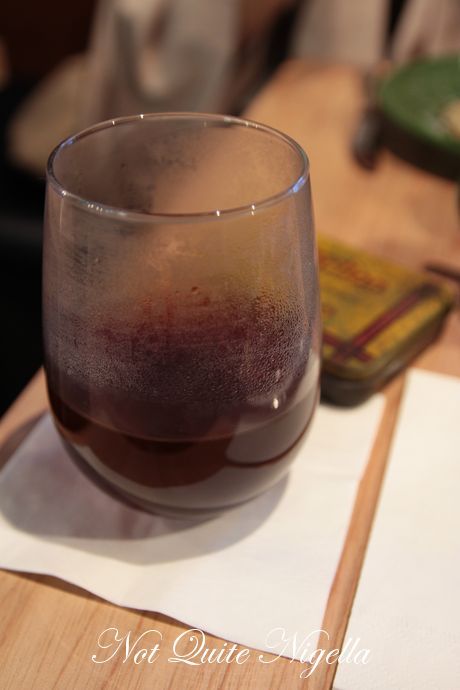 Siphon coffee $6
Siphon coffee is drunk without milk or sugar and is often described as a cross between the strength of tea and coffee and it is. If you want big, bold coffee this isn't for you but Mr NQN loves long blacks and he contemplates it like a wine and really likes this although it's more of a special treat for him.
Pikelet stack with stuff $11
The food arrives on green metal plates and I dig into the three tier pikelet stack which is topped with fresh fruit as well as a berry compote and whipped ricotta which has a texture and taste like lovely sweet yogurt. And between the first and second pikelets is a surprise layer with sweet berry jam and more whipped ricotta.
Chivi Steak sandwich with graviche (it's French for yum) $13
I'm still none the wiser what a chivi steak or graviche  is (I initially thought it was sauce gribiche but it tastes more aioli than gribiche) but this is a fat lightly toasted sandwich with lovely soft bread encasing a mix of bacon, steak (very tender and there's no chewiness at all), caramelised onion, tomato, lettuce and garlickly aioli which is just how I like a steak sandwich. It's quite filling though and a deceptively large serve. I'm not sure if the side salad, a small side number using iceberg lettuce, tomato and red onion is done with irony of the salads from the 70s or not and I mostly leave this. Come to think of it it probably is...
Just because an inside close up is necessary for research purposes... ;)
Magic (not real magic, just ask) $3.50
But I did mention magic didn't I? Well we couldn't leave without trying some magic so we order a magic which is a double ristretto flat white or cappucino in a three quarter size . "It's a Melbourne thing" our friendly waitress says and nods her head at the barista who hails from Melbourne. I turn to watch Mr NQN who is drinking his little bit of magic for the day.
So tell me Dear Reader, have you ever tried siphon coffee? And are you more of a tea or coffee drinker? And do you believe in magic? :)
Anyone for Fresh Air?  ;)
Joe Black
27 Commonwealth St, Surry Hills, NSW
No phone number yet (they're in the process of getting one they say)
Open: Monday to Friday 7am-5pm, Saturday 7am-4pm and Sunday 7am-2pm
Cash only