Several years ago, another stranger that extended to me some kindness was Lis Cifelli from La Mia Cucina who along with Ivonne from Cream Puffs in Venice created the group Daring Bakers. It's an online group of baking enthusiasts that love to challenge themselves by making things that they ordinarily wouldn't.
This month's challenge is a Sfogliatelle pastry, a gorgeous Italian multi layered super crispy pastry filled with a ricotta semolina cream with a hint of cinnamon, vanilla and lemon zest. The pastries are then blanketed with icing sugar and they're the kind of treat where pastry shatters everywhere but you just don't mind. Sfogliatelle means small layers of leaves and the pastry is definitely a challenge.
Lis welcomed me into the group of keen bakers and we exchanged several emails and she even featured my recipes on articles that she wrote. I didn't know her very well but it didn't matter. Relationships are different but no less significant across the internet.
I found out recently that Lis unexpectedly passed away and a profound sadness came over me. From the contact that we had, I felt like I knew Lis. I knew that she was kind, she was sweet, she was enthusiastic and she was badass funny and they're four qualities that I like in friends. It didn't matter that I hadn't spoken to her in a couple of years, I knew she was there. And one day she was not. This post is dedicated to Lis.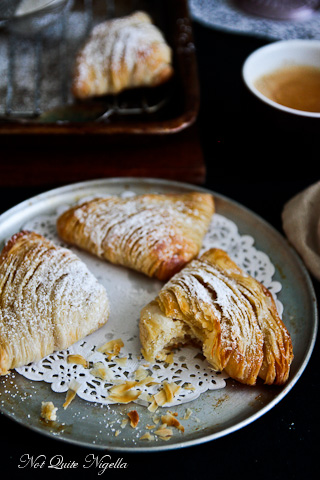 Dear Reader, an unusual thing happened to me recently. I was in a store that was advertising great deals on wines. I was tired and it was late so I all I wanted to do was buy some nice bottles of wine for gifts and go home. A smiling clerk came up to me and asked if I wanted any help. I wasn't in the mood for a sales spiel so I said that I was fine and that I was just going to buy a couple of bottles of wine.
He went to ask another customer if they needed help and remained in the vicinity. I was looking at a wine and I asked him if it was a good wine - it was quite expensive at over $60 a bottle so I asked what the normal retail price was. He looked it up on his phone and showed me that the retail price was about $35 elsewhere and then went on to price check a couple of other bottles of wine showing me that the bottles in store weren't such a good deal.
I was so pleasantly surprised that he would help me out like that instead and I told him so. He smiled and said that he just wanted to me have a good shopping experience. I appreciated this stranger's random act of kindness and ended up buying two bottles of spirits that were actually a good deal, entirely unprompted by him.
So tell me Dear Reader, do you have online friendships with people that you haven't met in real life?
Blog-checking lines: Sandie of the lovely blog, Crumbs of Love, was our November hostess. Sandie challenged us to make a traditional Italian dessert, along with its American version – Sfogliatelle (or better known in the US – lobster tails!) The flakey, 1000 layers of super thin dough, shaped into a horn and filled with a scrumptious filling.
Did you make this recipe?
Share your creations by tagging @notquitenigella on Instagram with the hashtag #notquitenigella
Sfogliatelle Ricci
Servings: 14-18 pastries
You will need a large/long workspace for this!
Preparation time: 2 hours
Waiting time: 4 hours
Baking time: 25 minutes
Dough
3 cups (750 ml) (15 oz) (420 gm) all-purpose (plain) flour
1 teaspoon (6 gm) salt
3/4 cup (180 ml) warm water (about 100°F/38°C)
3 oz/90g lard (you can also use Crisco or vegetable fat)
3 oz/90g unsalted butter, softened
Semolina-ricotta filling (see below)
At this point, I was wondering if I should just give up.
Step 1. Combine the flour and salt in a large mixing bowl and stir in the water, or use your standing mixer with the paddle attachment. The dough will be very dry. If you feel absolutely compelled, add an extra teaspoon of water but it is supposed to be very dry. Turn this out onto a clean work surface and knead the dough together, bringing in all the dry bits. At this point get your pasta roller out and ready.
Seriously, look at this stuff. It's like a monster.
After two passes in the pasta maker. You can do this with a rolling pin if you don't have a pasta roller but you would have to be very, very determined. Or completely mad.
Roll out the dough to about 1/3 inch (10 mm) and pass through your pasta machine at the widest setting. I find it much easier to cut my dough in half and work 1/2 at a time for this step. Fold the dough in half after each pass also change the direction of the dough occasionally. After about 15 passes the dough should be very smooth. Knead the dough back into a ball and wrap in plastic wrap. Refrigerate and rest the dough for at 2 hours, or overnight.
Ahh finally!
Then in a crazy twist, we make those beautiful sheets into a ball. I know. Mad huh?
Step 2. Beat the lard/shortening and butter together in your mixing bowl until very fluffy. Make sure it is thoroughly combined. Place into a bowl and set on the workspace in easy reaching distance.
The butter and lard mix. Do not mistake for buttercream and eat ;)
Step 3. Remove the dough from the refrigerator and divide it into 6 equal pieces. Working with one piece of dough at a time (cover the other pieces with a towel or plastic wrap), lightly flour a piece pass it through the pasta roller set at the widest setting. Try to get the dough as even as possible, your goal is an even rectangle strip, about 4 inches (10 cm) in width. If needed, fold it over on itself a few times until you get an even strip. Once even, pass the dough through every setting, ending with the highest (mine is 9, Sandie's is 7). I found that when I put it through the last setting, I found it easier to roll out as much as my bench could hold and then do step 5 buttering and stretching it and then roll out more after I rolled it out. My kitchen is very small so if you have a roomy kitchen or a long dining table, that's much easier.
Step 4. You should end up with a long 4 inch (10 cm) wide strip.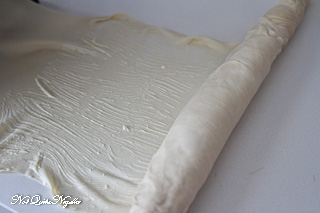 Thin enough to read print under it. Not that you would...
Step 5. Place one piece of a strip on you clean work surface and paint (or smear) it liberally with the lard/butter mixture. I do about a 8 inch (20 cm) section at a time. Gently pull the sides of the dough and stretch it, starting from the middle and going out, until it is about 8 or 9 inches (20 or 23 cm) in width. Begin from the short end and start rolling the dough into a very tight roll. When you start to reach the end of your stretched section, stop and liberally grease up another section, stretching and rolling until all the dough is finished. When one strip of dough is finished, repeat with the other five remaining pieces of dough and overlap the end of one to the beginning of the other; continue to pull, stretch and roll up.
Well it looks nothing like the neat roll that everyone else got!
Step 6. Spread the lard/butter mixture over the entire finished log and starting in the middle gently run the hands down the length to extend the length another inch (30 mm) or so. This will release any air pockets and tighten the roll. Your finished roll should be approximately 10 or 11 inches (25 or 28 cm).
Step 7. Wrap in plastic wrap and chill for at least 2 hours or overnight. The dough may be frozen for up to 3 months, at this time. Defrost it in the refrigerator overnight before using.
Step 8. Preheat your oven to moderately hot 400°F/200°C/gas mark 6. Line 2 baking sheets with parchment.
Step 9. Remove the dough from the refrigerator, unwrap, and place on a cutting board. Slice off about an inch (30 mm) from each end so that they are straight and even. Cut the roll into 1/2 inch (15 mm) slices. Put the semolina-ricotta mixture into a pastry bag with a 3/4 inch (20 mm) opening (A disposable pastry bag or even a ziploc bag with the corner cut off is fine).
Step 10. Take one slice of dough and place it on your workplace. With the heel of your hand, push out from the center in one direction. Rotate the dough and do this in all four directions. This forms the dough and opens up the layers.
Step 11. Pick up the piece and insert your thumbs on the inside with your forefingers on the outside meanwhile gently stretch the center to make it more into the shape of a cone. You don't want the layers to actually separate. Holding the cone in one hand, squeeze some of the filling into the cavity so it is full. Lightly push the opening closed. You do not have to seal the opening as the filling is too thick to ooze out during baking.
Yes I've got wrinkly hands
Step 12. Place onto the prepared baking sheet and very lightly brush the outside of each completed pastry with the lard/butter mixture. Bake them in a preheated moderately hot 400°F/200°C/gas mark 6 oven for about 25 minutes or until they are a deep golden brown.
Step 13. Remove from the oven and cool on a rack. These are best served warm with a sprinkling of confectioners' sugar on the day they are made. To reheat them, just place them in a moderate 350°F/180°C/gas mark 4 oven for about 5 minutes.
**Semolina-Ricotta Filling **
Ingredients
1/2 cup (125 ml) milk
1/4 cup (60 ml) (2 oz) (55 gm) granulated sugar
1/3 cup (80 ml) fine semolina or cream of wheat
3/4 cups whole milk ricotta, preferably fresh (see above)
1 large egg
1 teaspoons pure vanilla extract
pinch ground cinnamon
zest of 1/2 lemon
Combine the milk and the sugar in a medium saucepan. Bring to a boil, then lower the heat and slowly add the semolina (or cream of wheat), whisking quickly as to avoid any lumps. Cook, stirring often, until the mixture is smooth and thick, about 2 minutes. Spread the mixture onto a lined baking sheet, about 1/2 inch (15 mm), to cool. When cool, break into pieces and place into the bowl of your stand mixer, fitted with the paddle attachment (or a food processor), and add the ricotta cheese, egg yolks, vanilla and cinnamon. Beat until very smooth and creamy. Stir in the lemon zest. Scrape into a container, place plastic wrap directly onto the surface and refrigerate until needed (up to 3 days).