China's Longji rice terraces are a spectacular sight to behold and the trek to these stunning formations is well worth the effort. We take a peek at rural Chinese life and inside someone's home as well as meeting some of China's ethnic tribes before finally feasting on a meal cooked in bamboo.
Growing up in a Chinese household, dragons were always emblazoned on items around the house and they were so common that I almost believed that they were real. I actually asked my parents why we couldn't see dragons at the zoo when I was little. They never explained that they weren't real so it wasn't until sometime during primary school that I realised that they were mythical beasts.
So a smile meets my lips when I am told that we will be visiting Longji rice terraces. The Longji rice terraces are named Longji as they appear to be a dragon's backbone with each rice terrace a scale on the dragon's back. I would finally be meeting my mythical beast.
The drive to Longsheng where the Longji rice terraces are located is about 132 kilometres from Yangshuo and takes about three hours and as there are landslides the route has to change a little. On the drive there are plenty of stalls selling large golden pomelos gleaming in their wrapping, looking fat and plump. The lush green paddys start appearing and after two hours the rice terraces emerge. The curvy descent offers some spectacular views although these are often obscured by power lines.
During winter the terraces are blanketed in snow while Autumn sees the hand made terraces a golden yellow in colour. As we are at the end of summer and into Autumn they're a golden green shade. The most striking is during Spring when the terraces are full with water giving them a shimmering silver effect against the green. The effect is best seen via aerial view.
Each farmer owns a terrace and people from the region pitch in to create the terrace for them. In return they must do the same for the other farmers. Most of the rice terraces were planted 650 years ago commencing during the Yuan Dynasty. They range from 380 metres to 1180 metres above sea level and cover 70 square kilometres.
To get into the thick of rice terrace country requires a change of bus to a smaller bus and a walk up the mountains along the large flat stone walkway. A porter service can be hired to take bags up although a backpack is the best way to travel up the mountains. The time taken to walk up can vary from 30-75 minutes depending on the conditions and fitness. Much of it is uncovered so rain and extreme heat can play a factor in comfort level.
A married mother and single daughter from the Yao tribe
Longji is the area for two of China's ethnic tribes-the Zhuang people and the Yao people. A Yao seller offers us a set of postcards-her hair is piled atop her head and coiled around. Yao women only cut her hair once in their life at the age of 18 and the hair is then added to the coil around her head when it grows longer. When she is unmarried she covers it under a headscarf but once she is married, she wears it showing. Once she has a child, the hairstyle will change again.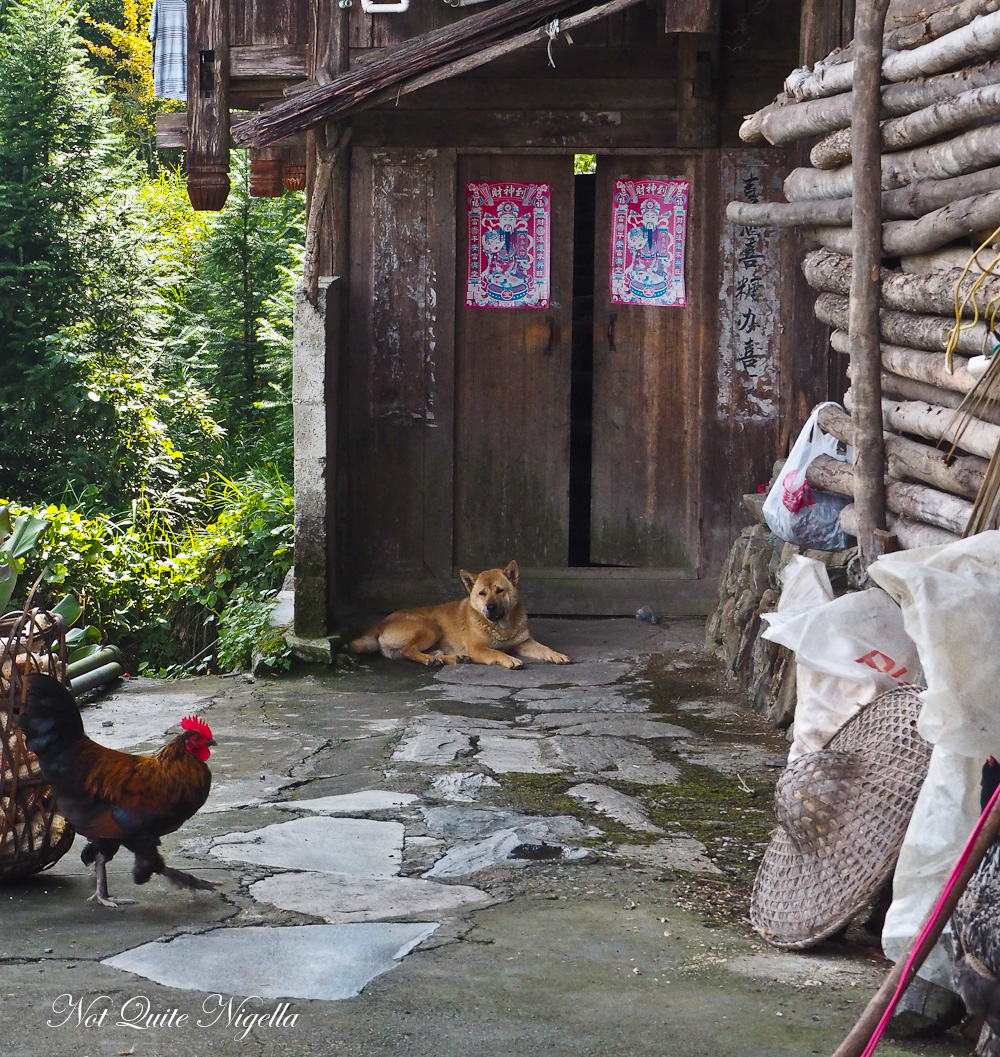 Any hairs that fall out are collected and added back into the coil after giving birth. The trick to keeping such long hair clean is said to be to use the water used to clean rice once it is boiled and then fermented.
On the way we stop for lunch at a small local restaurant in an ancient Zhuang village that has only been open to tourists for three years. Our Wendy Wu Tour guides Maggie and Lily order for us. And despite the remote location and small village, there is a flurry as everyone instagrams photos of this picturesque area of China-yes there is free wifi.
We quickly learn that the vegetarian dishes are the pick in these remote areas. The tofu with capsicum is incredibly tasty while a simple dish of shredded potato has a delectable sauce and the potato retains a slight bite to it. Chives and eggs are flavoursome while the specialty, bamboo stuffed with sticky rice is the perfect side to mop up any sauces.
The beef with capsicum isn't bad but the beef is a little tough while the pork and bamboo shoots has a good flavour but the pork too is a bit tough. While the meat dishes remain the vegetable dishes are practically licked clean.
Next to the restaurant is Mrs Hou, a Zhuang villager who allows tourists to visit her home. It's clean, simple and comfortable with some mod cons like a flat screen television and DVD that contrast against a simple bedroom and manual rice mill. When Mrs Hou was young she was the village's flower girl. This is a tradition when the most beautiful girl is picked to be the flower girl, in a similar style to a beauty pageant.
After this we ready ourselves for the hike up to our hotel Star-Wish. The paths are narrowish in parts and it takes us a bit longer as the sun hits its peak. We pass trays of corn and bamboo shoots drying as well as chillies - Longji chillies are prized and are more expensive than others because the high altitude is said to make them spicier.
Butterflies flutter past us in varying sizes and colours. Yao sellers sell colourful jewellery and handicrafts as well as drinks and fresh passionfruit. It takes us more than an hour to walk up to Star-Wish hotel but the views are gorgeous and difficult to capture in photos. The views are quite simply breathtaking and the patterns formed make every step and climb worthwhile. Some murmur about the energy in the fields as they stare transfixed.
The hotel's ghostly white cat makes its presence known neither caring for or about the presence of new humans and it serves as the hotel's unofficial mascot. The hotel is rural and simple although there are mod cons like wifi and a small mini bar. My room 501 on the top floor is simply laid out with two single beds on a raised platform.
There is a balcony with a view outside although you do tend to see everyone else on their balcony too as there are no privacy partitions between. It's slightly musty and I have some issues with my sinuses and breathing. Mostly people use the hotels here as a place to sleep after hiking all day.
The bathroom is small and they've employed some space saving measures with a toilet that sits right next to the shower. When you shower (and oddly there are two shower heads, a moment of surprising luxury) the water goes all over the bathroom floor but dries by the next morning.
Dinner is further down into town and if we thought that this town was a sleepy town we are mistaken. There are a couple of karaoke bars and a 24 hour cafe and the Longji can sleep up to 6,000 visitors in accommodation. We arrive at Mei You cafe for a home style Longji dinner.
Ginger Cola
Originally I was intrigued by the banana juice but they were out so I went for a ginger cola instead. The cola is boiled with pieces of ginger and served hot. Said to be good when you feel the onset of a cold, it has a sweet, herbal appeal.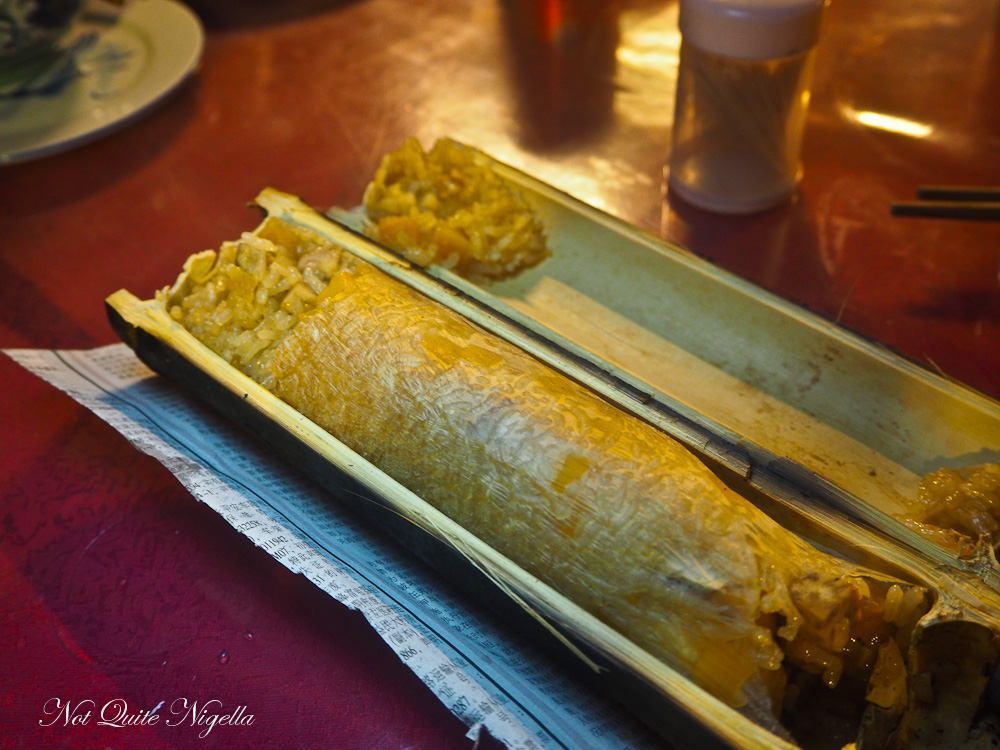 Sticky rice in bamboo
I'm becoming rather addicted to sticky rice and baking it in bamboo gives it a bit of flavour as well as a crispy edges. Here they serve it with cubes of taro and pieces of pumpkin.
Iron Pan taro in clay pot
The taro and tomato in the clay pot is absolutely delicious. I'm not sure what it is about the taro here but they know how to cook it well and the taro itself isn't bland and drying as it can often be.
Fried wild vegetables with mushrooms
The fried wild vegetables with mushrooms taste like a sautéed grass with shiitake mushrooms. If I were to describe the taste of it, it would be "green"!
Corn
We had seen so much corn drying during our walk and corn is a popular local vegetable. Here it cooked with a savoury mild sauce with celery, zucchini and carrot. The corn is juicy and fresh.
Bamboo chicken
When the villagers first arrived here so many years ago they had few pots and pans so they used bamboo instead. The chicken is full of flavour and served in the bamboo which you simply lift off. They reuse the bamboo wood for firewood after it is used for cooking.
Chicken with two chillies
And to finish there is chicken with two chillies, green and red. And as expected it is fiery hot but not unbearably so and I'm glad that I got to try the Longji chillies.
I fortify myself with food knowing that of course what or whomever goes up, must go down. I fall asleep soundly, my limbs tired and ready in anticipation of the climb down. It's a fitting end to our uplifting trip to Guilin and regional China and the return trip to Sydney that starts tomorrow feels so far away.
So tell me Dear Reader, did you believe in dragons or fictitious animals? Have you ever visited China before? And would you prefer to visit the cities in China or the regional areas like this? And do you believe in "energy" and its effects?
NQN visited China as a guest of Wendy Wu Tours, Cathay Pacific and Dragonair
Wendy Wu Tours
Wendy Wu Tours escorted group tours offer an extensive range of fully inclusive and comprehensive itineraries throughout China and focusing on Guilin. Including the popular 17-day Southern Odyssey which includes visiting Guilin, Longji, Yangshuo and Hong Kong. For further information contact Wendy Wu Tours on 1300-727 998 or visit:
www.wendywutours.com.au
Cathay Pacific
www.cathaypacific.com/au‎
DragonAir
www.dragonair.com/