Lunch. Such an important meal of the day for someone at work. It was the thing that I used to look forward to most when I worked in an office. What I ate depended on my mood and the weather. Sometimes I'd want something simple and comforting, other times a salad or something fresh and light if it was hot.
With the chilly weather, Big Mouth on Harris Street in Pyrmont is busy with people hankering for a fix of a comforting toastie or jaffle although I've seen huge queues there in the midst of summer too. I am meeting Belinda here at 12 noon because I have a feeling that come 1pm the crowds will hit. We take a look at the menu board but that's just a gesture because we had both scoured the menu online already. All jaffles are $6.70 or you can make your own jaffle and we decide to get a mixed salad as well. Coffee is by Single Origin Roasters.
Lychee mint lush crush $5.50
The lychee mint crush is nothing short of utterly refreshing and sweet.
Chorizo jaffle $6.70
The jaffles come out quickly. They're assembled and cooked to order by a team that stand behind the counter. Each jaffle comes with a piece of paper detailing what is in it to avoid confusion. I'm pleased to see that they're sealed at the ends. I spent many mornings using my parent's jaffle press during university. Nowadays a sandwich is a treat for me. This jaffle has slices of chorizo sausage, onion, potato and roast capsicum. There is quite a lot of potato in this and I would have loved a bit more chorizo as the potato made it a tad dry.
Potato and olive jaffle $6.70
We choose the potato and olive jaffle because we want to try a vegetarian option (there are four of them and you can make up your own combo). With a generous amount of black olive, potato, onion, sundried tomato and melted cheese, this was a savoury, flavoursome number. Oh how I love melted cheese in a jaffle.
Jerk Chicken jaffle $6.70
Our favourite jaffle is the jerk chicken one. It is filled with spicy jerk chicken, caramelised onion, corn, spicy bbq sauce and cheese. It's also saucier than the others with the bbq sauce and corn giving it a good balance between toasted gooeyness, crunch and sauce.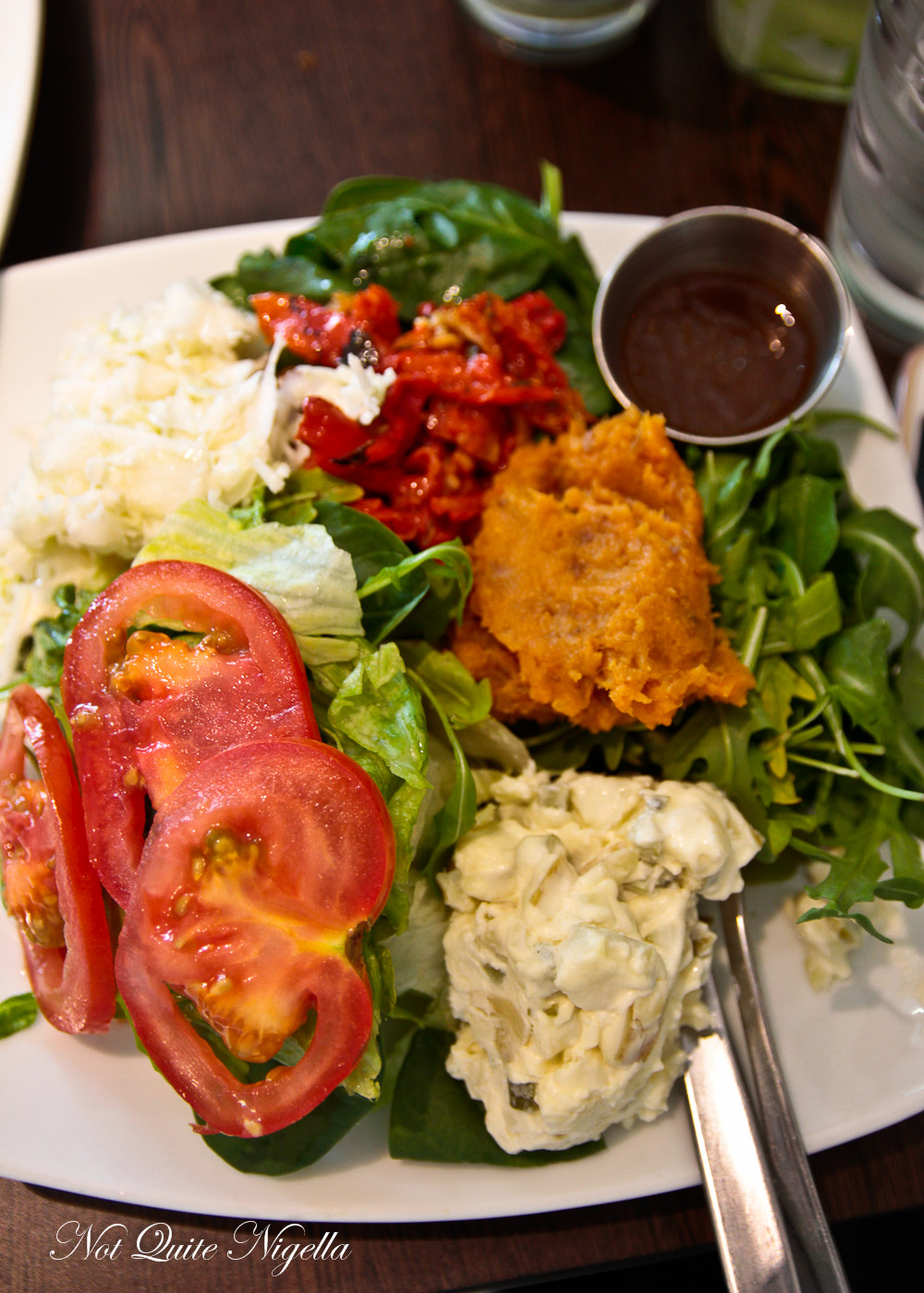 Combination of five salads $8.50
There are also salads available and you can choose a combination of any of the five salads. There is a mixed leaf salad with tomato slices, a creamy potato salad, a tangy coleslaw and my two favourites, a rocket, sweet potato and caramelised onion salad and a spinach and marinated grilled vegetable salad. It's a massive serving and best split between two or three people.
As we get up to leave, we notice that a sizeable crowd has gathered outside. They're all waiting for their freshly toasted jaffles and Vienna bread sandwiches (which look enormous and like they could fill the perpetually hungry Mr NQN). It seems we're not the only jaffle obsessed individuals!
So tell me Dear Reader, what are you having for lunch today? And what is your favourite meal of the day?
This meal was independently paid for.
Big Mouth
139 Harris Street, Pyrmont, NSW
Tel: +61 (02) 8084 6888
Open Monday to Friday 7:30am-3pm
http://www.bigmouthcafe.com.au/