I know why there are now so many shades of green. I'm pretty sure that artists visited Kauai and drank in the incredible fifty shades of greens and blues. By car, the landscape of Kaua'i resembles a moving nature landscape patchwork.
It's our third day on Kauai and we've set off early from Kapaa for Poipu towards the South Shore of Kaua'i. It's about a 35 minute drive and we pass American flags flying alongside Hawaiian flags, undulating roads, tall grasses that hide misty shrouded mountains from view and an avenue of tall trees ushers us into the area of Koloa.
The Maluhia Road Tree Tunnel was originally planted by a pineapple and sugar businessman Walter McBryde in 1911. The row of mahogany trees stretch for about a mile offering drivers a reason to look up and admire. Originally the trees arched over providing a canopy but a hurricane in the early 1990's removed much of it.
Our first stop is an early morning breakfast. While in the Hawaii, the heat (that is so welcoming when you think back to the Winter back home) makes one crave things like poke (sashimi fish salad), shave ice and salads. We make a stop at Koloa Fish Market in the lovely historic town of Koloa.
It's a takeaway shop with a glass cabinet filled with treasures of the sea. A white board displays more substantial plate lunches and another customer recommends that we try the Korean style poke at $13.99 a pound (half kilo). Although it's early at around 10:30am, Mr NQN is eager and we also order a few other things.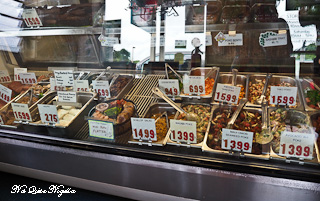 There's nowhere to sit but there's a single chair outside so we photograph our breakfast there. Most people take their food away and eat it at one of the scenic points along the beach. Unwrapping our goods, I first try the purple pot of Hanelei poi. It is a very mild fermented and pureed taro root in a cup - often called bland by many.
Clockwise from bottom left: Poi $2, Combination laua and kalua pig plate $10.99, avocado ahi poke $7.50, Korean ahi poke $7.50
The combination plate has a bit of everything including clear, slippery chicken "long rice" noodles flavoured with a little chicken broth. There is a tub of roasted kalua pig which is all soft, stringy goodness and the leaf wrapped dumpling is filled with soft pork mixed with ti leaves and wrapped in taro leaves. There is supposed to be a small tub of poke but instead it is a diced tomato salad.
The Korean ahi poke is very good and mildly spicy with a Korean chilli paste added to it but I am crazy for the creamy avocado ahi poke with just the right amount of creaminess and seasoning.
We take a walk around the town, population a mere 2,000. The restored shops on the main road are tinted a pretty retro pink hue. The town was an old sugar plantation town and first place in Hawaii to successfully build a sugar plantation industry in 1835.
The general store was owned by a man called Howard Yamamoto and it also served as a plantation camp store and service station. There are remnants of the original design and vintage memorabilia including drink signs and an old gas station pump. An enormous Monkey Pod tree planted by Mr Yamamoto in 1925 stands firm, its outstretched numerous branches offering much shade.
We stop in at The Wine Shop in Koloa which has an interesting range of wines including a locally made mead that we buy. There is a range of grass fed beef and condiments for those self catering and there is even a selection of Koloa grown tobacco cigars. The leaves are sent to Nicaragua for rolling and sent back to Kauai for packaging. The staff here can also give customers names of local restaurants that will waive the corkage fee for customers bringing their wine in.
I see a sign for Kakui Nut Roasters and we walk into the shop where we are greeted with an enthusiastic "Welcome to the Nut House!" On the centre table are a huge range of samples to try. "You can try as many as you like - or all of them!" they tell us. We sample a few (okay a lot of them) and we buy four packets as well as a jar of fantastic sesame and flax "nut" butters.
About five minutes' away from Koloa past a row of vibrant yellow trumpet trees is another great lunch or dinner stop that is a local's favourite. Da Crack serves healthy, wholesome tacos, burritos and bowls to customers all day. The reason for the name is not because the front walk up window is a mere sliver in the wall. It was formerly called "Taquria Nortenos" and the t-shirts the employees wore said "The Grack." However the font looked as though it read "The Crack" and the name stuck.
Daniel Hurtado's childhood was spent asking his American born mother to make Mexican food from his father's homeland of Mexico. Daniel grew up near Taqueria Nortenos or The Grack and even traded the owner Ed a rooster for a burrito once. When it closed in 2007 he took it over promising to deliver health conscious Mexican food to customers free of MSG or trans fat and hydrogenated oils and only using fresh (not frozen) fish bought from local fishermen.
I was warned that service could be a little short here but I'm greeted warmly and they are very friendly. I order the grilled fish as a taco and a bbq shrimp as a burrito. You can choose black or pinto beans and chipotle or wasabi sour cream and plain brown of Mexican brown on each item.
We take a seat and watch the line of customers ebb and flow. Some come from the nearby zipline and touring company while others pull into the parking lot just to order food. A few minutes later our food is ready and I carry it out on a tray.
The fish taco is sprinkled with spices and comes on a flour tortilla with a layer of shredded cabbage, pico de gallo and a blanket of wasabi sour cream on top. There's a side serve of Mexican brown rice and pinto beans that are 99% fat free, vegan and made without lard.
Picking up the burrito I'm surprised at how weighty it is. This is food for surfers or hungry teens. Packed full with shredded cabbage, pico de gallo, chipotle cream, brown rice, black beams and a good amount of succulent chipotle garlic shrimp it's a nutritious but delicious serve meant to fill cavernous tummies. All of this is washed down with a bottle of guava Jarritos Mexican soda ($2).
We take a drive around our home for the next two nights, Poipu. Meaning "crashing waves" it is said to be the best spot on the south shore for surfing and snorkelling. In Summer, the best surf is found on the South Shore but in Winter it's on the North Shore of Kauai.
The atmosphere in Poipu is manicured, slightly manufactured and reminds me of a sprawling golf or tennis club. A drive to the Spouting Horn, a blow hole reveals a row of stunning oceanfront properties. Cactii grow on the beachfront alongside other plants. They're an unexpected sight.
We arrive at our hotel, the Grand Hyatt Kauai, an enormous 50 acre 600 room property. The lobby is imposing with pineapple motifs. Women are welcomed with an orchid lei while men with a kukui nut necklace.
Our room isn't ready yet as it is 2:30pm and check in is at 3pm so we walk around and make use of internet. The one thing that Hawaii resorts do is charge "resort fees". These daily fees that are $25 here include internet, daily newspaper a few other things.
I'm not really one for enormous hotels because I get lost easily so the size takes some getting used to. And when our room is ready at 3:30pm we are given a map to the grounds. Our room is in the Shipwreck wing and we follow the numbers to get to our room. Our bellhop tells us the shortcut way to get around which is very helpful.
Whilst the grounds are beautifully designed and very well maintained, the rooms do need a bit of an update, particularly to bring them in line with other Grand Hyatts. There is a queen and a double bed and all of the standard items like a table, flat screen televisions and no mini bar. There are tea and coffee here and the kettle is the same machine as you would make the coffee in.
The bathroom is large with two sinks and a range of house toiletries and a separate area for the Japanese modern bidet style toilet. The shower is excellent with three circular heads within the one head. The balcony looks straight onto the pool and the ocean and the fifth floor location gives us superb views.
After some work, we head downstairs to the Tidepools restaurant. In a Hawaiian thatched roof hut or Hale Pele, it is surrounded by a koi lagoon with a white swan. We walk through the bar area into the main restaurant area and take a seat at the table next to the edge of the pond. The dress code is resort casual which means that you can wear almost anything except for your swimmers!
Chef de Cuisine, Jayson Thompson studied at Le Cordon Bleu and also worked at Nordstrom. Bread arrives and it is four warm, soft rolls served with garlic butter. Our fantastic server Derek recommends us some dishes and some are signature dishes or house favourites. As expected the menu is seafood focused but there are always at least a couple of steaks and chicken on the menu too.
The ahi tuna and hamachi fish are served as smaller chunks of sashimi grade fish on top of a layer of deep fried onions and a layer of jasmine rice. The fish is seasoned with ogo seaweed, red onion, ginger and scallions and on the bottom is a soy mirin and a red pepper reduction. It's sweet, savoury and creamy and we playfully fight over our halves of this.
I was really eyeing off the crab cakes but felt that I needed to have a salad. The mango is grilled cheeks served on a bed of arugula or rocket with small dabs of Point Reyes blue cheese and delicious spicy roasted cashews. It's tied together with a plum wine vinaigrette.
Between courses, our server Derek brings us the dessert menus as there is a chocolate lava cake that requires a 15 minute wait. What we find here in Kauai is that you don't spend hours eating here and food comes out quite quickly without feeling rushed which is nice when you want to go to bed or enjoy your room.
All of the fish is freshly caught and served skinned and filleted. The catch of the day is a fish called Monchong, a firm meaty fish, a bit creamier a firm fish like swordfish. Here it is soy ginger glazed and served with a tender, grilled Kona lobster tail and my two favourite items on the plate: a coconut crusted shrimp cake and a molokai purple sweet potato puree. The lemongrass beurre blanc complements the seafood well and it's sweet without being overly so.
The local ahi is cooked to your liking and in this case we left it to the chef to decide and he seared it on the outside and kept it pink on the inside. It is wasabi crusted and served with a coconut forbidden black rice with celery, carrot, mushroom, soy bean and tomato and dressed with a spicy mustard soy butter sauce. While I thought that the fish was good and tender, I particularly liked the nutty flavour and texture of the rice.
The first dessert is actually a bit of a surprise. A lot of the food in Kauai and Hawaii tends to be on the sweet side. This dessert is actually not that sweet. There is a big scoop of coconut sorbet, a piped trail of coconut banana cream and bavarois and little cubes of gauva jelly. It's definitely for those that aren't sweet toothed but want something to finish the meal off.
The Waialua chocolate crunch is a layer of bittersweet chocolate flourless cake with crunchy feuilletine and a macadamia nut crunch. It is rich, decadent, dense and crunchy and sits in a bed of papaya orange coulis.
It's only one and a half hours after sitting down and we're finished. We meander back up to the room, our stroll hastened by the sudden light downpour of rain. If we learn one thing it's that the rain is frequent but before long it stops giving the view a light polish and sparkle.
So tell me Dear Reader, which country or city do you think provides great service overall? And how much do you tip when you get great service?
Koloa Fish Market
5482 Koloa Rd, Koloa, HI 96756, United States
Phone:+1 808-742-6199
Sunday Closed
Monday To Friday 10:00 am - 6:00 pm
Saturday 10:00 am - 5:00 pm
Da Crack
2827 Poipu Rd, Poipu, HI 96756, United States
Phone:+1 808-742-9505
Sunday Closed
Monday To Saturday 11:00 am - 8:00 pm
http://www.dacrack.com/
Grand Hyatt Kauai
1571 Poipu Rd, Koloa, HI 96756, United States
Phone:+1 808-742-1234
http://kauai.hyatt.com/en/hotel/home.html
Tidepools
At the Grand Hyatt, 1571 Poipu Rd, Koloa, HI 96756, United States
Phone:+1 808-742-1234