By the fourth day in Kauai I find myself relaxing completely. There's something about Island time and the fact that you are never in a rush to do anything. I start noticing little things that I normally wouldn't because I'm busy rushing around or checking my phone for emails or messages. Being cut off from your work is not a bad thing at all.
We start off our second day in Poipu in the south of Kaua'i with an early beginning because today we are headed out west towards Waimea Canyon towards the left most of the island. For anyone that thinks that Kauai or Hawaii is just made up of beaches and an endless expanse of blue Pacific, that's not entirely true. About an hour out of Poipu is the place near where Captain James Cook first landed in Hawaii.
First things first: breakfast. We stop by Kalaheo Cafe and Coffee Company on the Kaumualii Highway. It's such a popular spot for breakfast that Mr NQN remarks that it looks like a car yard there are so many cars parked outside. A long established favourite for both locals and tourists, it is known for its wholesome, good quality food and all of the baked items are made on the premises. There is also a good range of vegetarian food.
Diners help themselves to a menu and order at the counter. I rarely eat early in the morning so I content myself with a mango smoothie and a "knuckle", one of the house made pastries. Mr NQN gets an iced coffee and a South Shore breakfast.
Mango smoothie
The mango smoothie is deliciously sweet and moreish. In the centre top is a dollop of sweet whipped cream - not entirely necessary for those like me that are trying to convince ourselves that a smoothie is a healthy move but it's very satisfying. Mr NQN's iced coffee comes chilled and unsweetened and diners can have unlimited refills of this.
Knuckle $3.50USD
The best thing to do with a knuckle is to turn it bottom side up to eat the caramelised sticky bottom of the knuckle first. It's similar to a cinnamon danish with a few more twists and turns.
South Shore Breakfast $9.95USD
There are always options in America and here you choose the style of eggs and accompaniments. We choose scrambled eggs, cafe fries and corn bread to go with the fresh fruit. The eggs are a little hard but the fried potatoes and onions are good. What I particularly like however is the cornbread. Usually I can't get Mr NQN to eat any more than a bit of it but this is delicious, lightly spiced and split in half vertically and toasted so that is very fresh.
We follow the signs to Waimea Canyon and the scenery turns from the ocean on the right hand side to the left. We pass through the town of Waimea before we follow the winding trail up to Waimea, my stomach whirling with the contents of half a knuckle pastry and half a mini cornbread. After just over an hour's drive we reach Waimea Canyon - Waimea means "red water" in Hawaiian.
It reaches 3,500 feet in elevation so it's wise to bring a wrap or a jumper with you. Waimea Canyon was established after the collapse of the volcano that erupted that also created Kauai. Popular with hikers there are several walking tracks to choose from. The views are breathtaking and apart from the expanse that seems to go in all directions forever, there are the colours with pinks, oranges, blues and greens. You can occasionally see a small, narrow waterfall cascading down the mountain side.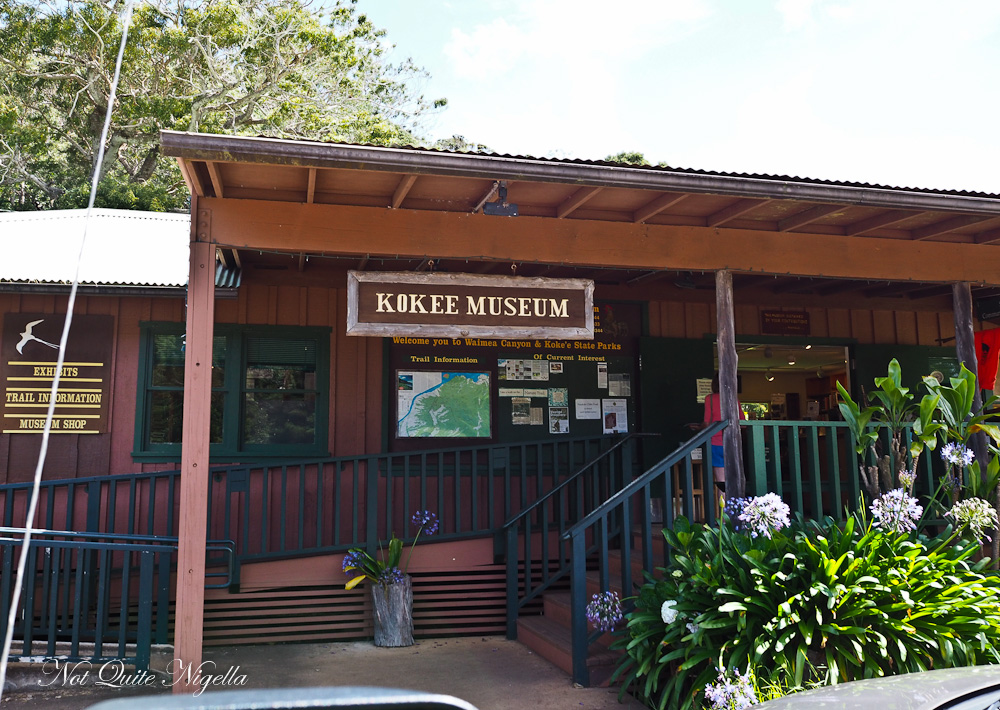 The roads to Waimea Canyon's various lookout points also lead into the Ko'Kee State park where the Ko'Kee Natural History Museum provides plenty of information on how the island was formed as well as the nature life on the island. It's compact and housed in a cabin and there is also a small gift shop attached. Entry is a suggested $1.
By now I'm feeling the effects of the curves and I need to get back to sea level and straight-ish lines so we head back to Poipu. We arrive just in time for lunch at The Beach House on Lawai Road, just next to Lawai Beach. The restaurant is a very popular spot for dinner and it sits right on the water. To snag one of the prized tables at the front you need to book 3-5 weeks in advance for the 6pm table and show up first.
Lunch is a relatively new thing here and they open from 11am-3pm. The menu is markedly different from the dinner one and lunch has a series of salads, burgers and wraps while dinner is a more serious affair. Our waitress hands us our menus and we order.
We watch as a parade of young surfers aka grommets walk past each carrying a surfboard covered with a surface of knobbly wax. People pull up picnic blankets on the manicured grass outside and watch the surfers try their luck on several of the "secret" surf breaks. Other watch the turtles come in and come high tide the turtles are known to come into the reef area to feed on limu seaweed.
Crispy Crab Stuffed Ahi Roll $18USD
Our starters arrive quickly and the first is a roll of ahi tuna stuffed with crab and then rolled in crispy crumbs and fried. It is then sliced up and served with pickled ginger, napa cabbage and sesame soy wasabi vinaigrette. It's an interesting idea and I would have loved a bit more of the pickled ginger to give it a bit of zing.
Seafood Corn Chowder cup $5USD
I always tend to order chowder in places where there is plenty of seafood because I figure that they'll be generous with it. It's a creamy soup with shallots, corn and pieces of fresh island fish finished off with a little sherry.
As Mr NQN watches the surfers, I watch a tiny brown anole lizard scramble around, pause, nod its head up and down and then extend and retract a small red flap of skin under its neck called a dewlap. I watch it fixatedly - I would normally not even notice this camouflaged lizard.
Ahi Tuna Burger $19USD
Nobody quite does burgers like America and this is a great burger. They actually have an in house baker to make all of the buns, breads and desserts and the bun is soft and delicious and filled with a well seasoned tuna steak that remains juicy although it is cooked through. There is a choice of fries or salad and we choose the macaroni salad that goes with it well. There is pickled onion, fresh red onion, tomato, lettuce and pickles. It's fresh and flavoursome and I promise Mr NQN that I'll make him tuna burgers at home.
Fresh Island Fish Tacos $17USD
There are two flour burritos filled with fillets of grilled ginger-lime marinated fish. On the side is a minted tropical fruit salsa, a pungent wasabi aioli, Napa cabbage and kim chi that you can add in yourself depending on the flavours that you want. It's a substantial meal and we have trouble finishing everything.
Hawaiian Carrot Cake $10USD
But then the cake stomach emerges. This is a Hawaiian take on carrot cake. Here it is made with macadamia nuts, pineapple and carrot of course. Sandwiched between the layers and on top is beautifully smooth cream cheese frosting. I loved it so much that I made a version at home.
As we leave down the pathway where the brown anole lizard disappeared, we look out for turtles. Almost immediately we see two turtles, swimming close to shore nearby the limu covered rocks. We while away the time watching these them bobbing up and down under the water.
That evening we visit the Kukui'ula shopping centre about 10 minute's drive away from the Grand Hyatt. The shopping centre closes late and there are a few good boutiques as well as a lot of restaurants, a shave ice stand and an ice cream parlour.
Several years ago Chamonix born chef Jean-Marie Josselin gave up his seven restaurants at once and traveled the world for two years. He discovered cuisines in China and South America that would influence the way that he cooks. Jean-Marie was one of the founding fathers of Hawaiian Regional Cuisine sitting amongst a group of twelve of the state's best chefs. Their guild forwarded the idea of Hawaiian cuisine using local suppliers.
Planning your next trip? Ensure you have the right coverage with HeyMondo travel insurance that includes COVID-19 protection. Plus, if you use our link, you'll receive 5% off the price. Find the best deals on flights from all airlines in various currencies with SkyScanner and set up alerts to get notified when prices drop. For reliable transportation options, look no further than 12Go Asia, offering train, bus, ferry, and flight transfers worldwide. Book your transportation now and enjoy a stress-free journey.
When you purchase through these links I will get a small commission at no cost to you. Thank you for supporting me! :)
We arrive at Josselin's Tapas Bar and Grill and sink down into our booth. The restaurant located on the first floor of a building is a little bit hidden away but it soon fills up. We're ensconced in a booth with large, soft leather cushions and from here we can watch the open kitchen at work.
Jean-Marie is in the kitchen, his head down while prepping and cooking away. But once the dishes are out he comes out to talk to us. Usually chefs need to be coaxed out of the kitchen and then stand shifting weight from foot to foot before going back into the kitchen as quickly as possible. But not Jean-Marie. He tells us all about his previous trip to Tasmania and his experiences in Australia.
Chef Jean-Marie Josselin
Jean-Marie moved to America in 1986 and started at the Rosewood Hotels and worked in Dallas, New York, New Orleans and Los Angeles before deciding to settle in Hawaii. In one month he will open up a new concept for him in Kapaa. He doesn't want to be confined to one cuisine so the menu goes from Spanish to Thai to Chinese to Japanese.
Our dinner starts with the roll of a sangria cart. There is a choice of three types of Sangria - lychee, orange and lime and lemon. Mr NQN opts for the lychee and it is refreshing and sweet.
Spicy Opakapaka Sashimi $18USD
The spicy opakapaka sashimi is the first dish that arrives. The Opakapaka is a Hawaiian white fish and Jean-Marie tells us that they only tend to serve local Hawaiian fish as that is what customers want. It is lightly spicy with an orange vinaigrette, caviar, red pepper gelee and green Sriracha yuzu. It's creamy textured, spicy and citrusy fresh at the same time.
Hamachi Sashimi $18USD
The next course is hamachi served as six slices of sashimi. It comes with a red pepper gel, yuzu, avocado mousse, radish, spicy mayonnaise and a ponzu sauce. Less tart that the sashimi above, there is a slight sweetness to it as well as added creaminess from the avocado and mayonnaise.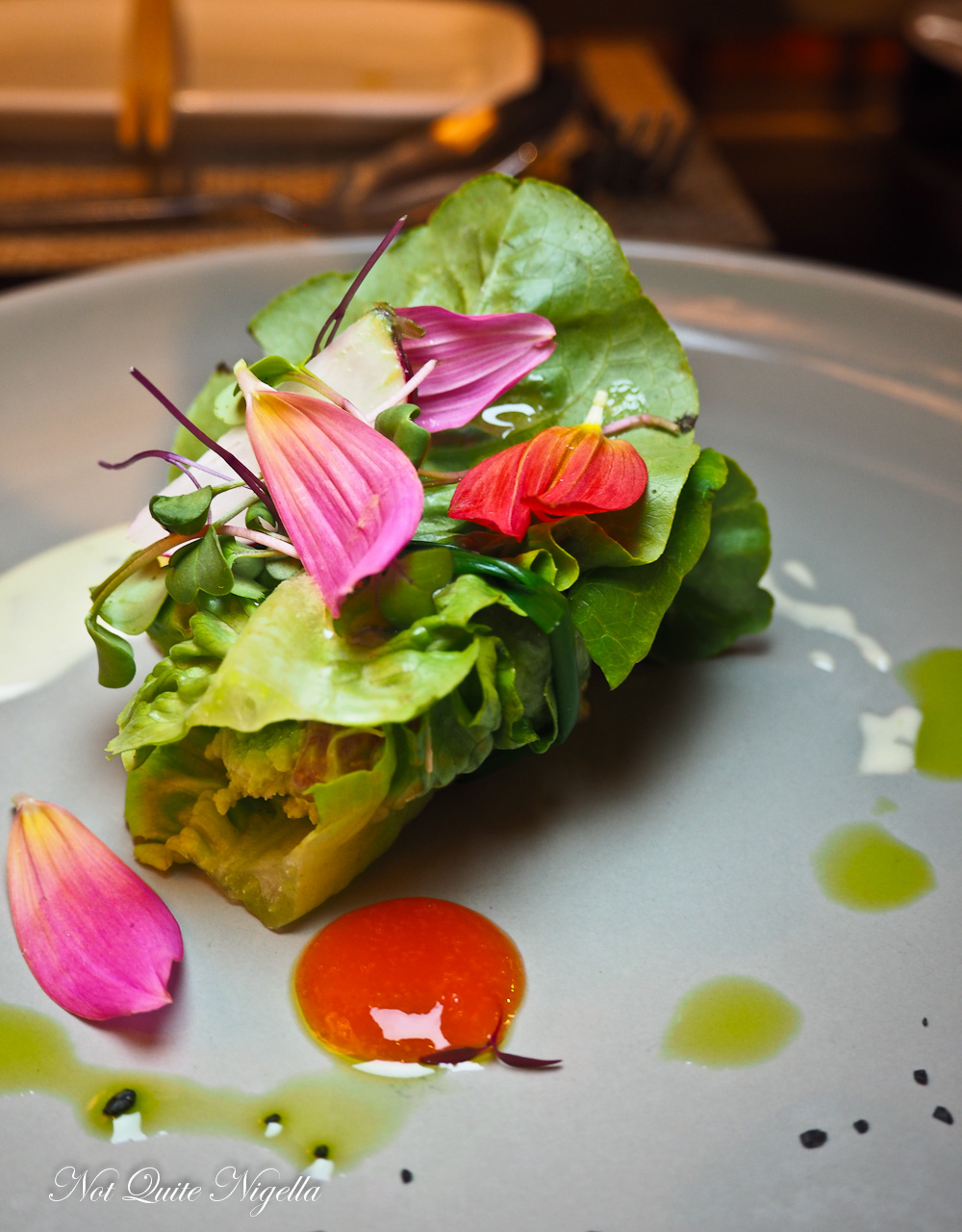 Romaine lettuce wrap
This is a course that Jean-Marie made up on the spot. It's two romaine lettuce leaves on the top and bottom with an avocado ahi tartare with tarragon, lemon vinaigrette, black volcanic salt and a truffle vinaigrette. The aroma of the truffle is strong and intoxicating and I hope that this tasty morsel makes it on the menu.
Naan Bread $16USD
I expected to eat a bite of this and then pass it to Mr NQN but I ate every crumb of this freshly baked naan made in the wood fired oven. It comes drizzled with garlic butter with a watercress mousse on the side that peps up the rich garlic buttered bread perfectly.
Celtuce with spicy garlic sauce
This is a special of the day as they were just delivered some celtuce from a grower that took three months to cultivate. Like a mix between asparagus and a Chinese vegetable, here it is served as thin crisps on the stalk similar to kale chips. While kale chips often have a tough spine and stalk, these are soft while the leaves melt in the mouth.
Oven Roasted Cauliflower $13USD
This was perhaps the dish that I didn't quite take to. I usually love roasted cauliflower but the addition of turmeric makes it a little bitter. It comes with a house made kimchi ranch sauce with creme fraiche and potato straws.
Slow cooked butterfish $31USD
One of the best selling dishes is the butterfish or mulloway as we know it in Australia. It is glazed with a soy mirin reduction. The fish itself is a little too firm and dry and it comes with a side of crispy kale crumbs and roasted vegetables.
Kekaha Clams $14USD
One of my favourite dishes however is the Kekaha clams. These are given a surprising meatiness from the smoked bacon dashi broth. The clams are fleshy and large and I really like how they are fortified and given new personality from the distinct bacon flavour in the dashi broth.
Steamed buns $11USD
And then comes another one of my favourite dishes-steamed Chinese buns filled with eleven and a half hour braised beef and topped with a Korean pear jam and lemon creme fraiche. Next to it is a chilli garlic vinaigrette. What I particularly like is how light and downy soft the buns are and this goes with the soft filling well. I often find the outer of steamed buns too sweet and dense for me but it is not the case here.
36 hour braised pork belly $29USD
It's usually a bit of a battle to get Mr NQN to eat pork belly but this 36 hour pork belly has that thick fat layer removed so that it is all meat. It is glazed with a Lehua honey and is paired with a green apple kimchi and rosemary and a vegetable steamed bun. This along with the butterfish are the two best selling mains and whilst I thought they were both fine, I preferred the sashimi, clams and steamed buns.
House made profiteroles
Dessert time! And by now we are full but comfortable so the urge to move out from our comfortable seats is low. We start with the house made profiteroles. These are filled with pistachio ice cream and served with a bittersweet Valrhona chocolate. The ice cream is very mild in its pistachio flavour and I was hoping that there would be more pistachio in it.
Buttermilk panna cotta
The buttermilk panna cotta, all wobbly goodness has just the right amount of sweetness. We've found the meal to be judicious with the amount of sweetness and not afraid to embrace tart and bold flavours. It sits in a strawberry compote with a scoop or lemon, lilikoi (passionfruit) and pineapple sorbet, the latter being my favourite. It's a great end to a day that will be followed by a change of location as drive north to Princeville, the home of Hollywood celebrities on Kauai.
So tell me Dear Reader, have you met many talkative chefs? And when you order food, do you like plenty of choices or alternatives?
NQN visited Hawaii as a guest of Hawai'i Tourism Oceania
Kalaheo Café & Coffee Company
2-2560 Kaumualii Hwy., Kalaheo, HI 96741
Phone:+1 808-332-5858 https://kalaheo.com/ Breakfast: 6:30-11:30 daily and all day Sundays, Lunch: 11:00-2:30. Sun 11:00-2:00
Dinner: Tues thru Thurs night 5:00-8:30, Fri & Sat nights: 5:00-9:00
The Beach House
5022 Lawai Road, Koloa, HI 96756-9618, United States
Phone:+1 808-742-1424
http://www.the-beach-house.com/
Open 11am-10pm 7 days
Josselin's Tapas Bar and Grill
2829 Ala Kalanikaumaka St, Koloa, HI 96756, United States
Phone:+1 808-742-7117
http://www.josselins.com/
OPen 7 days 5-9pm